Pre-Race
Ironman Santa Rosa was just on the heels of Ironman Boulder, so I didn't have a lot of time to train between the two races. I was hopeful that I would be able to carry over most of my fitness from my Boulder training into Santa Rosa. While Boulder had the elevation, Santa Rosa had the potential to be a very hot race. So starting 2.5 weeks out from Santa Rosa, I began sauna sessions as often as I could in the mornings or after workouts. For me, the challenge with sauna sessions, is it leaves me somewhat dehydrated all the time. Even taking in extra water and salt throughout the day, I was still short on overall water (based on weight), which I was trying not to have affect my workouts.
Two weeks out from Santa Rosa I had my normal race rehearsal which is a 1.5 hour swim, 5 hour bike and 2 hour run, with a few hours between each session to eat a meal and relax. I had a great swim and bike, but came back from the bike a few pound underweight, which put me in a bad spot for the run. I ended up only running about an hour and giving up on the rest of the run because I was too dehydrated to continue. Not a good thing, but at least a reminder of what happens when you run low on water in the body. So I didn't have that extra confidence going into Santa Rosa, especially when the weather was calling for 90's temps.
Since race day was Saturday, I only had Friday for athlete check-in and bike and gear check-in. Saturday morning, I got out on a quick 20 minute run in the morning. It was still a bit warm for my liking and I came back drenched in sweat, like I had jumped in a pool. At least the forecast was now calling for only low 80's on race-day, which is much more manageable than 90's. We went down to the expo for check-in and the athlete briefing. In the meeting, they said that the water temp was measured at 76.4 degrees, which meant, most likely no wetsuits for the swim. Good thing I had brought my swimskin just in case. Hopefully it still fit.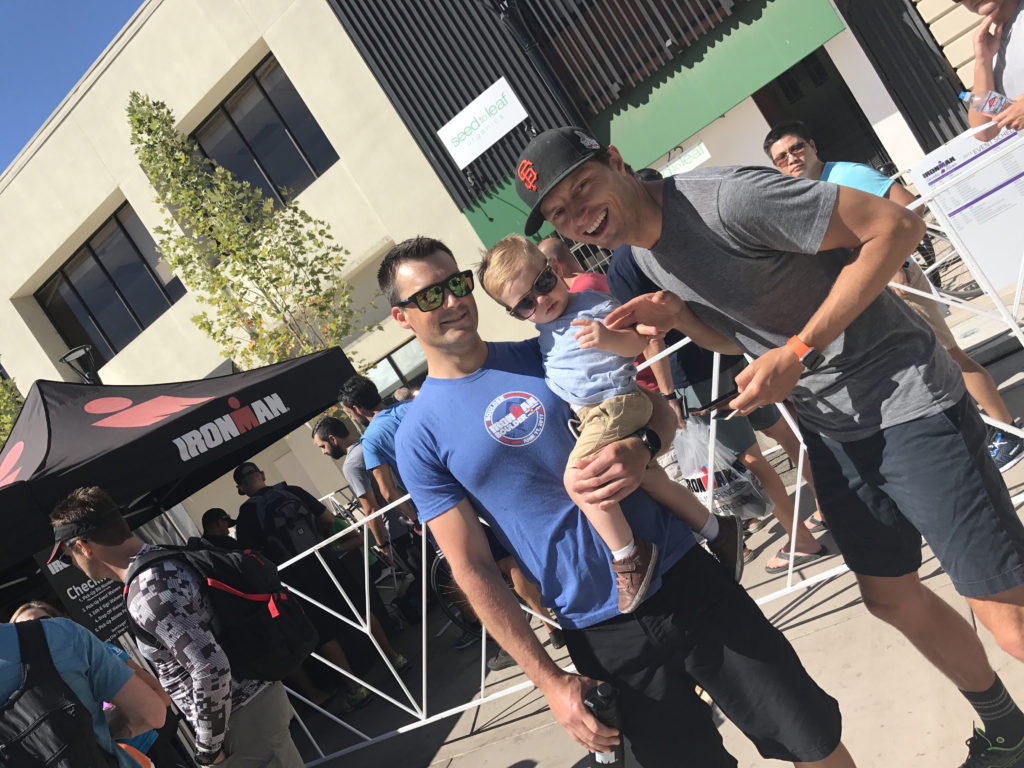 While the expo and T2 was downtown Santa Rosa, the swim and T1 was almost an hour drive away. No way did I want to spend another 2 hours in the car just to drop off my bike in T1 on Friday before the race. TriBike Transport offered their bike shuttle service for only $40, where they would take your bike to T1 and rack it for you. Best deal ever!
The rest of Friday was spent relaxing at the hotel pool with the family. Instead of going out to dinner, we decided to just order in to the hotel room and let the kids run around a bit. I'm always happy to stay in and relax, especially the day before a race.
Race Morning
It seems races are starting earlier and earlier. Ironman Santa Rosa had a 6:10am race start. There was no professional field this race, so age-groupers would be the first in the water. So my alarm went off at 3am! My earliest race morning to date.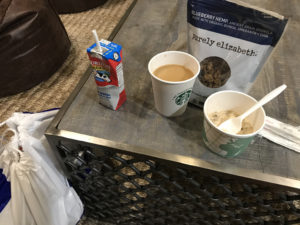 Since I didn't want to wake the kids, I snuck into the bathroom to get dressed. I grabbed all my bags, which were already laid out and headed to the hotel lobby for coffee and breakfast.
Breakfast was the usual granola and a banana with chocolate hazelnut spread. I wasn't super hungry since it was so early, but I tried to force it down. I met up with my friends, Chuck and Rob, who were also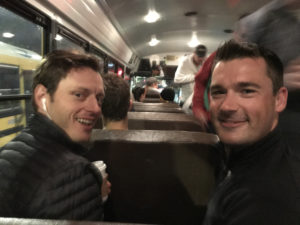 staying in the same hotel at 3:45am for the 15 minute walk to the busses. After dropping off my bike special needs bag (extra tube and CO2), we got on the bus for the hour ride to the lake.
It was still dark when we got off the busses and into transition. Even though I thought we were one of the first busses to get there, it was still pretty crowded with people who had driven themselves. I found my bike and was happy to see it made it to the rack without me. I added my nutrition and water and synced up my Garmin bike computer. I also dropped off my bike gear bag with my helmet, shoes and socks inside.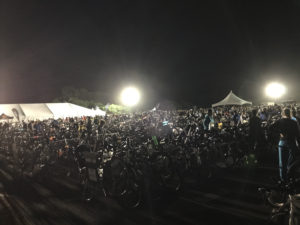 Mike Riley came on the loudspeaker and announced the morning water temperature was exactly 76.1 degrees, so it would be a wetsuit legal race. I couldn't believe it. No way did the lake water temperature drop to exactly the cut-off temperature in 1 day. Leave it to Ironman to find the one spot in the lake which was probably 76.1 to make most of the athletes happy to use wetsuits. So much for my edge in the swim. And good thing I brought my wetsuit just in case.
After putting on my wetsuit, I dropped off my morning clothes bag and walked with Chuck down the boat ramp to the swim start. We found a spot in line right before the 1:10 swim time marker, which was a bit farther back than I wanted, but seemed like a good spot to be.
Swim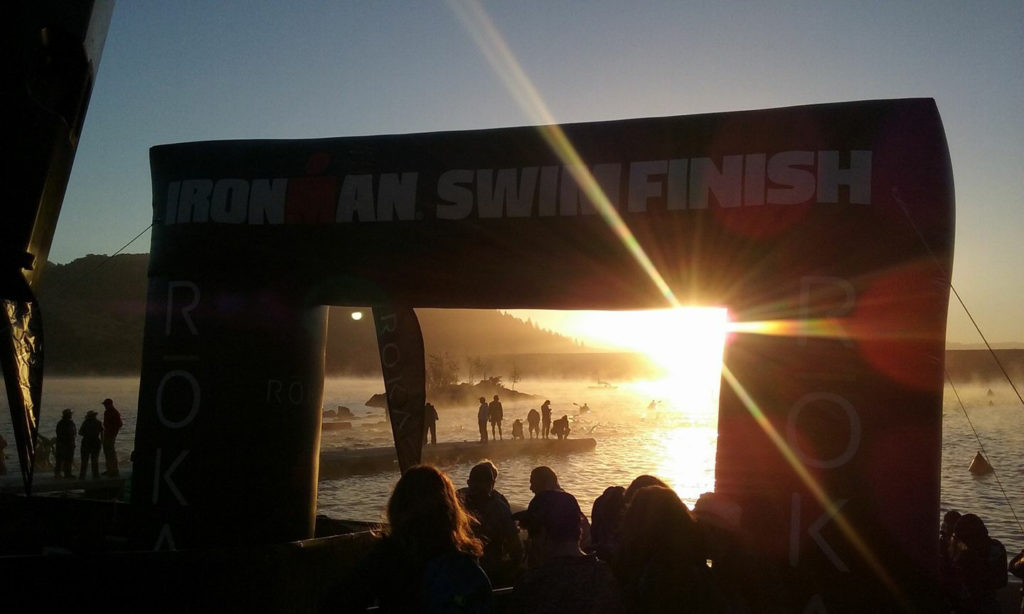 Since we were a few minutes back in line, it was a slow start after the cannon went off. I slowly inched my way with the masses of people down the rest of the boat ramp. I finally got to the edge of the water and kind of stood there looking for the timing mat, so I could know when I could start my watch and begin my long day of effort. I looked back and saw I had already crossed the timing mat. Shoot, why was I just standing here then. I tried my best to rush a bit fast into the water and then just did an awkward flop into the water as if I was trying to keep my hair dry.
Right away, it was hard to see the buoys with all the people, so I tried to do my best to just keep moving forward. I was a bit faster than most of the people I started with, so I just tried to make it around other swimmers as I made my way to the first turn buoy, which was only a couple hundred yards from the boat ramp. After the first turn, we had a long straight away. I ended up a bit farther out from the buoy line, just to avoid running in to people. That first section was still crowded and it took some extra effort and extra sighting to stay straight. I made to around another couple buoys and then headed back to the boat ramp. The sun was just coming up over the dam and right in my eyes, and it was hard to see the buoys at all. I just found a spot on the bridge to sight with. I was still passing people every now and then, and it seemed like it took some extra effort to get around people and fight for my spot.
I finally made it back to the dock, ran out of the water and then back in to the water for my second lap. That's when things just got nuts. Right away on the second lap, I was running into swimmers that just had gotten into the water on their first lap. It was a nightmare. It felt like a washing machine of people I just couldn't get around. There were people doing all kinds of things: backstroke, breaststroke, just sitting there treading water. I've never seen such a large group of people, not really swimming. I don't mind slow swimmers, because usually they are predictable in their stroke, so I can make it around reasonably easily. But when swimmers just decide to stop swimming and rest, or to start a breast-stroking with a wide kick, then they are not predictable and it gets really dangerous.
The whole second loop was like this. Outside of Kona, this was my hardest swim because of all the contact. I had to sight almost every other stroke to avoid running into people who were just stopping all the time. I got kicked in the ribs a couple times by some breast-stokers. It was a real mess to try to swim though the back-of-the-pack swim group.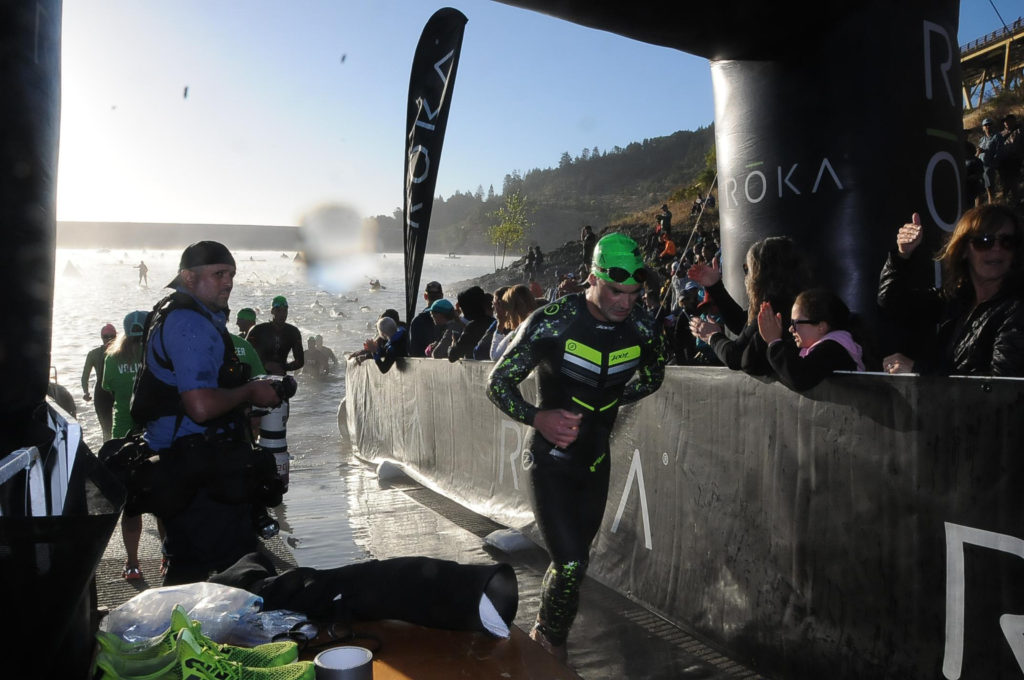 I finally made it back to the start/finish and out of the water. I quickly pulled the top of my wetsuit down as I ran to the wetsuit strippers. After I got my wetsuit stripped, I started the long and slow jog up the quarter-mile long boat ramp and into T1.
Swim Time: 1:02:39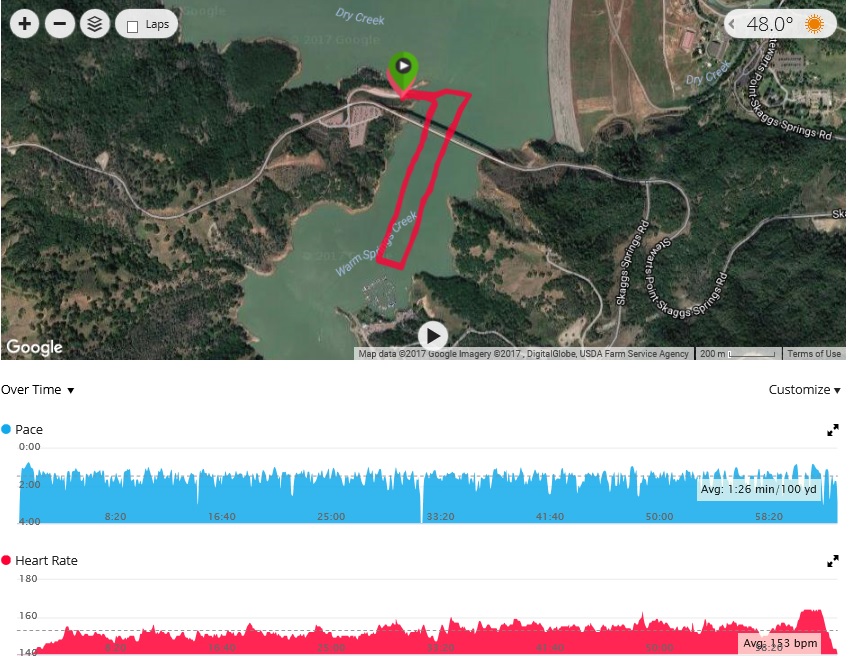 Bike
After my predictably slow transition time, I made it to my bike and then ran to the mount line. The bike started with a short little climb before a long 2-mile decent away from the lake. The first downhill was a nice way to settle into a lower heart rate after such a long run through transition. I was able to tuck into an aero position and pass a handful of people right away.
The first sections of the bike course were great, there were some rolling hills through the wine country-side. I prefer rolling hills to just flat roads, as the variability feels nice and I have a couple opportunities to stand out of the saddle to stretch a bit. The temperature was still pretty cool, so I took the opportunity to stay up on my fluid and take in some of the nice views of wine country. The course also got pretty empty. There were times I couldn't see anyone in front or behind me and I got a bit worried I was still on the course. Every now and then I got a glimpse of an aero helmet way in the distance, so I knew I was still on the right road.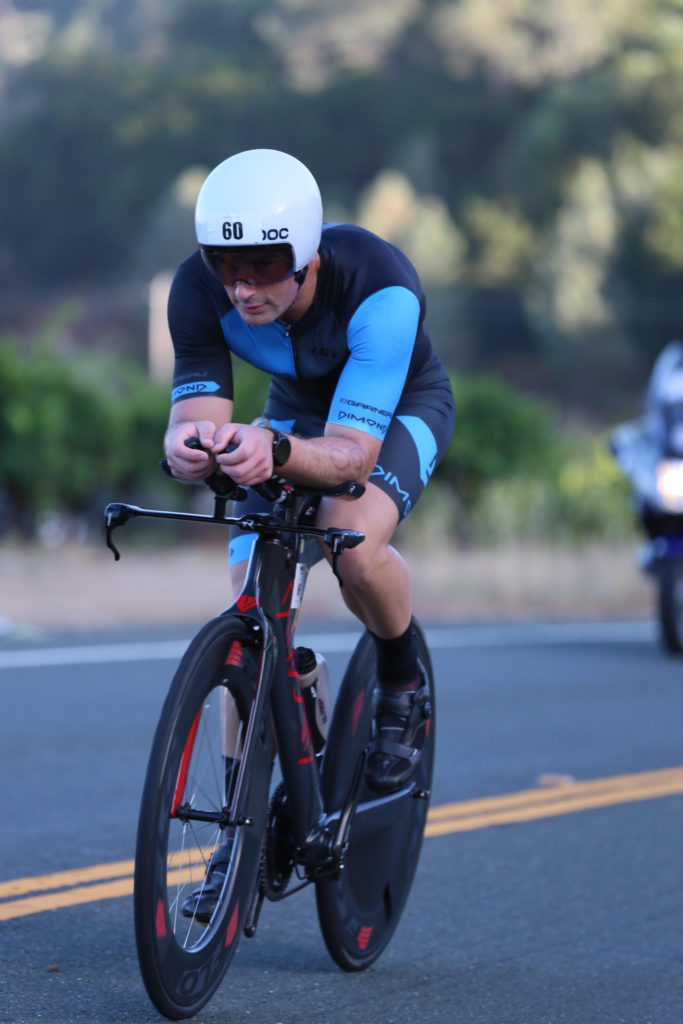 My power was also doing really well during the first half of the course. I was well above my power goal and was feeling pretty strong. I also tried to stay up on my calorie intake. My goal was to try for 300 calories per hour, but I would be okay with reducing that towards the end of the bike if it warmed up too much or if I wasn't feeling it. I also was doing 3 salt pills per hour (2 at the top of the hour and 1 at the bottom) to keep up on my sodium intake while taking in straight water from aid stations.
We finally got to an out-and-back section of the course and I could see a large group of fast riders where a few minutes in front of me. And then behind me by another couple minutes were just a ton of riders. So I was pretty happy with my position since I didn't have to worry about anyone around me. If I could just keep on my power, I could really ride my own race.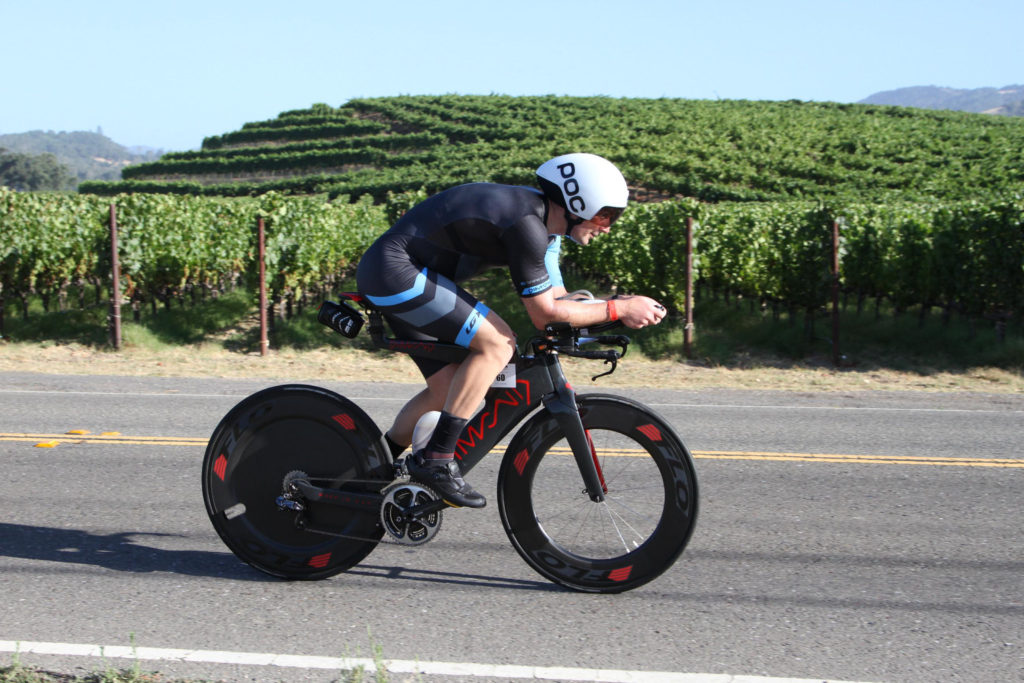 After about 40 miles, most of the nice scenery was gone and I was beginning to feel a bit bored and tired. I was looking forward to mile 66 when I knew I'd go through transition and see the family and maybe get a little more energized. After about 60 miles, I finally made it back into Santa Rosa and on to city streets. The course still seemed empty, but I liked the change of scenery. There was quite a bit of turns and corners as we moved through the city streets. Mile 66 finally came and I rode through the transition area and waved to Camille and the kids as I started the looped section of the course.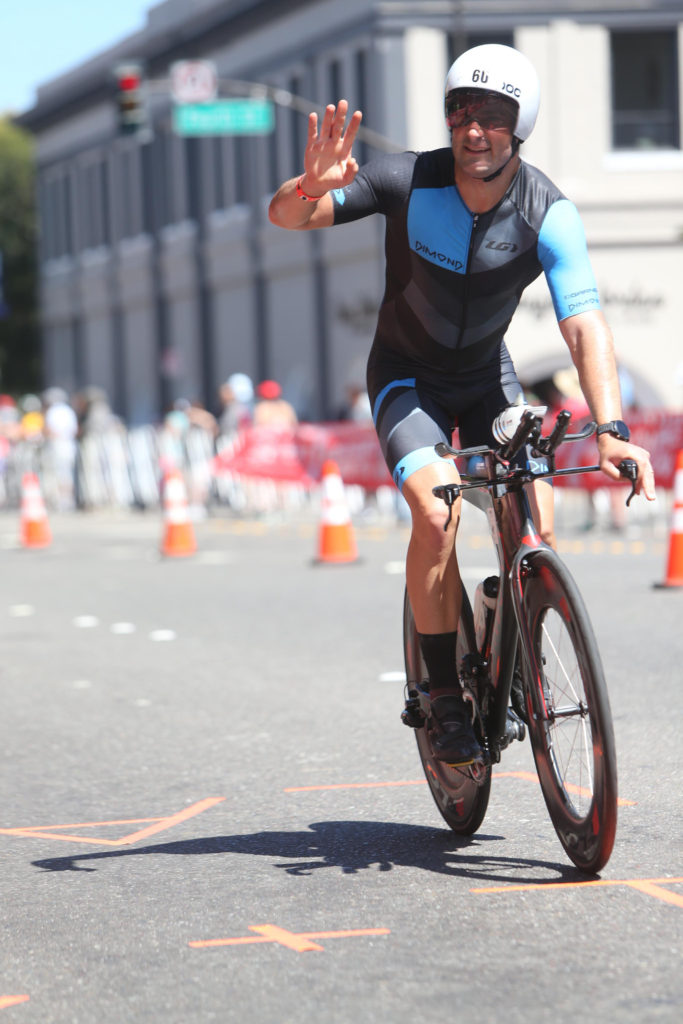 After mile 66 the rest of the course was 2 loops around Santa Rosa city streets. The first part of the loop was actually on a nice road with a bit of rollers. But then we were turned off the nicely paved road and onto some horrible side streets with just nasty roads. There was one road which was just littered with potholes and ruts. The road was also open to car traffic, so not only did we have to avoid all the huge potholes, but also do that while watching for car traffic. There were times I thought for sure I was going to snap something on my bike, I was being rattled so much.
After what seemed like a long and tiring loop, I made it back to the transition area to wave again to Camille and the kids and begin my second and final loop. This time, it was starting to warm up a bit, so I tried to spray water on my neck and back whenever I could. The course was also pretty crowded the second time around with riders on their first lap. It took more energy to watch out for other riders, but at least I was able to slingshot around riders one at a time and make some good forward gains.
At this point, I was really ready to get off the bike as I was getting more and more uncomfortable. The second round of pothole roads really took its toll on me. I didn't even try to stay aero, I just sat up and tried to protect myself from the jolting as much as possible.
I finally made it back towards transition and was able to hobble off the bike and into the change tent.
Bike Time: 4:56:53, 221 Normalized/216 Average Power
Run
Camille had told me that I was 3rd off the bike, but I had assumed I lost a couple places with my long transition time. Also, right away on the run, I could tell I was a bit low on energy. I wasn't feeling bad, but I didn't have a lot of extra energy to get moving fast. So I settled into what felt like a good pace, but was actually much slower than I wanted. Even at the first aid station, only a couple hundred yards into the run, I had to walk to get ice and water. This was my first race using a handkerchief around my neck to keep cool. It had a pouch sewn into it to hold ice, but it took some extra time at the aid stations to fill it with ice before tying it around my neck.
The run course is 3 loops along a recreation trail. The way out has a slight downhill on hard dirt path and the way back is a slight uphill on concrete. I actually liked the layout because 3 loops is pretty easy for me mentally to handle. There was also some shade from the trees, which kept some of the sun off, which made a huge difference. I started the run around 12:30, so the sun was directly overhead most of the run, so I still got hit with a good amount of heat and sun exposure, which I think slowed me down.
After a couple miles, I got passed by my friend Adam, who I knew had come off the bike right behind me. He looked really strong and I knew I wasn't going to be able to keep pace with him. All I could do was settle into what seemed like a manageable pace and hope I could keep it going.
The first loop came and went pretty fast. I made it back to transition, where I said hi to Camille and the kids. I was somewhat frustrated at my slow pace, but at this point in the race I just wanted to keep going and get to the finish no matter how that happened. I was walking every aid station to get in enough water and ice. Even though I didn't like the idea of walking, it seemed to help mentally, so I kept it up.
The second loop, was pretty tough for me. At mile 13, I was pretty happy I was halfway done. I wasn't feeling that bad, but I was pretty low on energy. I felt drained. I was taking coke at every aid station along with water. I also did 1-2 waters on my head and ice down my front or in my neck scarf. For salt, I was taking 2 pills every 30 minutes.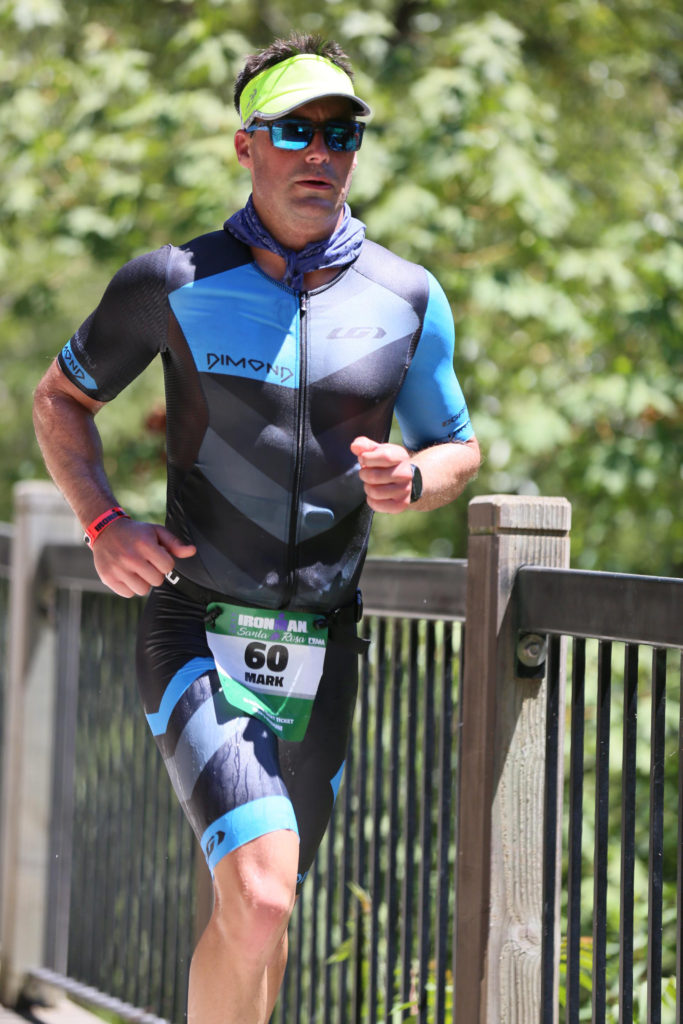 At the far end of the second lap, I took a HotShot, which I've used before. I just have never in the middle of the run. It's a spicy-sweet mix of sugar and capsaicin spice. Bad idea. About 5 minutes later I felt nauseous and had to walk for a few minutes. I was finally able to muster he energy to keep running even though my stomach wasn't too happy.
After passing Camille and the kids again a little after 16 miles, I started to get a little motivation back. The nausea had finally gone away and I was happy to only have 8-ish more miles. My pace was still around 8:30 when I was running and with the walking at the aid stations, was hovering at an 8:40 average… one of my slowest Ironman runs. But I was actually pretty happy I was holding this pace the entire run. So I wasn't slowing down too much, I just wasn't able to go fast.
I finally made it to the turn around on my third and final lap. Only 5 more miles and I was done. I could run 5 miles no matter how horrible I felt. I was counting down the miles from then on. It's a great feeling to see mile markers above 20.
The last mile seemed to go on forever. There were a number of twists and corners around the downtown area that just kept coming and coming. I could hear the finish line, but it took forever to get to the finish shoot. It's always a great feeling and emotional to run down the carpet of the finishers shoot. It was great to hear Mike Riley say "…and from Monterey, father of 2 and full-time engineer, Mark Reith. You are an Ironman Mark!" He sure is good at making everyone feel special.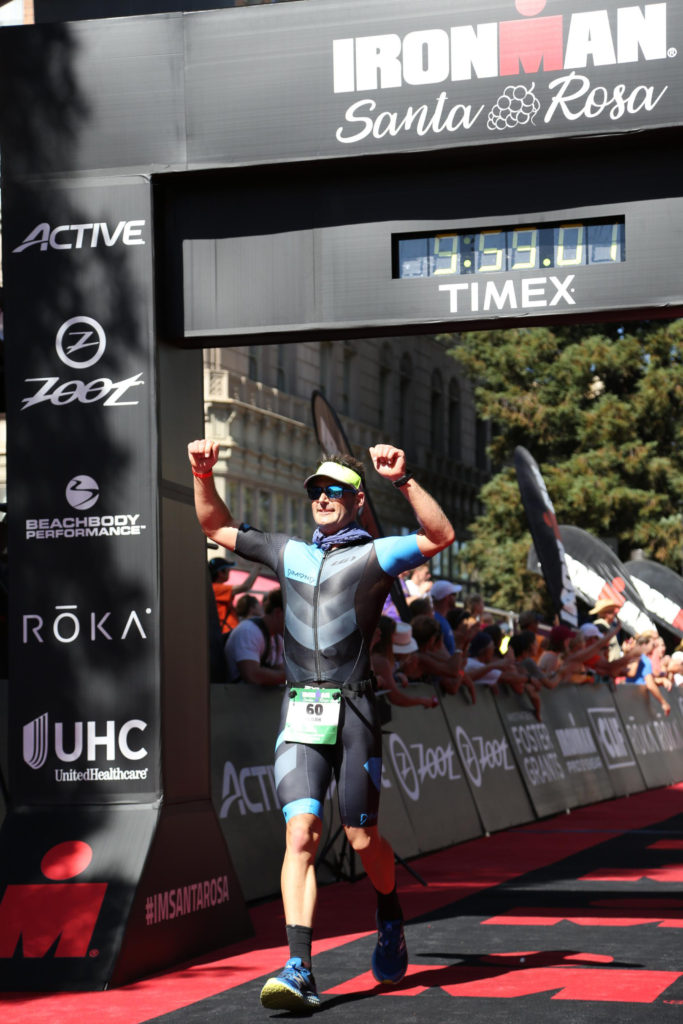 Run Time: 3:44:09
Race Time: 9:56:56, 7th Place Male 35-39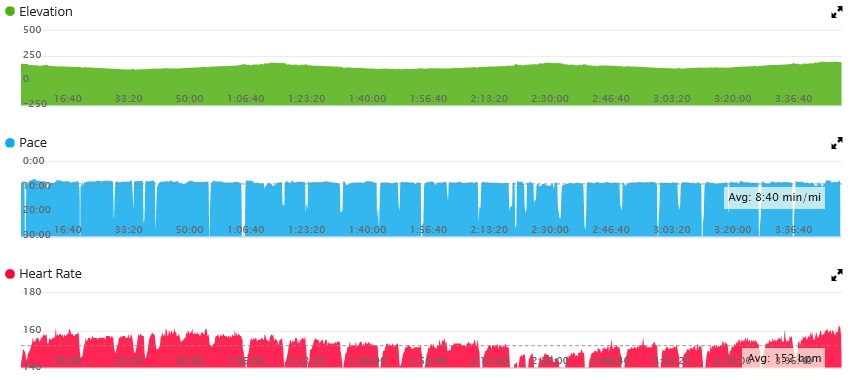 Thoughts:
Even though I didn't have the run I wanted, I was still very pleased I got 7th in my age group (and missed Kona by 1 spot). I'm very happy I have the ability to keep moving even when not feeling the best. I did have a good swim considering the conditions and a very solid bike time. I seem to be turning into a good cyclist (maybe at the expense of my run). I'm also happy I was able to improve on my Boulder performance and get a bit of redemption.
I'm happy this is my last full Ironman of the year (as I'm pretty beat). Only 70.3 World Championships next.
On to Napa and spending time with family and friends with good food and good wine.