It's been a long time since I've done a race report since it's been a long time since I've done a race. This year has had its challenges as we have been finishing the build on our house and had the opportunity to sell our previous house earlier than expected, displacing us, and putting us in a state of residential-limbo for a number of months. I was able to channel some of that stress into some long training weeks and was enjoying some of the fitness potential (at least according to Training Peaks CTL). However, I seemed to lose most of that fitness potential the two weeks prior to SB Tri, moving boxes and furniture in my spare time.
I had signed up for SB Tri on fairly short notice as it would give me the opportunity to race with little pressure on myself as well as the opportunity to visit family and spend some time in one of my favorite places. It was going to be a boys trip down, as Camille and Iyla had commitments at home, so it would just be me and Caden driving down for a long weekend in SB.
Race morning, I was up at 4:45 for coffee. My goal was to eat at 5am, which would be 2 hours prior to race start. After a couple cups of coffee and a couple bowls of granola, I was out the door in the car at 5:30. Transition, was still fairly empty so I had an easy time setting up my bike, pumping up tires and otherwise killing time before the start. Luckily, I was able to run into a number of old friends in transition, which made for a pleasant and social morning.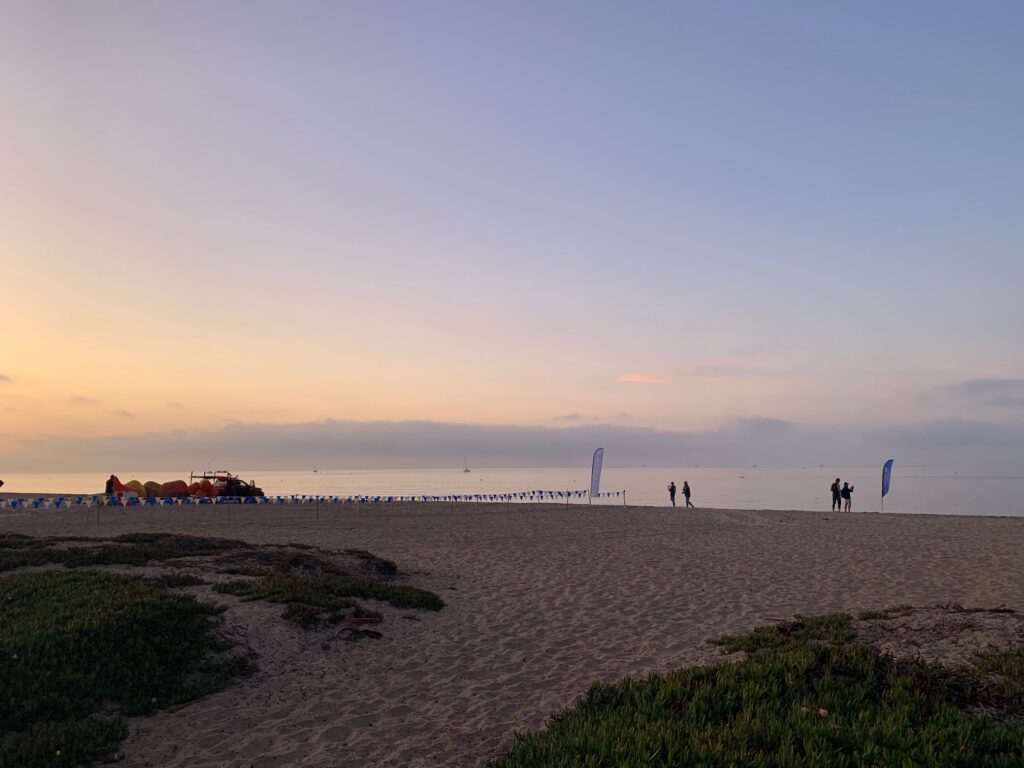 I still have never warmed up prior to a race, so no reason to start now. I made my way to the beach and lined up behind the elite racers as my age-group was wave #2 behind the elites. The first wave surprisingly went off right on time at 7am, with my wave to go off at 7:04. I didn't even pay attention where to position myself my the group and figured it would all get sorted out in the water.
Beach starts are always a blast. Something about running into the surf and diving in is exhilarating and a great way to begin the day. I put in a good effort to the first turn buoy, which was only a short sprint from the beach edge. After the right turn to parallel the coast, I settled into a modest effort and tried to find some feet to follow. I kept finding myself pulling left, as every time I went to sight, I was pointed left of where I wanted to go. Not having a black line to mindlessly follow was really messing me up. I also forgot that following people isn't always the best plan. The feet I was on were drifting way right, and even went on the wrong side of the first buoy. So I choose to go off on my own, and pretty much swam alone the rest of the swim. I'm always in that odd spot in all triathlons, where I'm not fast enough to be in the lead group, but faster than the middle group. I'm always that one swimmer by myself behind all the fast guys.
The water temp was much warmer than I remember the ocean being… in the low 60's. Way better than Monterey Bay. After, what seemed like a very long swim, I got to the turnaround buoys and headed back south right into the rising sun. Sighting the buoys became an issue and I just swam blindly until I was close enough to the next buoy to begin to see it's outline against the giant yellow sun.
One last left turn and I was back swimming towards the shore. After a quick run in the sand, I made my way back into transition. I paused for a moment to look for a place to wash the sand off my feet but quickly saw there was no such luxury here.
Swim Time: 25:20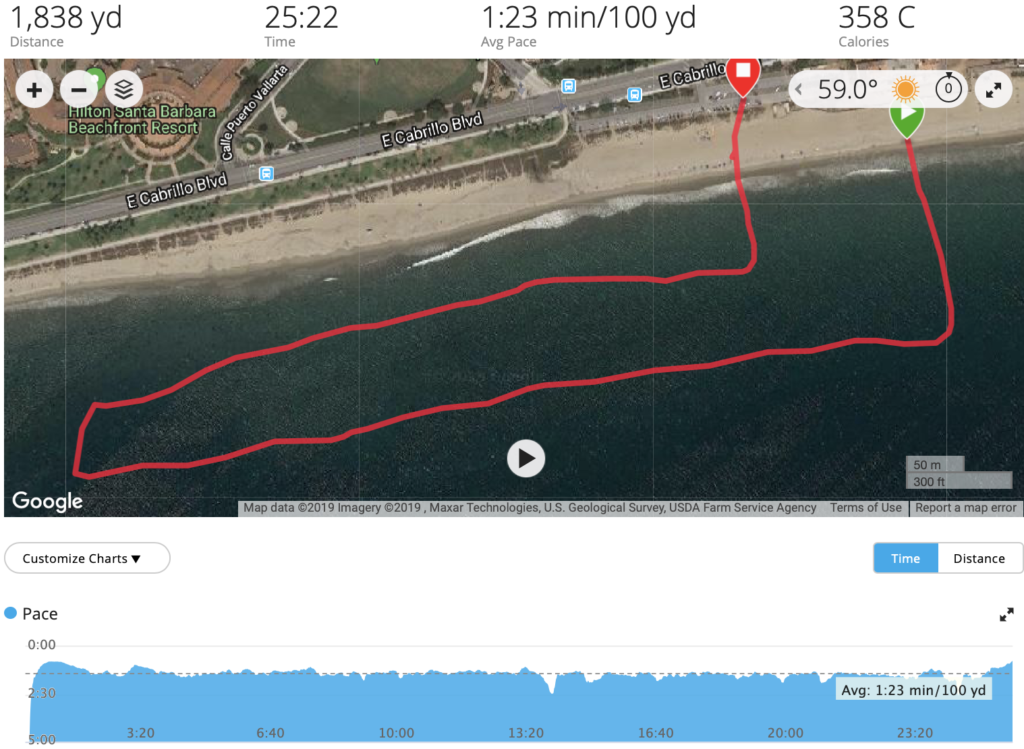 I quickly found my bike and began the long and painfully slow process of transition (my weakness). After spending some time wiping my feet, putting on socks and shoes, and getting my helmet on, I was finally off and running with my bike towards the mount line. Of course, this was after being passed by at least 3 people who had reasonable transition times.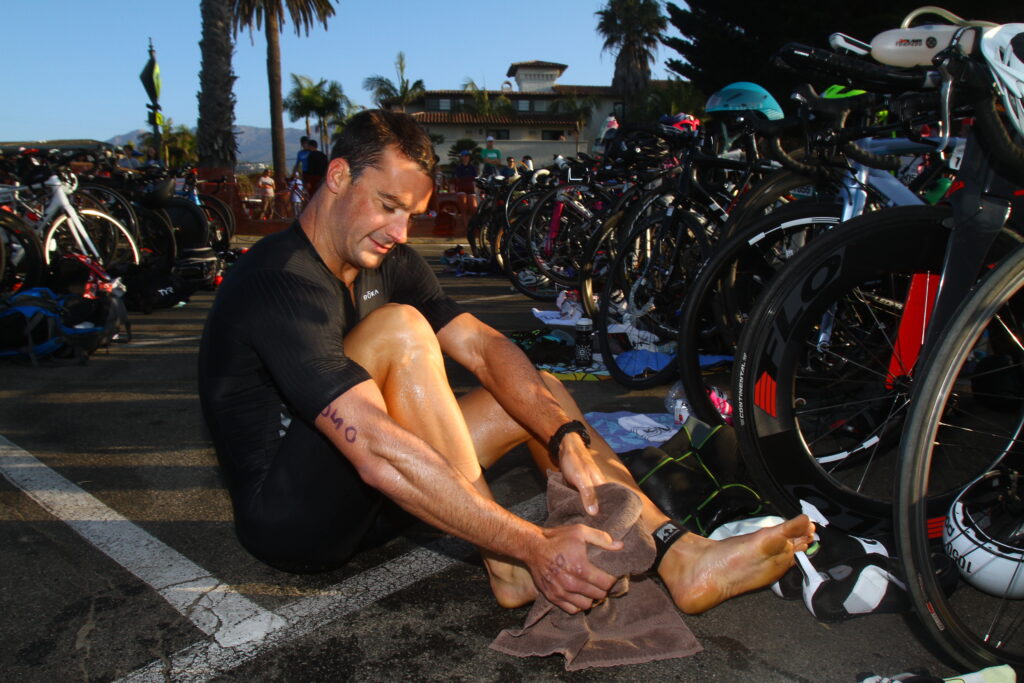 On the bike, I started to push it a bit as I made my way south along the freshly paved Cabrillo Blvd. I forgot how hard it is to push power with no warm up. My legs felt heavy and I could feel the strain in all my muscles. I tried to settle into a natural pace. I didn't have a specific power goal in mind going into the race. The distance of 34 miles is a bit odd, so I didn't have any previous races to compare against. The night before I looked at some past races and figured I should probably be in the 240-250 power range for this distance. I also wasn't wearing a heart rate monitor, so I didn't have that to pace off either.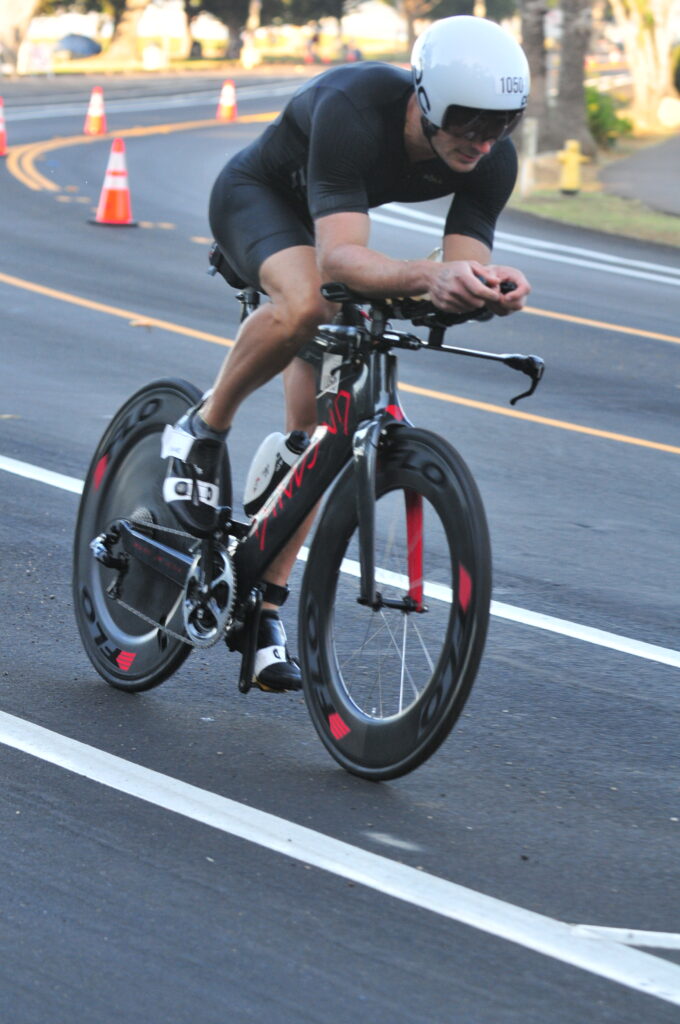 I enjoyed the first handful of miles because there were a number of hills which got me out of the saddle and able to stretch my legs a bit. Once I got a little farther out on the course, every other racer around me seemed to disappear. I couldn't see anyone in front of me and, when I looked behind me, there was no one I could see either. It was like this the first half of the race. Since the course was open to car traffic, it really felt more like a sweet- spot training day and not like a race at all.
Towards the half-way point, a couple riders caught up to me and passed me like they weren't even trying. They appeared to be in my age group, which was somewhat discouraging. As I tried to keep up with them, I went through the first (and only aid station) and forgot to grab water. I had 2 bottles on my bike, which, in theory, could hold me over. But the day felt a bit humid and I could tell I was sweating heavy in my unvented aero helmet. I got very worried that I may have messed up my race with that mistake. I know with my sweat rate, I can dig myself into an unrecoverable hole with one small bad decision. I decided to ration my water for the ride and take some salt pills to try to hold on to the water I did have.
On the second half of the ride, I was able to see a lot more riders as they were making their way to the turnaround loop. Still not many people on my side of the road, but at least I was more confident I was on the correct route. After another long climb, I was finally getting a bit more tired. Plus, the roads were in horrible shape. I was getting hammered with all the cracks, potholes and bumps on the road. Plus, because the road was open to traffic, there were a couple intersections which I got stuck behind cars which were being held up by the race. At least it made the race a bit more exciting to have to deal with the traffic. Again, very much aligned with a normal training ride. And way easier than the normal car and tourist dodging in Pacific Grove on weekends.
Getting back on to Cabrillo for the last mile of riding, I was able to pass one other person in my age group who had previously passed me. Progress! The dismount line came up quickly and I had to race to get my feet out of my shoes before getting to the line. I ran back into transition and into my run gear: shoes, glasses, and race belt.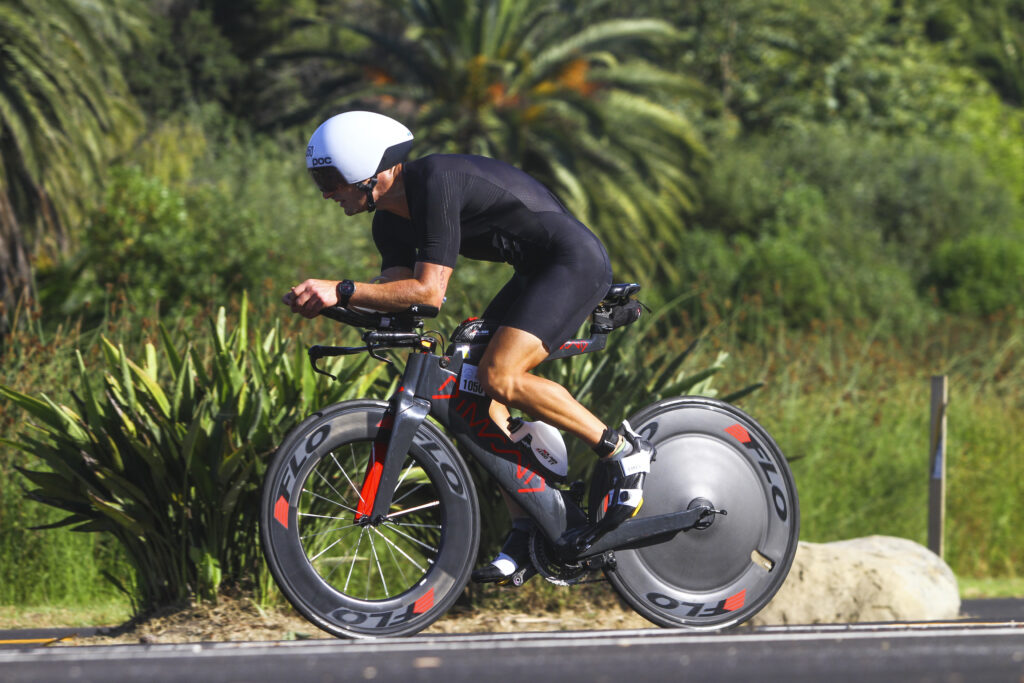 Bike Time: 1:37:13, 20.9 mph avg
That's, right… running off the bike is hard. I tried to not look at my pace and just find a rhythm I thought I could keep up for the next hour. It ended up being about a 7 min pace, which isn't super-fast, but I was happy with it. The first couple miles were a lot of fun, as we ran along the bike path towards the harbor. I knew there was a long climb coming, going up to the Mesa. I've done that climb more times than I could ever count. I wanted to make sure I had enough in the tank to get me up the hill and then back again.
Right away I was passed my someone else in my age group who looked like they were running a 6 min pace. No way was that going to happen for me. Oh well. The long climb up to the Mesa didn't feel that bad. My back did start aching a bit, which is on-par for me running off the bike. I was hoping my feet wouldn't fall asleep either, but they did half-way up the hill. Fun times. Still can't figure that issue out.
Right before the turn around I saw my friend Steve coming at me, maybe a few minutes ahead. I had a new goal going back down the hill, which was to catch up to him before the finish. After the turn, I knew I had a couple miles of downhill and then a couple miles of flat…easy. Like so many of my triathlon runs, I was starting to feel better and find my stride. It always takes me 6 or so miles to start feeling my legs and have my back loosen up. Overall, I was happy my pace was picking up and everything was feeling good.
I flew down the hill and finally made it to the last couple flat miles. I was able to pick up the pace a bit and was feeling extra strong. Maybe I should have pushed a bit earlier in the race. I came up on Steve, and got some extra motivation to make the pass and make sure I could keep in front of him. The last 2 miles, ticked away very fast. I actually thought the finish line was another half mile away, so I had paced myself to do a last all-out sprint that last half mile. Just as I was really picking up the pace I crossed the line without even knowing it and almost ran into the timing booth table. Clearly, I was not paying attention.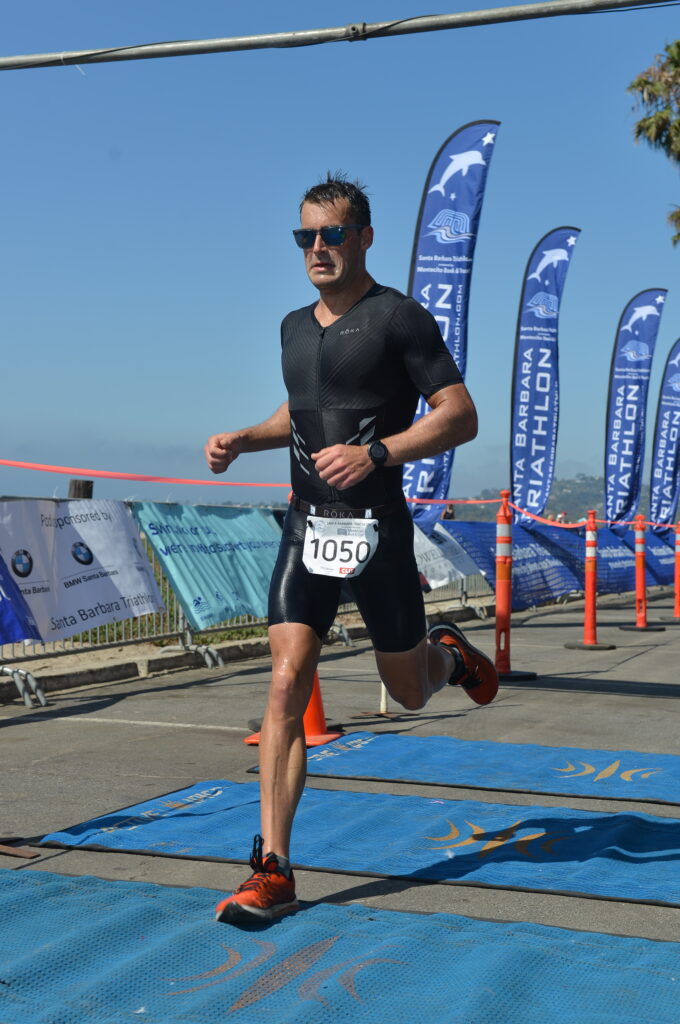 Run Time: 1:07:36, 6:55/mile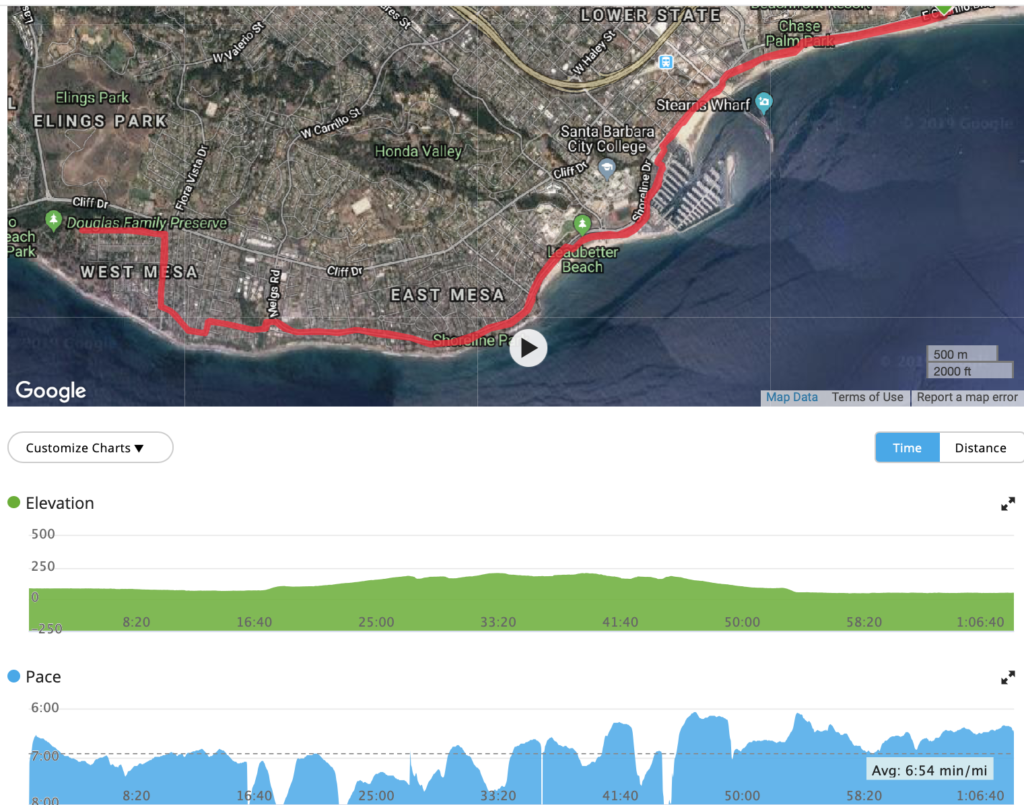 In the end, I was happy with my 4thplace finish, but disappointed I missed the podium by 1 place and 1 minute. Post-race, I felt great and reflected that next time I should push a bit harder on both the bike and run. No need to have all this extra energy after the race.
I'm looking forward to getting back into the swing of training and the next adventure in North Carolina.