Background
I wanted to do a final race of the year, focusing on having fun and possibly traveling somewhere with the family. I was looking at some 70.3-distance triathlons as an option, but also wanted to try something a bit different and more adventurous. Otillo had just recently announced the addition of a Solo category to their Sprint-distance races, which really appealed to me. I honestly wanted to do the longer version of their races, but finding a partner can be challenging for destination races. The Otillo Solo Sprint seemed like a great end-of-season option because it was in a unique location, was relatively short, and something different from triathlon.
Getting Camille on-board worked out well too. Since Otillo Cannes was a swimrun race, I didn't have to travel with my bike. So, I proposed a "lightweight" trip, where we could travel only with backpacks, no bike, and no stroller (I even offered to do all the heavy lifting of kids who refused to walk). Flights were relatively inexpensive into Nice, France, which helped seal the deal as a family trip. We decided to make it a fun and casual family trip, not over-planning the details. We were to fly into Nice for one night, then travel by train to Cannes for 3 nights, where I would race, and then travel into Monte-Carlo, Monaco for the last night before flying out again in the evening. It was also a great opportunity to expose the kids to two more countries this year. Camille and I had also been to Paris together and I had already been to the entire French Mediterranean in 2004. But I thought it would be great to revisit the area with a little more opportunity (money), compared to my broke college euro trip 14 years ago.
Getting There
We left Wednesday evening and drove to SFO. We stopped by our favorite Indian food restaurant, Rasa, which was an added bonus. Our flight left at 8pm, which meant we'd all be tired on the first 10+ hour flight to Zurich. We actually tried to stay up and sleep as little as possible on the flight as we would get into Nice around dinner time and then off to bed. Swiss Air was a nice change from some of the domestic airlines. The kids ended up falling asleep after a few hours, only to occasionally wake when meals or snacks were served. Luckily it was an uneventful flight. As an added plus, Swiss Air continuously passed out little swiss chocolate bars during the flight and they came by and gave the kids extra chocolate frequently. So, by the end of our journey, we had a nice chocolate bar collection going in our backpacks.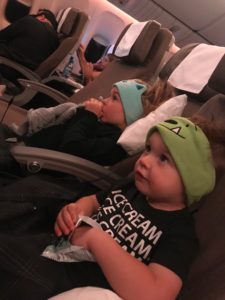 After a quick one-hour stop in Zurich (which is a very clean and pleasant airport) and going through immigration (with no line at all!), we were off for another 1.5 hours before landing in Nice, France. Having no checked bags, made the airport exit extra speedy. We caught our Uber Berline to our hotel. Uber Berline in France is amazing… only black Mercedes where the drivers all wear black suites and make you feel like a celebrity. In Nice, we stayed at the Hyatt, which is right on the Promenade des Anglais, which is the main beach strip. So, it was a perfect location for walking to the beach and to most of the restaurants in the area.
Nice
In hindsight, Nice was a quick blur. After getting to the hotel, we were able to get the concierge to get us a reservation at a recommended restaurant that was within walking
distance. We dropped off our bags in the room, got dressed and headed out for our first French dinner, then gelato, and a walk around the area.
In the morning, I went for a short run at sunrise, while the kids slept in. We then went out for breakfast and coffee. My only grip about Europe in general, is how small their coffee portions are. I suppose they are meant to be sipped and savored. But no matter what I ordered, the portion was usually something I could drink in about 10 seconds and came in a thimble-sized cup I could barely hold with my thumb and index finger.
After breakfast, we went for a stroll along the beach and did a quick carousel ride with the kids along the main Promenade. We then decided to go to the train station and get into Cannes before lunch. As with most of our vacations, timing of activities is usually around our next meal opportunity.
Cannes
After a quick 25-minute train ride from Nice, we made it to Cannes and Ubered to our hotel, the JW, which again, was right on the main street, right on the beach. We were lucky that our room was available to us even though it was only around noon.
After dropping our bags, we headed out for lunch at a nice restaurant, right on the sand near our hotel. We spent the rest of the day being tourists: walking around, going on a petite-train tour of the city and eating gelato.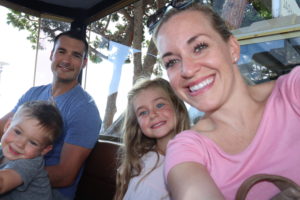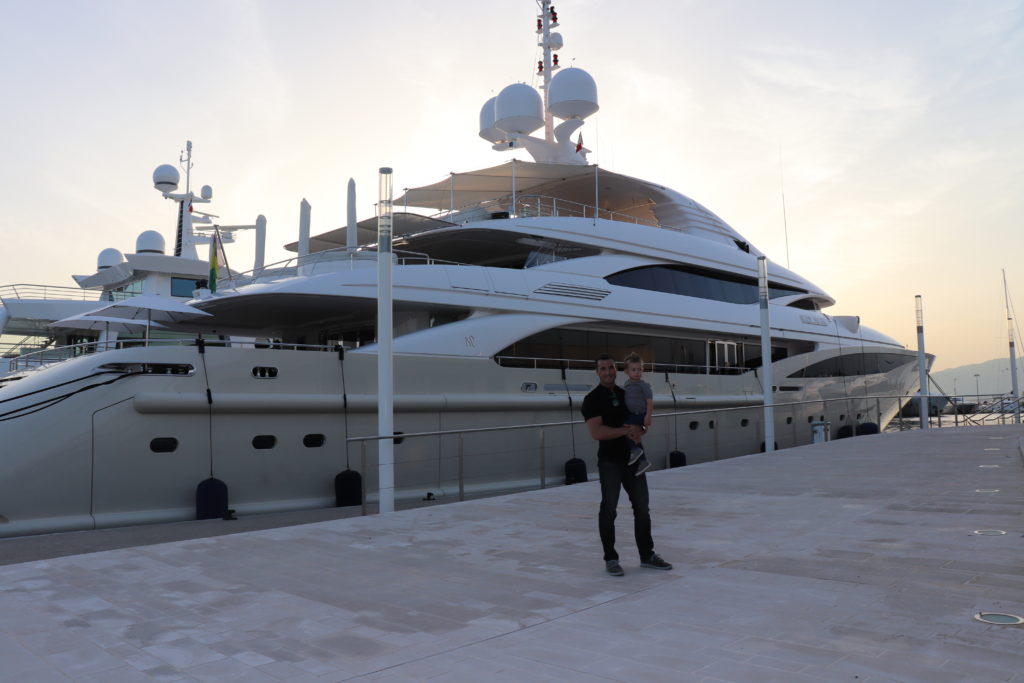 In the early evening, I went to a presentation on the history of Otillo put on by one of the founders. It was interesting to hear the passion he had for the sport and how he was optimistic of its growth over the coming years. I have followed swimrun, as a sport, over the last year or so and like the idea of the event. Swimming and running are both somewhat low-equipment sports, unlike biking. This makes the event appealing, especially when traveling. Biking is also the most time-consuming aspect of triathlon training, so swimrun is also appealing as potentially needing less time commitment compared to long-distance triathlon. Otillo, as a brand, is leading the swimrun movement. However, they are based in Europe only, so there are little (but growing) opportunities in the US for this event. Also, traditionally, swimrun is a partner event, where teams of two compete the course together. The reason for this is safety in the many open-water swims throughout an event. In triathlon, there is a single swim course, which can be more closely monitored for safety. A partner also adds a very interesting element to the race, where you need someone who is similarly matched in ability, but usually one is a stronger swimmer or runner, so you need to work together on each individuals' strengths and weaknesses. All that being said, Otillo Cannes, was the first time Otillo offered a solo category for their shorter Sprint course. This solo category really made the event appealing to me.
After learning all about Otillo history and vision, I met up with Camille and the kids who were playing at the park. We went out to a dinner at a recommended restaurant.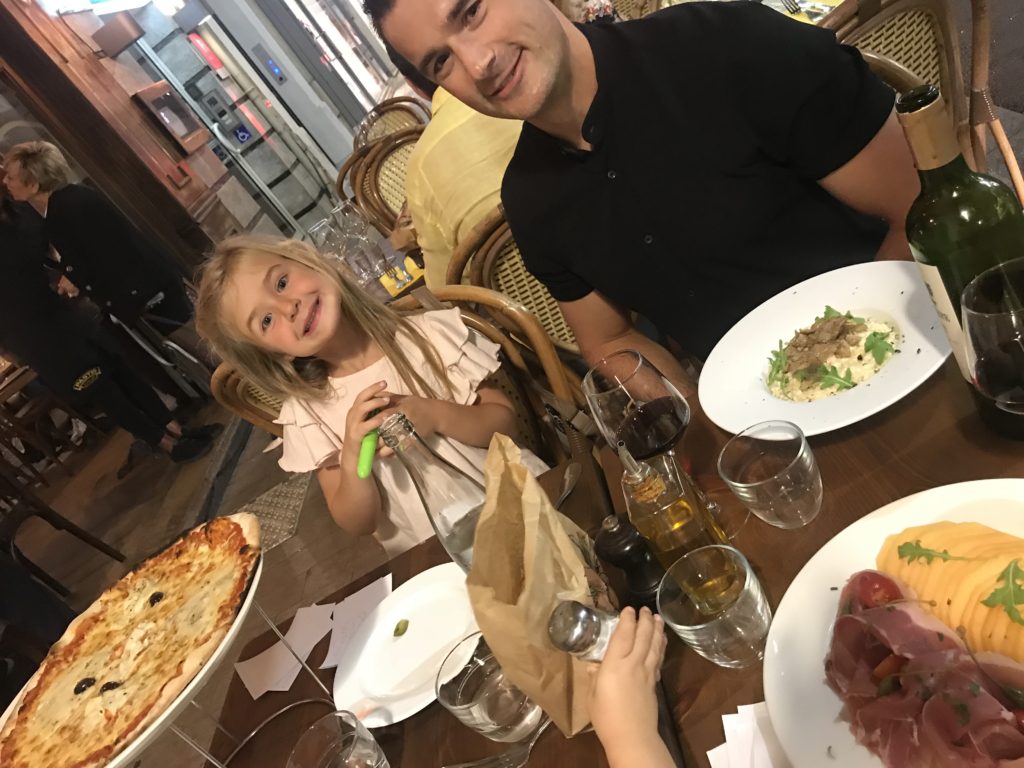 I originally thought we would be eating, what I envisioned as traditional French food. However, it seemed there is a lot of Italian influence, so most of the restaurants had pizza and pasta options. This made the kids happy of course. They basically lived off bread the entire trip.
Saturday was race day. My race started at 12:30, which was amazing. So, we had all morning to do what we wanted. We went out to breakfast for a micro-coffee and bread with jam. We then headed over to the start/finish area to sign in and get my gear. While swimrun has less "gear" than triathlon, it's still a very funny looking sport. I wear shoes, a wetsuit, swimcap and goggles, a swim-buoy and swim-paddles. I get to swim and run with all that gear. So, swimming is odd with all that gear and shoes on, and running is equally odd, if not odder because I wear a swimcap and goggles with a buoy strapped to my leg and swim paddles on my hands. I seem to be attracted to sports where I just cannot look "cool".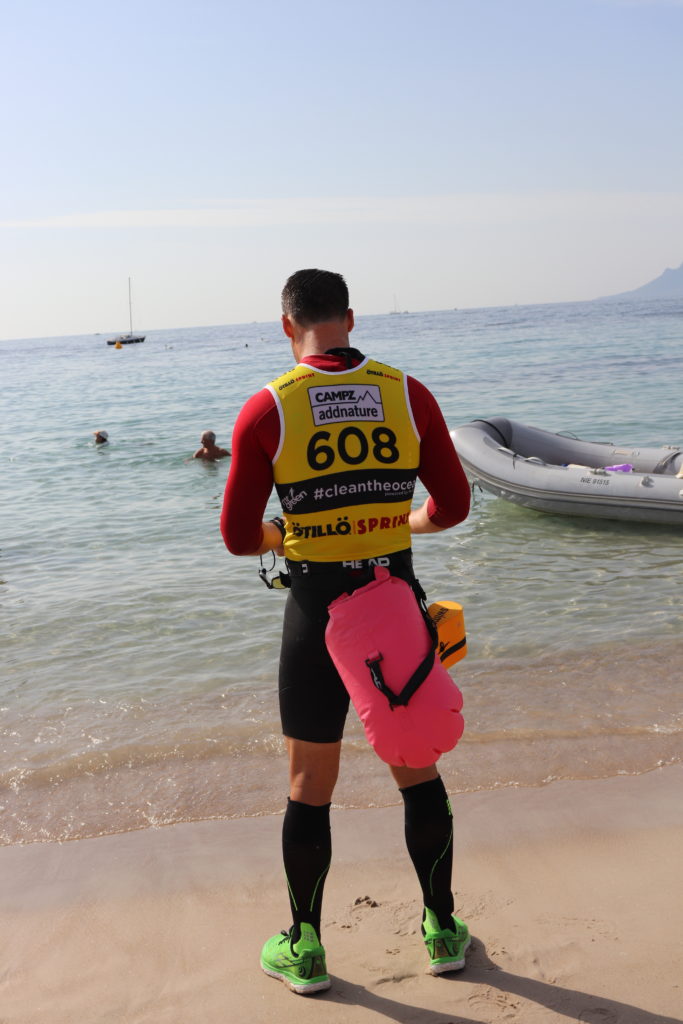 What made this event worse is they required all solo competitors to carry a swim safety buoy the whole race. I've never used one of these before. It's a large inflatable buoy on a rope which is attached to your waist. You pull it along as you swim and it floats behind you to provide visibility to others, showing where you are. The issue comes in on the run. Imagine being handed a large mylar birthday balloon and having to run holding it at the same time you need to hold your hand paddles, and manage your goggles, etc. It was fairly awkward and ridiculous looking.
After check-in, we had a couple hours to kill, so we hung out on the beach, playing with the kids in and out of the water. The beach was small and well protected, and got fairly crowded with beachgoers and topless natives. The water was in the low-70's, and had no surf at all, so was perfect for the kids to run in and out of. I was also able to swim around a bit and test out my safety buoy and my new goggles I had to buy because I forgot mine in the hotel room.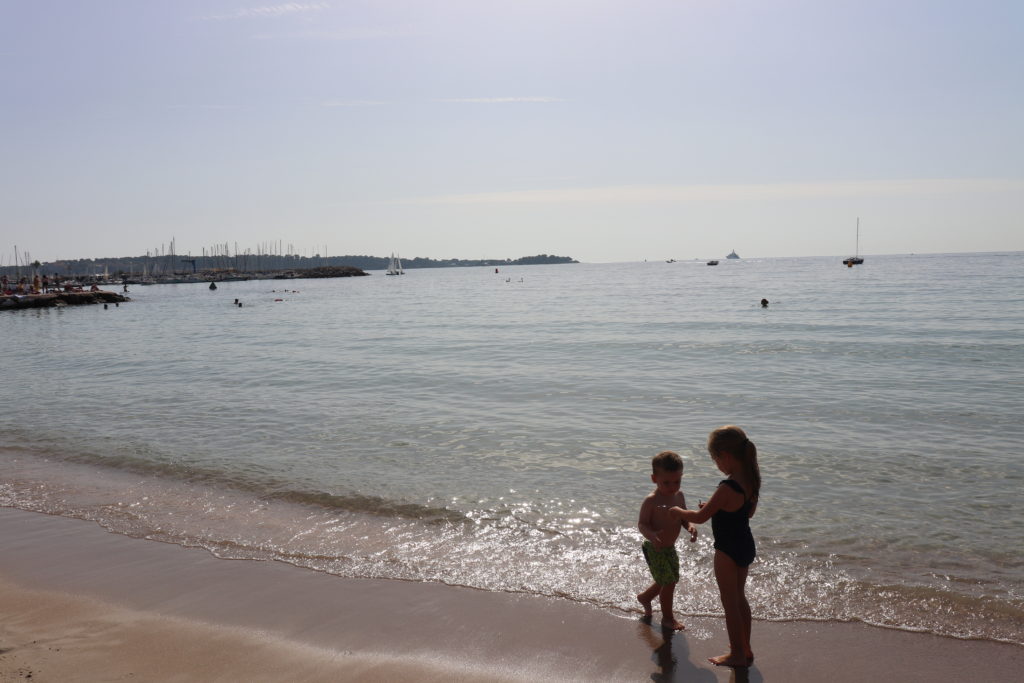 The Race
At 12:30, it was finally time for the start of the Solo Sprint racers. There weren't many of us, maybe 25, so I tried to line up near the front, where the fast-looking guys were. By this time, it was already in the mid-70's out and I was already getting a bit hot and sweaty in my wetsuit and swim cap while standing out in the sun.
When the race started, I knew it was going to be a fast start, so I picked up the pace right away. The first run was 800 meters in total to the first swim entry. There was a group of 5 of us running hard. I started to feel the burn right away and noticed I we were running at a 6 min/mile pace. The first thing I thought was, "I'm not going to be able to keep this up long". I hadn't run that fast in a long time. Luckily, the swim section came up fast and I had a moment to catch my breath while putting on my paddles and goggles before wading into the water, adjusting my pull buoy and falling in. The swim was 700 meters from the Cannes boat harbor, along the beaches and the main boulevard, back towards our hotel.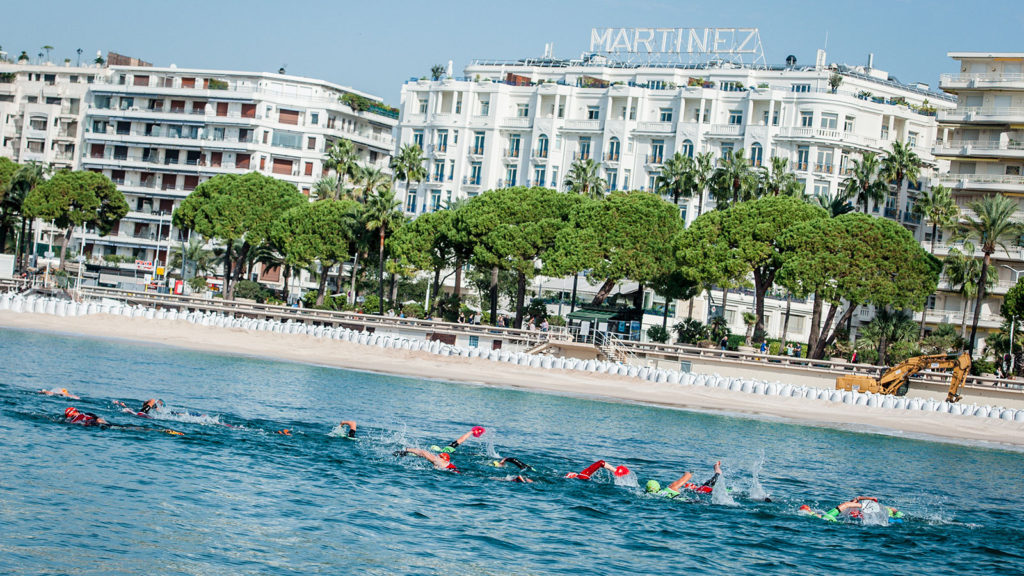 Right away, there were about 3 guys who just took off in the water, with no way for me to keep up. I was surprised how hard it was to swim with all my gear on. Not very hydrodynamic with all the do-hickeys hanging off me. I ended up swimming next to one other guy, and we made it to the beach together. Then there was a tough beach run. Running on sand in your shoes gets hard quick. I got to a flag and a guy who told me something in French. I couldn't really tell which way to go, so I stopped for a second and waited for the guy to point. We had to run up the beach to the main street. It still wasn't very clear to me, so I paused for a while until the guy behind me caught up and I was able to follow him. These were my first couple lessons in swimrun: I need to go fast, and the course is confusing, so I need to pay attention.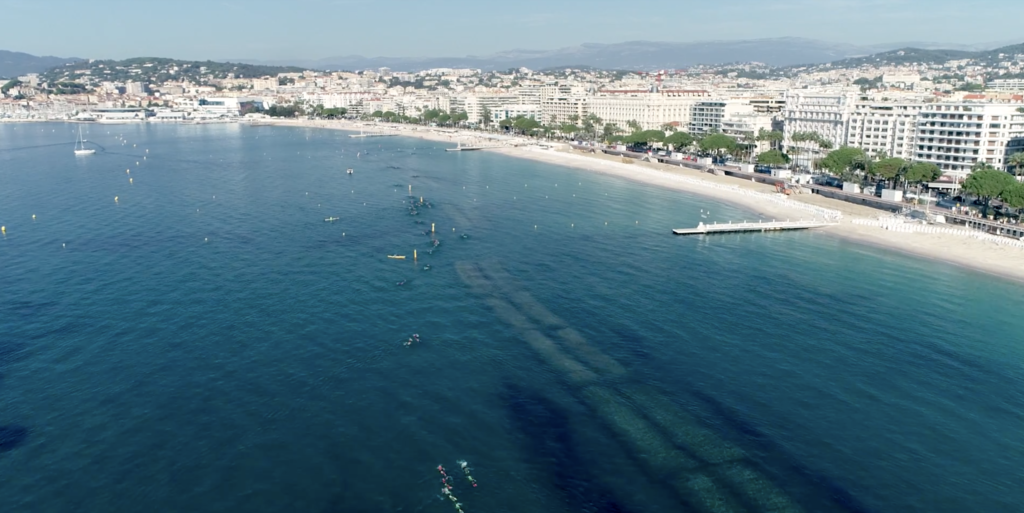 Together, we ran along the boulevard, dodging tourists, strollers, and dogs. It definitely kept me on my toes. Then, we both almost got hit by a truck turning across the walkway in front of us. The guy I was with darted in front of the truck, while I came to a dead stop and waited for it. Better safe than sorry.
We had a long run of about 2km to the next harbor and then to another beach where we jumped in the water again for a 600-meter swim. I was still on the feet of the other guy, when we both seemed to lose sight of where we were going at the same time. We both stopped and he asked me if I knew where the swim exit was. I said no and that I was just following him, hoping he knew. We paused for a moment and then both saw the exit flag in the distance at about the same time. Swimrun really requires a good sense of navigation and sighting. Sometimes I couldn't see the swim exit from the swim entry, so I had to figure it out while I swam. Since the race wasn't very crowded, I couldn't even rely on others.
After we exited the swim, back on the beach, we had an 800-meter run along the sand back where we came from. The sand, this time, was really soft. I tried running close to the water, and farther up the beach, but it was all deep sand, which made me smile a bit as I stumbled awkwardly and as my shoes filled with sand.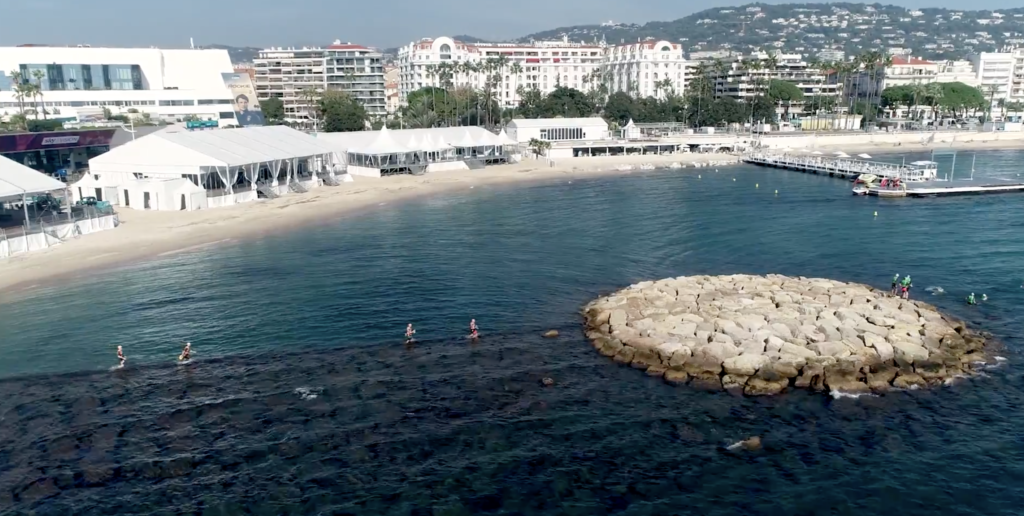 I followed the same person back to the harbor, where we had to scramble on some harbor rocks and back into the water for a short swim across a small harbor bay and back to the beach and onto the main boulevard. I ran side by side with the other guy and we briefly chatted as we continued to dodge tourists.  We got to an aid station, where they only had large bottles to pour into a collapsible cup they had given out pre-race. Since mine was tucked deep in my wetsuit pocket, I had to pass and start the long run inland and uphill with no water.
This run section was the longest, at about 6k in total. We got away from the beach and headed up towards Californie. The streets weren't bad at first, but then we hit a series of stairs, which started taking its toll. The guy I was running with started getting farther ahead. We were then taken off road, onto a steep uphill trail. It followed what looked like an old rail car path. It was way too steep for me to run so I had to walk it. By then, I had to take off my goggles and cap and shove them in my wetsuit, which I unzipped to cool down.
This long uphill section seemed to last forever. I wasn't even sure where this hill came from. From the beach, it didn't look like there was anything steep anywhere around. I even had to walk backwards a few times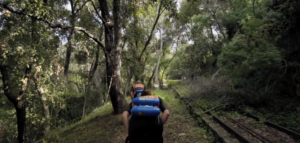 to give my lower back a rest. I guess this wasn't going to be as fast a race as I thought.
Finally, the uphill was done and there was some flat road to run on. By then, I was getting pretty warm in my wetsuit. We were eventually taken back onto another trail. I then came across an arrow which pointed down the hill, and off the trail. I stopped because I couldn't really tell where to go. Where the arrow pointed was down, what looked like, a goat trail, sharply down the hill. I laughed to myself and scrambled down the side of the hill. The steep animal trail took me to a creek, where we had to then scramble down the creek.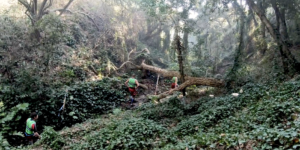 I call it scrambling, because it was no longer running and I had to use all my limbs. Over and under logs, through some drainage tunnel, pools of water and deep mud. This was definitely my favorite part. It was so different from anything I had raced because, it made it fun (and slightly dangerous).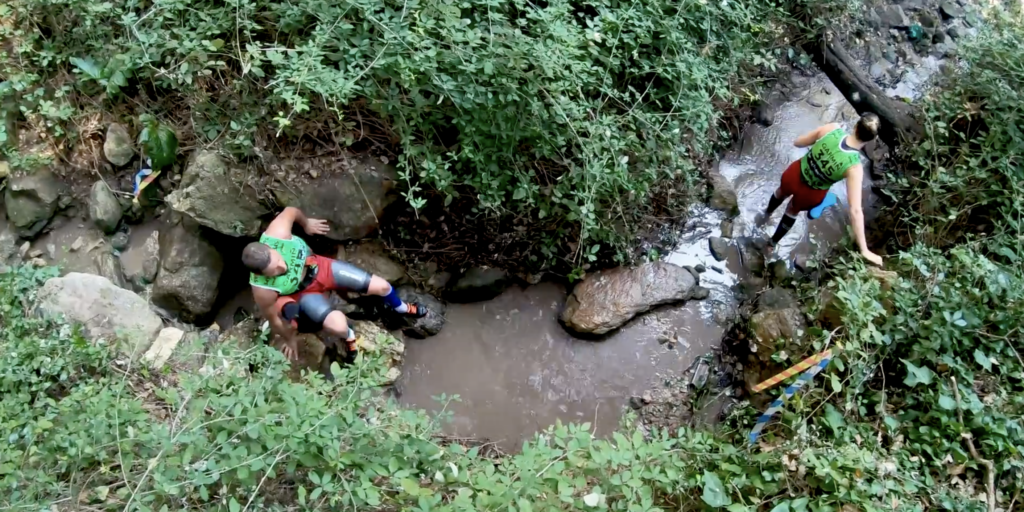 I finally made it down the creek and back to the road, for another short downhill run before another tunnel which took us to a small beach, by a group of naked beachgoers, and back into the water. The swim section was long at 1k, but the water was bright blue and I could see the bottom easily and lots of fish. It made the swim very enjoyable.
I started to pass some of the teams who had started racing a bit before the solo start. At least that helped with sighting. When I exited the water, I had to scramble across a section of large sea-wall boulders for a couple hundred yards. I never had felt comfortable going fast on these. It's very dangerous and can easily lead to a broken ankle. I got caught by a team behind me. I laughed and joked with them that I would never see this is a US race.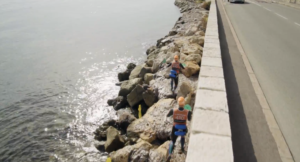 After another short 800-meter run, with my heart in my mouth, I was back onto the beach and into the water for the second to last swim of 600 meters. I was beginning to get a bit tired at this point, but was still having a ton of fun. As soon as I started heating up, I was able to get in the water to cool down. It was a nice balance. After another 600-meter swim and 600-meter run I could see the finish beach a couple hundred meters away. I knew no one was in front or behind me, so I tried to enjoy the last short 200 meter swim to the beach where I knew the kids and Camille were playing.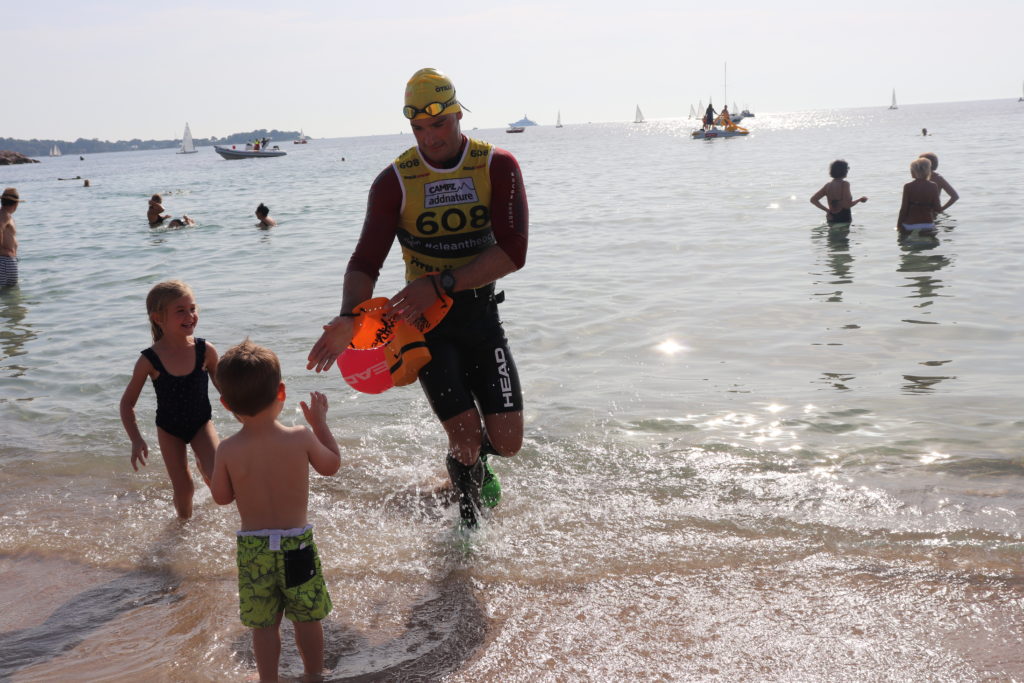 The beach was fairly crowded with people by this time, both on the sand and in the water. I had to swim around a number of people as I made my way to the beach. I got could see the kids and Camille at the shore. As I ran out, I high-fived the kids and up the stairs to the finish.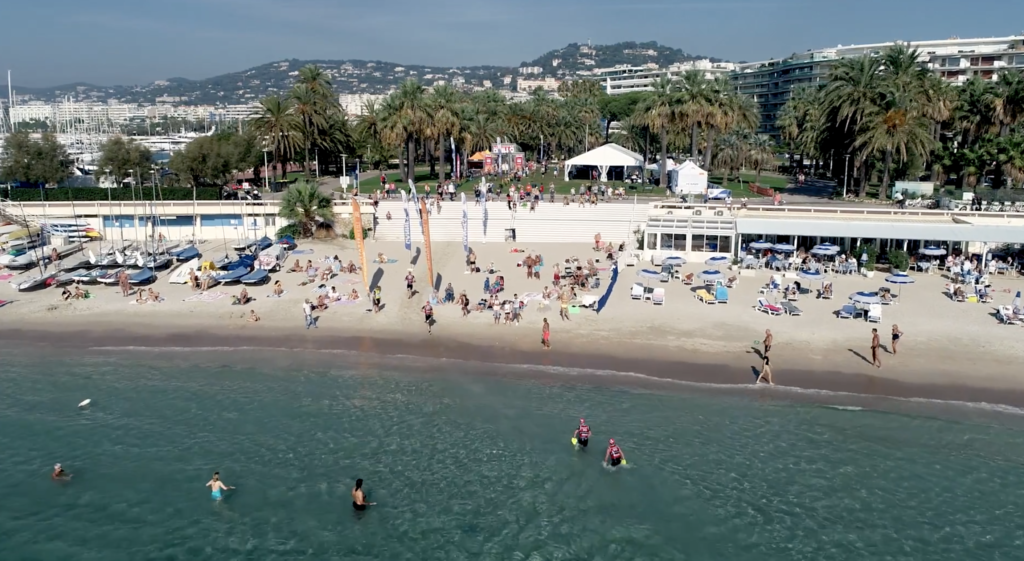 Race Thoughts
Overall, I had a really fun time. With the steep uphill and the scramble down the creek, there were some challenging and fun moments. I could see how I would need to really improve on my swimrun skills. It's not just a matter of being a good running and swimmer. Knowing the equipment, the transitions, and the course is key. Overall, it was a great experience in an exceptional location.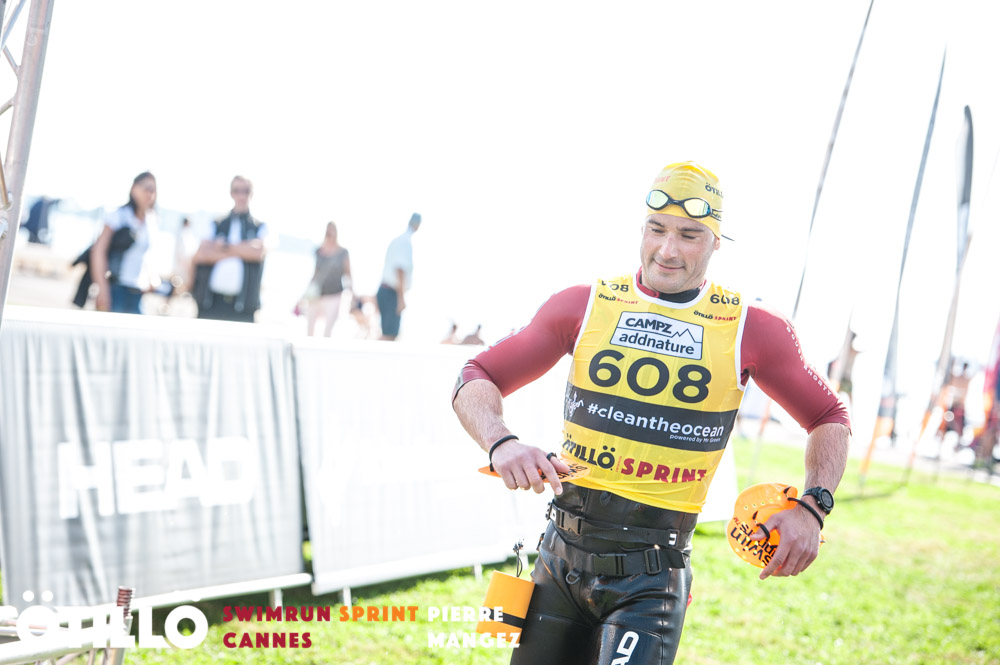 Finishing Cannes
After the race, we hung out at the finish for a while, before getting an Uber back to the hotel. We had lunch at the patio restaurant of the hotel, before getting cleaned up. We relaxed in the room for a bit before heading out to another dinner and dessert.
The next day, after my traditional micro-coffee,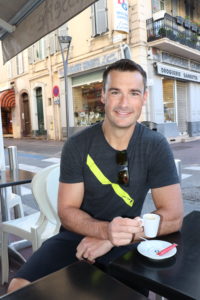 we took a 20-minute ferry from Cannes to Sainte Marguerite Island. We brought a picnic lunch from the farmers market and spent most of the day, exploring the trails and beaches of the island.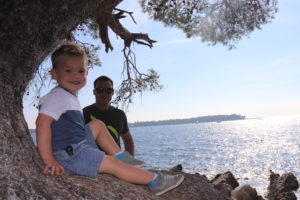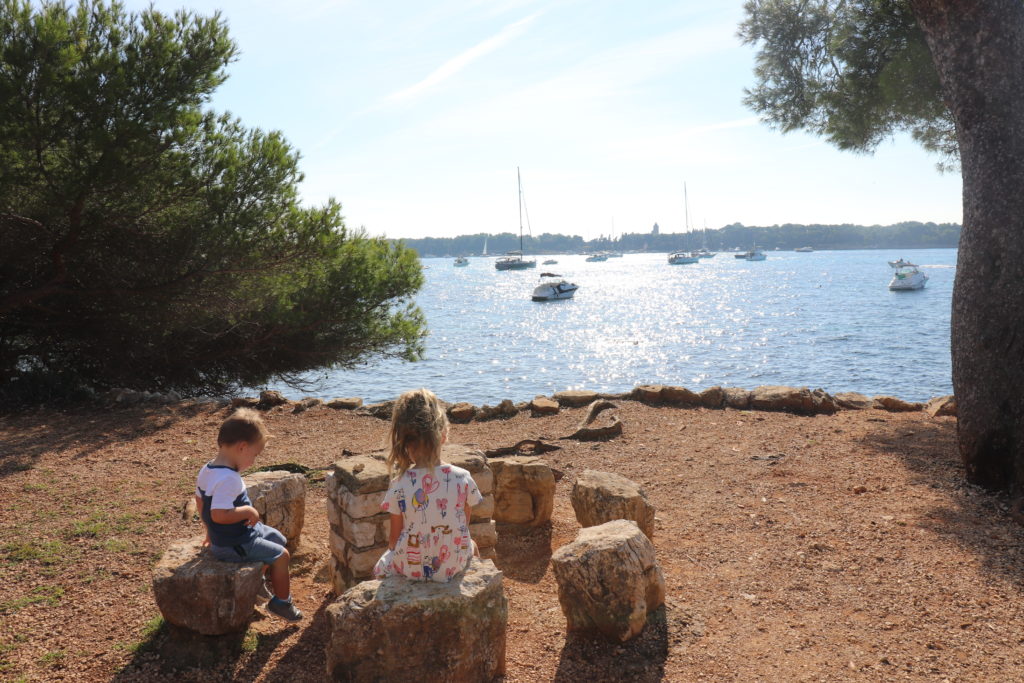 We had our picnic lunch, explored the old Fort on the island before taking a boat back to Cannes. The rest of the day was spent on the beach in front of our hotel with the kids. We finished the day, with our last dinner in Cannes.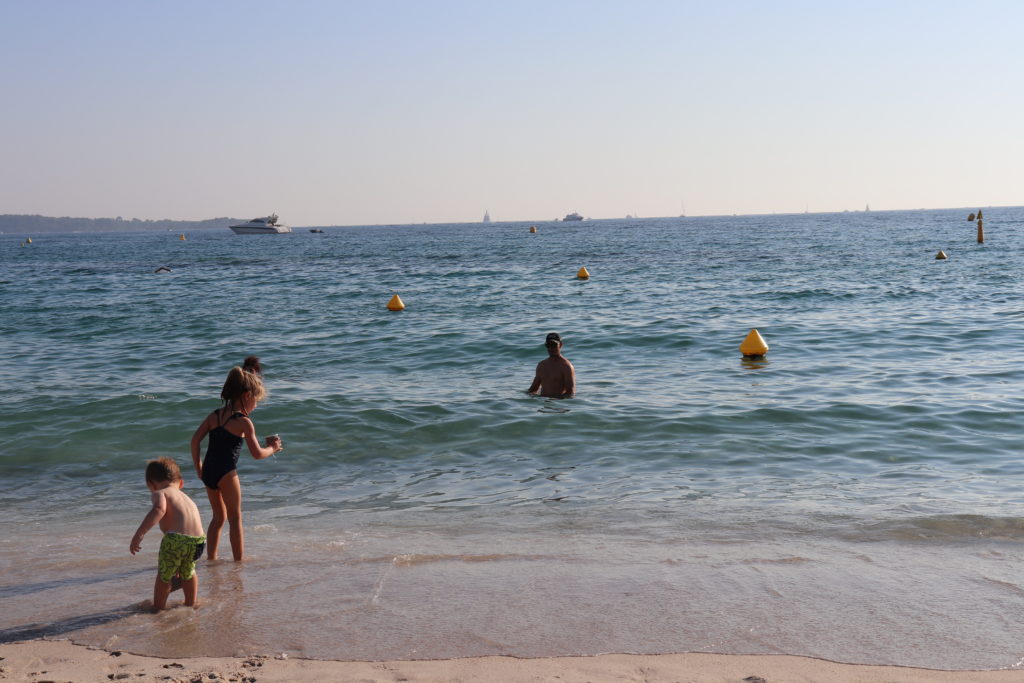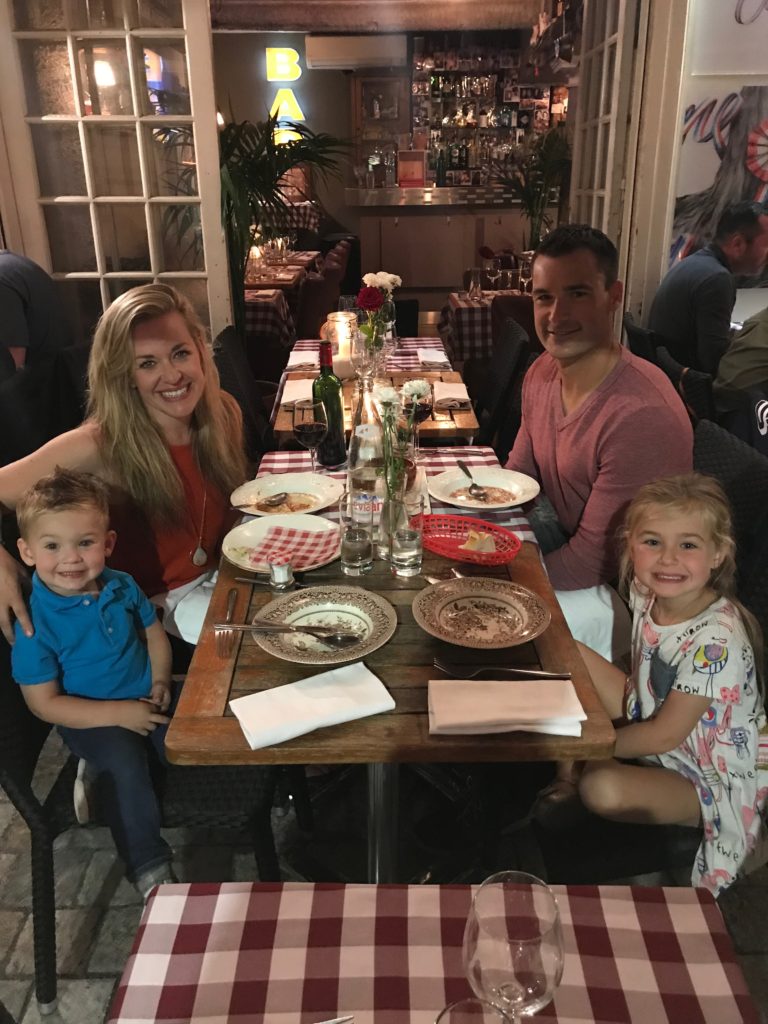 Monaco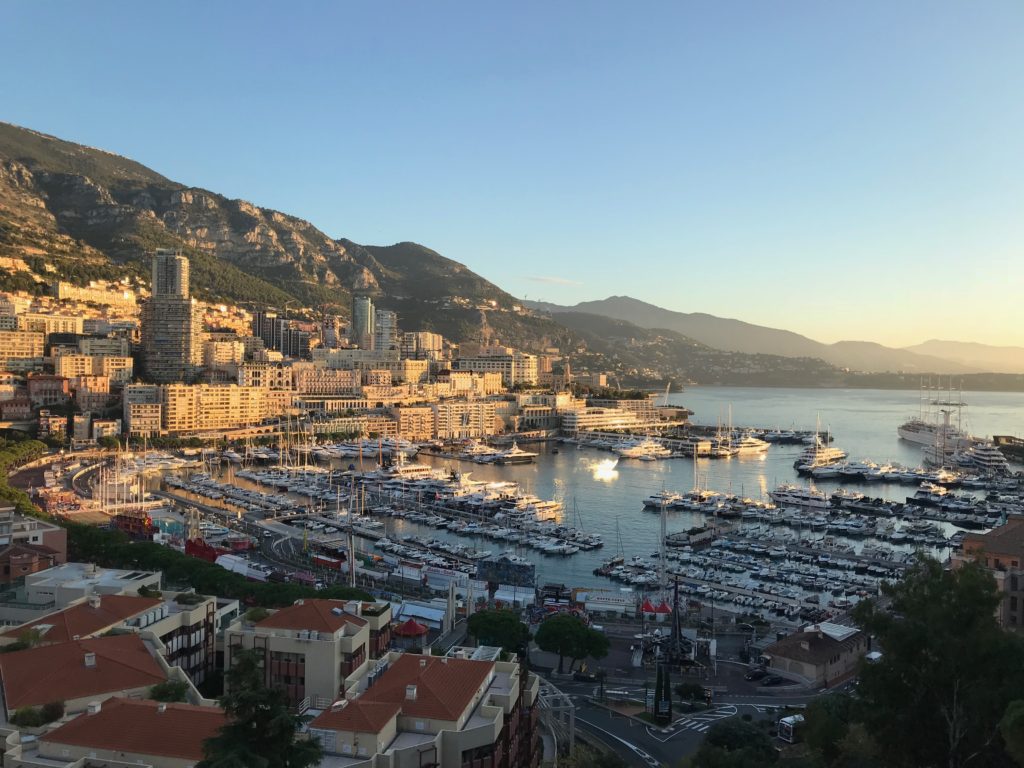 On Monday morning, we got up and caught the train from Cannes to Monte Carlo, Monaco. It was just over an hour-long train ride with some great views of the French Riviera. From the Monte Carlo train station, we were able to walk to our hotel (this was actually fairly challenging as Caden had to be carried).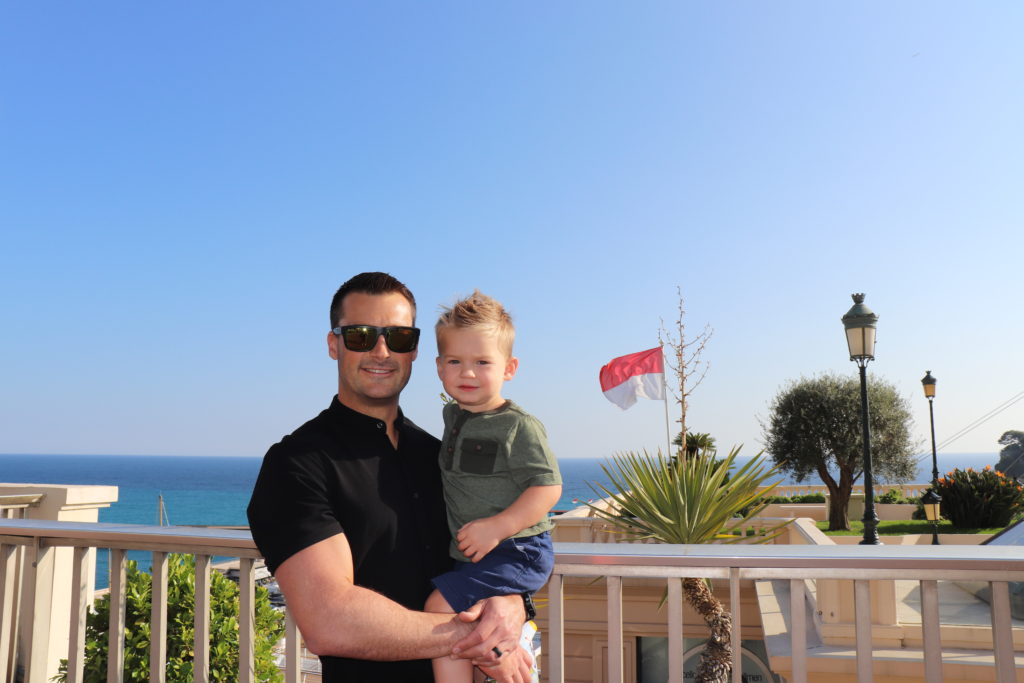 We stayed at Hotel Hermitage, which is a great 5-star right near the casino area. We were lucky, as we had been with all our hotels, that our room was ready in the early afternoon. So we were able to drop off our bags and get cleaned up for lunch. We walked down the road to a great restaurant, which had an outdoor patio overlooking the harbor. Camille and I had a nice coursed lunch and wine, while the kids chowed down on bread (I think that's all they ate most of the trip).
We spent the afternoon walking around Monte-Carlo, seeing the shops and casino. We also took a mini-train tour of the city to make sure we saw everything there was to see. In the late afternoon, we ended up going back to the hotel to check out their pool.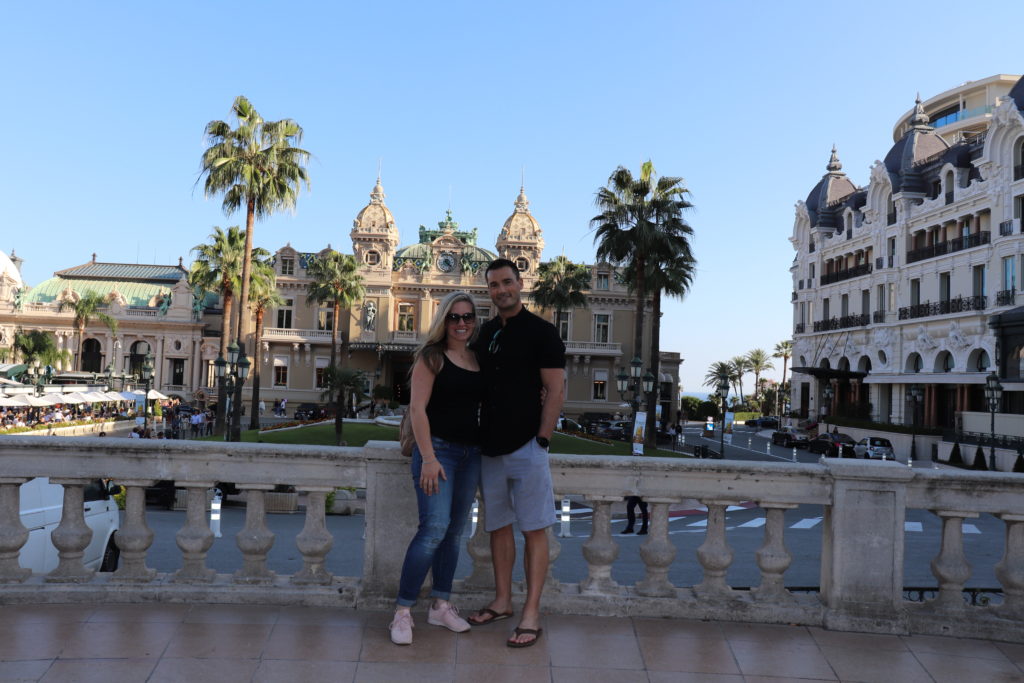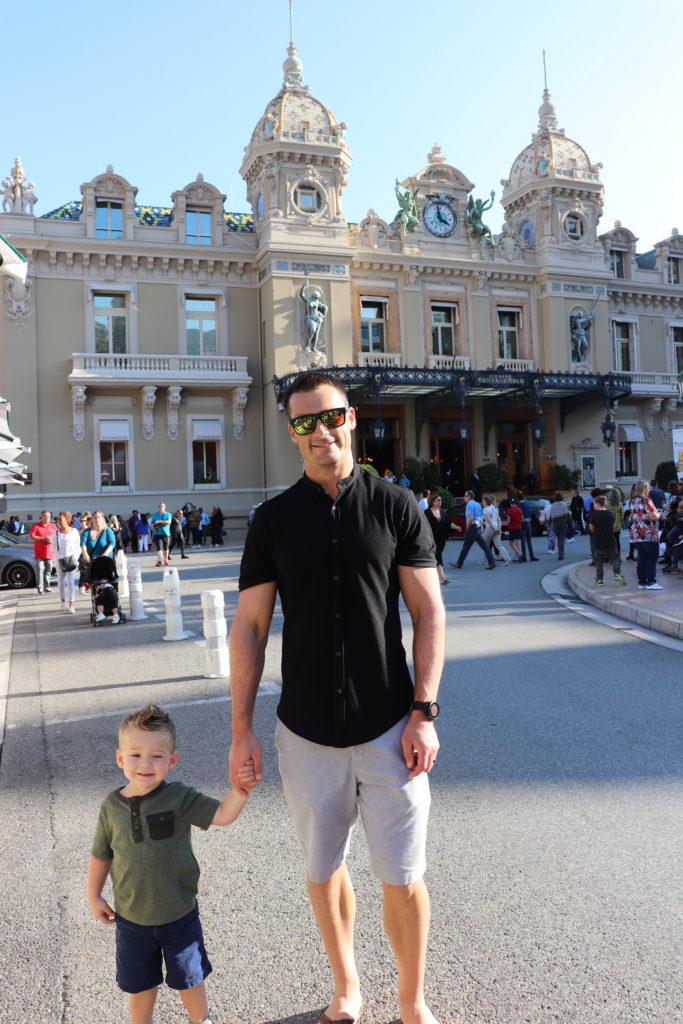 The pool ended up being quite the experience. The hotel had a beautiful indoor salt-water pool. But before you could get in, the staff had us change into hotel robes and slippers, which seemed to be required for entry to the pool.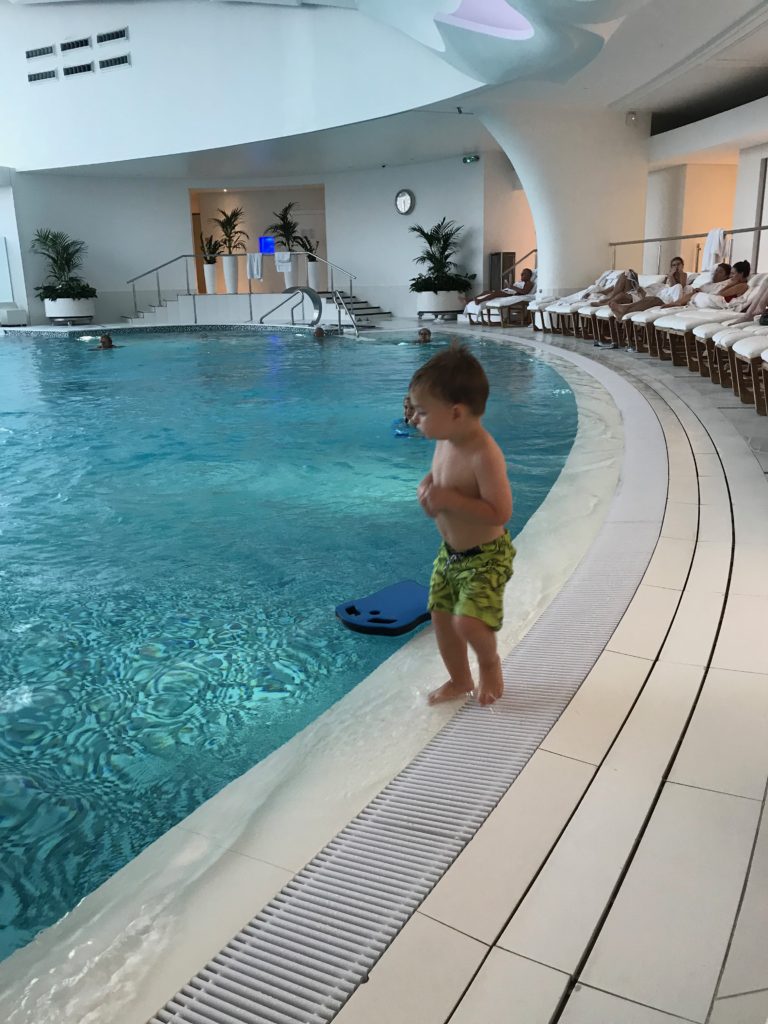 They had high end locker rooms, where they gave you a tour and handed you your robes, your personal electronic locker and your pool slippers. After we all changed, we first went to the outdoor hot tub. They had a beautiful outdoor area, overlooking the Monte Carlo harbor and a (not so hot) hot tub. Camille and I ordered wine while we had the hot tub all to ourselves. We then went back indoors and played with the kids in the pool.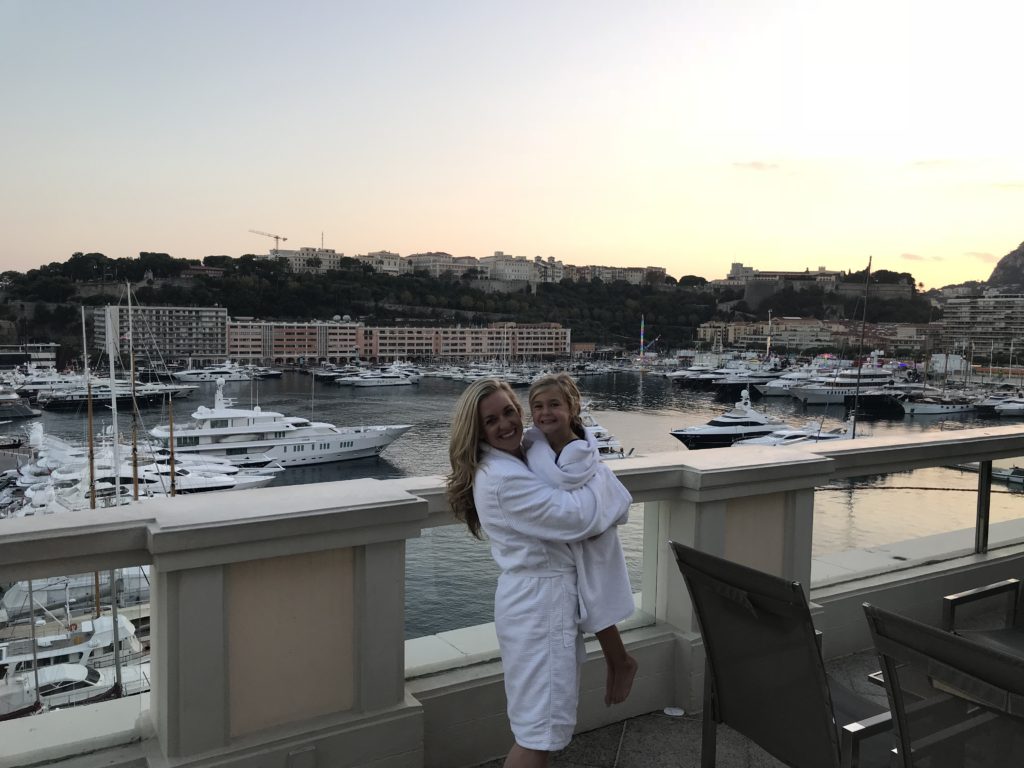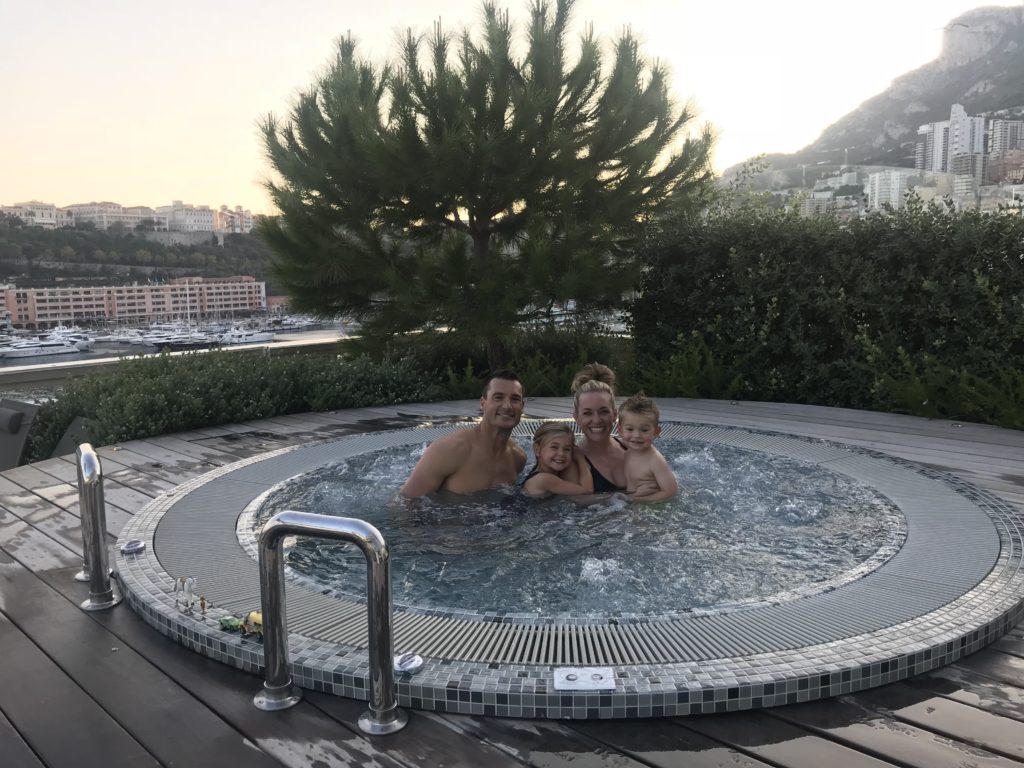 The concierge had made a reservation at a restaurant in the Hotel de Paris, right next door. We had told him we didn't have "fancy" clothes with us, but he said they would let me borrow a jacket at the restaurant and we would be fine. When we all showed up at the restaurant for dinner, the hostess politely said that we didn't meet their dress code, but she would check if it was okay. She came back with her manager, who didn't say anything, but looked us both up and down before saying we couldn't eat there because of their strict dress code. For the record, I was wearing a tucked in collared button-down shirt. We did both have jeans on, but they were "fancy" jeans and probably more expensive than any of my dress slacks. Camille did have "fancy" flip flops on which seemed to be the deal breaker for them. So that was pretty sad. We both felt like low class people at that point.
We walked back to our hotel to get "mad' at our concierge. He ended up calling a few others places, all of which were full. So, he gave us the option of Italian food or eating at the hotel restaurant there. We were somewhat tired of pizza and pasta, so we decided to eat at their restaurant. This started out being a letdown. We didn't really just want to eat at our hotel. But then we found out it was a Michelin star restaurant and actually more fancy looking than the restaurant that turned us down.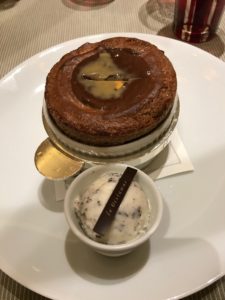 The dinner ended up being one of the best of the trip. Overall, the food was amazing and the service was great. Camille and I did one of their tastings and also added some additional items. They even made a butter pasta just for the kids, which was one of the best pastas I've had in a while. Then we all split a chocolate soufflé. On top of that, they brought out petit fours for us and gave us some breakfast bread (cake) to take with us. It ended up being a great way to finish off the trip.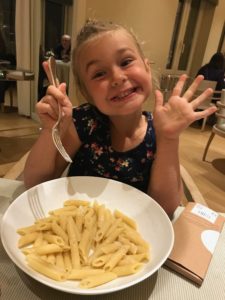 On Tuesday morning we woke up and started packing our bags after I went on a brief run. The hotel had an included breakfast buffet. After a very long trek across the hotel to find the breakfast room, we sat down for an over-the-top buffet and (finally) some great coffee. After breakfast, the hotel gave us a ride to the train station to catch our train back to Nice. It was going to be a long day of travel.
When we got back to Nice, we still had some time to kill before our flight at 3pm. Near the train station is a park/zoo. We took the kids there for a while, where we walked the ground and were able to see lots of animals. We then walked to the airport, a half mile away (glad we all only had backpacks).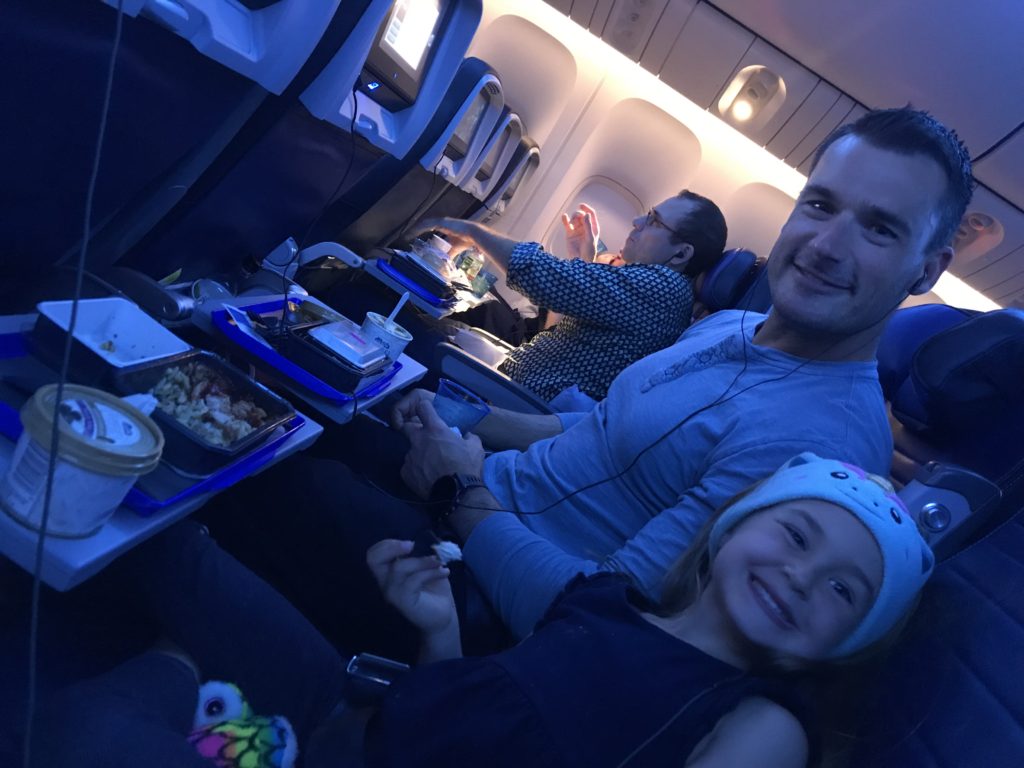 After a short 1.5-hour flight to Frankfurt, we barely made our connection and got to our next flight just in time. Only a 12-hour flight back to San Francisco. Luckily, the food was half decent on the flight and the kids slept a good portion. Immigration was a nightmare in SFO and we had to wait in line while holding our sleeping kids for over an hour. Then another shuttle and a 1.5 hour drive home. A long day, which is the price you pay for an amazing family adventure.