A couple months ago I did a sales training where I was taught to not save the best for last in a sales presentation, but to lead with the ending. With that knowledge, let me spoil the ending and say, I DNFed this race. It was my first DNF ever.
Pre-Race
I'm not sure if I was super-excited to go to North Carolina. I had gone once when I was in 4th grade and don't remember much of the trip. But, the imagery from the previous SwimRun NC was amazing, and it was another state the kids hadn't yet visited. So, we were excited to put another pin on the kid's travel map.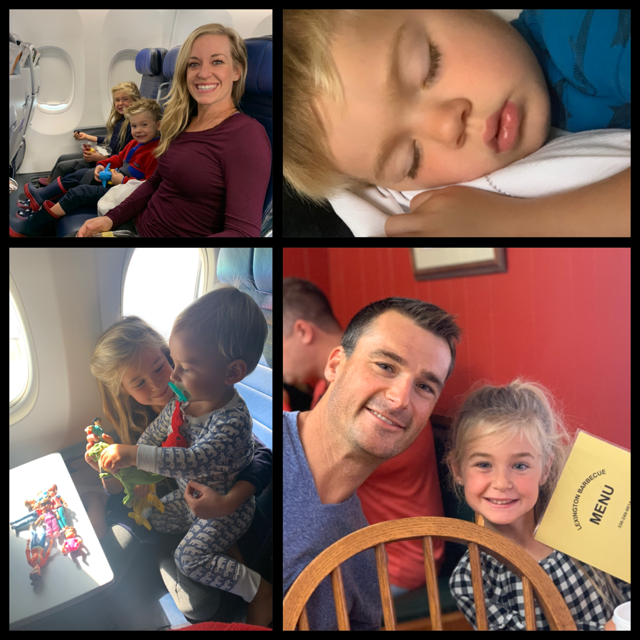 We flew from Monterey to Raleigh, with a connection in Denver, where we met up with our friends, Chuck and Annie and little Henry. The flight from Denver was more enjoyable with us all together, as the girls got to talk and the guys got to… well, do nothing really, except nap. After a bit of a baggage fiasco, where we left a suitcase at Hertz and I had to spend an extra hour in the car to go back and retrieve it, we all got to enjoy a nice meal and some good wine at a Durham restaurant. We spent the first night in Durham before the drive to Danbury. Friday morning, Chuck had us up at 6am (that's 3am PST) for a masters swim session in Durham. This was only my second masters swim, and it was fun to actually do drill work and even do some sprints off the block. I think the last time I dove from the blocks was in high school. 
After some french toast and a peanut-butter-mocha-latte (that's right, and it was as good as it sounds… if you're in to that sort of thing) breakfast, we started on the car trip to Danbury and Hanging Rock State Park. Annie found a BBQ lunch spot, which supposedly had the best BBQ in North Carolina for us. After the slight ("slightly inconvenient") detour, we were off again towards our cabin.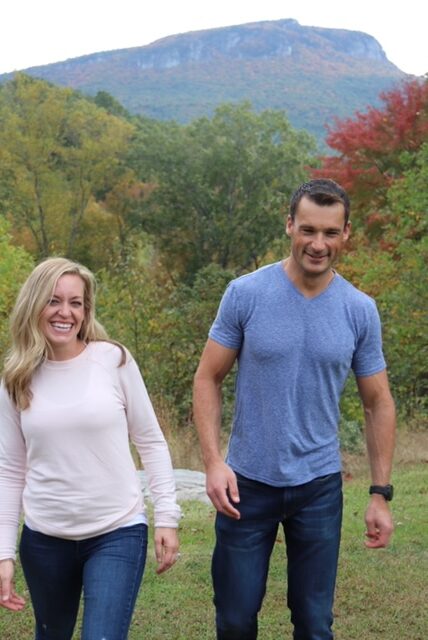 We rented a 7-bedroom cabin on 1000 acres very close to the race start in Hanging Rock State park. It was a bit rustic, but had a full commercial kitchen and occasionally even had hot water for a shower. We had stopped by Whole Foods on the way to the cabin and spent entirely too much money on food for the weekend. We spent the first evening, enjoying cheese, wine, salad and pasta while in rocking chairs on the porch overlooking Hanging Rock.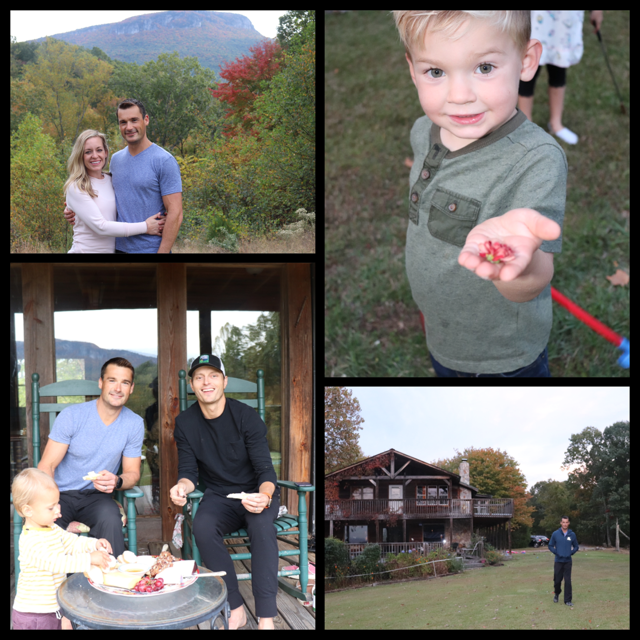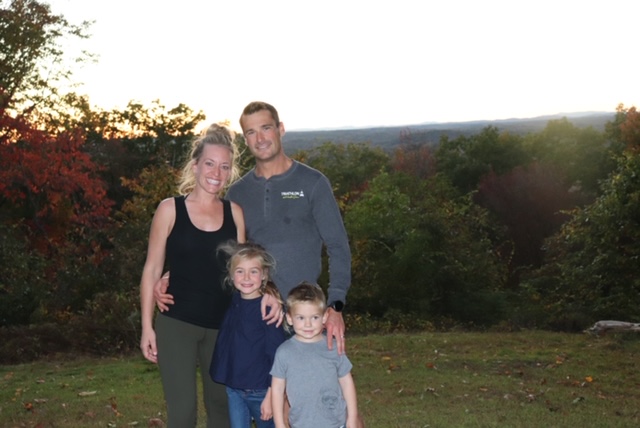 Saturday morning, Chuck and I got up early for a quick 30 minute run. Actually, I got up early and Chuck slept in. So, we ran when he finally got out of bed. Which gave me time to enjoy the sunrise with my own pot of coffee. After relaxing a bit in the morning and having a refreshing cold shower, we went for a hike with the kids in the park to a waterfall.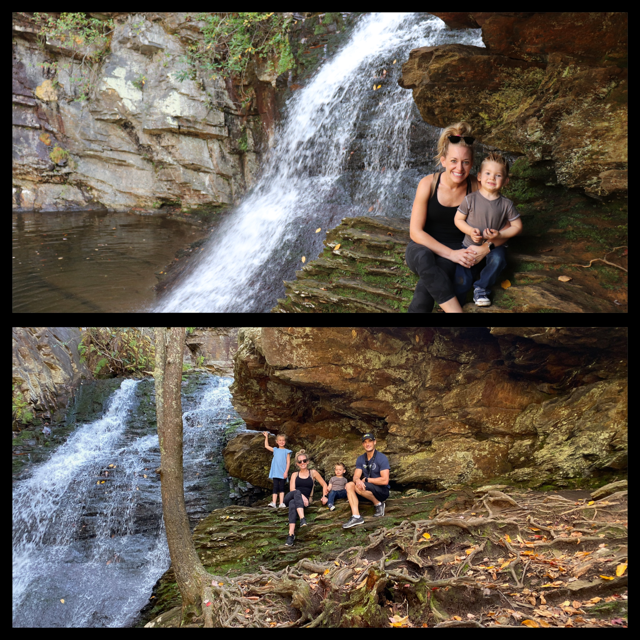 We then all went to the Green Heron Ale House, close to our cabin, where Chuck and I checked in the for the race and listened to the mandatory race briefing. We hung out a bit for some beers and let the kids play by the river. The vibe of the race was very similar to ultra-marathons, which was very casual and laid back with the taste and smell of local beer. That evening, we hung out at the cabin again, joined by another couple: friends of Chuck and Annie who were local to North Carolina.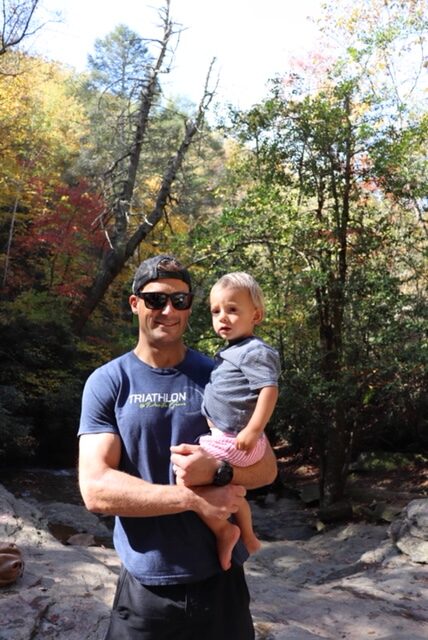 Race Day
Sunday morning, I was up at 6am for my coffee, granola and peanut butter. The race start was at 8am, so Chuck and I had plenty of time to get our equipment together before getting in the car for the quick drive to the start. It was raining all morning, and was muggy and humid. But the rain was supposed to stop mid-morning. At the race start, we found out that they were delaying the start of the race by 30 minutes to let the thunderstorms move on. We had some extra time to kill and huddled under an awning to stay dry before finally getting into our wetsuits and get the rest of our gear on. The idea was to start off with the wetsuit top down since the first run segment was 4.5 miles before reaching the first lake swim.
When the race finally started, it was a spirited jog along a fire-road before the single track began. Once on the single track, it was single file and challenging to make any passes. It was actually a lot of stop-and-go as the long progression of athletes made their way over bridges and small stream crossings. Funny how everyone was initially timid to get their feet wet in the stream crossings and everyone took their time to hop rock-by-rock across. That quickly came to a stop and everyone just started walking through the streams, once we realized keeping our feet dry during a swimrun was pointless.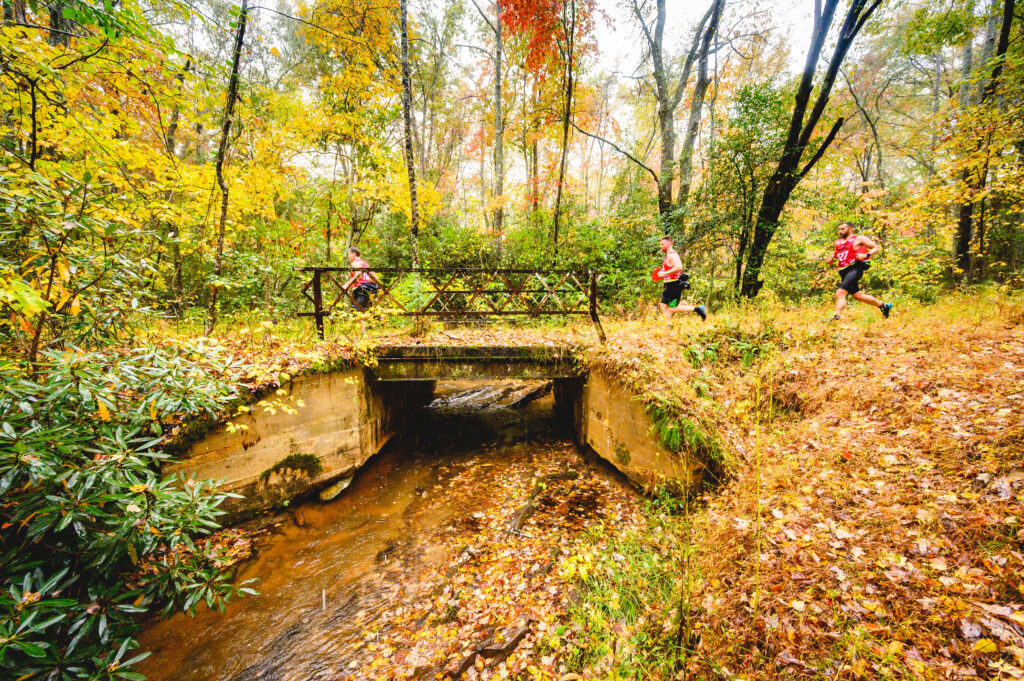 The trail eventually took a turn upward and the climbing began. Nothing too crazy. Right away, on the uphill, I was noticing I was having a hard time keeping up with Chuck. He's basically a mountain goat on the climbs and I had to push pretty hard to keep up. With the humidity, I could tell right away it was going to be a long day. We finally made it to the first aid station where I was excited to get some fluid in me. The problem was, the stations were cup-less and we were all supposed to use a collapsible cup we needed to carry. Of course, I couldn't find mine, and Chuck was already waiting for me, so I had to skip the fluid. I did manage to put a handful of rock-hard gummy bears in my mouth and attempt to chew. During this time, I was also trying to get my wetsuit top on for the first lake swim. I'm obviously not good at transitions, so poor Chuck had to stand there waiting for me like an impatient husband waits for his wife to try on a shirt in the dressing room. I finally got in the water and began swimming the 500 meters across the lake. I still hadn't been able to swallow a single gummy bear, so I spit out my mouthful in the lake (you're welcome fish).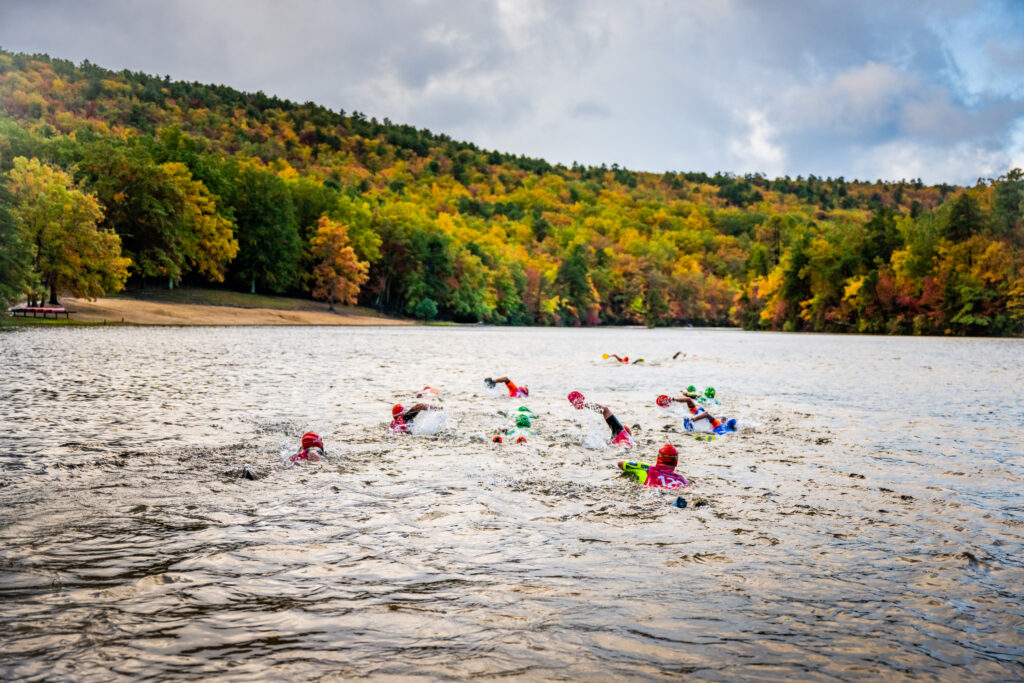 After the first lake swim, we had another quick run around the lake with a quick 25-meter swim, then back to the same spot for a second 500-meter swim. We basically had to do 2 loops across the lake and with a run back to the starting point before moving on. We were finally on to the last climb up Moore's Wall, which is a 2-mile climb, mostly up trail "stairs". This is really where the wheels started coming off for me. I was really getting killed trying to keep up with Chuck and had to start walking some of the sections. Eventually, I just stopped running and was struggling just to power-walk the steps to the top. By the time I finished the 2-mile climb, I knew I was toast and had executed something wrong. I could also feel my hamstrings starting to cramp. The only silver-lining at this point was I knew it was all downhill home and I could give my hamstrings some rest and work on destroying my quads and knees. When I reached the summit, Chuck had already been there for a bit and was probably ready to head back down. We took the obligatory picture and I had to stop to get a few cups of water down, as I knew I was dehydrated.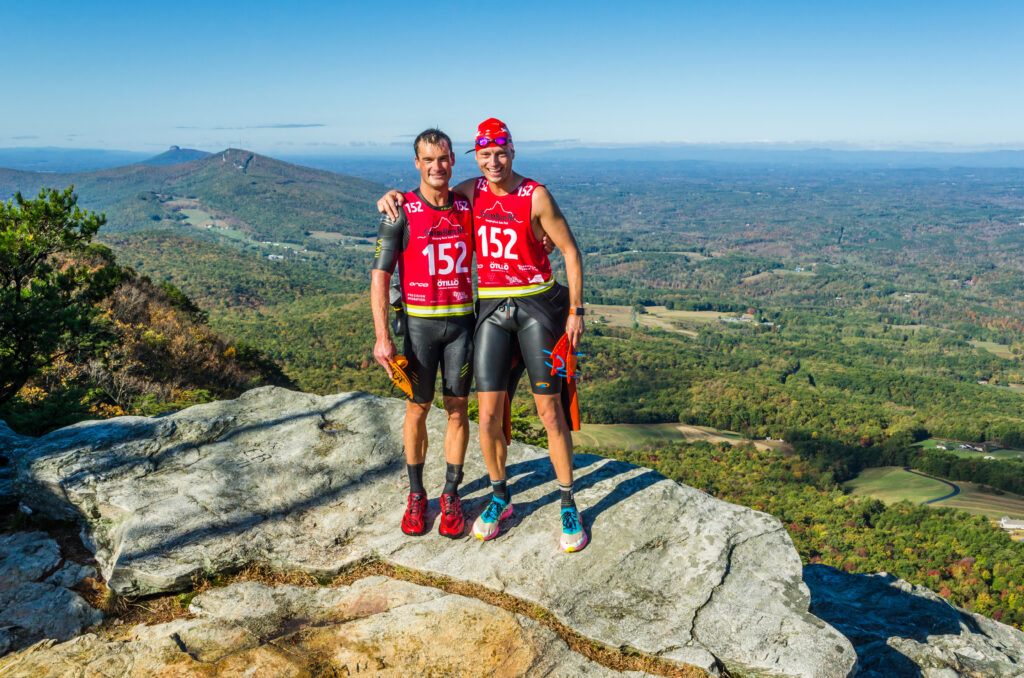 On the way down, Chuck took off and I was left trying to focus on the trail and keep a resemblance of a running pace. But the wheels just kept coming off. I was losing focus and was in a bad mental state in addition to a physical state. That's when I stepping funny and rolled my left ankle on something in the trail. Ouch!! I had to stop for a second a regroup before trying to continue to hobble-run a bit more. At that point, it wasn't even the rolled ankle which was slowing me down, but just mentally and physically I was out of it. That's when I began to know this was bad enough where I might not be able to finish.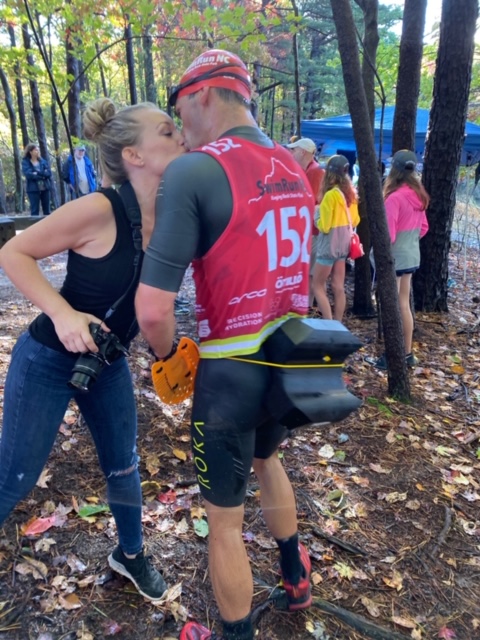 By the time I got back to the lake, 2 miles later, I told Chuck I didn't think I was going to be able to continue. It was a really hard decision for me, but I knew something had happened and I was in a bad enough state where I shouldn't keep going. And this is coming from someone who has walked an entire marathon to finish an Ironman race that wasn't going well. Giving up is not something I have ever done before. Obviously, Chuck tried encouraging me to keep going and to stick it out…. There was only 2 swims and 6 miles of downhill left in the race. I think we both waited at the edge of the lake for a good 10 minutes waiting for me to snap out of it. Even the announcer who was there was joking about our indecisiveness. Definitely a low point for me and very embarrassing.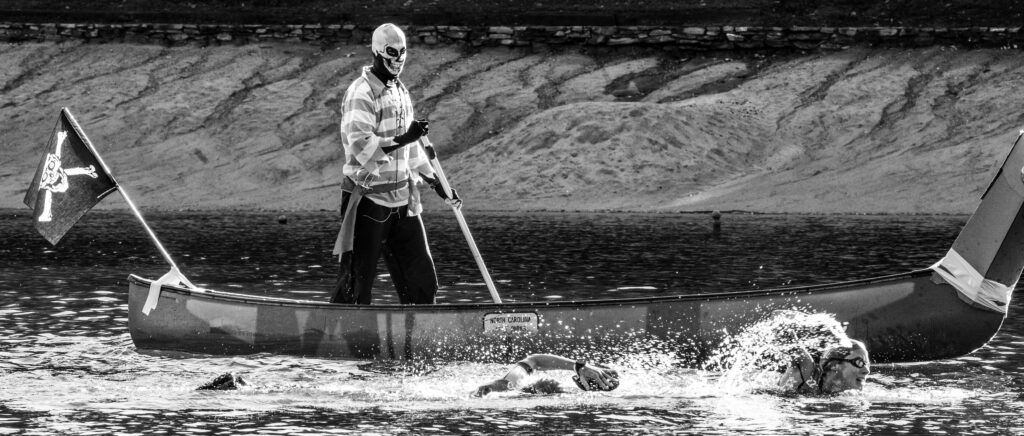 I finally agreed to try a swim in the lake to see if I could keep going. The cold water didn't help the cramps that kept coming on. I was, at one point, really worried about cramping horribly during the swim and getting stuck out in the middle of the lake. By the time I got to the far shore, my cramps had gone body-wide. I think every muscle in my body just seized up: my legs, arms, fingers, abs, neck… everything. I could barely get out of the water. And then I couldn't stand, sit, lay without major cramping and excruciating pain. I have never even been close to that bad of cramps in my life. No matter what I did, I just cramped more. A volunteer gave me some of her water and another racer gave me some salt, but I knew it would take too long and too much more to be helpful.
After another 15 or so minutes of writhing in the mud, I finally was able to hobble on to make it back to the aid station. It definitely took a long time and a lot of stopping. I felt really bad for letting Chuck down and hurting our race. Once I made it back to the aid station, I told Chuck there was no way I was going to make it back down the mountain. He went on to finish the race on his own and I stayed at the aid station, drinking broth and eating bananas, doing everything I could to get hydrated and stop the cramping.
Eventually the cramping stopped, but my rolled ankle started hurting. I waited there for maybe another hour until some volunteers were done with their shift and offered to drive me back to the start/finish line. I got in their van and made the depressing trek back. At the finish line, Camille was surprised to see me, and I had to explain why I couldn't finish the race. I was able to get some food in me and continue to get in more fluid. We waited a bit longer for Chuck to finish before both families relaxed in the Ale House for a while and then headed back to the house.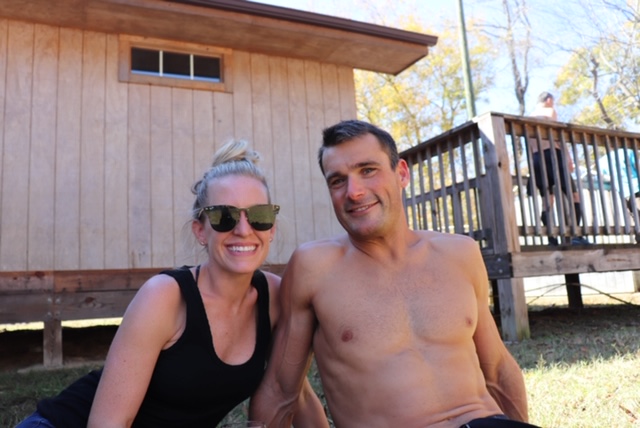 Post-Race
While I'm obviously very unhappy with my performance, I'm not taking it too hard. It's just another challenge to figure out what happened and an opportunity to learn a little more about my unique body and it's needs. However, since swimrun is a team sport, I feel horrible to let down my teammate. That is by far the worse part. I'm used to being a team-of-one. Hopefully I can figure out what happened before my next swimrun event.
The rest of the weekend was still enjoyable and relaxing. We spent Sunday evening back at the cabin eating and drinking (and icing my ankle). Monday, we headed out on another quick hike to a cave for some family photos. I, of course, hobbled along on my bum ankle. We then headed back on the 2-hour drive to the airport, stopping for a southern lunch before getting back into Raleigh. Two more flights and we were back in Monterey and ready for bed and work the next day. Overall, the kids did really well, with limited breakdowns considering how tiring travel can be. Only 2 more weeks of some more training before taper time for our next adventure… in Mexico.
In conclusion, I DNFed this race. It was my first DNF ever.