Pre-Race:
Race day started a lot earlier than usual at 3:50am. I usually like to sleep in as much as I can and only wake up to get food in with enough time to let it digest. The bus from our hotel to the start left at 4:30 am so I needed to be up and ready extra early this time. I drank a couple cups of coffee and got dressed, then started eating breakfast as I waited for the morning bus.
Breakfast was a French roll peanut butter and jelly sandwich and a cup of yogurt with granola. I brought some extra bars with me for the morning just in case I got hungry later.
I got to transition and got the tattoo body marking. This is the first Ironman I've done where they weigh the athletes in the morning.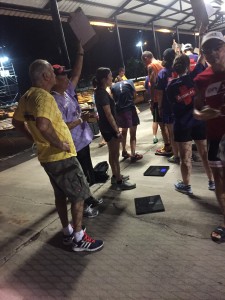 That made me a bit worried about the hot day ahead. I weighed in at 172 lbs!! That's 12 pounds more than I weighed when I left for Kona. I'm either carrying a lot of water or I've had one too many iced mochas. At least I'd kill it on the downhills.
I finally made it to my bike. The volunteers were awesome. They brought me over a pump and held my bike, while I pumped up my tires. I loaded my nutrition on the bike and synced up my Garmin bike computer.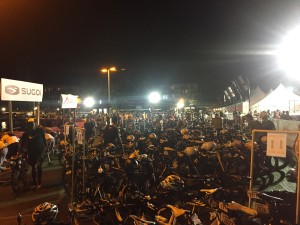 After getting my bike all checked, I still had almost an hour and a half of downtime before the start. I ended up leaving transition and hung out with my family, once they had made their way down to the swim start.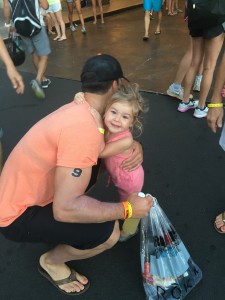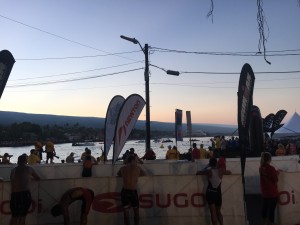 After the pro start, I started getting dressed and slowly got in line to make my way into the water. I ate a UCAN bar and drank a Skratch HyperHydration to finish off my salt pre-loading plan. I ended up hanging out on the beach for about 5 minutes until Mike Riley started telling everyone they needed to be in the water. The last thing I wanted to do before an Ironman was tread water for 20 minutes.
I didn't really have a strategy for where to place myself at the start. I couldn't really tell what position offered the fastest line. So I just found a spot and put myself about 4 rows of people back from the line. I figured this would be a good place for my swim skills, not in the front with the real swimmers, but not in the back of the line either. I just treaded water, watched the clock on the pier and tried to enjoy the whole experience of the sunrise, helicopters and drones overhead.
Swim: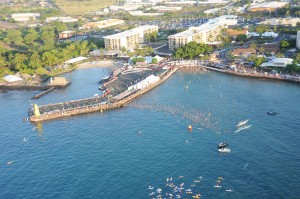 When the cannon went off, I surged forward and started off with a strong pace.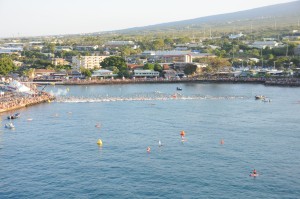 I figured, this would be the coolest (temperature) part of the whole race so might as well put in a little more effort before the heat slowed me down. Right away there was a ton of contact with all the other swimmers around me. I was used to a little contact, but it would usually die down. But here, it was relentless. I was getting kicked and smacked all over. Every time I tried to look around to see how to avoid the masses of people, I didn't see an escape. I even tried backing off a bit just to let some swimmers around me go ahead to avoid getting beat up, but then I would just get swum over from behind. By far, this was the hardest swim I have done in a race due to the violence. After about 15 minutes, things got a bit better as I found my pace with the swimmers around me. I was then able to relax a bit and watch the sea floor and pay attention to sighting ahead.
At the turn-around, things became a bit more congested and violent, even though I made a pretty wide turn to avoid the congestion. I looked at my watch and saw I was under 30 minutes, which was a good sign. I know a lot of people had told me the swim back to shore would be slower, so I was still expecting a slower overall swim time.
The swim back to the pier was a bit more uneventful, which I was grateful for. I picked a strong, but not too aggressive pace. I could feel my swimskin cutting into my side, and I just hoped it felt worse than it was. I really didn't want to deal with an open wound the rest of the day.
As I got closer to the swim exit, I checked my watch again and saw I had already passed the 1 hour mark. I knew it was going to be a slower swim, but mentally, it's hard to see numbers which are slower than you want. Overall, I put in a decent effort and was happy I survived a very tough and physical swim.
Swim Time: 1:04:24
The run through transition was pretty long. They make you run from the swim exit, all the way around the entire pier before getting your bag and running into the changing tent. All I had in my transition bag were socks and glasses. I had rolled down my tri-suit under my swim skin with the hopes of being able to put in on while running through transition. That didn't work out at all. I couldn't get my tri-suit on with my wet skin. I needed a volunteer to help pull my sleeves up on my tri-suit. After I got dressed, I got to my bike, put on my helmet, and ran to the exit with my bike.
T1 Time: 5:06
Bike:
As usual, the first few miles of the bike were just about getting situated and doing a self-check. I felt decently good, and didn't have any issues putting out power. We made our way south on Kuakini Hwy before quickly hitting the turn around and making our way back north.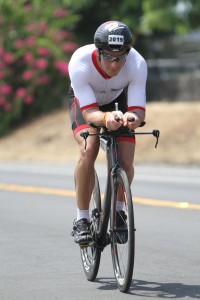 I was happy to not only see my family cheering for me out of transition, but also only a few miles later as we worked our way up to the Queen K.
Once I started heading north on the Queen K, everything got a lot more quiet and serious. The crowds of people went away, and for the first time I could start feeling the heat of the morning. I became a bit worried as I could feel my face getting warmer already. I started to just focus on power and thinking about my nutrition plan.
This is the first race where I didn't have a really good idea of what my pace should be. I ended up deciding to just go more by feel. I knew what I could do, but wanted to be cautious about the heat and the run to come. I really wanted to be more conservative and maybe learn about how I handle heat, than over-do it and end up in a bad situation. If anything, I thought I could probably go harder earlier when it wasn't yet as hot.
My nutrition plan was to start with 300 calories from UCAN the first hour of the bike and then back off to 200 calories per hour for the rest of the bike. I had a single bottle of UCAN behind the saddle for the first half of the ride, and then a BTA bottle for water only which I refilled every aid station. My goal was to drink at least 70% of the BTA bottle between each aid station, which would put me at about 1.5L/hr of water. Each aid station had 2 water pickups, at the front and at the end. The first pickup, I would refill my own bottle, and the second pickup I would dump on myself to stay cool.
Read more about my hydration plan here.
At mile 7, I was already out of water on my bike and I was looking for that first aid station. As I came up to it, I noticed they weren't even setup yet and they had nothing to give out. Not a good start to my race if I'm already thirsty and out of water on mile 7. I had to wait to the next station to get my water.
The ride up to Hawi didn't disappoint. It looks just like the pictures I had seen of the lava fields. Kind of like the moon, but hotter.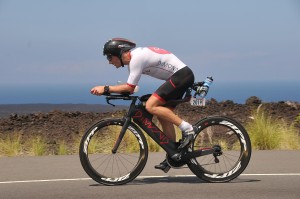 I don't think the heat was as bad as I expected, because I really expected the worst, but I would still start feeling overheated over time and would need to mentally focus on the next aid station where I could douse myself in water again. I really wasn't enjoying my aero helmet as I had no vents in the top. All I wanted to do was dump water on my head, but I couldn't do that with my helmet. The best I could do was pour cold water down my back and arms and sit up and spray my chest as well.
The first penalty tent I came across was packed, with a line out the back. After that, I made a very conscience effort to stay very legal. I think I burned too many matches on the way to Hawi trying to pass groups. Sometimes I would look down as I made a pass and see 300+ watts. I think the adrenaline of the pass masked the pain of putting out so much more power than I should have.
The course seemed to be somewhat rolling, where I was always on a gradual incline or decline. I could tell the Dimond handled really well in the cross winds and downhills because I would always pass people at those times without much effort at all.
There were times, when the wind started picking up across the road, but it didn't seem bad at all. No worse than back home in the Salinas valley.
Once I started getting close to Hawi, the clouds moved in and it began to rain pretty good. The rain felt amazing. The water was warm, but I knew it was keeping me cooler than with no rain. I made the turn-around at Hawi and quickly stopped at special needs to grab my second bottle of UCAN. I also filled my BTA with another Skratch HyperHydration for another huge dose of sodium. I did that on top of around 5 SaltStick pills per hour.
The downhill leaving Hawi, was very fast. We had a good tailwind for a handful of miles. It was a bit dangerous because I really couldn't see well in the rain going that fast. Eventually, the rain ended and so did the tailwind. Back in the lava fields, it started heating up again as the clouds disappeared and I was in the direct sun again.
The last 25 miles really took a lot out of me. I started feeling uncomfortable on the bike and really wanted off. My power was dropping and my perceived effort was rising. I let my power drop as I didn't want to push hard to chase a power number in this race. The road felt like a long uphill, with no downhills. I was starting to worry that I was suffering a bit too much too early. My stomach also didn't really like the hot UCAN I was forcing down. I decided not to drink the last couple ounces.
As I made it past the airport and back into town, I could see the runners on the course and I was looking forward to something new and getting off the bike. The crowds back in Kona were awesome and put some life back in me. Transition came up quick once we got into town and I was finally off my bike.
Bike Time: 5:14:31, 193 AVG PWR, 204 NP PWR
T2:
Nothing exciting about T2. Looking at my time, I took a while, but there was a lot of running around the whole pier.
T2 Time: 3:54
Run:
The crowds on Ali'i were amazing and really gave me a much needed boost. I was still pretty tired and my stomach wasn't perfect, but overall, I was happy I was still going. I did a quick body check and decided I needed to back off the pace because it felt harder than it should have. Again, I really wanted to be conservative. Running down Ali'i towards Keauhou was a lot of fun. There were lots of groups setup along the course cheering and playing music. Everyone had hoses out and would spray the athletes (if they wanted) as they ran. It felt great to be hit with water every few hundred yards.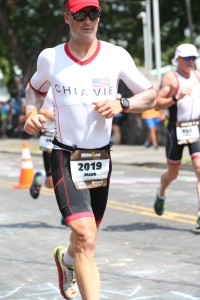 Right away, I decided to walk every aid station. There was just too much to do to be able to run through. I drank water and Gatorade every aid station (with a goal of about 10oz per station) and also dumped 2-3 water cups on myself, took sponges and dumped 3-4 cups of ice in my jersey. I would try to pack my jersey, front and back, with ice every station. The combo of cold water and ice on me seemed to really help cool me down. I could feel my body really start suffering in the heat leading up to each aid station.
After the turn around in Keauhou, I really wanted to start walking. I didn't seem to have the mental and physical energy to keep going, and the heat was just zapping energy from me. I set a goal to run to each aid station, 1 mile apart, and then walk all I wanted after that. After I got water and ice on me, I was able to muster enough energy to run to the next aid station.
However, at this point, my pace was really suffering. I was running about 8 min/mile pace and then walking the aid stations, which put me closer to an 8:30 avg pace. I decided it was the best strategy for the situation even though I knew my time was going to be much slower than any previous race.
After getting back in to Kona we made the right turn up Palani. I looked up Palani and immediately knew I was going to have to walk it (I guess most the pros walk it too). I figured running wouldn't be much faster and would only destroy me fully. After Palani, I finally got out on the Queen K and began running again.
Out of the Queen K, there were no crowds of people like on Ali'i. It was all business. Mentally, I just tried to focus on the next aid station. I ended up switching to water and coke at each station at mile 10. The coke seemed to help a bit more, but my stomach still wasn't happy.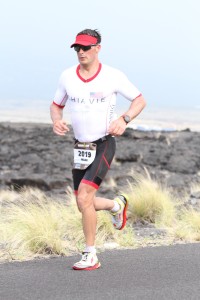 I finally made it out to the Natural Energy lab and turned left off the Queen K. We had a nice long downhill run through the energy lab before turning around and running back up to the Queen K. At that point, I mentally started doing better because I knew I was almost done and I knew I would finish even though, physically, I was breaking down pretty quickly.
The run back into town seemed to take forever and seemed to be all uphill. I would feel it getting a little cooler as the sun was getting lower on the horizon. The run going down Palani was painful and fun as the crowds were out and cheering everyone through. As I made my way back to Ali'i I tried to really enjoy the whole experience of the finish.
Ali'i was packed with people and I could hear Mike Riley yelling out finisher names. It was a great experience running down the finisher shoot and to the line. I'm super proud of being able to have raced in Kona with all the other amazing athletes. I hope to be able to come back soon.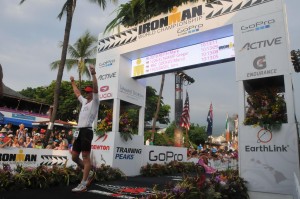 Run Time: 3:45:17
Final Thoughts:
Kona was an overall great experience, and so far, my favorite Ironman. From a training and racing perspective, I put a lot of effort into learning about myself for this race and how to handle and manage heat. I'm really happy I put in the time to come a bit closer to learning how I handle these types of stresses. I loved the overall experience of Kona. Aside from walking around dripping sweat, there are lots of great things to see and activities to do. I was able to also meet so many great athletes and hear their amazing stories.