Pre-Race
We did a one-night stopover in Atlanta before driving to Chattanooga on Thursday before the race. I spent the next few days doing the normal pre-race admin things like checking in, picking up my bike, getting my things ready. Our typical enjoyment often comes from finding good restaurants for breakfast, lunch or dinner. We found a few great places in Chattanooga. The one thing I wish I had done one of the days leading up to the race is drive the course. I just didn't seem to get the opportunity.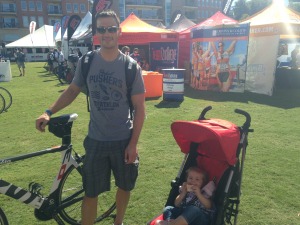 I was a bit worried about what the heat and humidity was going to be like in Chattanooga. Living and training in coastal California, it often doesn't get over the mid-70's. Experience has shown me that I just do horrible in the heat. In Chattanooga, one of the first things I noticed was the sun felt really intense and I would sweat just standing around at the expo or anywhere not in the shade. This was a bit concerning for me, but there wasn't much I could do about it.
Overall, I didn't feel too nervous about the race. I was looking forward to the challenge and excited to say I completed my second Ironman (just to show the first one wasn't just a fluke). I did feel a bit of personal pressure to meet or improve on my time from Ironman Brasil. I knew this would be a bit of a challenge since Chattanooga had a longer bike and a tougher run.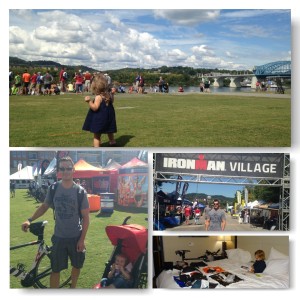 Race Morning
Alarm went off at 4am. I got a decent amount of sleep, only waking up 3-4 times to use the restroom. The excitement of what was to come easily hides any feelings of morning tiredness. I had bought some breakfast to make in the hotel room from Whole foods the day before.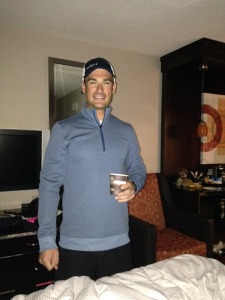 I didn't want to wake Iyla who was sleeping in a crib in our room, so I sat in the corner of the hotel near the front door and the bathroom. Breakfast was a few cups of cold-brew coffee I heated in the microwave with creamer, bread with peanut butter (lots and lots of peanut butter), and w plain greek yogurt with granola. My goal was to eat as much as I wanted 3 hours before the start of the race. After breakfast,, I slowly go dressed, put on sunscreen and filled my water bottles.
Around 5am, I started walking down to T1 with all my stuff. This seemed a bit early to me for a 7:30 start, but I felt everyone was going to get to the swim start super early and the rolling start was first come first serve in line. I loaded up my bike with nutrition, synced my GPS, blew up my tires (this took a while cause it was my first time with a disc and using a crack pipe). I then got in line for the school buses which were busing athletes and family members to swim start. I told Camille it would be better for her to just show up for the swim finish since I was told the swim start was not spectator friendly. This also allowed Iyla to sleep in a bit more so she'd be easier during the long day ahead.
Getting off the bus at the swim start, I had to walk another half mile to the end of the line. I couldn't believe how long the line was. Granted, it was made of athletes and family, but still. I just sat on the ground in line for what seemed forever. I had a granola bar while I waited and sipped on some water.
The race start was somewhat anti-climactic. I really liked the mass start of IM Brasil. It made the race exciting and felt like a competition. In Chattanooga, I couldn't even tell if the race had started. The line slowly started moving and people slowly started changing. Eventually, I put on my swim skin and got ready. I only saw the water a few seconds before I had to jump in. It really was not an exciting start to my race, just walked down the dock and carefully jumped in feet first… and I was off.
Swim
I started the swim pretty easy just to get a feel for things. I had never swum in a swim skin before, so I didn't know how it would feel. There was such a wide area for swimmers that there was virtually no contact the first half of the swim. I swam at a decent pace, but didn't feel like I was pushing at all. I kept reminding myself to enjoy the morning and to enjoy the sunrise. Every 3rd stroke I'd get a glimpse of the shoreline and sunrise. It felt so relaxing and calming to take it all in.
There were swim buoys lining the course, but when I sighted, I could see much farther down the river and the buoys in the distance. Instead of aiming for the next sequential buoy, I aimed for the last buoy I could see in the distance. This put me off to the far right of the course and into deeper water due to the curve of the river. I noticed most swimmers were closer to shore, but I figured the deeper water would mean more current and it was clearly a straighter shot.
At some point I glanced at my Garmin and I saw an average pace of under 1:10 per 100 yards. "There's no way", I thought. That's the speed I would sprint for about 200 yards. Seeing that, I knew it was going to be a fast swim. As I got under the bridges and closer to the finish of the swim, it became more crowded. I had to go around quite a few people which is always annoying.
The finish was pretty fun as there were stairs coming out of the water and onto the landing. A volunteer reached out her hand and I grabbed it and she helped pull me out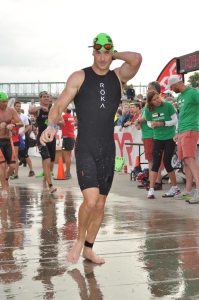 of the water and up the stairs. I looked at the race clock as I went over the timing mat and saw 1:08. I had no idea how far back I started from the first group, but I knew it had to be at least 15 minutes, which meant a fast swim.
Swim Time: 00:46:11, 1:11/100m pace
T1
Nothing exciting here. I suck at transitions. I take my time to put on socks and get sunscreen on. This time I didn't put my shoes on but ran to my bike in socks and then ran with my bike and shoes in hand to the mount line. I put on my shoes at the mount line. Even though it wasn't really dangerous to do so, I'm not sure if I would do it again (I don't want to piss anyone off). Volunteers were great by the way.
T1 Time: 5:59
Bike
The first part of the bike was just getting through town and out into the country. I took this to try to settle down and do a self-check on how I felt. I felt pretty good and energized and my power seemed good for the effort I felt. As expected, it was a bit crowded on the road and I struggled to find my spot among the other athletes and keep far enough from the rider in front of me. The bike is seems to be my weakness. Not only do I not have great fitness on the bike, but I usually ride alone during training where I can focus on power and nutrition. In an IM race, it seems you are always playing leap frog with the same handful of riders, which can be frustrating.
The course had a lot of rollers, and every athlete seemed to have a different approach to how to handle these rollers. My goal was to flatten the course by maintaining my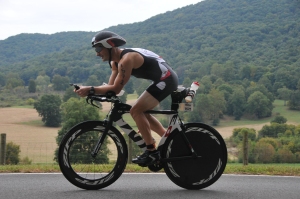 power on the uphills and downhills. I would allow myself to get a little higher in power on the ups and drop a bit on the downs, but overall, I wanted to stay consistent. Other people had different strategies. Some sprinted the uphills like they were going for king of the mountain and then tucked into an aero position and coasted the downhills. Because of all the variations in how athletes handled the rollers, I kept passing and then being passed by the same people over and over again.
My power numbers were reading a bit lower than I wanted, but I was feeling good, and I kept reminding myself that it was better to be conservative on the bike. I knew it all came down to a solid run. I tried to enjoy the scenery and focus on my nutrition.
On the bike I carried 2 bottles of Perpetuem with 660 calories each. I carried a BTA bottle with water which I refilled at each aid station. For solid food, I had 2 Stinger Waffles, 1 Stinger Chew and 1 Stinger honey gel for about 350 calories per hour. My goal was about 2 bottles of water per hour (if it was hot). I also had Salk Stick capsules, which would be my first time using them, and I went for 2 every 30 minutes.
The second loop of the bike was a little better, where there were less people around me and I was better able to focus on power. This quickly ended when I got stuck behind a huge construction truck (it was an open course) which was going about slower than me and I couldn't pass. This lasted about 15 minutes and a bunch of us ended up not being able to pass for a while and just bunching up behind it.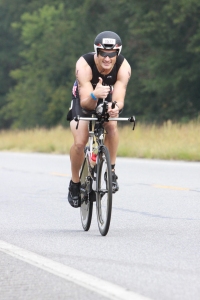 I passed mile 112 right at 5 hours on the dot. It felt odd to have to keep going since the 112 number is so ingrained in your mind. The last 4 miles were pretty lonely and I could only see the guy in front of me way in the distance. During the last mile, I felt like I was really ready to get off the bike, but my overall energy wasn't too bad. I rolled into transition without too much fuss, ready to get on to running.
Bike Time: 5:11:15, 21.59 mph avg.
T2
Did I say I'm slow in transition? The volunteers were great. I had a volunteer point to a chair to sit in, where he then dumped my run bag for me and collected things as I started shedding them. I was really amazed at the help. In Brasil, there was no help at all. I took a while because I wanted to change my socks and also put Vaseline on my toes. I usually struggle with blisters during triathlon so I wanted to see if putting Vaseline on my feet would help at all. After using the port-o-john, I was out on the course.
T2 Time: 4:15
Run
The run is when everything gets interesting…. And real. So far, the swim was easy, the bike was uneventful and now I had a marathon in front of me. Right out of transition, there is a long half mile climb. I just looked at my watch and saw an 8:30 pace which didn't make me happy. Once it flattened out, I knew I had about 8 miles on the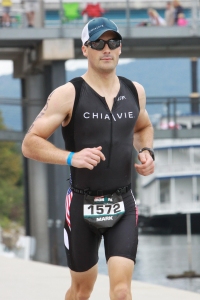 first out and back section. There were a few people that flew by me, but I just let them go. I know to run my own race on the marathon and save it for mile 18. The first section was pretty uneventful. I tried to get into a good stride. I took sports drink and water every aid station and dumped any extra water on my head and back. I also took sponges every aid station and stuffed them in my tri suit.
Another runner in the age group above me passed me, going just a little faster than I was going. I decided to use him to pace me and I quickly got on his heels. I saw him keep checking his watch, so I knew he'd be a good pacer as I seemed he had a goal pace in mind. I ran right on his heels from that point all the way till the end of the race. I apologized to him for running on his heels, but he said it was fine. He was also full of energy ad hi-fived all the volunteers and seemed to be in really good spirits, which was really a great motivator for me and very uplifting.
When we crossed over the bridge, the course got a bit more challenging. The hills weren't that bad, but they really slowed me down a lot and killed my average pace. Coming through and starting the second lap, the crowd was amazing and really energized me.
On the second lap I started to feel a bit better and felt I could pick up the pace a bit. I was still on the heels of the guy in front of me and we were just blowing by other runners. We were running about a 7:30 pace, which isn't horribly fast, but I felt like I was running a 6:30 pace by the number of people we were passing who were starting their first lap. I was still just doing sports drink and water and not really eating anything, but at least I felt good.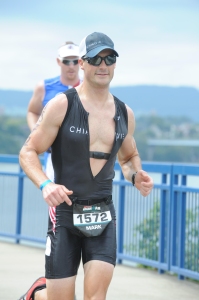 At mile 18, I was still feeling pretty strong, but then at mile 19 things started quickly changing and I began to feel tired and I really need to push it to keep a 7:40 pace. We crossed over the bridge again for the hills and then things started getting hard. My head started getting more foggy and I was less aware of what was going on around me and more tunnel visioned toward the ground in front of me. At this time is started raining a bit, which didn't bother me too much. It kept things cool, and I was too far in to the run to care about feet being wet. My pace up the hills was really slow and I really struggled to keep moving at a good rate.
The last bridge back toward the finish area had a slight incline to it, but it felt like a huge uphill. At that point, I was feeling really run down, but my spirits started lifting as I knew I was almost done. I kept telling myself to really enjoy the last mile and take it all in. Right at half mile to go I felt a sharp pain in my little toe as a blister burst. But it was too late to really matter as I was almost done.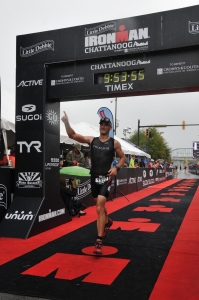 I picked up the pace as I went through the finisher shoot to finish strong. I really had no idea what my overall time was as I never went through the math during the whole race. I was just happy to be finished. As I crossed the line I heard Mike Riley call my name, which is a great experience. As I crossed the line I saw my wife Camille and daughter Iyla at the finish. She had my finisher medal and put it around my neck and gave me a hug and a kiss.
Run Time: 3:22:43, 7:44/mi pace
Overall Race Time: 9:30:23, 3rd Place Male 30-34
Post-Race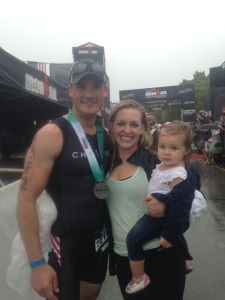 After the race, I had a couple slices of pizza from the finisher tent and then slowly walked back to the hotel with Camille and Iyla. I felt tired, but in good spirits. I showered and just laid on the hotel bed for a bit. Then we made our way back to the finisher line to watch the other finishers. We hung out in the VIP tent which was great because they had a catered meal and a great, uncrowded, view of the finish while I ate.
The next day, I still didn't know how many Kona slots were going to be allocated to my age group. I had feeling it would be about 3, but I had no idea.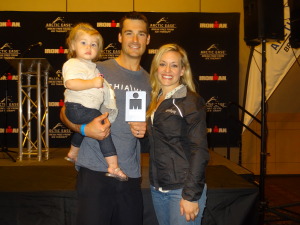 We went to the Ironman breakfast (which was absolutely horrible by the way) and then watched the award ceremony. At some point, they posted on a piece of paper in the back of the room the number of slots per age group. I was ecstatic to see there were going to be 3 in my age group! I ended up getting a Kona slot, which I never expected going in to this race.
Overall, it was a great race with perfect weather. The course was fairly challenging but very doable. Chattanooga really pumped me up for my races in 2015.