Wanna go to China?
Our journey to China started with an email sent out by Ironman inviting athletes to China and offering a good travel package which included race entry, hotel, daily breakfast, airport transfers, and more. The email also said to ask about an additional AWA (All World Athlete) discount. I never really thought about traveling all the way to China for a 70.3 race, but the package was pretty inviting. I forwarded the email to Camille, mostly as a joke, and simply asked, "Wanna go to China?" I wasn't even really expecting a response from her, so I was surprised that she seemed eager to learn more and asked for me price out everything. Crazy. I ended up connecting with the Wanda (who owns Ironman) travel agent to get complete pricing and also priced out airfare and train tickets. Overall, the pricing was probably less expensive than most domestic races I do, and the turn-key nature of the travel package made things really easy considering this planning was less than 2 months from the race. We made the quick decision to make a family trip out of it. One new passport (for Caden) and four Chinese Visas later, we were all set.
Getting there
China is pretty far away…. So we made the decision to take a redeye flight from San Francisco to Beijing. This is a direct flight and we would have time to do the family tourist thing in Beijing both on the way to the race and on the way back. Our flight left at 1:30am on Wednesday morning before race weekend. So we ended up starting the trip by leaving in the car for the airport around 9:30pm on Tuesday. This is later than I usually go to bed on a Tuesday, so it took some mental effort and a good amount of coffee to keep me alert for the drive to SFO.
Camille and the kids packed pretty light, doing carry-on bags only. I on the other hand, did not pack light. I had 2 bike bags (frame and wheels) and a carry-on for all the stuff I needed to race. Triathlon is a very high maintenance sport. Plus we had a stroller and a car seat (which snaps into the stroller). So it was slow going from our car, to the airport shuttle, to the ticket counter.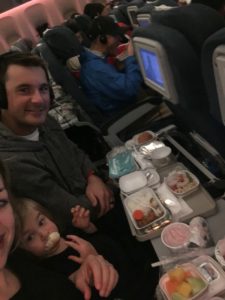 By the time we got to our gate, we didn't have much time waiting around before it was time to board. This was going to be my second time flying to Asia but the longest flight I've been on so far at over 12 hours of flight time. Traveling with the lap baby is probably the hardest part of the flight. We had 3 seats, and 4 of us. Camille took the burden of holding Caden most of the flight while he slept. Iyla slept the majority of the time too, which meant I got a good 6 hours of bad sleep, which was actually better than I expected. The rest of the time spent was watching movies and trying to eat horrible horrible airplane food.
We landed in Beijing at around 4am Beijing time. It was a long process getting through the immigration lines, then getting our bags, then customs. I was happy my bike was there waiting for me though. We had arranged a private car for us through our hotel in Beijing, so the hotel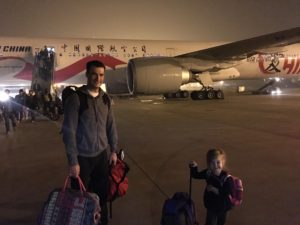 rep met us in the airport by holding a sign with our name on it (I always see this at the airport, but have never had someone do it for me. It's actually very nice). He helped carry our stuff and showed us to our driver who was waiting with our van.
Thursday – Beijing – Day 1
We got to The New World Hotel in Beijing and were able to check in around 5:30am, even though our reservation was not till that night. They didn't have our suite ready yet, but they gave us another room to use to shower and change until the nicer room was ready. How awesome is that. I've never heard of a hotel that would give you a second room to use at 5:30am until your other room is ready at 3pm. Very nice of them. We got settled in the room and were able to shower and change. Our room also came with access to their executive lounge, so we were able to go there for coffee and a breakfast for the family. Again, really nice of the hotel to let us have access at such an odd time. Probably one of the best hotel service experiences ever.
I went for a short 30 minute run from the hotel over to Tiananmen Square, where I had to walk there were so many tourists (I guess they all go early in the morning). This was a good time to just shake out my legs from such a long trip. I was hoping for some sun to help maybe reset my circadian rhythm, but I guess there isn't much sun in Beijing. Mostly fog/smog. The air was pretty bad, and I could feel it running. The weather app on my phone said the air quality was somewhere between unhealthy and hazardous. Awesome.
My first order of business at 9am when the concierge got in was to get my bike shipped to Hefei. I originally wanted to take my bike on the train with us the next day to Hefei. However, everyone I talked to said I can't take my bike on the train. The Wanda travel agent told me this, Ironman said the same, the tour guide had told me, the hotel concierge and the people we bought the train tickets from. So now matter how much I wanted to keep my bike with me and not ship it, it didn't seem like it was possible. I was originally told that shipping my bike overnight to Hefei would only cost like $45, so it seemed pretty easy. However, the hotel concierge said he called a few parcel companies and no one could do overnight (for Friday arrival with a race on Sunday). So one of the parcel company reps got to the hotel and the concierge helped me explain what I needed. He basically said 2-day shipping was the only guarantee and it would be about 1000 CYN ($150). 2-day shipping was super scary for me because I still needed to put my bike together, test ride it and bring it to the mandatory bike check in by Saturday night. The shipping guy said it would be there before Saturday night (which could be too late for me). After going back and forth for about an hour, I finally said okay, as this was my only option. At this point, I wasn't 100% sure I was going to be able to race if my bike didn't make it in time. It wasn't too fun giving my $10k+ bike frame (I kept my wheels with me) to someone and getting a paper back in only Chinese, all done through a translator. All part of the experience I guess.
We had hired a private tour guide along with a van and driver for the day. She met us at the hotel at 11am and we loaded up to see the sights. We first went back to Tiananmen Square where we walked the square and she told us about the history. We then walked through the Forbidden City. That was a couple hours, and the kids were actually pretty good (as long as I pushed Iyla in the stroller).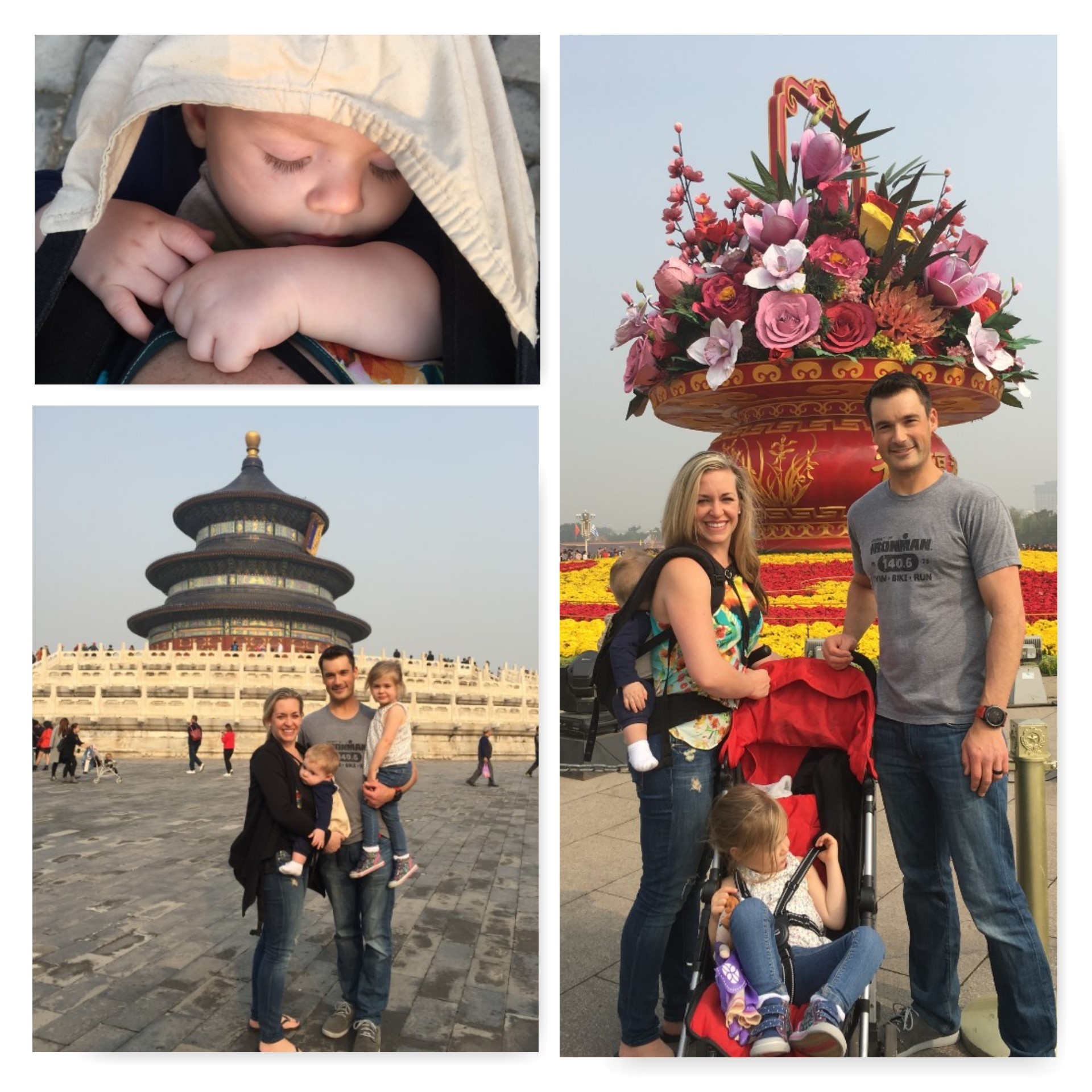 What's crazy is the amount of attention Iyla and Caden got. Everywhere we went we got swarmed by people taking pictures of the kids, touching them and trying to kiss their cheeks. It was really really weird. I guess 2 blond-haired blue-eyed kids is hard to come by there and the Chinese are just fascinated. Also, having 2 kids between parents is pretty rare considering the single child policy just recently ended in China at the beginning of the year. You don't see anyone with 2 kids there. I guess touching other people's kids is a sign of affection there, but it was frustrating for me because we literally could not stand or go anywhere without being swarmed by people who wanted pictures with the kids. They even had no issues removing blankets or covers off the kids while they were sleeping in the stroller without asking. It was nuts everywhere we went.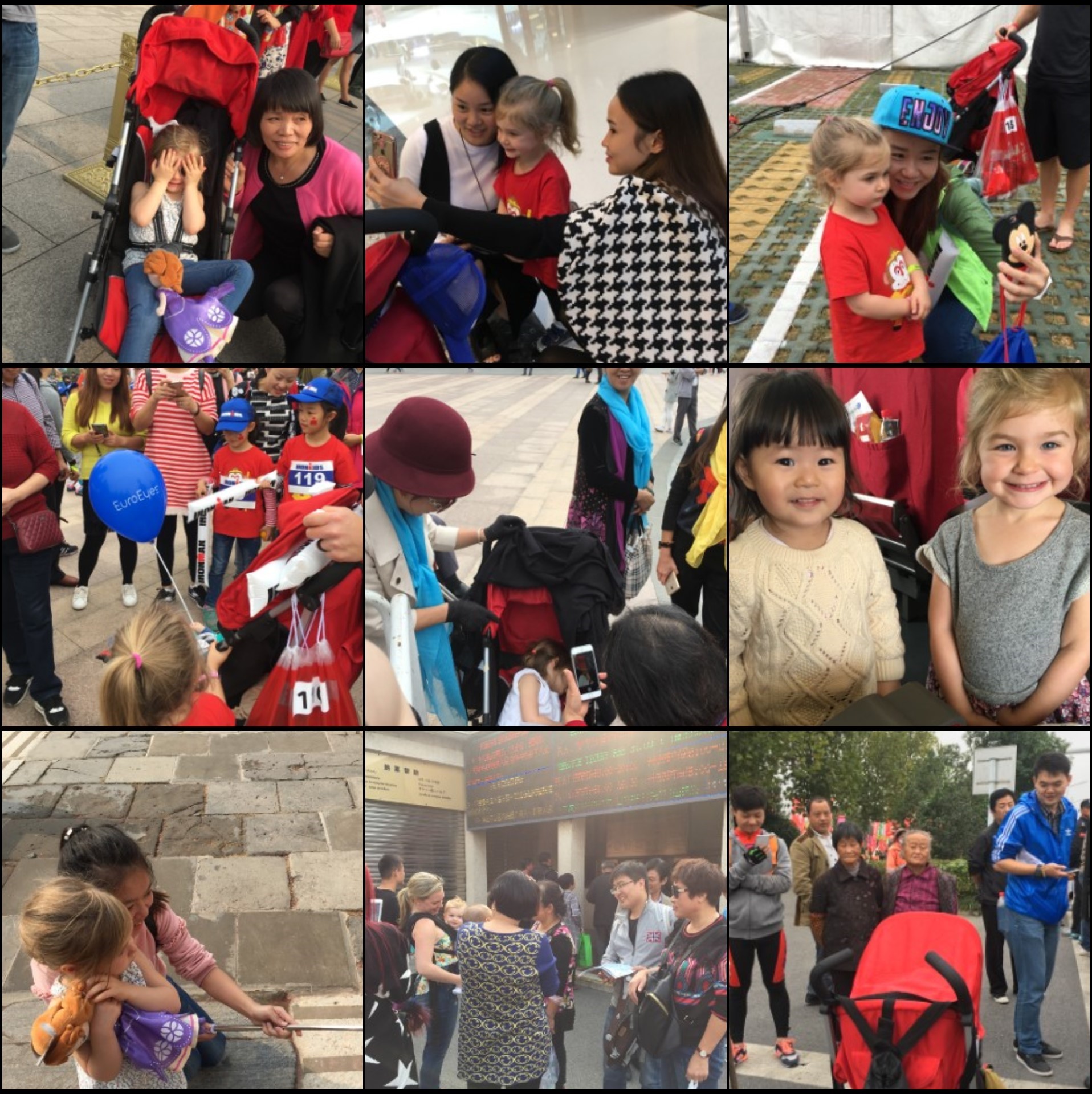 We were then taken to a recommended (by Lucy, our tour guide) local Chinese restaurant.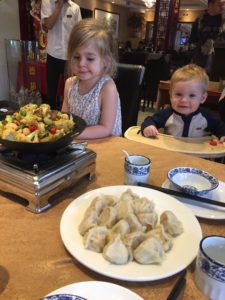 I was expecting the food in China to be amazing. We eat a ton of Asian food at home, but we actually almost never eat Chinese food, not sure why. The restaurant food was okay. I think what turns me off the most about the food there is the meat quality. I think, back home, we expect a certain quality muscle meat. But in China, they kind of are less picky about only using lean cuts of muscle. So, lunch had some good flavors, but overall, nothing to write home about. The food was a bit like what I would expect from a hole-in-the wall Chinese restaurant back home in a strip mall. This was pretty much true for all the non-hotel food we had during our trip. I guess I just have a Western palate.
After lunch, we drove to the Temple of Heaven and spent a couple hours walking around and taking pictures (and, again, being mobbed by people).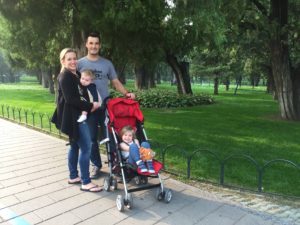 We finally got dropped back off at the hotel around 4:30pm. By then we were pretty exhausted. We got our new room at the hotel and went back up the exec lounge for a very early dinner of mostly rice, soup, and cheese (very random) and, of course, wine. We were all in bed and sleep by 7:30pm.
Friday – To Hefei
On Friday morning we were all up and awake at 3:30am. That's what happens when everyone goes to bed at 7:30. Everyone was hungry, but nothing in the hotel was open so we ordered room service breakfast. At least I was able to get my coffee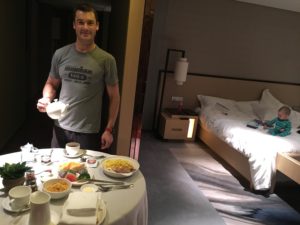 . We relaxed in the room till 6:30am when the restaurant opened, and we went down for breakfast #2. The breakfast buffet at the New World Hotel is pretty extensive. Pretty much anything you could want, Asian or traditional American. I ate until I was stuffed silly. One important note about China is, they serve coffee in basically a tea cup everywhere you go. So each coffee order is maybe 8oz at the most. No one, in my circle of friends, only drinks 8oz of coffee. I can easily do a pot most mornings, so I had to order coffee over and over and over again every morning during our entire trip to get the "normal" amount of coffee needed to get me going.
After breakfast we got into a car our hotel had arranged for us to take us to the Beijing train station. The train station was surprisingly easy and efficient (compared to airport travel). You show up, go through security very quickly and then wait for the ticket check gate to open for your train, which opens maybe 10 minutes before the train arrives. From what I saw, one could easily show up at the train station 15-20 min before their train and be fine, which is a great way to travel. The company I bought the train tickets through had a detailed document on how to read your ticket and find your train, so that was pretty painless.
Right away, I noticed a few people with bike bags who were also waiting for the train. I guess they had hired a Chinese tour guide to help get their bikes on the train. I chatted with her for a bit and she filled me in on some tricks which would help get larger bags on the train. After that, I wished I had my bike with me and not unaccounted for in some Chinese parcel truck. I made the decision, that if I ever saw my bike again in Hefei, I would keep it with me on the train back and save some money in shipping.
We somehow got directed to the VIP access line through ticket check, so we got to go through first to the train platform. Maybe because we had cute kids, or maybe because we looked like we had no idea what we were doing. The train was already waiting for us so we quickly got on to find out seats.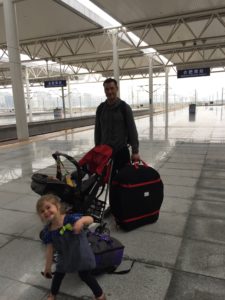 After getting on the wrong car and pissing off a lot of people with our stroller, we finally found the correct car and our seats. We had gotten first class tickets to get a little more leg room on the train. What a deal. For a little bit more money, you get huge seats with more leg room than you would ever need. I could fit my bike bag (if I had it) in front of me and still have room to stretch out. The first class car was also almost empty, with maybe 4 other people in the entire car. So we got to move around at our leisure. The train ride was 4.5 hours, so we settled in for the long trip. Caden fell asleep in the car seat right away and we set Iyla up on her Kindle and she too eventually fell asleep. The train is nice because you can see a lot of the country side. We covered 1000 kilometers in that 4.5 hours, so we got to see a decent amount. Mostly it looked like small farm plots with scattered cities and towns. What's odd about the cities, is all the buildings were the exact same. They basically designed one 30-story building, and then built 15 of them to make a city. It was odd.
We finally made it to Hefei, got off the train and found the person holding the Ironman sign with our name on it. We got shown to our van and taken to our hotel, Wanda Realm, about 20 minutes from the train station. Wanda had built a city within a city, called the Wanda Cultural Tourism City or simply Wanda City. It was basically a collection of 5 high-end hotels around a small lake with a theme park and indoor mall. Wanda was building these cities all over China and the one in Hefei had just opened a couple weeks before we got there, so everything was essentially brand new.
I was originally a bit worried about the hotel, considering they had just opened. Hopefully they had worked out all the kinks. However, upon arrival, you could tell, they pretty much had everything dialed in. They appeared to be over staffed, because they had staff everywhere who were always offering to help (maybe we always looked confused). Everyone was very helpful and friendly. Definitely one of the best hotel experiences I have had. Our room was also pretty nice.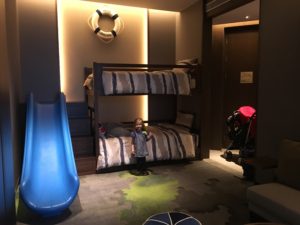 We had the "family room" which had a living/play room which included not just a living area, but also 2 large bunk beds with a slide coming down from the top bunk, plus another bedroom with sitting area and a nice lake view and a small kitchenette. The room was also fully stocked with brand new, never used, kids toys, including stuffed animals, Tonka trucks, etc. Everything was just top notch.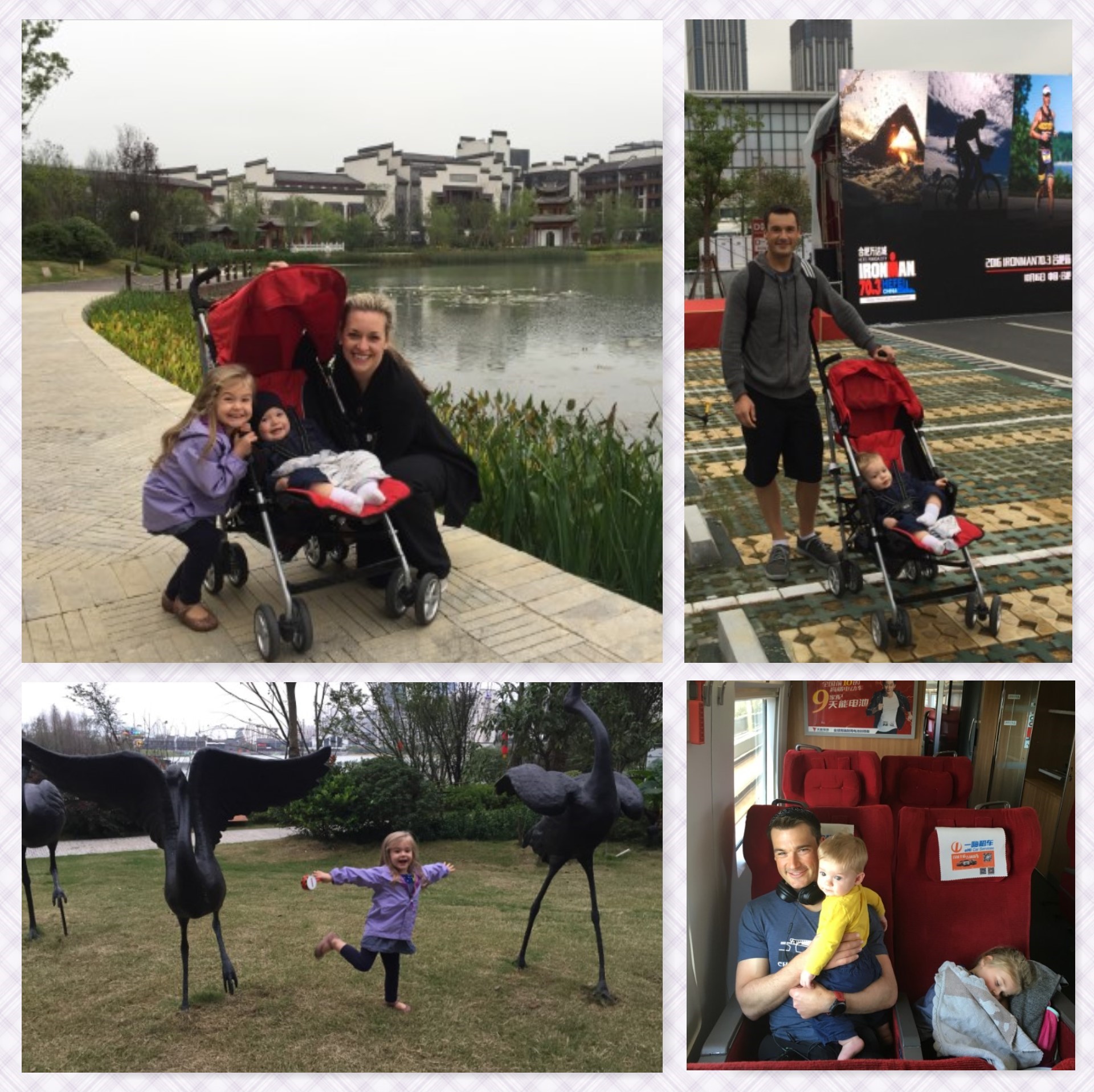 After getting settled in our room we decided to walk down to Ironman village for check-in.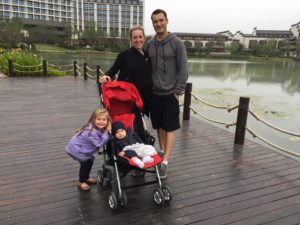 It was about a 15 minute walk from our hotel, along the lake-front walkway, to the entrance to the theme park where Ironman village was setup. I got my race packet and walked the expo for a bit (stopping every few seconds for someone to take a picture with Caden in the stroller). After that, we were pretty tired and decided to eat lunch/dinner at the hotel restaurant (it was only 3:30pm). I guess when you wake up at 3:30am, you eat dinner at 3:30pm.
I was supposed to go on a quick bike ride that day, but since I didn't have my bike I decided to go to the hotel gym and do an evening spin on the hotel stationary bike (it was that or rent one of the beach cruisers they had in front of the hotel). On my way down to the gym, I saw a couple guys unloading a large box from a van in front of the hotel. It was roughly the size of my bike case so I waited till they brought it into the hotel. I went right over to them and looked at the shipping label, and sure enough, it was for me. They had put my bike case in a couple cardboard boxes and then wrapped everything in bubble wrap.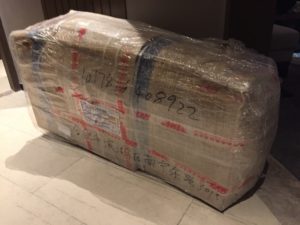 Sweet, I got my bike. I forgot about the gym and took my bike back to my room to start putting it back together. I spent the next hour assembling my bike. Luckily, everything was in good shape, except for 1 piece of expensive carbon fiber, which had snapped. No worries though, I could replace that when I got home and I used electrical tape to hold it in place for the race. Putting my bike together was enough to fully wipe me out, and we all went to bed shortly after that, around 8pm.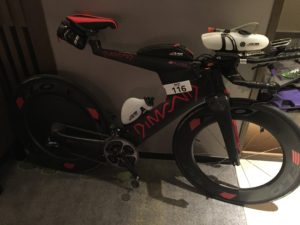 Saturday – Before the Race
As a family, we slept in a bit till 4:30am, which was an improvement. I went for a short swim before breakfast (in the hotel 25m indoor pool). Luckily, the hotel buffet breakfast (included in our package) opened at 5am… thank you Wanda Realm! The breakfast buffet was even more extensive than in Beijing. I ate tons of white rice with fried eggs, ground meat in chili oil (yum), an obscene amount of bacon (probably the best bacon I've ever had) and the unhealthy amount of coffee and banana bread. I pretty much stuffed myself silly, which is what I would expect at a buffet. Since it was 5am, we pretty much had the entire restaurant to ourselves (we were the first ones to show up).
After the feeding madness, I decided to take my bike out for a spin outside. It was sprinkling a bit so I was able to get my bike nice and dirty. I ended up riding with a guy from Texas (our entire hotel seemed to be only foreigners doing the race) and it was good to be able to chat while out spinning the legs out. The bike seemed to be working fine. This was actually my first ride on my new race wheels. Nothing like trying something new during your race.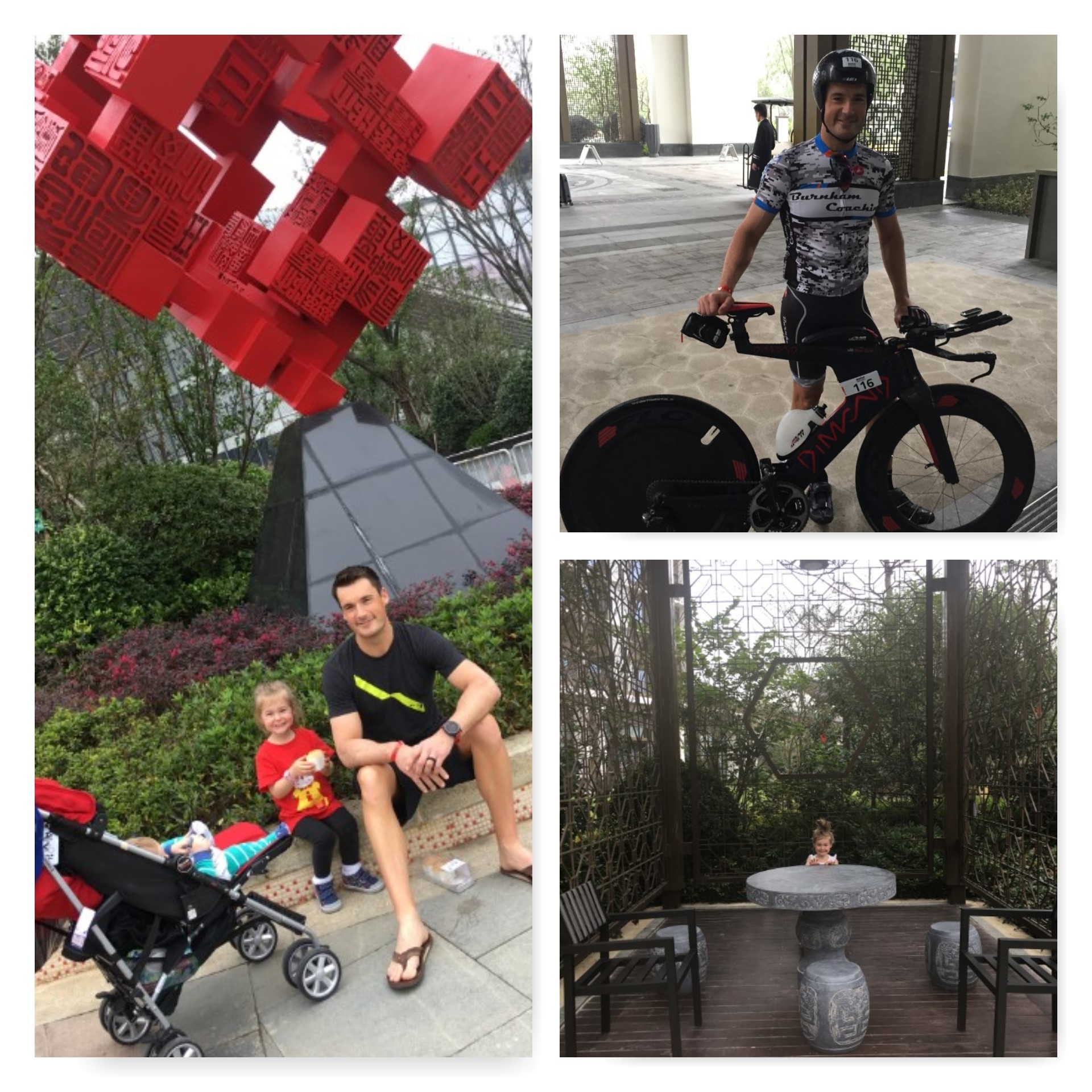 After riding and getting cleaned up, we ended going back to the buffet for "lunch" around 10am right before they closed their breakfast service. That's one benefit of waking up early, you get access to the free buffet for 2 meals. We then walked down to the mall to do some shopping. The mall was pretty nice with 4 floors of high end shops you would see in the US (Sephora, Victoria's Secret, etc). They also had a fun bakery with some awesome Chinese cream puffs (yes, I eat a lot).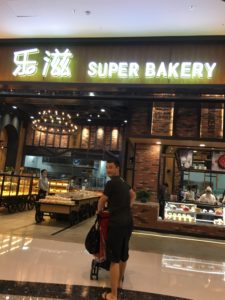 Walking the mall was pretty slow going since we got surrounded everywhere we went with people taking selfies with our kids (FYI, the selfie stick is insanely popular in China. Everyone has them and every street corner in Beijing had someone selling selfie sticks. Clearly the US needs to catch up with the selfie stick craze).
After the mall, we walked back outside to Ironman village and to the Ironkids race that Iyla was going to partake in. Camille took Iyla to race the 500m kids race and I stayed with Caden to watch and get pictures. Iyla did great, and actually ran the whole way without crying, which is an improvement over Lake Placid Ironkids. Iyla even got some great pictures with Craig Alexander who was hosting the race.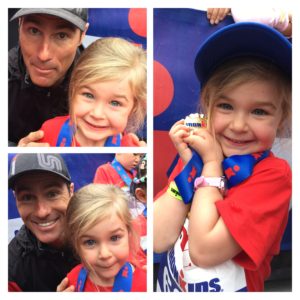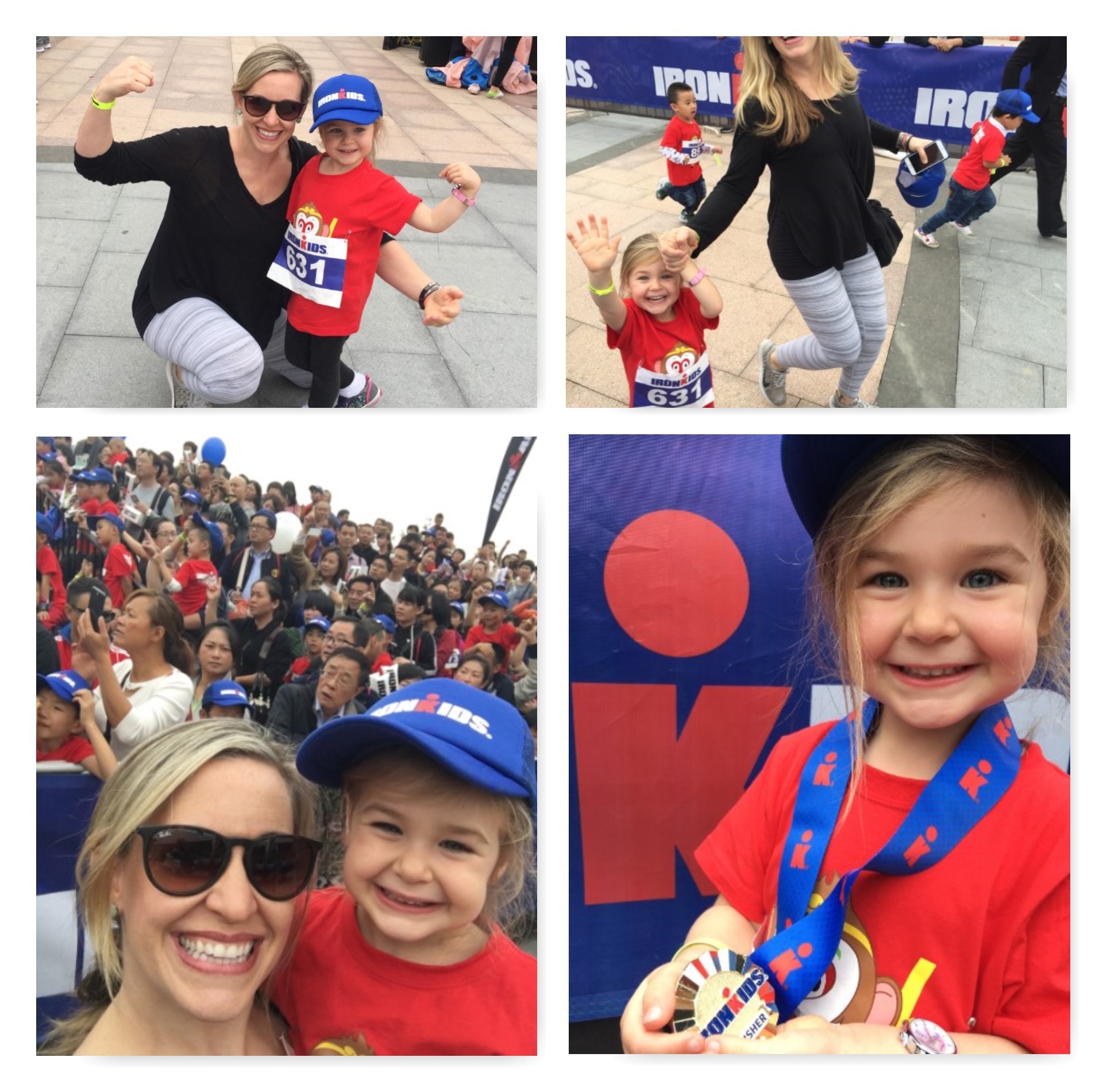 Logistically, Ironman 70.3 Hefei is horrible. The start, T2 and finish are all in different locations. My plan on Saturday was to walk over to T2 to drop off my run gear and also head to T1 to drop off my bike and bike gear, all of which is mandatory on Saturday. So after Ironkids, we made the 30 minute trek to T2 (yes, 30 minutes each way walking). All that just to drop off a single bag which included running shoes, a visor and a number belt. On the walk back we stopped for coffee, which ended up being a huge ordeal because the whole area had just recently opened and no one seemed to know how to make coffee (in a coffee shop) or speak English. We even seemed to have interrupted their staff training on how to make coffee cause there were like 4-5 people working at the coffee shop, all of whom didn't seem to know what to do. So through a couple translator apps on our phones and though a picture menu on their ipad, we ordered, what looked like an iced coffee. In the US, it's generally expected to get in and out with a coffee in a few minutes, which is why I was surprised after we ordered, they made us sit down at a table and brought us hot water in tea cups, as if we would be waiting a while for the coffee (hot water or boiled water is everywhere in China and offered at all restaurants). Our coffee stop ended up being 30 minutes, but at least we ran into another couple from Texas who made the recommendation to skip the athlete briefing I was planning on attending before getting my bike and bringing it to T1. I was told that the trip to T1 was 1 hour by bus each way!! I had better get a move on if I want to check in my bike by the cutoff. I was thinking a 10 min bus ride at the most. Crazy.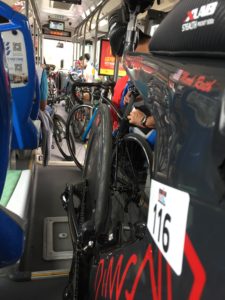 So we hurried back to the hotel, where I got my bike and my bike gear bag and rode back to Ironman village to get on the bus to T1. That was a journey in itself. They had hired city busses to get athletes and their bikes to T1. So I spent an hour in stop-and-go traffic through downtown Hefei, holding my bike. At least I expected it and had brought my ipod, so I was able to listen to podcasts the whole way. We finally made it to T1 about an hour later. I didn't even walk over to see the lake I'd be swimming in because I just wanted to get back to the hotel in time for dinner. I spent forever waiting to pump up my tires (the people in front of me all seemed to be doing it for the first time in their life) and then racked my bike and walked back to the bus. Every race, I always feel bad about leaving my 3rd child (bike) over night, outside, in the rain, without me. So sad. At least the bus ride back was only 45 minutes, but I did have to walk 15 minutes back to the hotel from the bus drop off. So overall, the logistics of this race were pretty horrible. That's a lot of time, overhead and walking the day before a race.
I ended up meeting Camille at the neighbor hotel, Wanda Vista, for dinner since our hotel's restaurant was booked for an Ironman event. Dinner was buffet, as usual, but pretty high end stuff. So I stuffed myself as usual. They even had really good ice cream and macaroons as part of their dessert selection. The entire restaurant was just foreign athletes (Americans, Europeans, Australians and New Zealanders). After dinner we went back to our hotel and got ready for bed. I think we all went down around 8:30 or 9pm.
Sunday – Race Day
Sunday morning started earlier than normal. The race didn't start till 7:40 so I would typically like to eat breakfast about 5:30 (2 hours before). But because I had an hour journey from the hotel to the swim start, I needed to start my day and eat a bit earlier. The hotel was nice enough to open the breakfast buffet up at 3am! I set my alarm for 4am, which was probably the time I would naturally wake up anyway. I got up, got dressed and went down to the restaurant where there were a number of athletes already eating quietly by themselves. I ate the normal fare of coffee, white rice with eggs and bacon (I skipped the awesome chili oil today). Plus a good amount of banana bread, cause it was that good. I ate slowly while browsing Facebook on my phone.
After breakfast, I went back up to the room and starting getting dressed in my race clothes, sunscreen, etc. I got my water and nutrition bottles out of the fridge, loaded up my morning clothes bag, and said goodbye to everyone. I made the 15 minute walk in the dark to the bus loading area near the finish line at the theme park entrance. The bus ride was pretty quiet as I assume most of the Chinese locals were still pretty tired from the early morning start. I mostly browsed the internet (Facebook, Strava, Slowtwitch) on the long ride to the swim start.
When we got to T1, I made my way into transition, grabbed my bike shoes from my bag and found my bike.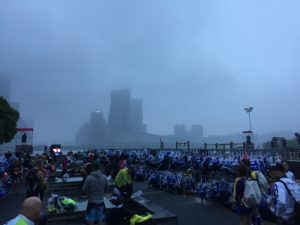 Everything looked good, so I put on my nutrition bottles, synced my Garmin and clipped my shoes into the pedals. What's funny is the bike next to me was also a Dimond with a similar color scheme. The guy who owned that Dimond was also wearing the same Dimond kit and had the same Roka shirt on that we had both bought in Kona. He was like my Asian twin.
I had a good amount of time to kill before the start, so I went over to look at the lake for the first time.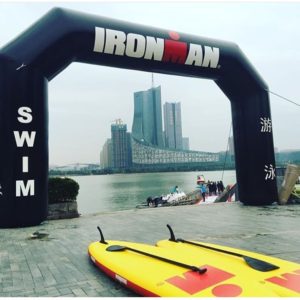 Maybe I should have done the practice swim in the days before to see what it was like to swim and sight in the lake. But I'm always hesitant to do open water swims in foreign countries…. You never know what's in the water and what you may get from it. The Ironman announcer did make me feel better about the water that morning when they announced that because some were concerned about the lake water quality, they had drained the lake, "scrubbed" the bottom and refilled it with new water. All on top of having filters continuously running to clean the water. So that was good to hear. Way to go Wanda and Ironman!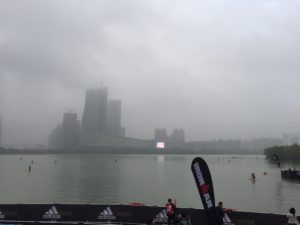 After hanging out a bit, I finally started to get my wetsuit on and made my way to the entry chute where you need to drop off your morning clothes bag. I ran into Brad Williams, a US pro, who I had met at breakfast one morning (he was the only other person at breakfast at 5:30). We chatted for a bit before he had to head down for the pro men start. About 25 minutes before my start, I ate a Clif bar and finished my bottle of water, which I had heavily salted with sea salt.
It was going to be a rolling start, so you were supposed to self-seed according to your anticipated swim time. I didn't want to be stuck behind a bunch of people getting on the bike, so I wanted to be as far front at the swim start as possible. I found the "under 30" start wave, which was to be the first wave, and tried to get to the front of that. As usual, it felt like I was part of a herd of cattle being moved down the cute. They really were metering how athletes went into the water, way more so than any race I've done. They only let groups of maybe 25 athletes down to the dock at a time. Then they had 3 lines, and would only allow 3 athletes into the water every 5 seconds. So they were really trying to create a consistent flow and entry… kind of like the meter lights getting onto the freeway (if there were 3 lanes of cars waiting at the metering lights). When it was my turn to go, I jogged down the rest of the dock and jumped feet first into the water.
Swim – 1.2 miles
Immediately I could tell the water temperature was nice. There was no shock for me getting in the water. I started to swim strong along the buoy line. During the first few hundred yards I was already running into the back of people. I'm not sure why they had seeded themselves in the front, but it was tough to get around those first few groups of people. After that, I pretty much had clean water without contact the rest of the race. I could feel people at my feet, tapping me every now and then, which I don't really mind, and I tried to find my own feet to follow if I could.
Pretty soon, I was already at the first turn buoy which meant I was about a third of the way done. The rest of the swim was fairly uneventful. I tried to stay strong but reserved. I also kept reminding myself not to swallow any water (better safe than sorry). I hit another big turn buoy, which I thought was two-thirds the way done with the course, but I soon got confused as that didn't seem to make sense based on how I remembered the surrounding buildings. After some time, I came to another turn buoy. Not sure what was going on here, I thought the swim was a triangle, which meant 2 turns and 3 segments. Maybe I should have reviewed the course ahead of time. I finally started to see the start/finish area in the distance, so I knew I was coming into the finish. I tried to keep a strong pace and stay on course.
The swim exit was a nice carpeted ramp which made for a fast exit. I struggled to reach my zipped cord as I ran from the water. I guess I have really bad shoulder mobility because it took a long time to get my wetsuit unzipped as I ran. I grabbed my bike gear bag off the hanger and ran into the changing tent. I stripped off the rest of my wetsuit, sat down in a chair and put on my socks, helmet and glasses. I got up, and ran to the end of transition to get my bike.
Time: 27:32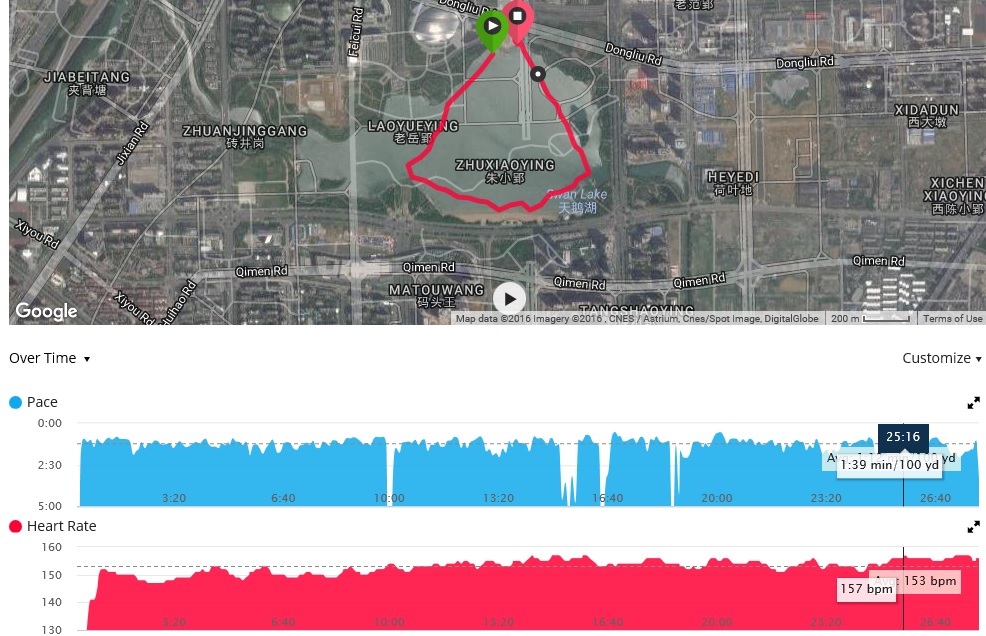 Bike – 56 miles
As I got going on my bike, I was feeling pretty good. My legs weren't as stiff as they've been in previous races and I was able to put out good power. The first 15 miles of the course is on city streets through Hefei out towards T2. You then head east along the lake to a turnaround point where you head back along the lake to T2. The first part in the city was pretty wet from the rain the night before. There were some good crowds which was nice. What's crazy is they had blocked off the entire road for us. I don't remember if it was 3 or 4 lanes, but either way that's a lot for a bike race which is single file. So we had this huge road to use. On top of that, the road was fully barricaded with a security guard on either side every 15 meters. It felt like I was riding along the Champs Elysees in The Tour. It got even weirder when we hit the long road along the lake. We weren't in the city anymore so there weren't any spectators around, just the occasional group of onlookers at some street corners. But we still had a full 3 lanes of road to use fully barricaded with guards. They had guards every 15 meters for 56 miles! That's insane.
For the first two-thirds of the bike course, I didn't even see many other cyclists. It was just me and one other guy leap frogging each other. There were times I couldn't see anyone in front of us and couldn't see anyone behind us. Just us, on 3 lanes of new road, fully guarded (from nobody). It was a very odd experience.
My power was pretty good up till the turnaround along the lake which is about two-thirds the way through the course. On the way back, I got passed by a group (not a pack) of about 6 riders. So I got on the back of the last rider, while keeping my legal distance. The issue with a group of riders is, they naturally just bunch up over time. So someone will grab a drink and coast for a bit and then everyone behind them will start running into the back of them. So someone will surge to get in front and then everyone chases that person and it starts all over. I hate this part of triathlon because it just causes mental fatigue. My power just started dropping because I had to coast every now and then to stay far enough back from the rider in front. I could maybe do a huge surge and try to pass 6 guys or I could hang back and just take the rest and hope to make it up on the run. The problem with surging is, just like in a car, when you go to pass someone, they naturally speed up because no one likes being passed. So it really takes a lot of energy to pass a group of people and it may end badly. There was even a time when the group in front of me bunched up too much and a referee riding next to everyone gave one guy a drafting violation. So that was good to see. At least the officials were enforcing the rules. So I decided to save my energy and hit my power when I could, but rest when I could as well.
My nutrition plan on the bike was 200 calories per hour. I did this with 2 gels (1 Hammer malto-based gel and 1 Spring Sports gel, which is rice and banana) and the rest of the calories from Hammer Perpetuem (malto). I used my BTA bottle for fluid. I started the bike with a Skratch Hyperhydration in the BTA for a sodium hit and then I refilled with water from the aid stations as needed. The day was pretty cool, so I didn't go through too much water. I also took four SaltStick capsules during the bike for some additional sodium.
The last few miles of the bike went by very fast. I mostly focused on going pee before getting into transition (gross, I know). I'm not good at this, so it takes me a number of miles to get things going (especially with the guards on the course looking at you… makes is awkward). I coasted a lot doing this, but better to coast on the bike and still make forward progress then stopping on the run and making no forward progress.
Overall, the bike course is very flat. There are some very minor rollers, but it's a fast course. In fact, it's a net downhill. Good thing I recently lowered the front end on my bike because aero is everything here. There is no need to ever get out of the aero bars or get out of the big ring on this course.
As I got to T2, I hopped off my bike, ran to my rack and then ran to grab my run bag off the bag rack. I went to the changing tent, put on my shoes, took off my helmet and ran out of the tent as I put on my running visor and race belt.
Time: 2:20:48
Power: 224 NP / 208 AP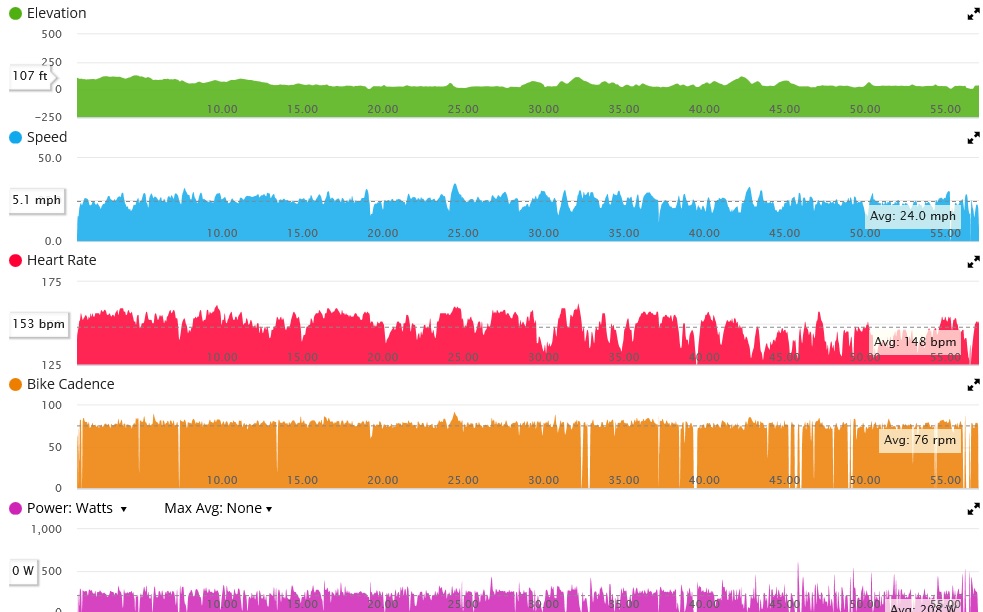 Run – 13.1 miles
The run started off on a walkway that was made of rubber, like a race track. It was pretty nice. Right away I could tell I was a bit stiff in the legs and lower back. I tried to keep my pace around 7 min/mile because I know that should be easily doable. I hit the first aid station right away and took a sip of Coke. I kept this up pretty much every aid station during the run: a cup of water on the head and a Coke in the mouth.
The run is 2 loops, starting with running away from the finish until a turnaround point, then head back along the same road, past T2, then to the finish area where you continue on to lap 2 and back out toward T2 and to the turnaround point. Overall the run is very flat and on a closed road. There is a bit of an uphill/downhill as you cross over a bridge, but that's about it.
Also, there was a bit of breeze picking up which I could feel as I ran into it. I tried to hide behind other runners if I could. The first loop was pretty empty. Since I had started at the beginning of the racers during the swim, there weren't many people out running yet. I just tried to focus on form and keeping my pace up. My lower back was a bit achy though. I know during most runs, I tend to feel better over time, so I just remembered that and kept drinking Coke to help keep my energy up.
The second loop came by quick, but I still didn't feel like I was able to pick up the pace like I wanted. I was still struggling to hit 7 min pace which wasn't a good sign. The Coke was helping, so my pace was getting better slowly, but I just didn't have that extra energy I like to have at the end of a 70.3 run. Mile 10 came up pretty fast and I knew I only had 3 more miles left which I could easily suffer through if needed. I can't count the number of training runs I have done where it's just pure suffering the last few miles (usually in training it's due to dehydration).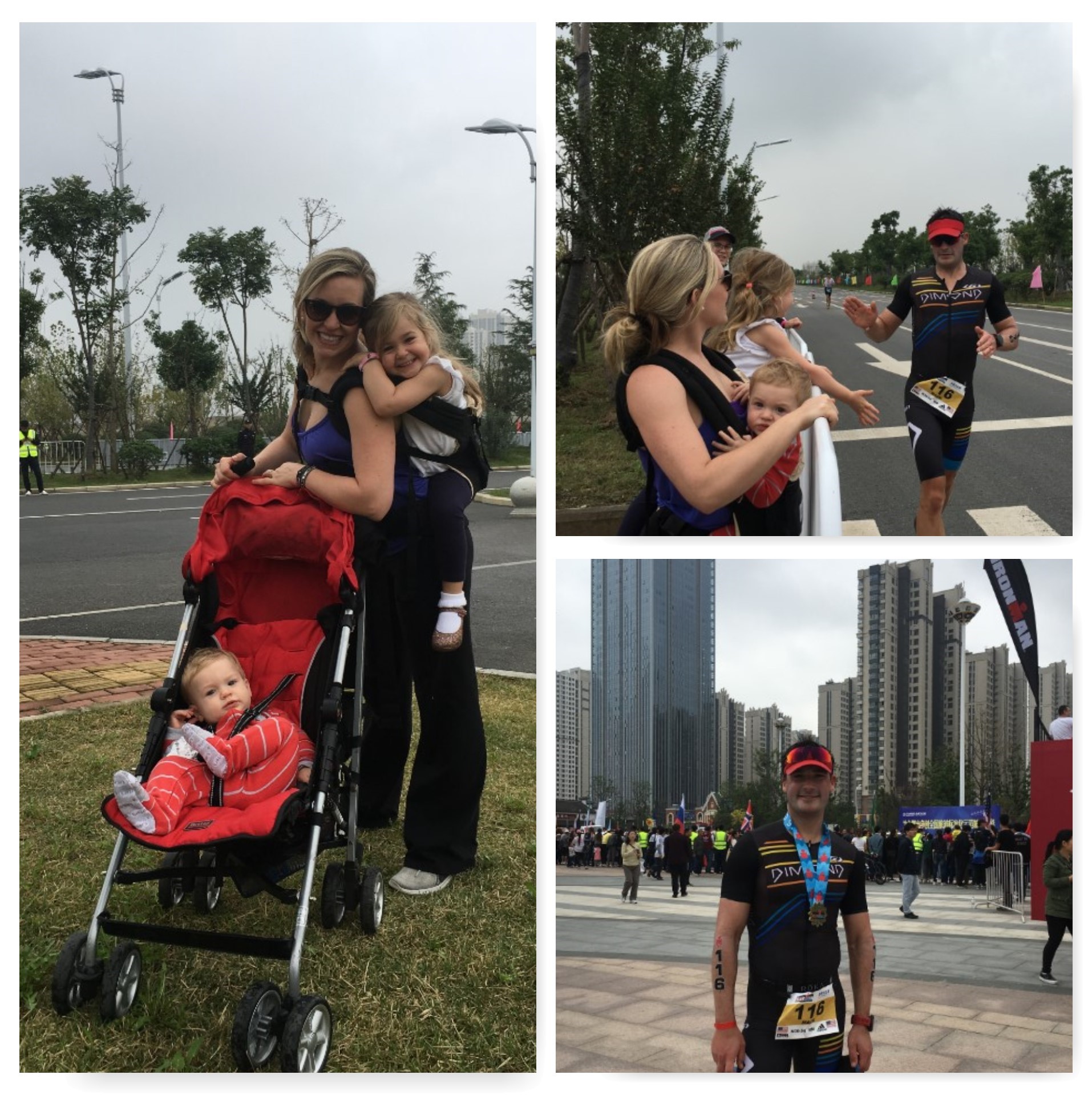 I could hear someone behind me keeping pace with me so I looked back hoping to not see someone who looked my age. As he passed me, he looked like my age. But the problem with a rolling start is, I have no idea how far ahead or behind of me he is in the overall race. So the last mile, he picked it up and I followed him. I said "I hope you're not in 30-34, cause I don't think I have the energy to sprint you to the finish". We talked for a bit and I found out he was pretty far ahead of me in the overall race (maybe I should have pushed harder if I was able to talk to someone the last mile of the race). We finally made it back to the finisher shoot and through the finish.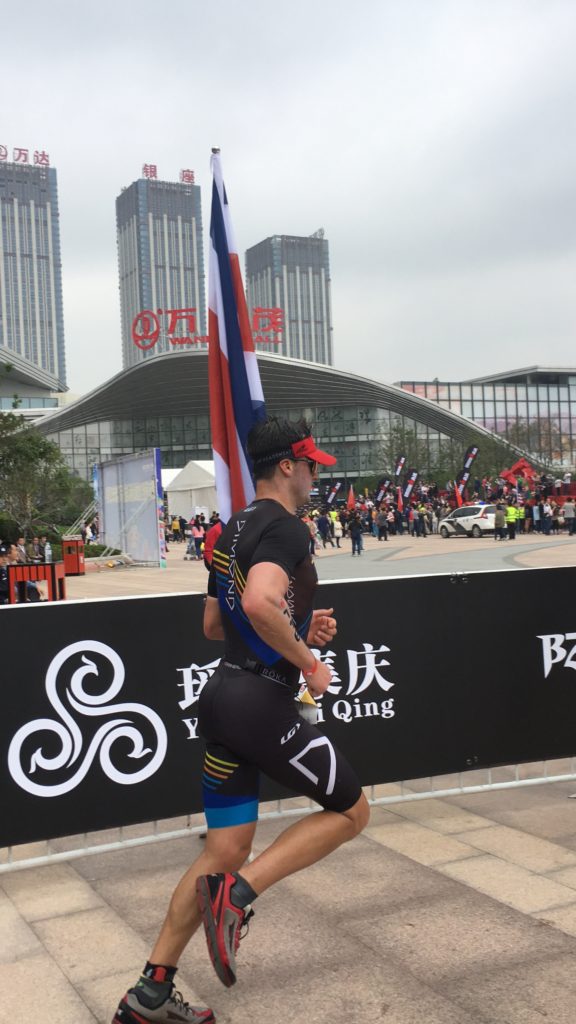 Time: 1:31:40, 7:02 min/mile

Overall Race Time: 4:25:46 (PR), 10th Male 30-34
Thoughts
I think Ironman did an excellent job making sure this event was successful. The overall execution of the race was top notch. The security was just insane. All those guards on the bike course and also guards every 5 meters on the run course is just over the top. One Ironman guy we met on the plane home said there were 12,000 security guards in addition to all the volunteers.
The course was very flat and fast for swim, bike and run. I would say that the logistics was really hard. No one wants to bus an hour to the start and T1 and have to walk 30 min to T2. That's a lot of extra effort.
Post Race
The rest of the race day was spent collecting all my gear (which included a long and painful walk back to T2) and then making my way back to the hotel to clean up and pack up my bike and the rest of my equipment. That evening we went to the Ironman rolldown and award ceremonies.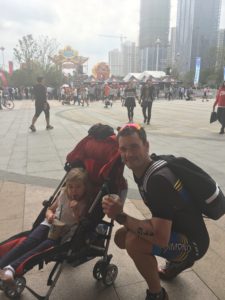 I knew the Kona slots were out for me as I had been 10th in my age group, but I knew I had a chance at getting a 70.3 World Championship slot. Originally I was told they had allocated 6 Kona slots to my age group, but after the race, they had updated that to only 4 slots based on the number of starters that day. So I immediately knew Kona was out since there were a ton of people who had come to the race with that as the goal. They also allocated 4 70.3 championship slots, so I knew I had a chance of getting one of those if 2 people declined or had spots already.
The rolldown went painfully slow. The room was packed and they did the Kona slot allocation before starting on the 70.3 World Champ allocations. I was starving at this point because I had really only eaten a bit of rice between after my race and the ceremony. Considering we were used to eating dinner around 4-5pm, waiting till 7 was tough. The 4 Kona slots went to the top 4 in my age group. However, when we got to the 70.3 WC slots, a couple people declined so I was lucky enough to get a slot. I happily paid for my entry since the race is in Chattanooga in 2017, which I really enjoyed visiting a couple years back.
We then went in for the banquet and awards ceremony. Although, getting to the banquet, we found it was standing room only (no tables or chairs), and after taking one bite of the food, we decided to get out of there and go get some real food. That was $20 not well spent (thanks Ironman). We took our sleeping children to the hotel restaurant for some better food (and dessert of course).
Back to Beijing – Monday
Monday morning started off in the traditional way… buffet breakfast, where I stuffed myself silly for the last time in Hefei. After breakfast we gathered our bags and found the van that would take us back to the train station. This time, I was going to try to take my bike bag with me on the train, so we had a bit more luggage which was cumbersome to drag through the station with the kids, stroller, etc. We ended up getting to the station a bit early so we sat and waited until the ticket check opened. This time the train was only stopping at the station for 3 minutes, so we needed to really get it together to get on the train in the limited window. I was happy when we made it through ticket check with the bike bag, which was the last inspection point. I can only assume the ticket lady didn't want to deal with 2 frazzled foreigners with 2 cranky kids and a ton of luggage, so letting us through quickly was probably the best for everyone. We made it to the train, stowed our luggage and settled in the for 4.5 hour train ride back to Beijing.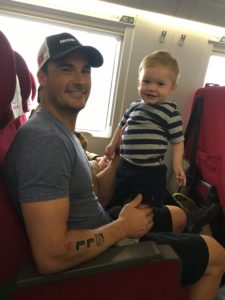 The Beijing train station was super busy when we arrived. We had a bit of challenge finding the guy holding a sign with our name as there were so many exit points. We eventually found the car we had arranged through our hotel and made it back to the New World Hotel in Beijing. I will say again, this hotel is awesome. When we arrived, the driver must have called ahead because the manager was out waiting for us outside the hotel. He brought us right up to a private reception desk on the top floor where he gave us the details about the show and dinner we were going to that night. Pretty great service.
We only had a moment to get to grab a coffee, get to our room and shower and change because we had to leave for the Chaoyang Theatre acrobat show (a must see in Beijing). When we all got to the theatre, I was a bit apprehensive about the show because the theatre looked like a dinky old theatre and tourist attraction. There were crowds of tourist groups waiting outside. We must have looked outside our element and confused (as seemed to be the case this entire trip) because a man came up to us and asked us for tickets. I was obviously apprehensive about showing a stranger our tickets. But after showing him our tickets he helped us into the theatre, got us a child booster and showed us to our seats. Again, excellent service. What's odd about the theatre, is the seating along both sides is only for tourist groups, and it quickly filled up with the tons of groups streaming in. The center section of the theatre must have been only for individuals or families buying tickets because no groups were seated there and it was mostly empty except for a few couples here and there. These seats were also labeled as "VIP", which made me feel extra special (or maybe that we overpaid), but also seemed to be synonymous with "white foreigner" or "confused tourist" based on the rest of the trip. So we really had the whole area to ourselves, which gave us a nice view of the stage.
The show was pretty amazing and much better than I expected. Just from the look of the theatre, I wasn't expecting much. However, the production quality of the show was just horrible. Way worse than any grade school performance. The music was way too loud (maybe I'm old) and it cut in and out and just ended abruptly with the acts, the lighting was horrible and ill-timed, and the announcements were super cheesy. But the performances were just amazing. It seems they found the best performers in the world at different acts, but had no more budget for production quality. Iyla loved the show and we all came out very pleased.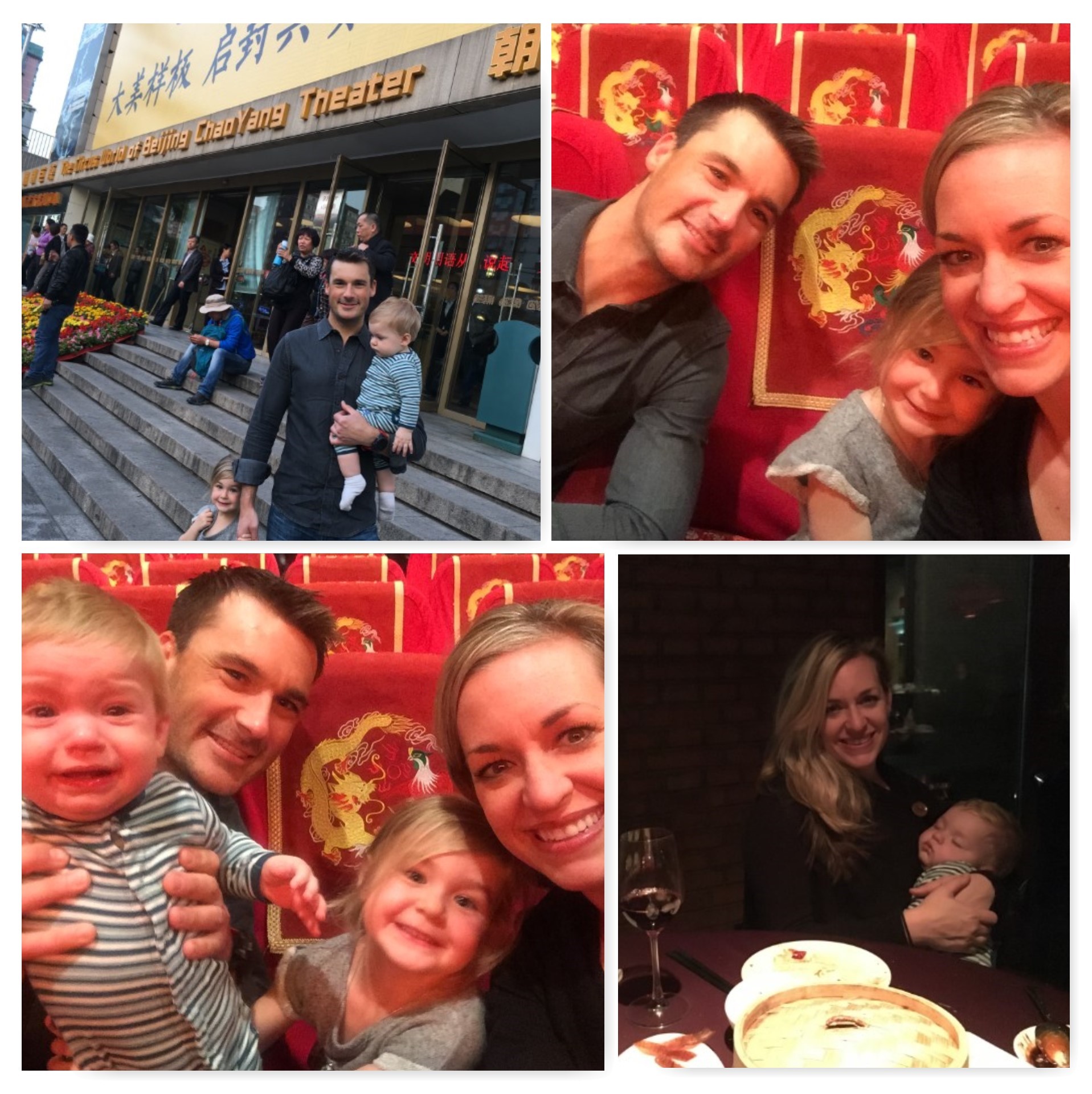 After the show we needed to get to our restaurant for dinner. The hotel had given us instructions to hand a taxi driver to take the 15 minute taxi to dinner. The problem was, it was rush hour and finding a taxi was a nightmare. When we finally all piled into a taxi and handed him the Chinese instructions, he seemed confused. Since taxi drivers don't speak English, and we don't speak Mandarin, we definitely had some communication issues. After a while, it seemed he couldn't understand our directions or where we wanted to go, even after lots of pointing on the paper. So we just had to get out of the taxi, frustrated. We went back to the theatre and found the same man who had helped us to our seats, since he spoke English. He was nice enough to come outside and spend the next 20 minutes getting us a new taxi and explaining to the driver where we needed to go. However, after about 20 minutes in this taxi, driving around, I could tell the driver was confused. He kept driving in circles. I pulled up my phone and pulled up the navigation to the restaurant to show him. He had his own navigation, and there seemed to be some confusion about if the restaurant was really at that location. After driving around some more and us starting to get worried, Camille ended up calling the hotel concierge who was able to direct the driver to where the restaurant was supposed to be (not even close to where the navigation said). Even when we got out of the taxi at the location, we still had a hard time finding the restaurant within the courtyard where there were a number of other high-end, trendy eateries.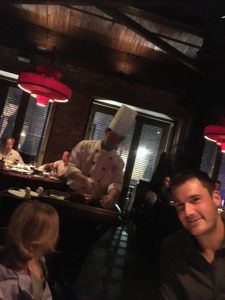 After all that, we finally made it to Duck de Chine, even though we were all pretty tired by then, and very late for our reservations. This is supposedly the best Peking duck in Beijing, so I was excited to try it. Caden fell asleep right away at the table and Iyla looked like she would fall asleep in her chair any second. We, of course, ordered a Peking duck with all the trimmings, some side dishes and a bottle of wine. Only a few minutes later, they wheeled out a cart with a full duck on it, hit a gong, and began carving the duck table-side. It was cool to see the process and the family-style plating was excellent. They serve the duck with tortilla-like wraps, some thinly sliced veggies and a few dipping sauces. Overall, it was a great meal, and I'm happy we had the experience of Peking duck in Beijing.
Last Day – Tuesday
We still had one more fun filled day in Beijing before we'd have to catch our 9pm flight back home. After finally sleeping in to 7am, we got breakfast (yes, buffet) and met Lucy, our tour guide, to start our day. We loaded up the van with all our luggage and checked out of the hotel before setting off for the day. Stop one was the Summer Palace. We took a nice long stroll through the Summer Palace, while stopping for plenty of pictures with the kids.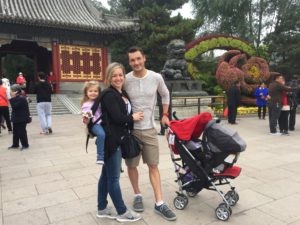 We then boarded a "dragon" boat on Kunming Lake on our way back to the Palace exit where our driver and van was waiting for us.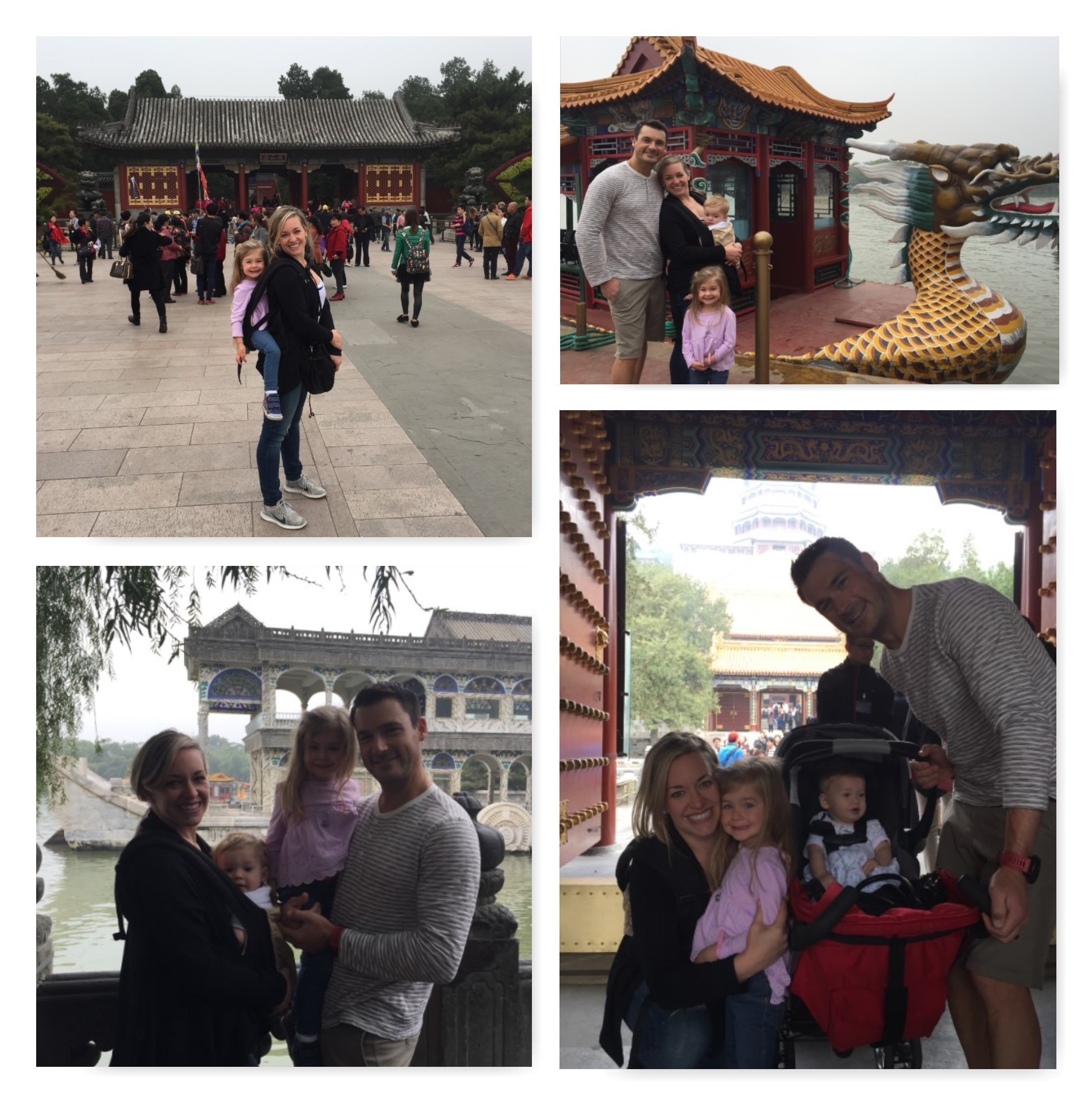 We then had about an hour and a half drive to the Great Wall. We ended up stopping at a recommended restaurant
where we had some local food and some great jasmine tea. One of our dishes had Sichuan peppercorns, which are going to be my new favorite peppercorns to use. They have a menthol-like cooling feel, but, at the same time, light your tongue on fire. It's a great spicy addition to an Asian dish like wok-fried spicy green beans.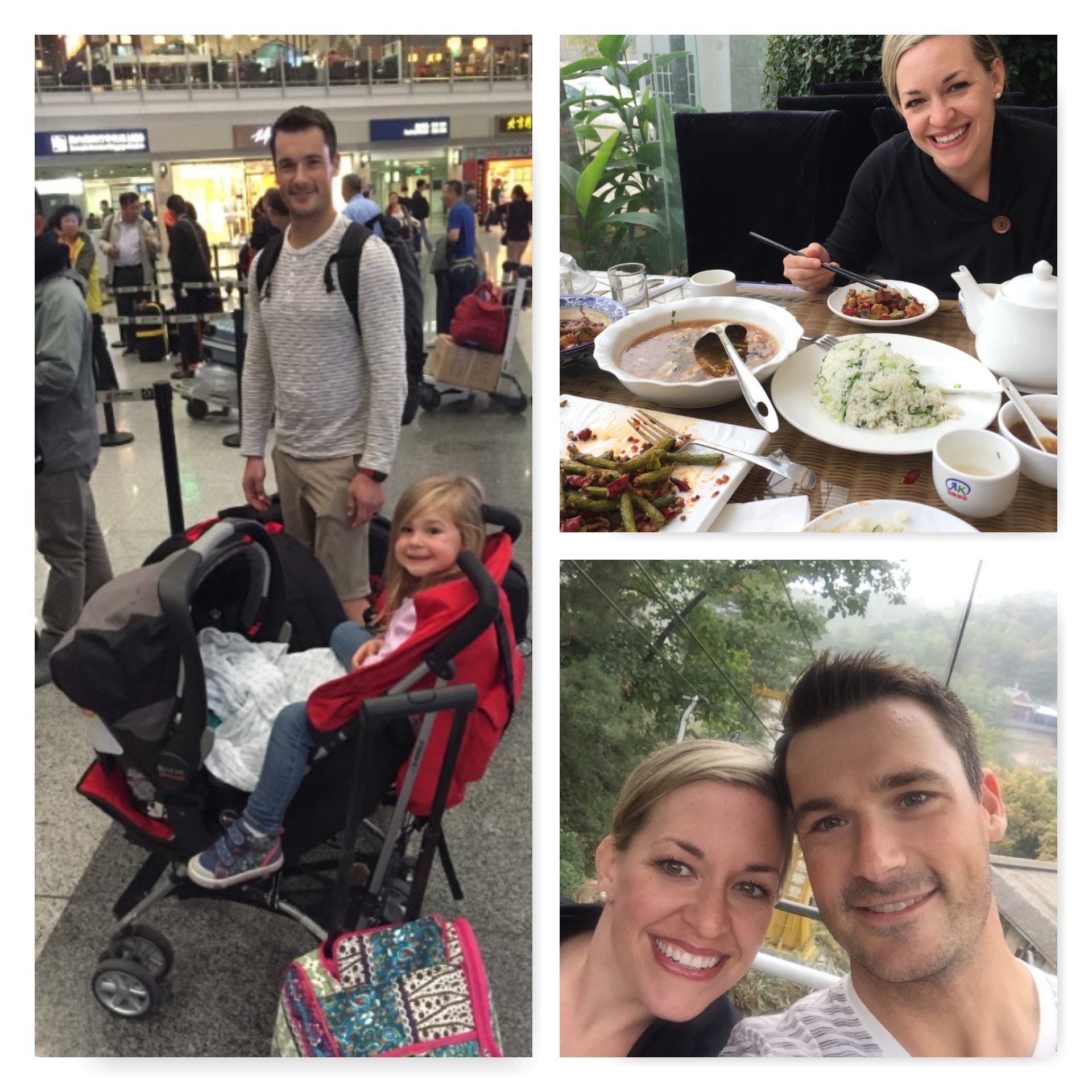 After lunch, we were only a few minutes away from the Great Wall. We were lucky to be able to park close to the chair lifts that would take us up the mountain to the wall itself. I was originally hesitant about the possible crowds at the wall. I've seen pictures and heard horror stories about the crowds you can get.
Our tour guide told us we needed to go early or go later in the day to avoid the crowds. We ended up spending the late afternoon at the wall, and it was almost empty, which was amazing. We spent a couple hours hiking from tower to tower on the wall. The kids were even on their best behavior. Iyla loved running (and climbing) on the wall, and she called each watch tower a princess castle, so it worked out well for all of us.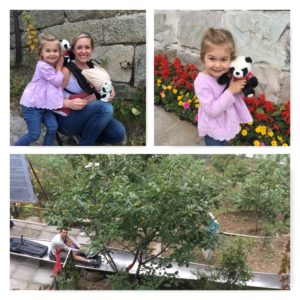 We ended up staying at the wall till around 4:30. Iyla and I got to take the toboggan down the hill back to the car which was a lot of fun. Camille missed out because they wouldn't allow Caden on, so she got stuck back on the chair lift for the ride down the mountain. We piled back in the van and made the 1.5 hour driver to the airport. By the time we got to the airport is was dark out and we were all pretty tired. It was a long process to finally get to the gate (the airport is huge), so we didn't even have to wait long before we were getting ready to board the plane.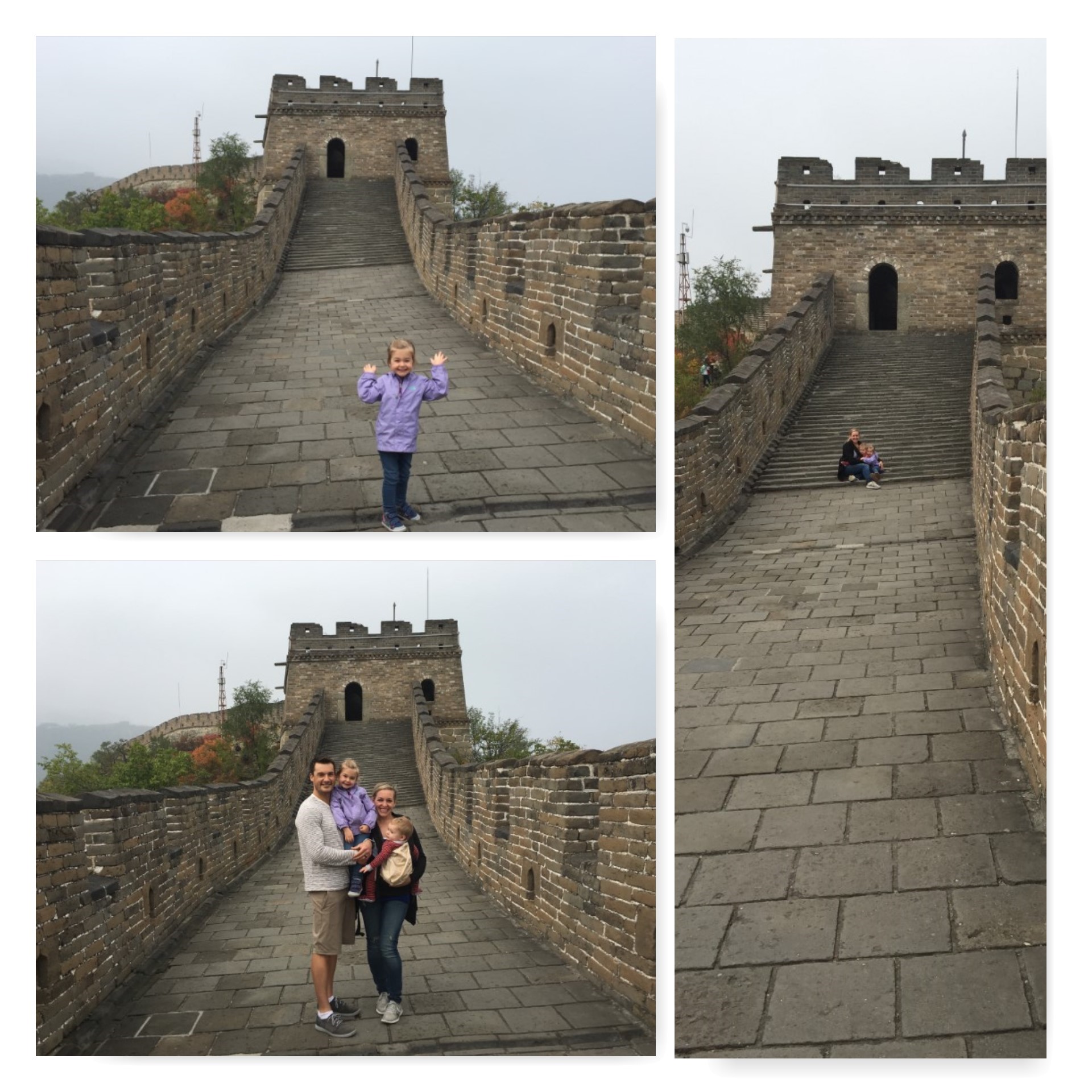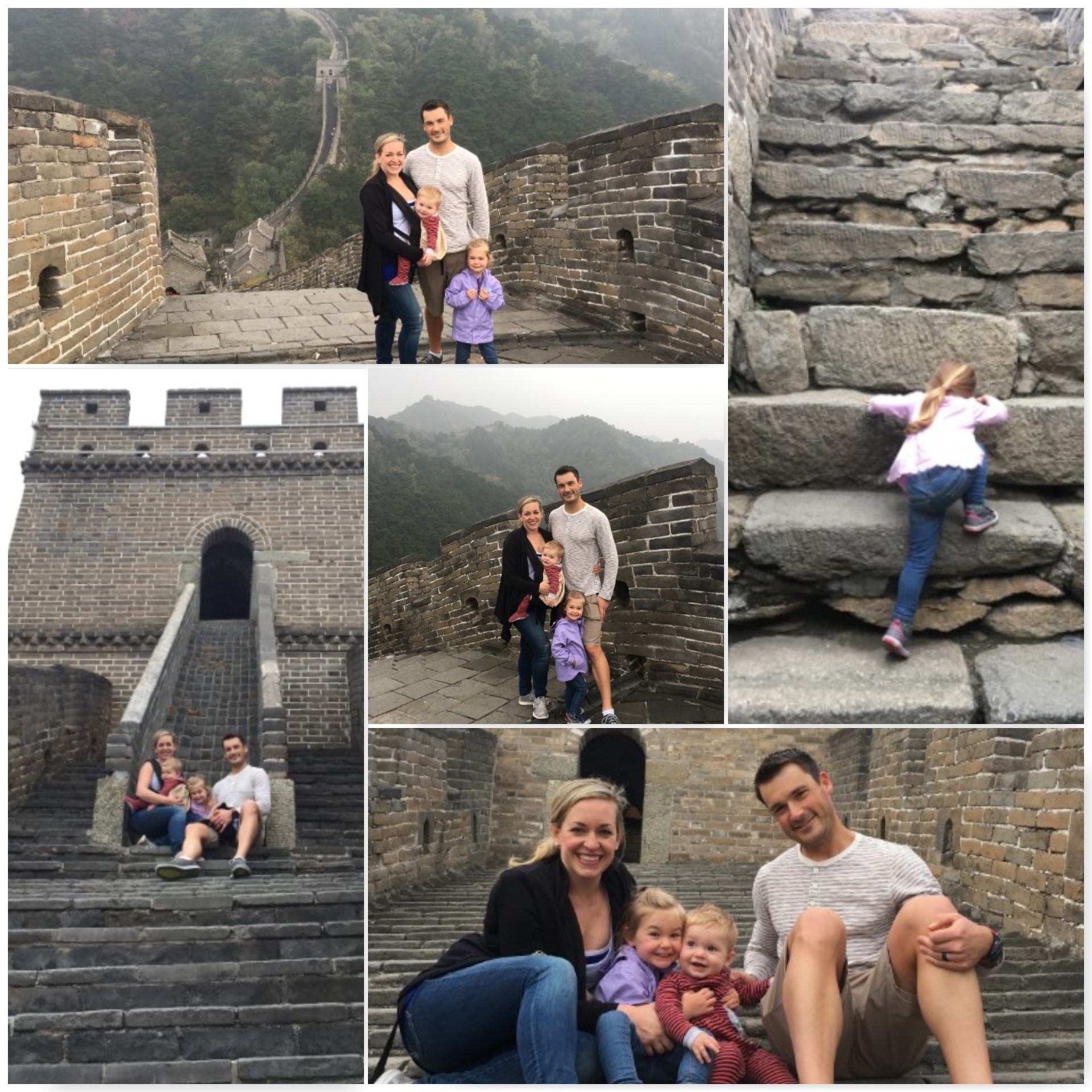 This time, the plane was almost empty. Instead of the 4 of us sharing the single 3-seat row, we actually got 2 rows to ourselves. So Iyla and I shared a row and Camille and Caden shared the row in front of us. It was nice to actually have some more space. Iyla helped herself to 2 seats, using them as a bed, while I got stuck with a single isle seat and a crappy neck rest.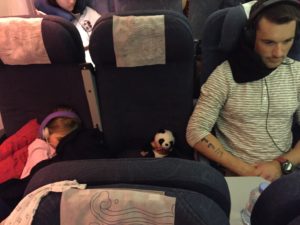 The flight back was as expected… a couple hours of horrible "sleep", a couple hours of bad movies, a couple hours of bad "food" and a few child breakdowns with crying and screaming and a whole bunch of nothing (12 hours in-all).
Finally, we were back in San Francisco and oddly it was 5pm on Tuesday which was 4 hours before we left on the flight. Just in time to get dinner number 3 (2 dinners on the flight). Oh right, first there was immigration, then baggage claim, then customs, then Iyla's huge breakdown on the bus shuttle to the car, then a long car-ride with a dinner stop. But we finally got home… just in time to go to bed.
Thoughts
Overall, it was a great trip. For us, it was a fairly last minute decision and somewhat impulsive which made it nice. The planning was kept to a minimum since the Ironman travel agent did most of the work. And the private tours made things really easy in Beijing. Traveling with 2 young kids that need to be carried and pushed most places is very challenging. I'm not sure I can do a long trip again until at least one kid can walk around without complaining. There were also times I wanted to leave one of the kids in China. But overall, everything went really well and I'm very happy I went. The race itself, seemed like a small part of the trip, but it was very well put on. Also, China seems like one of the safer places (including the US) I have travelled to. Maybe that was just the nature of what we chose to do. I think next year we'll do more domestic travel before getting the courage (or forgetting the past) to do another big international trip.