PreRace
It has been 10 years since I raced Wildflower as my first long distance triathlon, so I jumped at the opportunity to race again now that they brought the race back after a year off and there was enough water to actually swim. 10 years ago, I raced Wildflower Long Course and then got married the next weekend. This year, I signed up to race the Long Course as well as the Olympic race on Sunday before going on vacation for our 10-year anniversary. Wildflower would also be our first real camping experience with the kids. We bought a giant 10-person tent which was almost the size of our living room. We decided to be fairly minimal on the camping food. We didn't bring a stove, only snacks and some breakfast items. The festival area was supposed to have a number of food vendors, so we figured we could just buy food we needed when we were there and not worry about packing the camp-kitchen.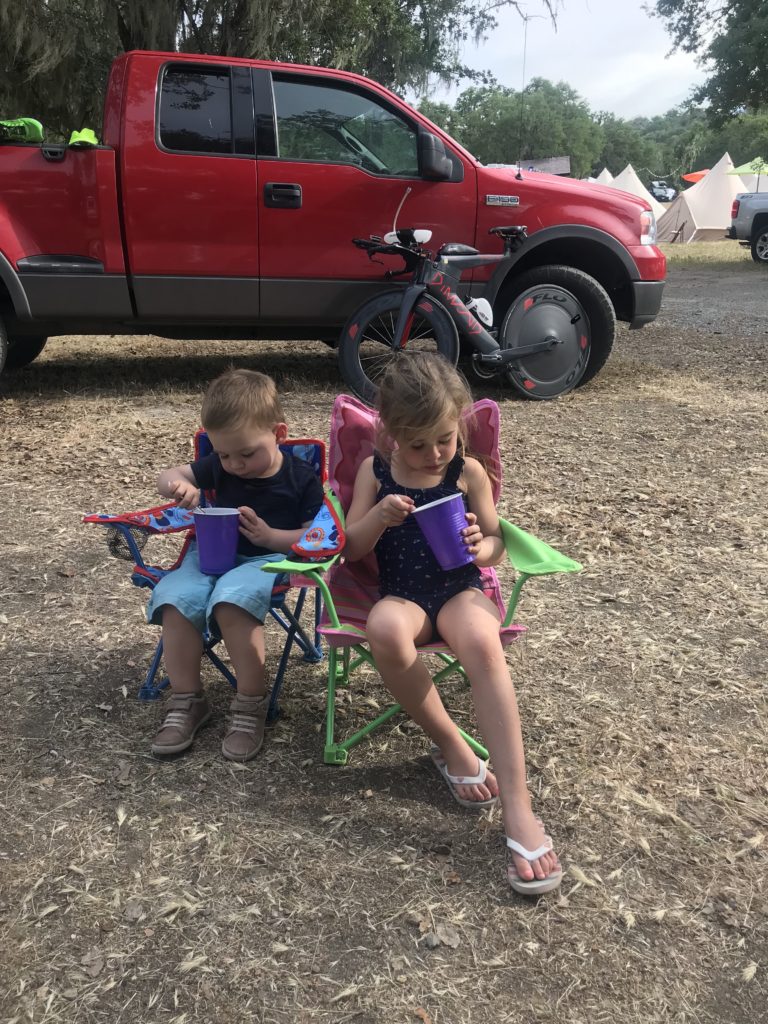 The great thing about Lake San Antonio, is it's only an hour and a half drive from home. Even so, the kids started complaining about the long car ride after about 15 minutes on the road. I think it took more time to pack up the truck than to actually drive to the campsite. The Triathlon Club of Monterey had a few sites and had saved us a nice large spot, where we setup camp. Holy moly was it hot though. I was dripping wet setting up the tent as it was in the upper 80's when we arrived in the late afternoon on Friday. I knew I was in for a tough race in the heat.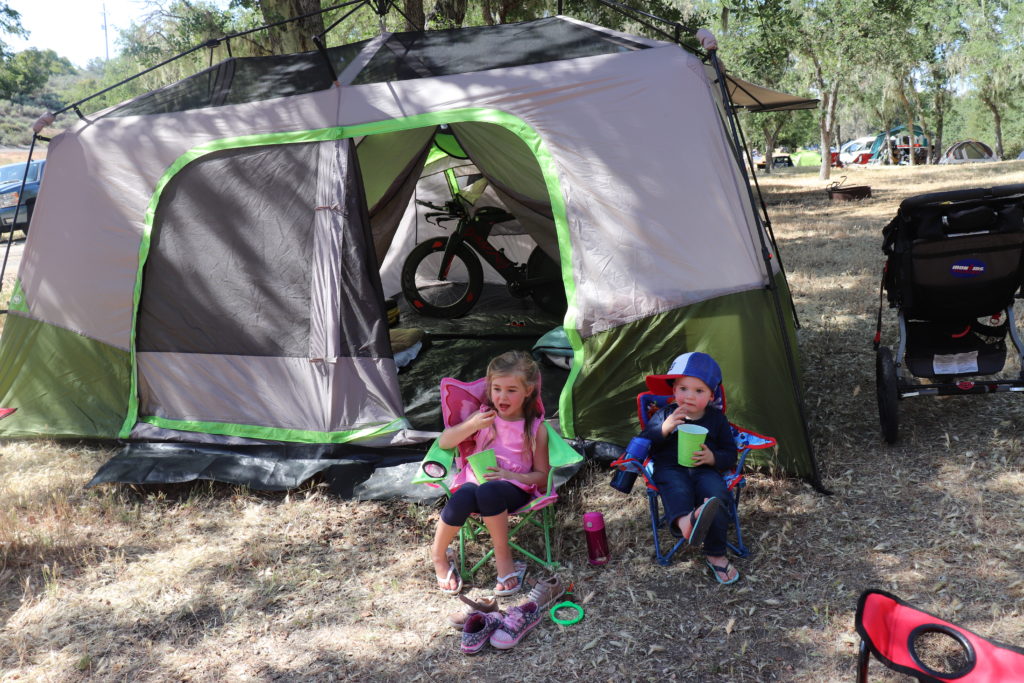 The rest of Friday was spent doing athlete check-in and then walking the festival. I'd say, the biggest downside to Wildflower is the mile walk from the camping area to the festival area. A mile doesn't sound like much, but it's on a dirt trail, down a huge hill. Pushing a stroller with 2 kids makes for an epic journey each time. At least they had a nice kids playground in the middle of the venue which the kids loved. Even the food selection was pretty good for such a remote race. They had beer, wine, a variety of food vendors, with some healthy options, and even coffee and ice cream vendors. Plus there was a constant rotation of bands on stage during the whole weekend for a fun soundtrack for the day.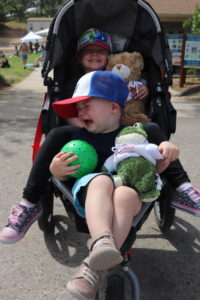 After a couple meltdowns, a couple liters of sweat and some cursing, we finally pushed the stroller full of kids up the sandy hill and back to camp for the evening. The rest of the night was spent relaxing and making some s'mores by the campfire.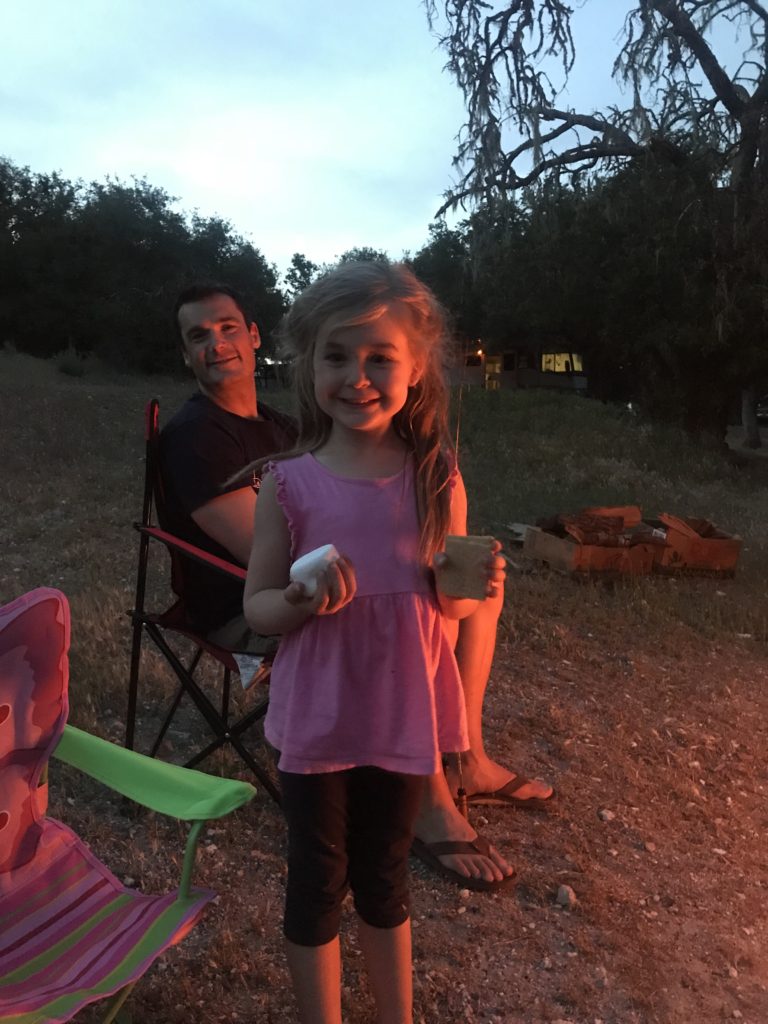 Long Course Morning
I'm not sure if it was good or bad, but the race didn't start till 8am, and my wave didn't go off till 8:25am. This was a very late race start compared to what I am used to. The downside was, it would be a hot day, with the run ending right in the middle of the day. But at least I got to sleep in, which was needed after not the best night sleeping on the ground with the kids. I snuck out of the tent and ate some granola, banana and nut butter for breakfast at 6:30. The whole campground was coming alive with athletes getting ready and heading down to the start. I took my time getting ready and helped wake up the kids, who didn't want to seem to get out of bed. For some reason the kids hate getting into bed, but never want to get out of bed in the morning.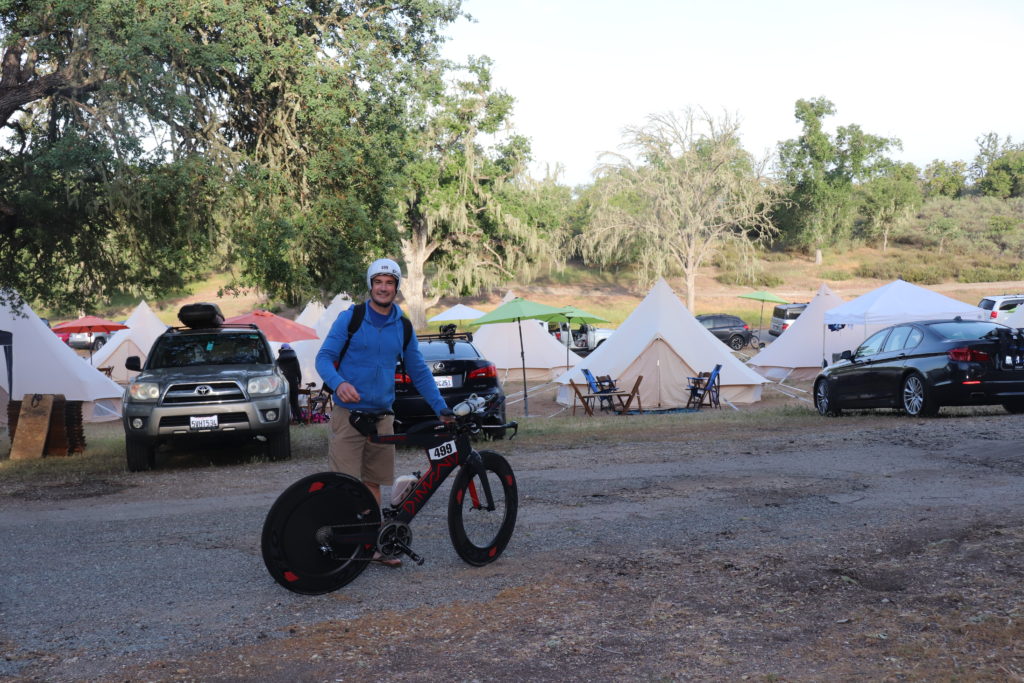 I grabbed my backpack full of gear and rode my bike down the huge hill to transition. It was actually pretty fun to ride down that hill at 35mph in flip flops and a t-shirt. Poor Camille was stuck making the trek with the kids alone with the stroller.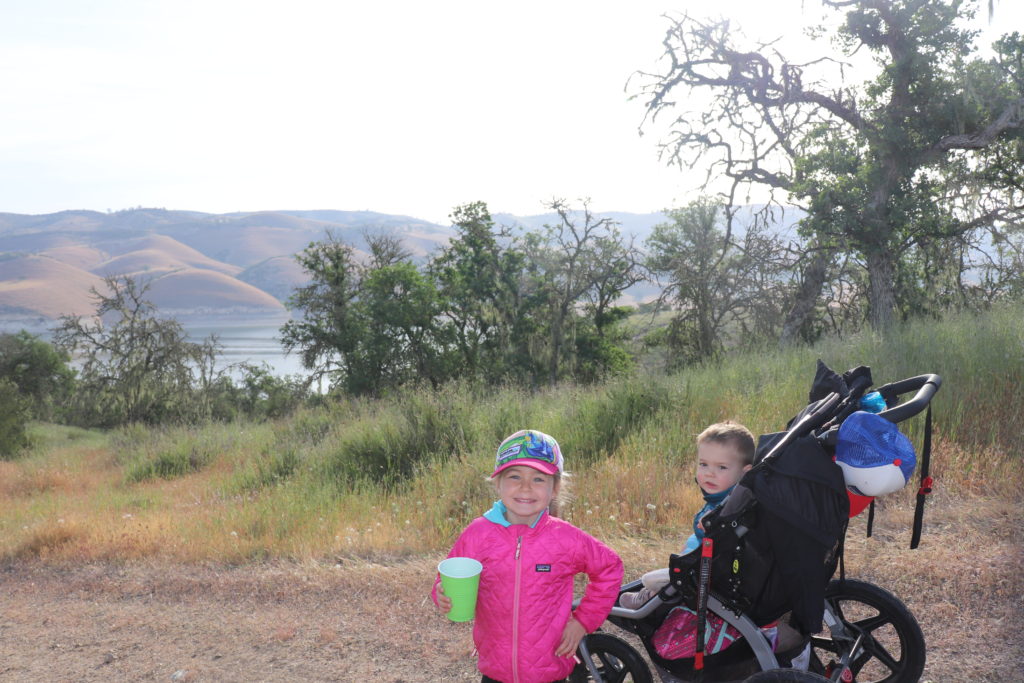 Transition was pretty well organized and everything went fairly smoothly. I setup my transition space, got body marked, and spent the last hour just hanging out watching the swim start area. I finally got my wetsuit on, grabbed my goggles and cap and started walking down the boat ramp to find my wave start group. 5 minutes before our wave start time, they let us all in the water to do a quick swim warm up. I don't think I've ever warm up for a race, so I just waded in the water and splashed it on my face to help with the shock of water. The day was already heating up and I was beginning to sweat in my wetsuit standing in the sun.
Swim
When the cannon went off, I ran the 10 feet into the water and dove in. There was a 20 meter swim out the boat launch and then a left turn to the first buoy. I tried swimming pretty hard the first couple hundred meters and then slowed down to a more manageable pace. It seemed like our age group spread out pretty fast, with a group of fast swimmers going out in front of me, that I wasn't able to keep up with. The first quarter of the swim was fairly uneventful. I tried to swim pretty hard, but also wanted to slow down and save something for that tough bike and run coming up. As I got closer to the turnaround buoys, we started running into the back of the women's age group that went off ahead of us. This took a lot more energy because I needed to sight every few strokes to make sure I wasn't going to hit anyone. Then, I had to plan my path around groups of swimmers I was going to pass. After the turnaround, I was still feeling good and trying to stay on a strong pace. I picked a line closer to the buoys for the way back because there seemed to be fewer swimmers there. As I got closer to the last turn buoy, I started to get into the back of the next group of swimmers from a couple waves ahead. This got a bit dicey and there were people doing backstroke, breaststroke, sidestroke, and anything else you could imagine. One day, I'm not going to be shocked to see someone doing butterfly the wrong way on the course.
I guess I should have looked at a map of the swim course because I didn't realize I had to go around the right side of the final buoy, even though we had to stay to the left of all the other buoys up to the end. So I had to make a major adjustment to go around the last buoy on the correct side before lining up for the exit ramp. After one last push for another hundred yards, I finally hit my hand of the boat ramp as my queue to push my body upright and start running out of the water. The "run" up the long boat ramp was tough. It felt slower than a walk and I was getting passed by people just hauling up the incline. I tried my best to keep my heart rate low, but it was pretty discouraging to get passed by so many people. I finally made it back to transition and got my wetsuit off. In bending over to put on my socks, my stomach started cramping and I just laid down on the asphalt for a few seconds to stretch out and try to get my socks on again. So much for a quick transition. At least no one expects me to be fast. I wish someone got a picture of me just laying out in the middle of transition with my hands above my head and one sock halfway on.
Swim Time: 30:31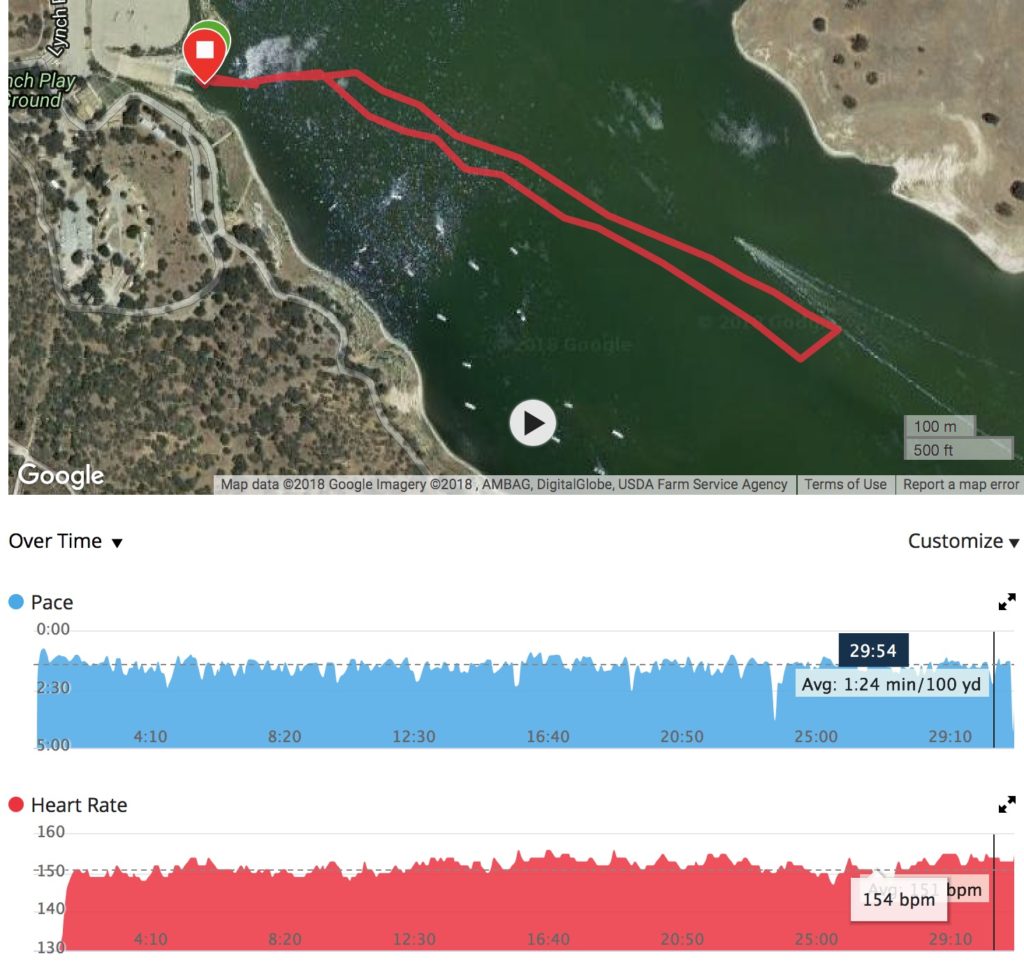 Bike
After fumbling to get my feet in my shoes, I was finally on my bike. The first couple miles are just beat up asphalt around the lake, but it was an opportunity to rest a bit and try to get my heart rate down. Then came the nice climb up from the lake in my "granny" gear getting passed my tons of people. After the climb, I was finally able to get into my aero bars and try to get into a mental cadence as we made our way out of the park and to the main road.
Out of the main road, there were still a number of punch climbs and quick, fast descents. It certainly kept life interesting because it was a mix of "granny" gear climbing, out of the saddle and then fast, aero downhills at 40+ mph. This type of riding seemed to just repeat the first quarter of the 56 mile loop. There were still a number of people on the course, so it varied the efforts a bit.
After about mile 25 the road flattened out and there was just a long stretch of road, as far as I could see. I tried to get mentally focused on my power goal, but the roads started getting pretty rough. I was getting bounced around a lot and spending a lot of effort just making sure I wasn't going to hit any potholes. Luckily, my Dimond bike is pretty good at absorbing some of the little jolts, but it was still hard to just ride and zone out.
My only complaint about the bike course, besides the rough roads was the amount of water handed out at the aid stations. At each aid station, I refill my front BTA with water. Most aid stations were hand filling bike bottles from larger water bottles or a water truck. The problem for me was that most people were only filling the bottles a quarter way up. I assume this made sense to them because most people grab one bottle, take a few sips, and then toss the bottle before the end of the aid station. So it seemed smart to not fill them up all the way and waste all that precious water. But for me, I needed all that water. So each aid station, I had to slow way down in order to grab 2-3 bottles. Every now and then I was lucky and someone had a full bottle, but for the most part, it was tough to take on the water I needed between aid stations.
My goal was to do 2 water bottles an hour since it was such a warm day. I also did 300 calories an hour from a nutrition bottle I had on my down tube. As the ride went on and I began to feel the heat, I also had to use some water to spray on my neck and back to stay cool and slow my sweat rate down.
Finally, I made it to the bottom of Nasty Grade. Just one long long climb up the mountain and 15 more miles and I can get off this bike. Nasty Grade is pretty self-explanatory… it's long and slow. I tried to take it easy and not raise my power too much, which is hard when you're grinding in your smallest gear. By about half way, my head was just baking in my aero helmet. Not air flow combined with no vents in a helmet is no fun. I think the name Nasty Grade may come from that plateau at the top of the climb where you think you're done and then you make a right turn just to see another giant climb ahead. Nothing like a false-summit to put a smile on your face. A smile that says "this is a silly sport".
After Nasty Grade there is a long and very fast decent back towards the lake. I started to get a bit uncomfortable at over 45 mph with a disc wheel, not knowing if there will be a gust of wind around the corner. After a few more admin miles, I finally made it back to the park and towards the lake. Another couple rollers and I would be off the bike. My power was dropping a bit, but overall, I was at about my goal of 240 watts normalized power, which was conservative enough to leave some in the tank for the run.
After a nice rest down the hill to the lake, I was into transition and putting on my run shoes, hat, glasses and number belt.
Bike Time: 2:47:29, 223 AP, 237 NP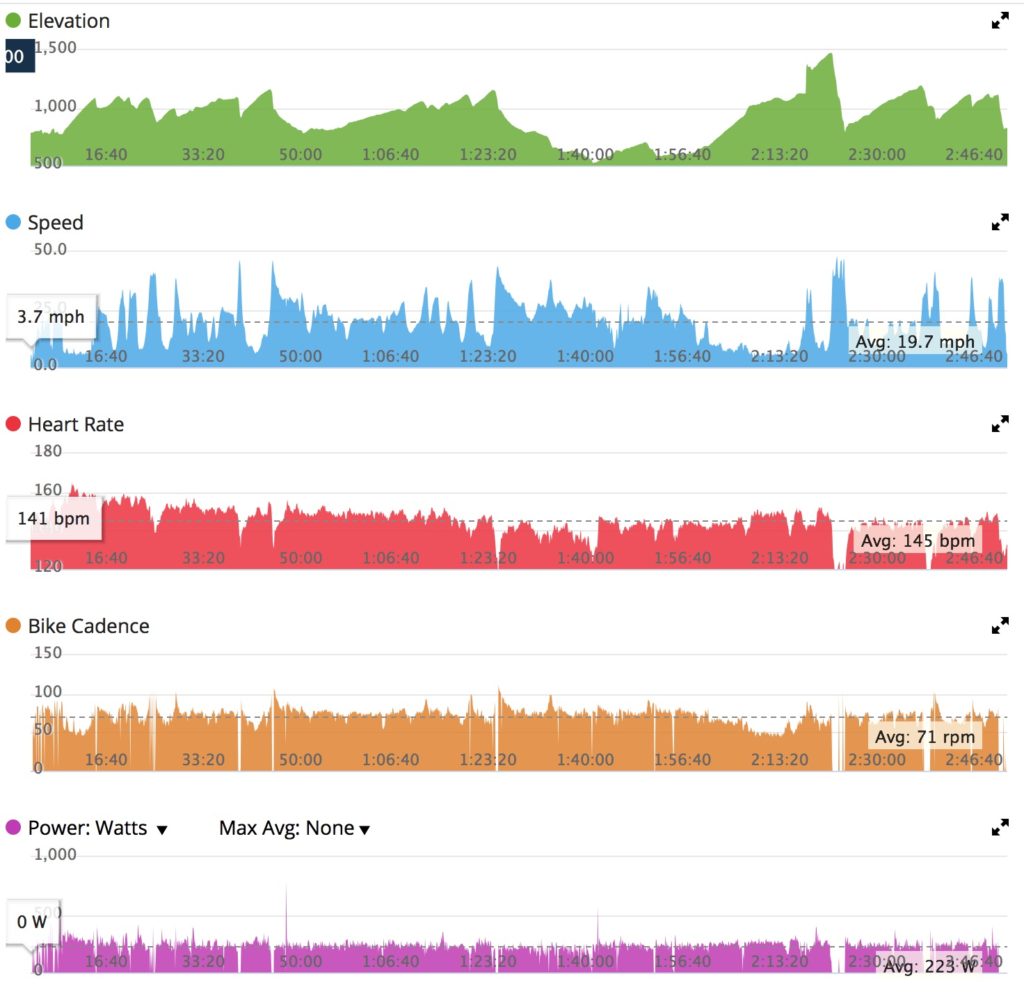 Run
Right away on the run, there is a fun staircase to run up. Well, I kind of walked up, because I was tired already. I ran by a lady who seemed to be overly enthusiastic about cheering me on… maybe because of my cool neon socks. I smiled nicely and continued to run by before I realized that nice lady was Camille and the kids. So I had to run back to kiss and high-five them all. Nothing like running backwards in a race.
Most of the run is on dirt trails around the lake. Right away, I had to walk all the punchy little hills. I just didn't have it in me to run up these short steep dirt hills. At least there were a lot of other people walking them too. My lower back was also throbbing. Usually, I have time off the bike to stretch out my back a bit. The run course here didn't allow me to do that. Some hills during the first 4 miles, I even walked backwards just to give my lower back a rest.
Walking the hills was discouraging, but most people were doing it, so it actually allowed time for a bit of talking and joking around with some of the other racers. The course was very packed. There was a 10-mile trail run going on at the same time on the same course, so there were a lot people to go around during most of the race.
At this time, the sun was directly overhead, and there was very limited shade and it was in the upper 80's. It was getting tough. Each aid station, I had to dump 2-3 water cups over my head and back to stay cool. My shoes were squishy with water.
After about mile 9, I actually started to feel much better than the first 4-5 miles of the run. I was able to find a bit of rhythm and my back had loosened up, so I couldn't feel it anymore. I think that made all the difference in the world. Without back pain, I was able to slowly run up the hills. My pace was still slow, but I knew it was a slow course overall.
I finally made it back to the paved road section of the course and then hit the long downhill to the pit. I had totally forgotten about this section from the 10-years prior, when I very distinctly remember walking the uphill out of the pit feeling miserable. At the turnaround, there was the final 1.5 mile climb out of the pit. At least I would be close to the finish once up this hill. Luckily I was still feeling good and was able to slowly run up the whole hill and keep going at a good pace. After the final run through the campground there was a long .75-mile section of super steep, quad pounding downhill to the finish. I tried to keep the downhill run under control. It actually felt great to stretch my legs out, even though I was nervous my quads would just cramp any second. After the downhill, there was just the finisher's shoot left. I pushed hard for the last minute of running before crossing the line.
Run Time: 1:50:03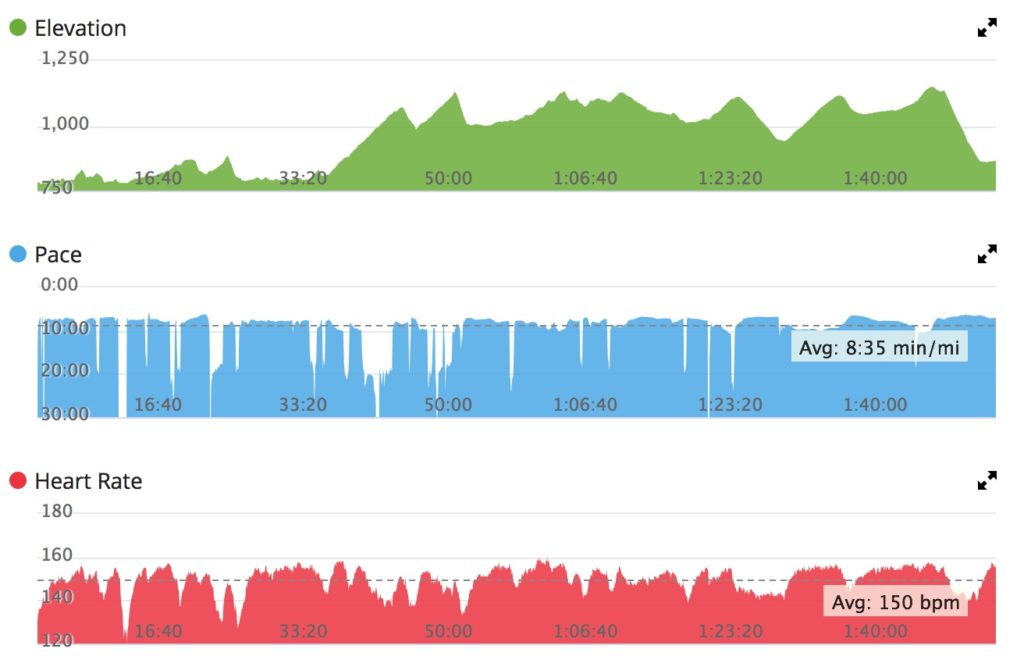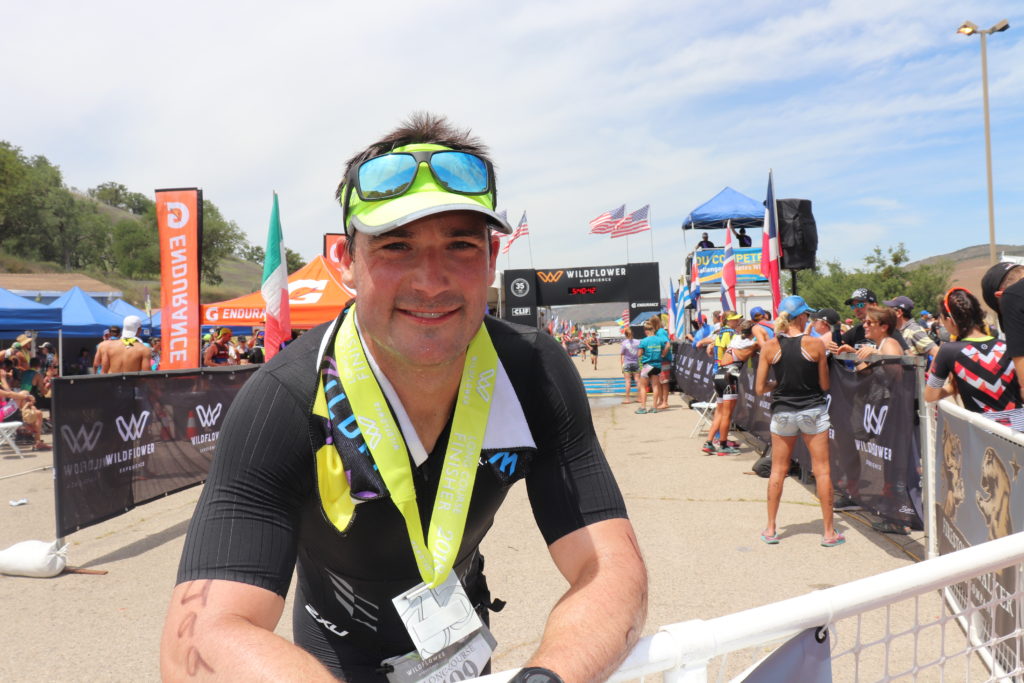 Post-Race
I forgot how tough the Wildflower Long Course is. Definitely the hardest course of this distance I have done. That run is just brutal. I've never seen so many people walking in a race. I was happy to finish 7thin my age group at a race which is just hot and hard and draws a talented group of athletes.
The rest of the day was spent hanging out at the festival, eating food and watching the kids climb on the pay structure.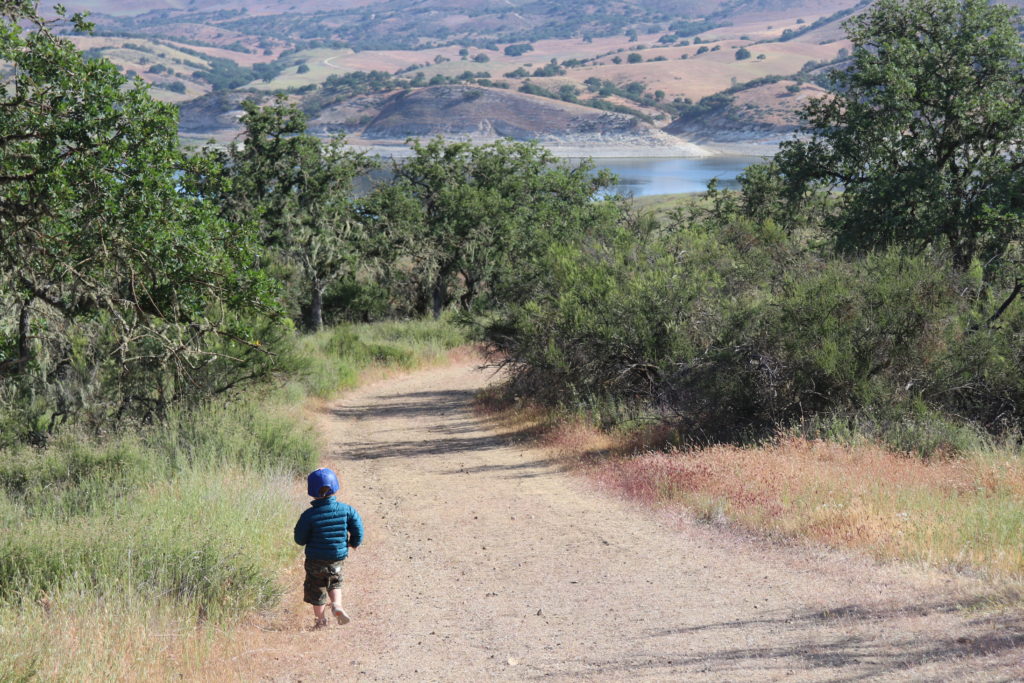 The hard part about Wildflower camping are the logistics of getting your bike out of transition and back up that hill to the campgrounds. That's a whole effort on its own and really finished me off for the day. We spent the rest of the evening hanging out with the triathlon club group. They even brought in a pizza oven on a trailer, which was a huge highlight for everyone, especially the kids.
I had to spend some time cleaning and drying my gear off and getting ready for the race on Sunday. While the rest of Wildflower was out partying, dancing, and listening to the DJ, I was in bed early at 9pm with my earplugs like an old man.
Olympic Morning
No alarm clock for Sunday. A 9:25am race start gave me lots of down time in the morning. I purposefully tried to move as slow as I could. I was still fairly stiff and tight from racing the day before, so I wasn't optimistic about a good race. My goal was just to go out and cruise. It was going to be another warm day, and 2 days of going hard in the heat didn't sound very exciting.
I finally road my bike down to transition and set everything up the same as the day before. Except today, I had another hour and a half before the race start. So I just found a place to watch the sprint race which was going on before the Olympic start. I also ran into an old friend who I used to swim with maybe 20 years ago who was also racing in my age group. That added a bit of pressure to swim a bit faster.
Swim
After a long and slow morning, I was anxious to get started. For some reason, even though I thought I would just go easy all race, I lined up in the front line at the swim start. So when the cannon went off I was forced to run in hard start swimming hard. Right away, I saw my friend Steven take off like a bullet to lead the group. I tried to follow behind him, but wasn't able to hold on. I fell off the back of his feet and tried to find a more reasonable tempo for the rest of the swim.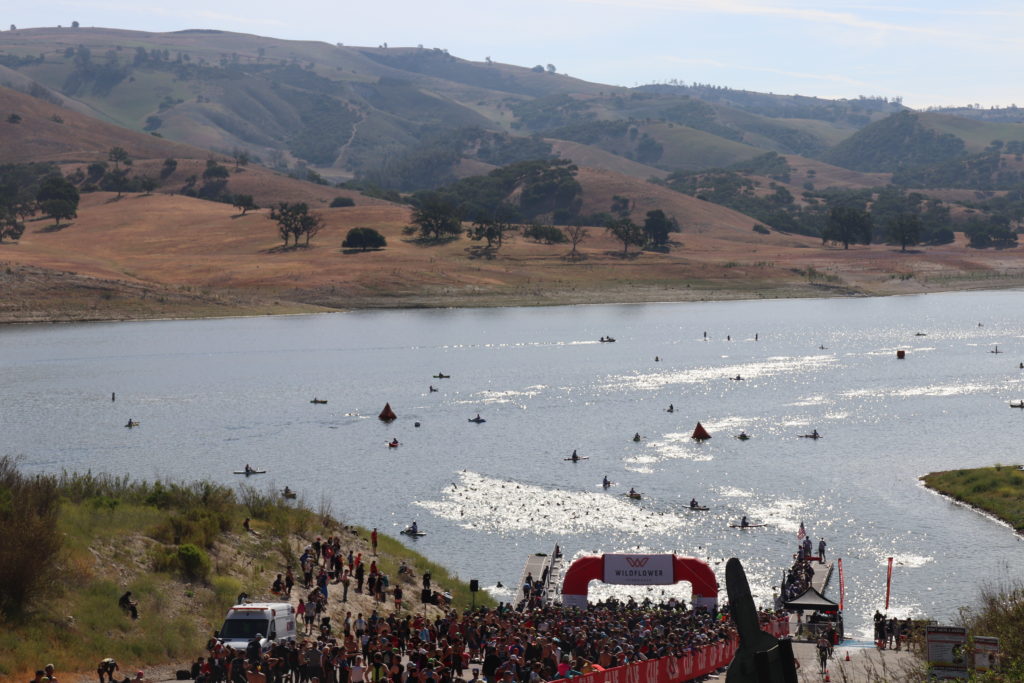 There seemed to be a lot less people in the water than the day before. But the swimming abilities of the athletes seemed to be a bit more varied. So almost immediately, I ran into the back of the next age groups and tried to get around the varying strokes and techniques of the swimmers.
The swim went by slower than I originally thought. A 20-minute swim seems fast, until you have raced the day before and spent all weekend in the sun. I felt somewhat motivated to go hard because I could tell I was 2ndor 3rd. Back at the boat ramp, I got out of the water and tackled the long climb up to the transition area.
Swim Time: 23:18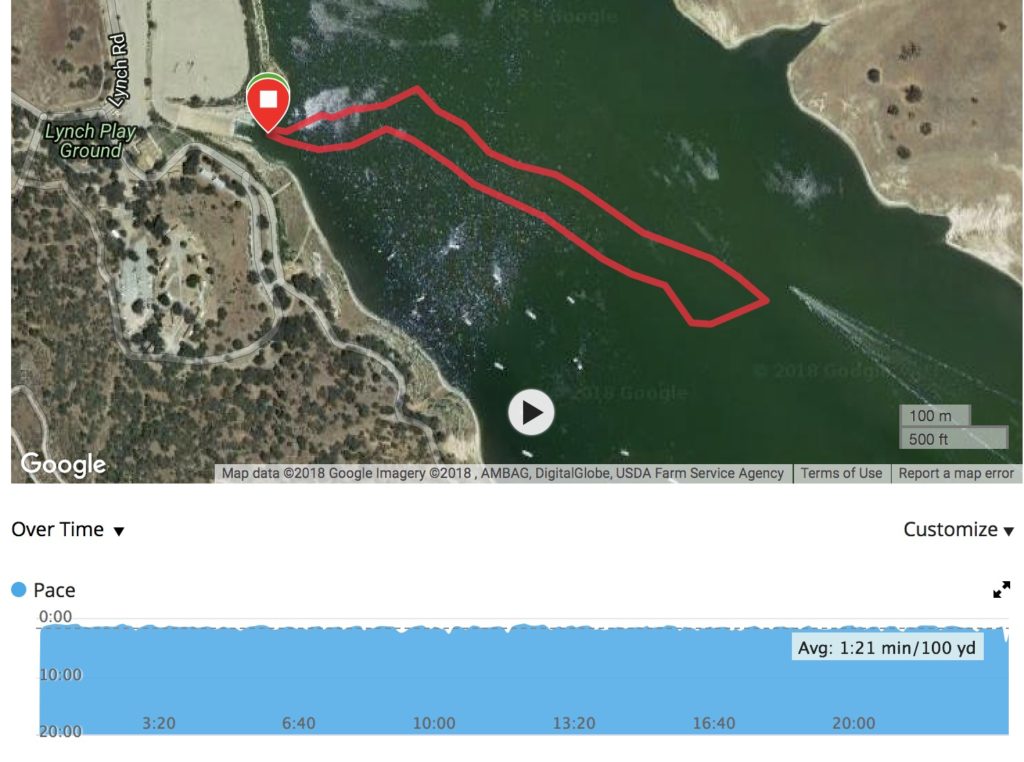 Bike
They didn't joke around on this bike course. Right out of transition there was a huge "granny" gear climb away from the lake. Nice and slow. On the ride out of the park and onto the main road, I again tried to find my cadence. My bento box had been making a ton of rattling noises this whole time, and all of a sudden a screw came loose and the bento started flapping around and hitting me in the legs. I had to slow down and slowly unscrew the last screw with my fingers. I finally was able to get the bento off my bike and a threw it into the bushes. Finally, I was able to settle down and try to sort out my power, $50 dollars lighter from my tossed bento (which I was able to find in the bushes as we were driving home).
I didn't really have any pacing goal for this race. I knew I should be able to hit a higher power goal than the day before because of the much shorter course, but the power really wasn't there. I ended up finding a rhythm at about the same power as the day before. Today's crowd was definitely a lot younger. It seemed to be mostly college kids out on the road. Again, I felt like an old man. Other riders were a lot more aggressive on some of the climbs too. People would fly by me on the climbs only for me to pass them later on the descents.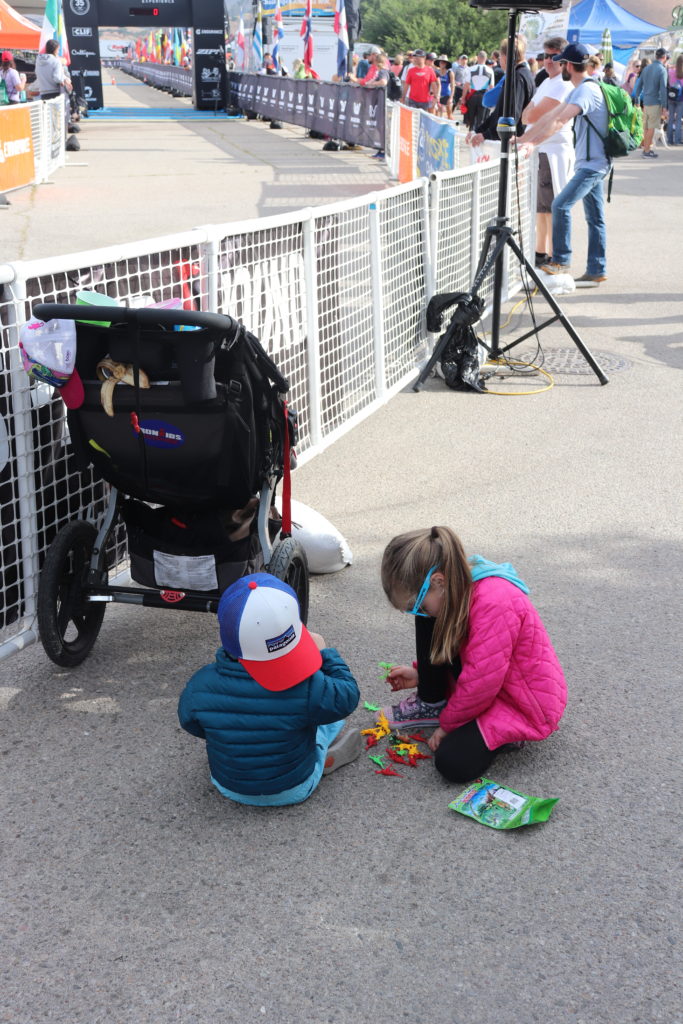 I had the expectation of a very short ride, which made it seem to last longer than I expected. The turn-around at mile 12 did come fairly fast, even with all the hills on the course. I didn't feel like I spent much time on the aero bars because I was either climbing or tucked into aero on a downhill. I just tried to drink water when I could. I didn't really plan out my nutrition because the course is so short. I just took 150 calories of sports drink on my bike and did the rest water.
I was starting to get a bit stiff on the way back, but I was having a good time. Short course racing could be a lot of fun. Just go out and push. Before I knew it, I was back at the lake and flying down the hill towards transition.
Bike Time: 1:15:24, 233 AP, 245 NP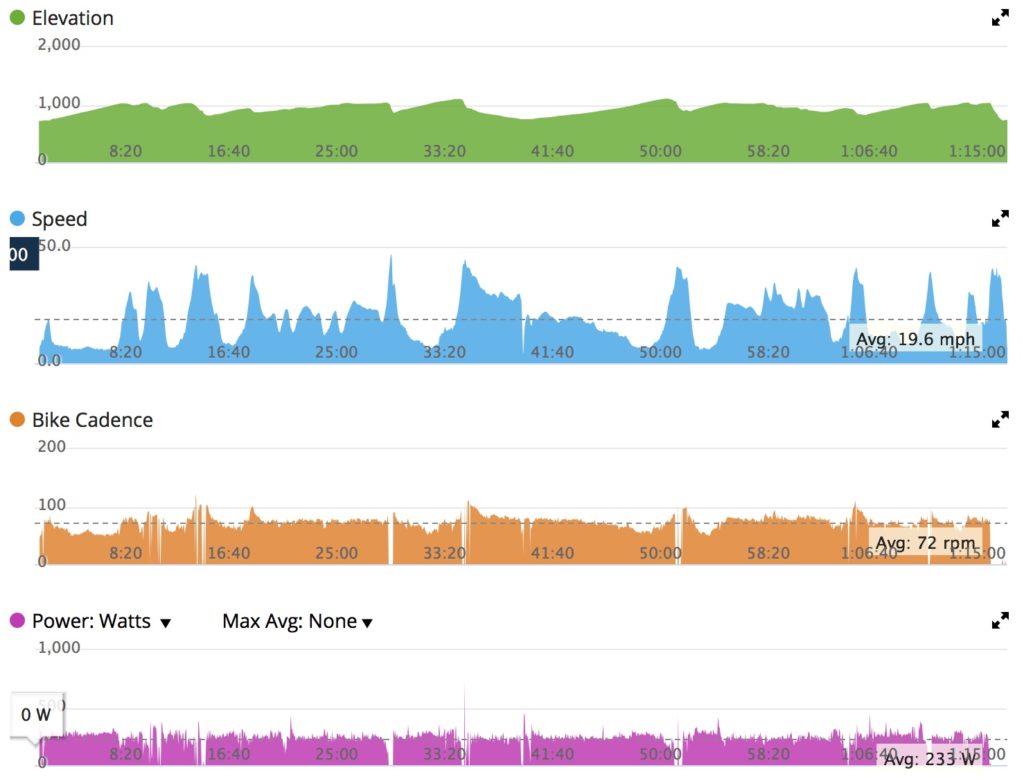 Run
I think I actually had a fast transition. I didn't even notice putting on sopping wet shoes from the day before. Back to the same few miles of running as the day before, but without back pain. I still had to walk some of those first couple hills though. I also think I walked every aid station. I thought it was odd that I was walking so much on a 10k run. For a 10k, I should be pretty much running as hard as I could, but there I was walking parts of the course. Just shows you how challenging this race was. Even the college kids were walking, which made me feel a lot better.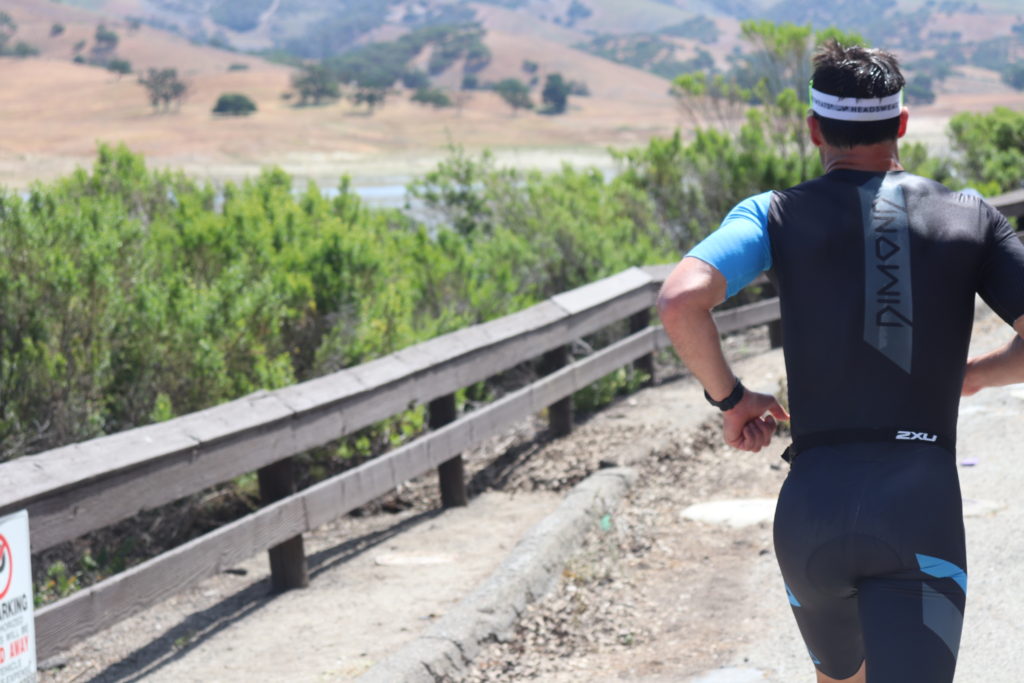 At mile 4 there is the same long, mile-or-so climb, which I had to grind out again. At least I was able to run up. I was tired, but still feeling good. Mostly I was motivated because I knew I was in the top handful in my age-group. I didn't see many people pass me on the bike and I had passed some back on the run.
On the last long downhill I tried to go as fast as I could just in case someone was sneaking up behind me. I sprinted all out down the finishers shoot, hoping not to pull a hamstring.
Run Time: 46:41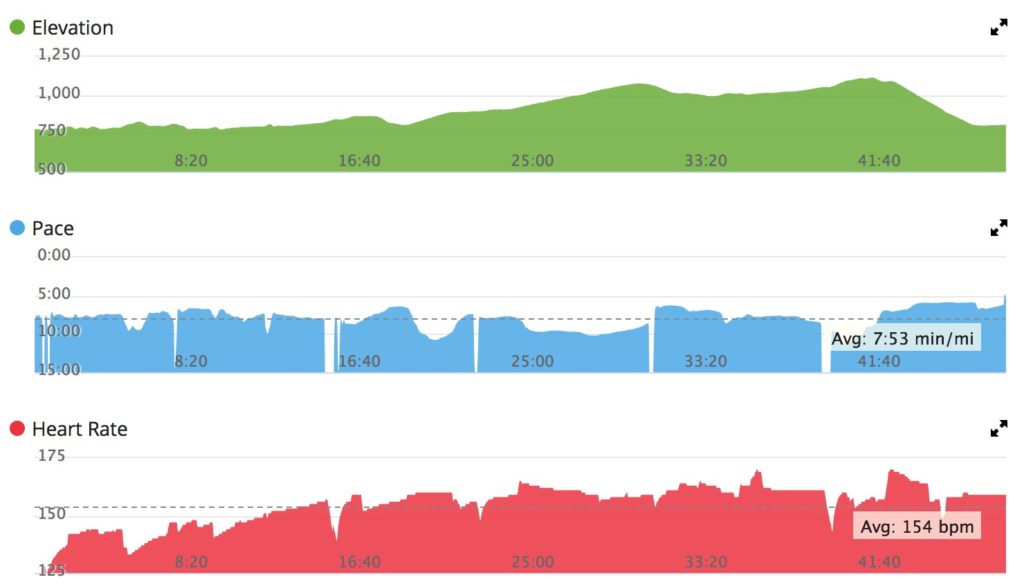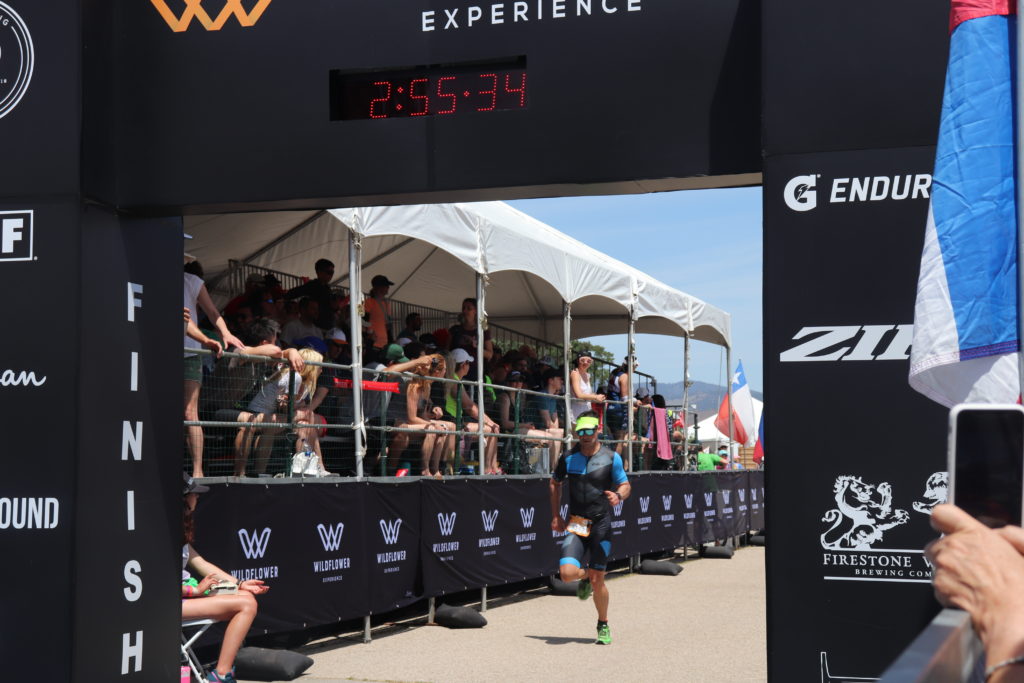 Post-Races
I was pretty happy with 3rdplace in my age-group in a race I didn't really plan on racing. It's been a long time since I've done an Olympic race, and I can see how hard they can be if you really want to go fast.
One thing that was unfortunate is that my timing chip didn't work at all, so I didn't know my time or place until days later. I had an idea, based off my gps times, but nothing official until mid-week.
Wildflower lived up to the expectation of a very challenging and hot race. It was a great atmosphere and lots to do and see for the whole family. The race organizers did a great job making the event feel like a festival, and not just a triathlon. Plus, it's so close to home, it works out well logistically. Wildflower will be a top contender as a go-to race every year if I feel the need to continue the suffering.