PreRace
Going in to Mont Tremblant, I didn't have the focus on the race that I usually do. Mental energy on training and racing had taken a backseat to everything else going on in life. I was still looking forward to the family vacation aspect of the race. The only issue with the "family" part of traveling, is all the "family stuff" we needed to take with us. In addition to my bike, we had 2 car seats for the kids, a 2-child stroller, and all our bags. It was a struggle just to fit everything in our car and haul it on the shuttle, through the airports and fit into our rental car in Montreal. For some reason, both our kids don't seem to like walking on their own in public. So not only did Camille and I need to juggle all the bags, we also needed to somehow carry Caden while trying to convince Iyla to walk on her own, despite her severe "leg pain".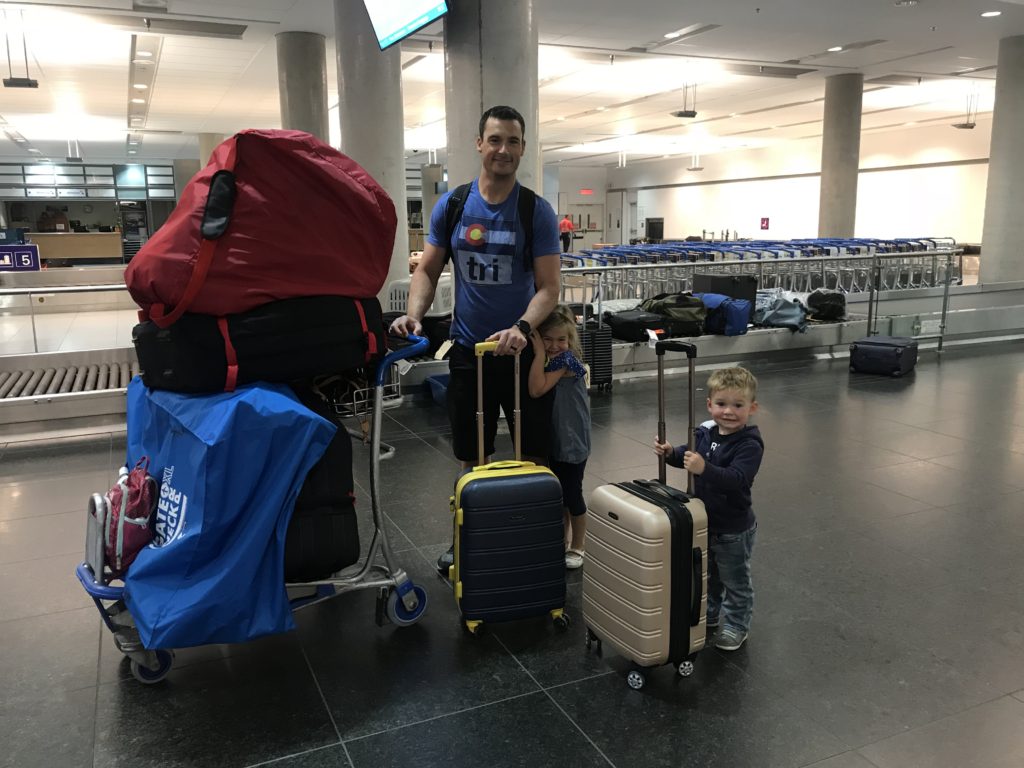 We arrived to Mont Tremblant after a 2-hour car ride from Montreal on Thursday evening before the race. After getting situated in our rooms, we grabbed a nice Italian dinner and were able to walk around the village.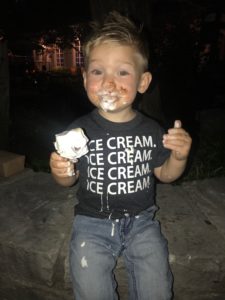 Everything in the village is no more than a 5 minute walk, which is perfect (again, because our children don't seem to like walking on their own). We grabbed an ice cream before heading back to the room for the night.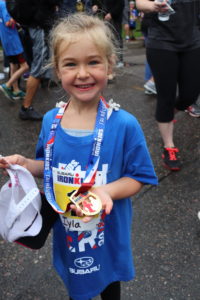 Friday was spent with family activities, which are plentiful in Mont Tremblant. We started off with the Ironkids fun run in the pouring rain. Iyla was a trooper and did the 1k run in a downpour. We then rode the luge, which both kids loved. We also took the gondola up to the peak and then hiked over to the observation deck for some pictures. I went for a short run, while the kids relaxed at the hotel in the afternoon and then we went to the Ironman welcome banquet in the evening. While not all races have a welcome banquet,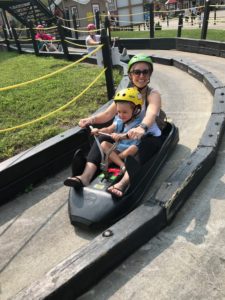 I'm glad that Mont Tremblant had one. The food isn't the best, but the overall energy of the event is great. It's amazing to hear all the stories of other athletes and see everyone in one place before the race. After the banquet, we headed over to the VIP reception area for drinks and a great view of the fireworks show Ironman puts on. Overall, the welcome ceremonies were the best of any race I have done.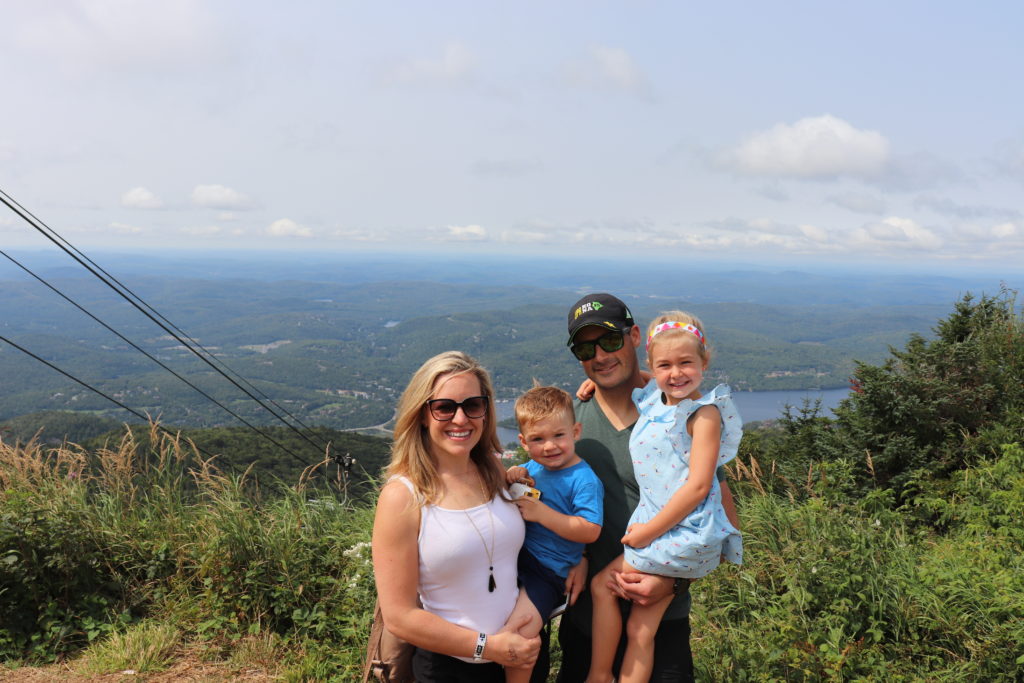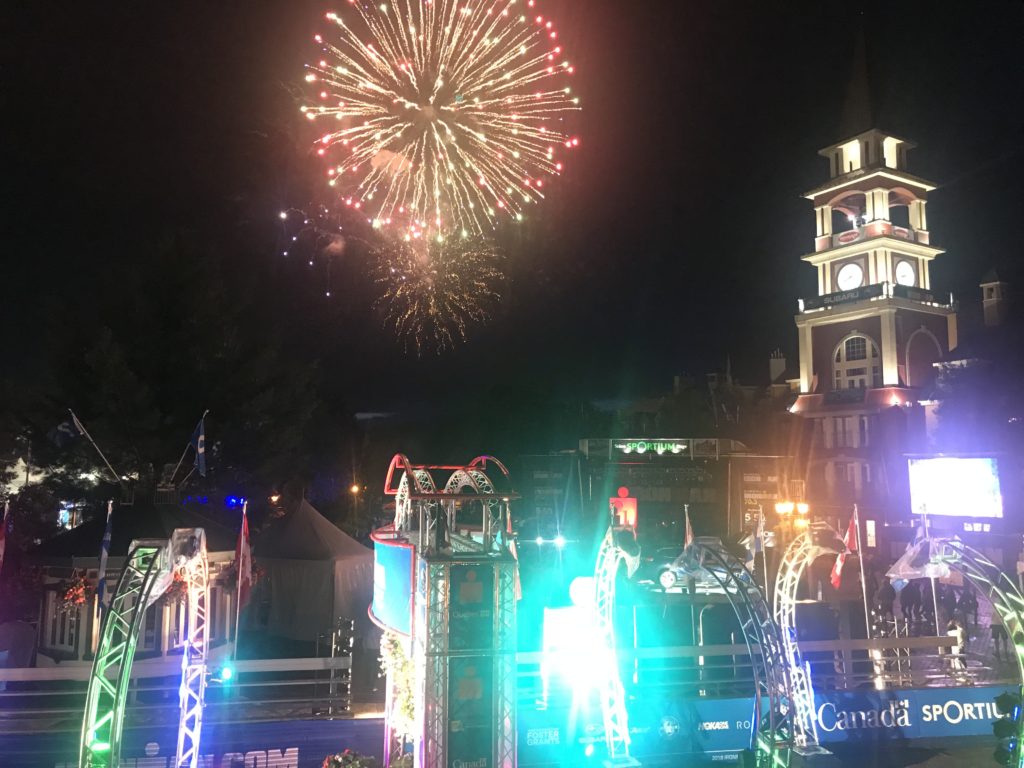 Saturday was more of an administrative day. I went to the lake for a quick swim in the morning. There was a coffee boat you could swim out to and get a cup of coffee while you held on to the side of the boat.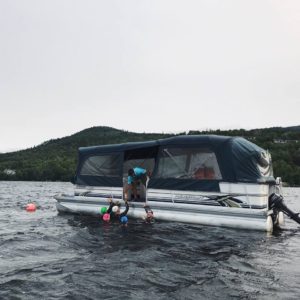 The water was very choppy in the morning. The whole swim was fighting through chop and waves. The rest of the day, I was a bit nauseous and sea-sick from the rough swim. I guess I wasn't used to open-water-swimming because this was my first since my last race. I took my bike down to the Dimond booth for a quick once-over and then brought it to transition to rack my bike and drop off my bike and run bags in the transition tent. I got a little bit of time,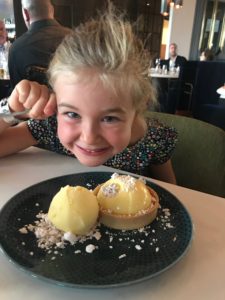 resting in the hotel as the kids played in the room and before dinner. We had dinner reservations at a nice restaurant at the Fairmont, and we ended up being very lucky that the kids behaved so well during dinner. I'm always nervous in restaurants with the kids, expecting a break down at any moment. We've been very fortunate though that the kids are usually so well behaved.
My goal was to be in bed, asleep, by 9pm. But since Caden wasn't in his routine and crib and was sharing a bed with Iyla in the living room area of our hotel room, he was up chatting and talking for a while each night and didn't want to fall asleep. Plus, 9pm is only 6pm at home, so it was challenging to get myself to sleep on time.
Race Morning
My alarm went off at 4:30am on Sunday. Race start was 6:45am, so I wanted to be eating breakfast at 4:45, two hours in advance. I was lucky we had a hotel suite because I could get ready in the bedroom and bathroom w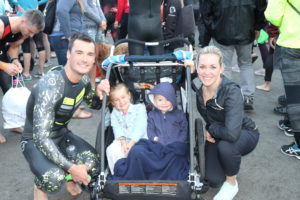 ithout waking up the kids. I got dressed in my tri suit and clothes and headed down to eat in the hotel breakfast area. The hotel was very accommodating and started serving breakfast early for all the athletes. After some eggs, bacon, banana, a couple pancakes, and lots of (crappy) coffee, I was off on my quick 5-minute walk to the transition area.
I first found my bike in transition and dropped off my 2 bike water bottles and Garmin. I then dropped off another water bottle in my run bag before walking to the swim start by the lake-front. I got to the swim start much earlier than I expected, so I took a seat and sipped on my salted water (I add salt to all the water I drink 3 days bef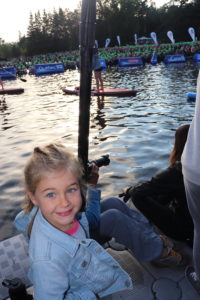 ore the race) and played on my phone for a while. I got a text from Camille saying she was at the start as well with the kids, so I met up with her to say hi and take pictures. Around 6:15, Camille and the kids made their way to the VIP swim viewing area on the dock and I started to head into the start corral, where I got changed into my wetsuit.
Unfortunately, while standing in the start area, Mike Reilly announced that the race start was going to be delayed 1 hour because of the thick fog over the lake.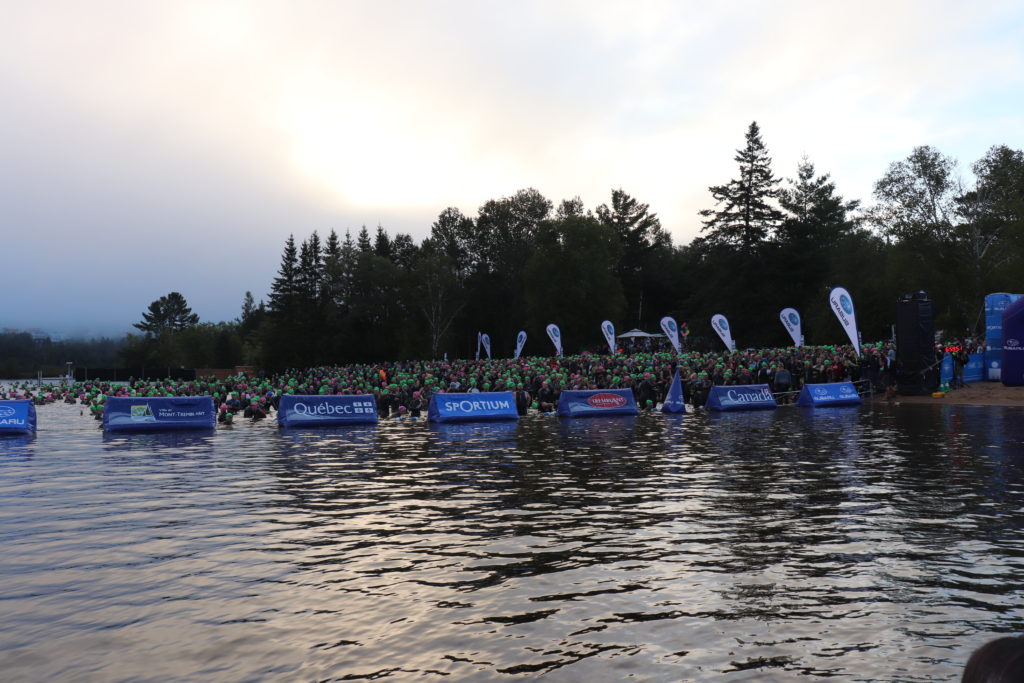 After another 45 minutes of waiting around in my wetsuit, the professional men and women started their race, which was fun to watch. After another 15 minutes, the rolling start for the age-groupers finally began. I had seeded myself in the fasted swim group (1 hour), so I was up to the start line within a couple minutes of the start. Ironman had a green-red stoplight setup, where 6 athletes lined up and were released with the green light every few seconds… similar to the meters getting on a busy freeway.
Swim
At my green light, I ran from the beach into the water. The water was shallow for a while, so I could run out pretty far before having to dive in. The water was nice and warm at 75 degrees, so no cold-water shock. I began swimming fairly strong from the start. I was lucky that most of the people around me were swimming at about the same pace, so there wasn't much contact initially.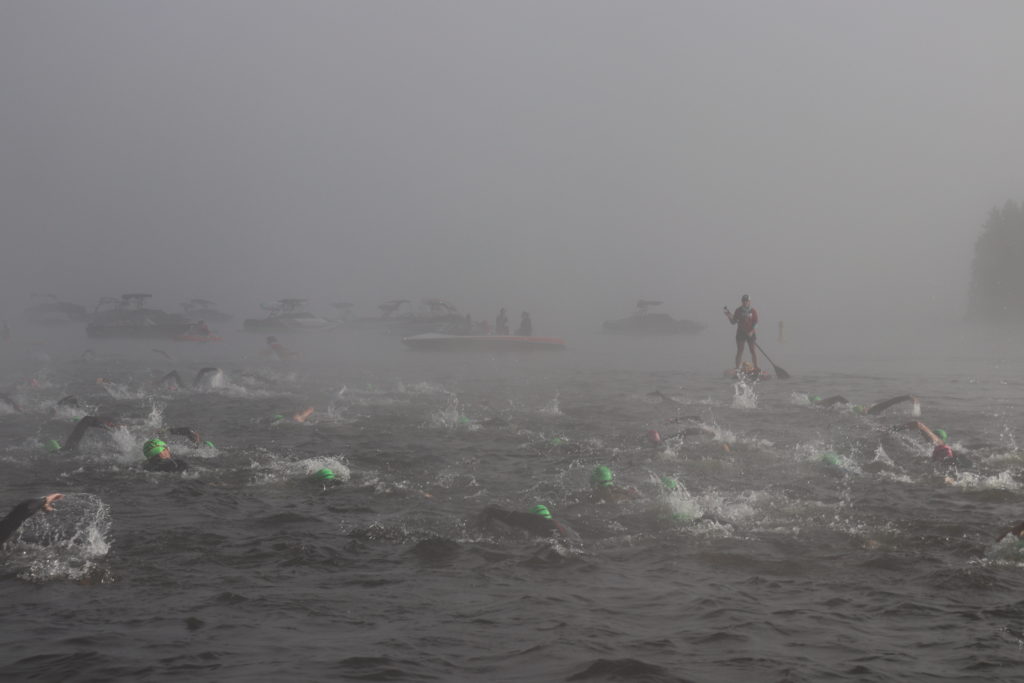 The swim is on large rectangular loop of 2.4 miles. There was still some thick fog on the water on the swim out to the turn around. Every time I passed a buoy marker, I wasn't able to see the next marker in the distance because of the fog. I just followed the people around me, hoping they were pointed in the right direction, until I could spot the next marker. This continued for 12 markers until the first turn buoy. Overall, the way out was very uneventful. I tried to catch some feet and draft as much I could. There were the occasional swimmers who just could not swim straight and were all over the place. I think for the most part, I chose a good line and didn't veer off course too much.
At the halfway point, I looked at my watch and saw I was right on track for a 1-hour swim. I tried to just hold a strong and smooth pace without pushing too hard. On the way back, I would tell some people were getting a bit more antsy and aggressive and there was the occasional contact with others trying to fight for position. During the last few hundred yards, I began to start feeling like I had been swimming for a while, so I was ready to be done with the swim.
The swim finish was at a bird watch area, and I began to be able to tell as the water got thick and smelly. All I could think about, what "please don't swallow any of the water". I was ready to get out of the bird-waste filled water ASAP. I finally got to the exit stairs where a couple volunteers grabbed my hands and pulled me out of the water. I got up the stairs and managed to get the top off my wetsuit surprisingly fast. I ran to the wetsuit strippers and jumped on the ground, as they pulled the suit off my legs and pulled me back to my feet. There was a long, quarter-mile run from the swim exit to the changing tent. At least it was carpeted, and lined with people cheering.
Swim Time: 1:00:47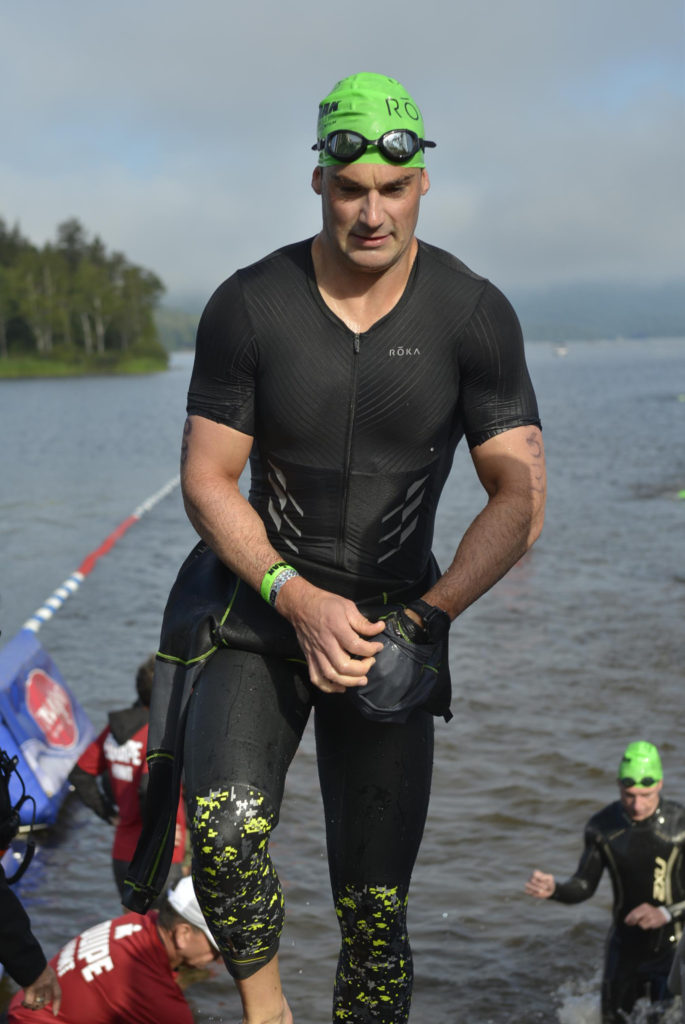 Bike
After putting on my helmet and bike shoes, I was running off to find my bike. I hopped on at the mount line and was off and pedaling. The first thing I noticed, because it's the first thing I look at, is my power wasn't showing up. For some reason my power meter wasn't recognized. After disabling/enabling it in my Garmin, it still wasn't working. Great. I'm a very numbers-driven person and do all my bike riding paced off of my power data. Power is really the only thing I look at my entire bike ride, on every ride I do. After a few minutes of panic, I soon realized that this may be a great opportunity to actually try to ride by feel. I could shed all the pressure of being held to a number and instead, just focus on riding. It was like being thrown into the stone-age and forced to survive. So, like my ancestors, I was out riding without power and forced to listen to my body for pacing queues.
The first part of the ride is rolling hills and then a bit of a downhill towards the highway. Initially, I was just focused on getting my legs warmed up and getting some fluid in me. I was lucky that I started the swim a bit early because the bike course wasn't very busy yet and there wasn't too much passing going on.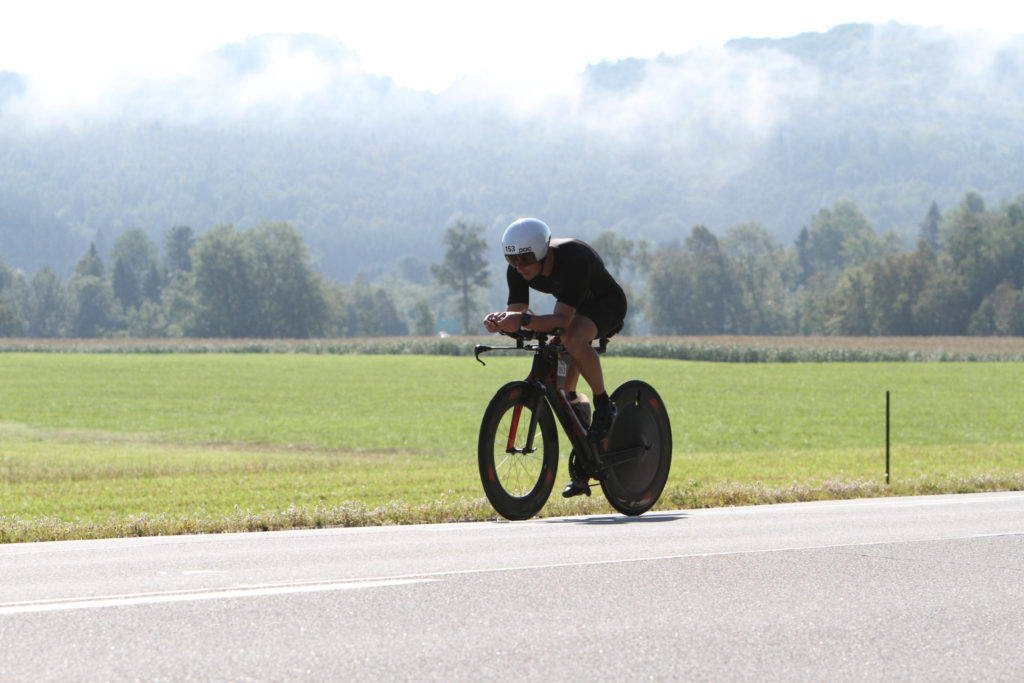 The bike course is 2-loops with a long out-and-back section on the highway, followed by a handful of miles of mountain road climbing. The air was still cool, so the blacktop of the highway didn't feel as bad on the first loop. I didn't look at the course map in detail before the race, but I knew the general layout, so in my head as I got on the highway, I calculated I probably had about 20 miles of highway riding before the turnaround point. The highway road surface was in perfect condition. Very different from the California roads I'm used to. They seemed almost freshly paved. The highway was mostly some very long rollers. So, it felt like either slightly uphill or slightly downhill most of the time. There were a few sections where I had to get out of aero and stand up to climb and a few faster downhills, where I just tucked into aero and stopped pedaling. My general rule of thumb is to tuck into aero and coast when I get over 35 mph.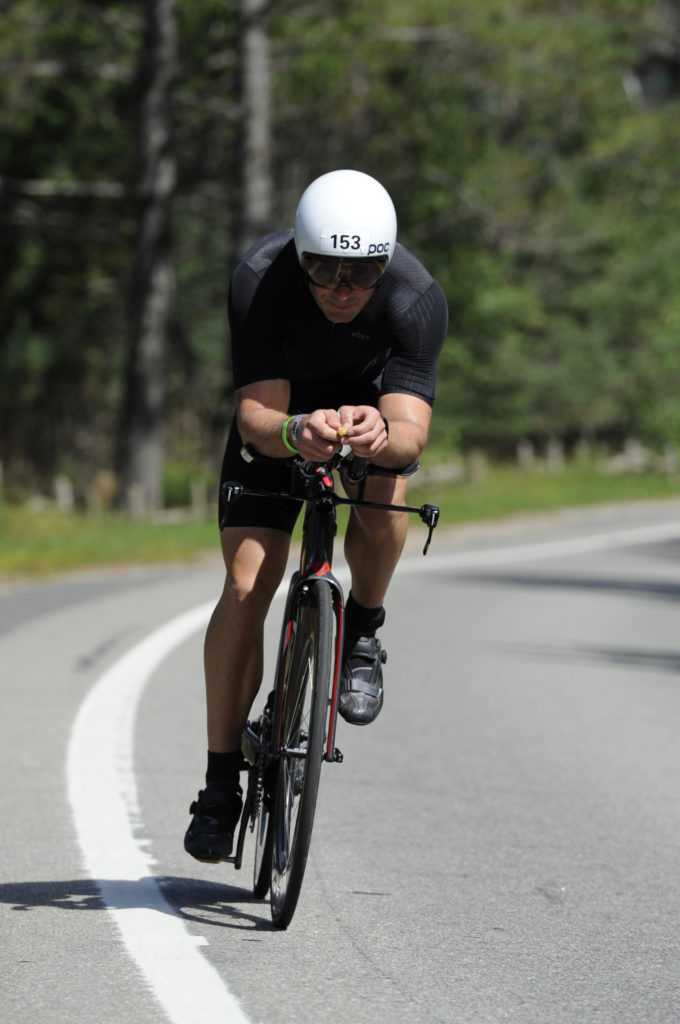 What was new for Ironman Mont Tremblant was there were a number of course referees riding bikes on the course. I had heard about it, but it was really amazing when I actually saw it. On the highway, I came across a referee riding a road bike. This guy clearly was a very fit road cyclist because he was really hauling. I had just been passed by a few people who were clearly drafting off each other and I could still see them in the distance. This referee saw them as well and made a huge effort to catch them and give a rider a drafting violation. When I eventually passed the ref, all I could mutter to him was "that was awesome, you're amazing". I could never imagine being on a road bike and powering up to a triathlete in full aero gear. He must have been a super-biker. Pretty cool! Overall, I saw a number of drafting violations being handed out, which I was happy about. It makes me feel good to know the rules are being enforced.
On the way back on the highway, I could tell I was sweating a bit more than normal for a morning bike ride. The high humidity was getting to me and I had a constant flow of sweat coming off my face and onto my bike. Eventually, I made it back to the village around mile 40. Then there was the Duplessis section of the ride, which everyone had talked about before the race. This was a long 5-mile section of the course, which had a lot of steep punchy climbs. Overall, I didn't think it was as bad as everyone made it out to be, but there were some definite steep climbs where I was standing in my lowest gear. I could also feel the humidity a lot in this section. The air felt thick and wet. I could see all the salt stains on my black kit. People riding around me even commented on my salt stains. I looked at my shoulders and it looked like some high school crystal-growing experiment with all the salt buildup on my sleeves.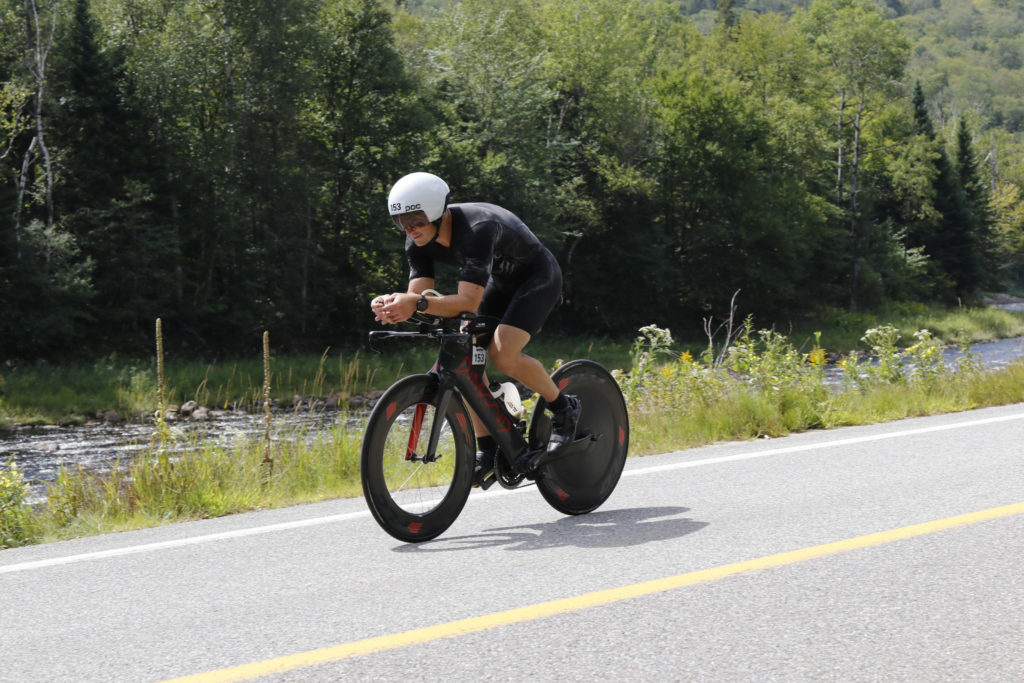 My nutrition plan was for 300 calories an hour on the bike. I had about 1650 calories with me on the bike from Hammer Perpetuem in one of my bottles (so thick, it was like paste), plus a bar and a gel. For sodium, my plan was for 6760mg of sodium on the bike from Skratch Hyper Hydration and salt pills. This was the hungriest I have ever been in an Ironman bike. Usually, I'm forcing myself to eat by the end, but during this ride, I went through all my calories and was still hungry. So, in the end, I started grabbing Gatorade at aid stations instead of water, so I probably took in an extra 200 or so calories above my plan.
The second loop on the bike was much less exciting. I knew what was ahead, so it was more about focusing on pedaling and not dropping effort too much. On the way back on the highway, my back and feet started getting sore, so I spent more time coasting on the downhills, trying to stretch out my back. I started counting down the miles at mile 90. This is the point in an Ironman where I start getting antsy and uncomfortable.
The second time on Duplessis was slow. I took it pretty easy on the hills because I knew I had a long run coming up. The sweat was really coming down now and I was looking forward to the turnaround and the downhill into transition. Turning back into transition, I tried to tuck on the downhills and get in some "rest". I was really looking forward to getting off my bike and being upright again.
Headed into transition, I reached down to take off my shoes, as I coasted in on my bike. I immediately cramped in my abs and couldn't reach down to get my other foot out of my shoe. So I had to really slow down and reach my hands into the air to stretch out my abs. I finally got both feet out of my shoes and soft-pedaled the last hundred meters to the dismount line.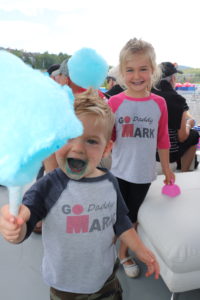 A volunteer grabbed my bike and I ran down the transition area towards the changing tent. I saw Camille and the kids in the stand right above transition, so I was able to wave and say hi as I ran by. They were having a great time, enjoying cotton candy and plush seating.
Bike Time: 5:13:21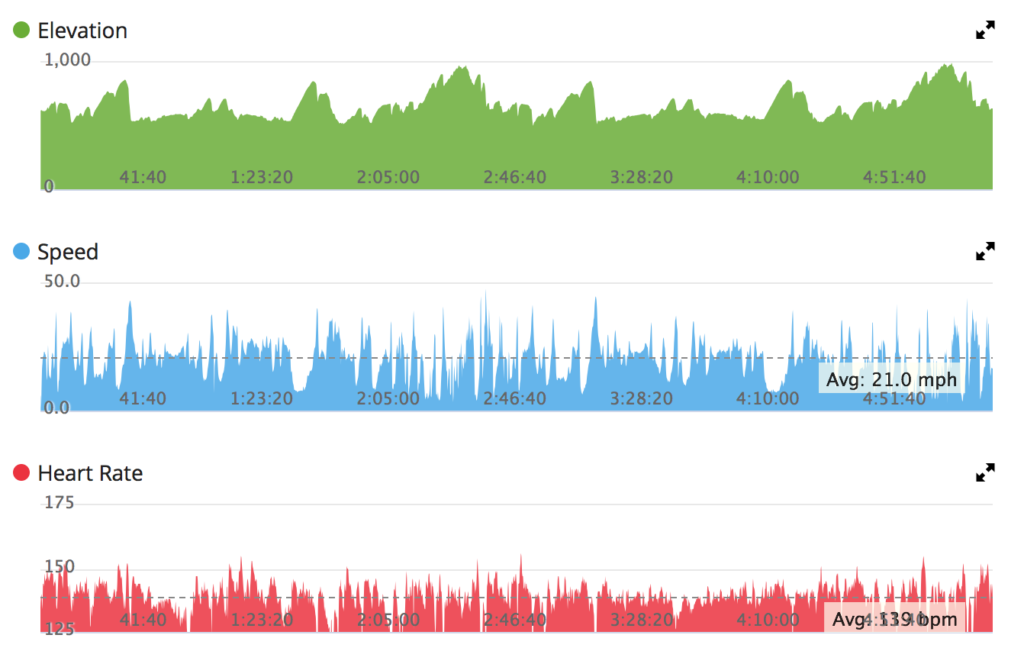 Run
After getting on my shoes, visor, glasses and race belt, and a quick potty break, I was off and running. I actually felt better this time running compared to a lot of other races I have done. My pacing goal was a bit slower than other races because I knew how easy it is to slow down at the end, so I decided to start off a bit slower and see what happened.
Right away on the run course there is a steep, punchy climb which crippled me to a crawl. So much for watching my pace. At least the crowd support was great at the beginning. The first 3 miles was a lot of short ups and down, which actually take a lot out of me. We then got on a rec trail, which is a long out and back to the turnaround point at 10k. Of course, the first 10 miles or so, my lower back was throbbing and both of my feet were dead asleep. This is something I now have gotten used to as it happens every race, but it's horribly uncomfortable and makes it hard to get in a good pace.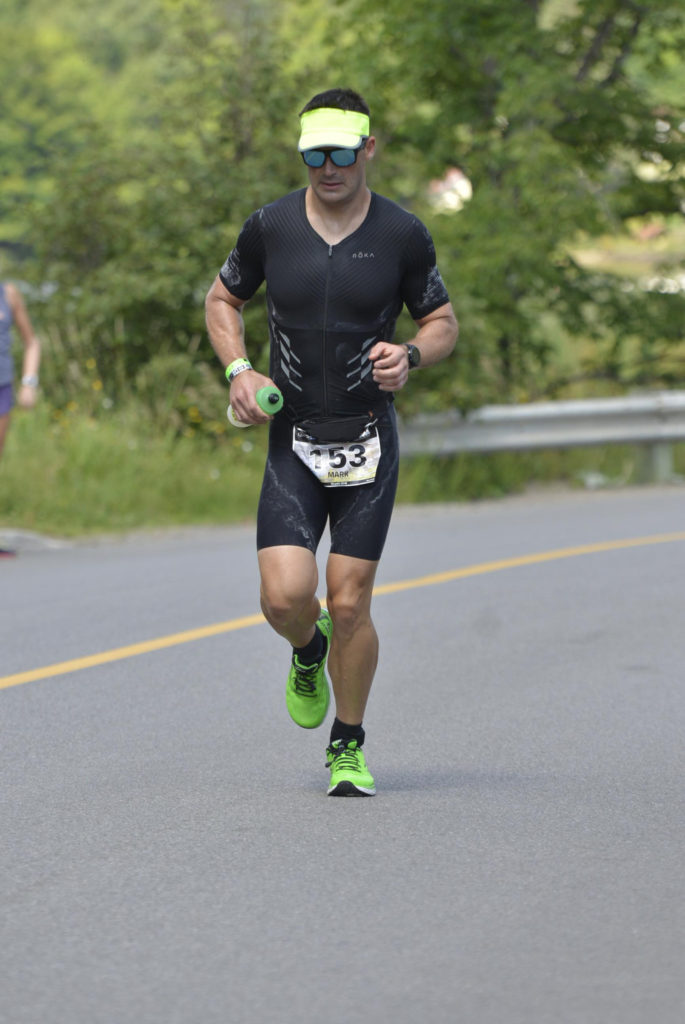 On the way out to the first 10k turnaround I could feel some cramping in my body. First, my forearms started twitching, which is a sign the rest of my body will begin cramping soon. Right after that, I got a huge cramp in my hamstring which brought me to an abrupt halt in the path. I stepped to the side and tried to stretch it out. I also had a few mustard packets in my pouch for just the occasion, so I opened up one and took it. That seemed to help as the cramps went away and I was able to start running again. By this time, my pace was way worse than I wanted. This actually took some pressure off to do "well". I realized my run was going to be slower than I wanted, so I decided to accept it and just enjoy the experience. I ended up cramping a bunch more this lap and had to walk often. I then switched to walking through aid stations and stretching if needed, but tried to run from station to station.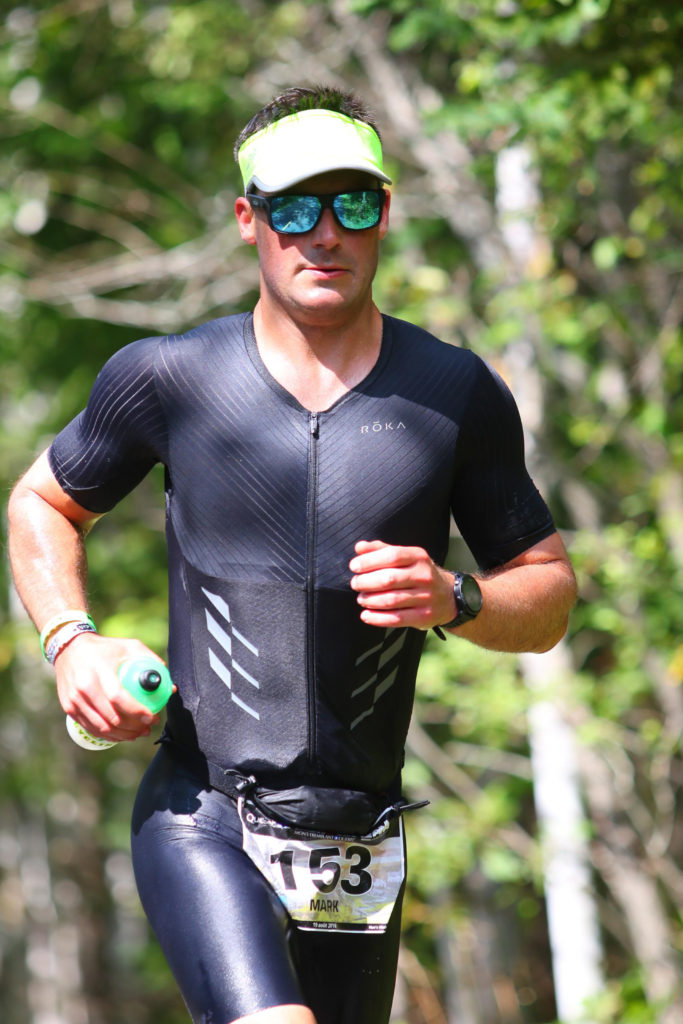 I finally made it back to the village. Running down the hill through the center of village to the halfway point was fun and painful. The crowds were huge, but the downhill just killed my quads. I saw Camille and the kids and briefly stopped for high-fives for the kids. Surprisingly, I felt pretty good for the 13-miles I had already ran. I had been going slow, but I still felt like I had it together.
That "togetherness" quickly changed and the wheels started coming off as I went through those punchy hills again the first few miles of the second loop. At least I was at mile 16. Only 10 more miles. 10 miles feels like a long ways when the wheels are coming off already. As I cramped on the side of the trail again, I could really feel the energy draining quickly. It's amazing how quickly I can go from feeling "okay" to feeling like death.
I could tell other people were feeling the pain as well. I saw a few people collapsed on the side of the trail, with medics attending to them. Just looking at the faces of other people I pass is a very eye-opening experience. I could see the pain and suffering of everyone. It's a very hard day. For me, the hardest part of an Ironman run is from mile 16 to mile 20. This is the section where I feel horrible and everything is telling me to stop and I still have over an hour of running left (at least at this pace). After mile 20, things seem to look up. This is where I tell myself I only have a 10k left and I start counting down the miles. A 10k doesn't seem like that far considering what I have done in training.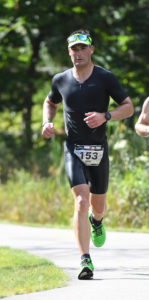 For nutrition on the run, I was grabbing a coke and maybe a water at every aid station. I also had a gel at the start of the run and a banana piece somewhere in the middle. But most of my calories were from coke. I would also do ice down my shirt and water on my head every aid station as well, in order to slow down my sweat rate. I also aimed for about 3800mg of sodium during the run, or about 3 salt pills per hour after an initial hit of sodium from Skratch Hyperhydration when I started running.
The last few miles of the run were painful. This is where I know I'm going to finish soon, but it still hurts a lot to get each foot moving. I finally made it back to the village and to the short downhill through the center of town. It feels so good to turn left at the sign which points straight for the second loop and left for the finish shoot. I was giving every little kid that put his hand out a high-five down the shoot, even if this caused my sides and arms to cramp.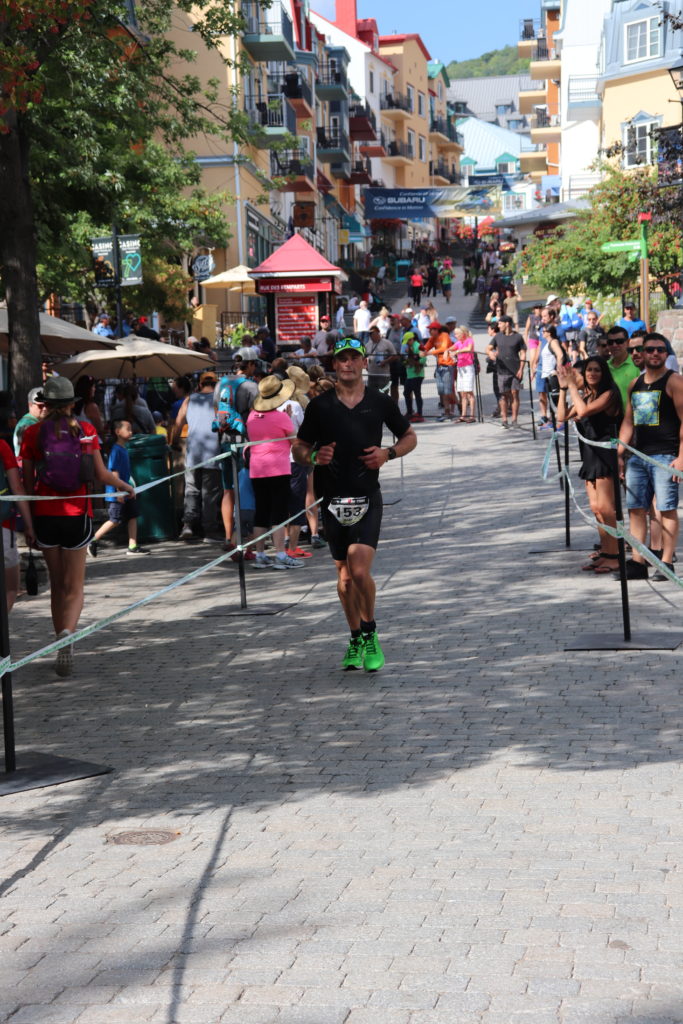 As I went up the finish line ramp and across the finish I looked up to the balcony and waved to the kids and Camille. Ironman number 9 was done!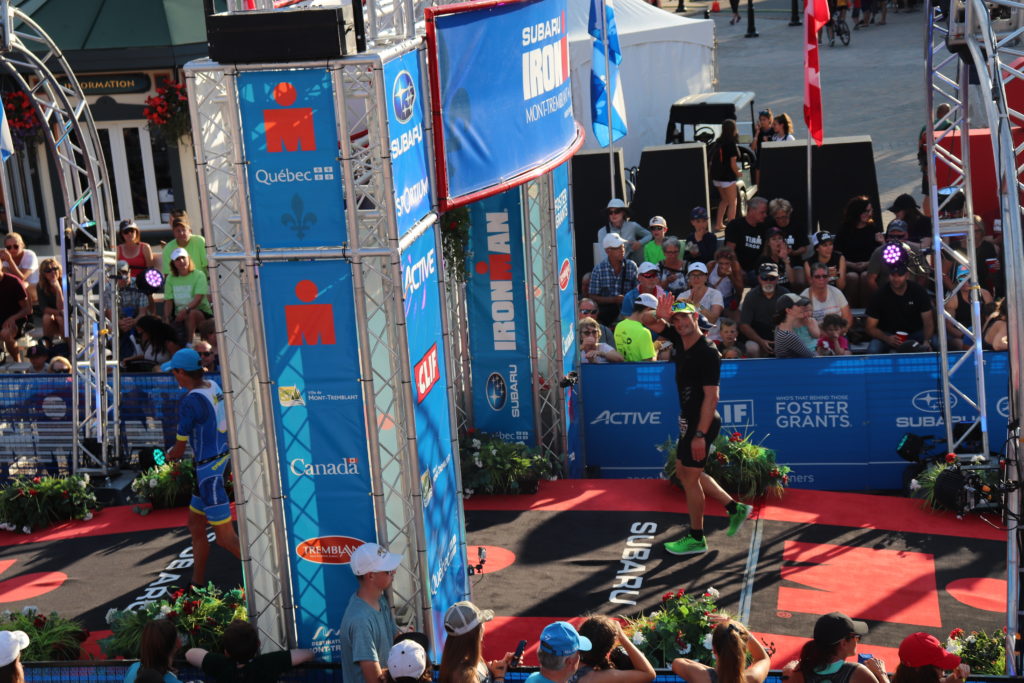 Run Time: 4:17:19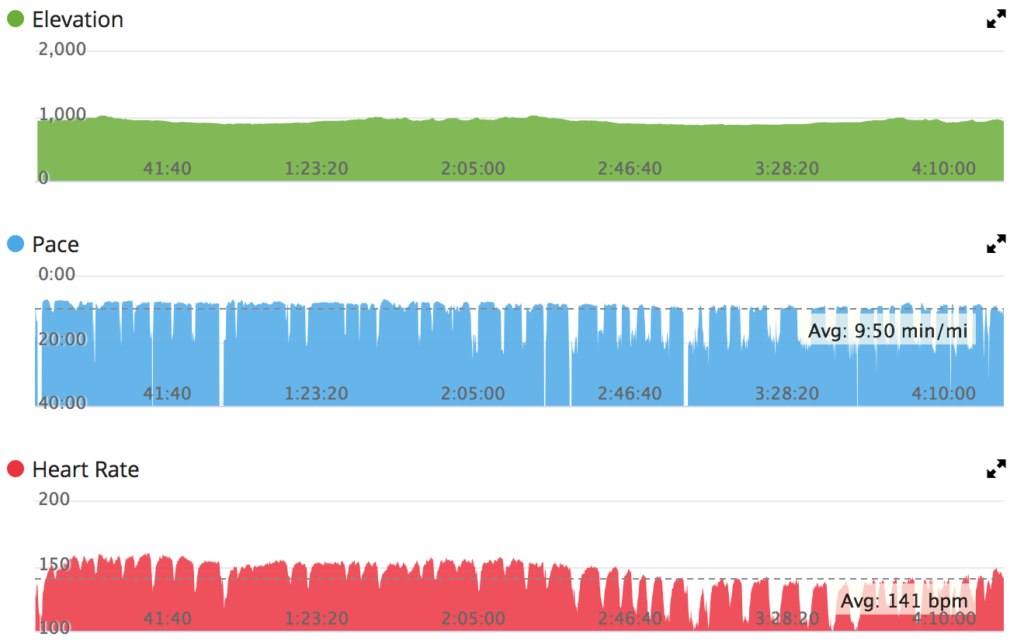 Post Race
The absolute best thing about Ironman branded races is the volunteers. All of them are just amazing. Especially at the finish line where 2 volunteers help every athlete that finishes, by holding then upright and asking questions (I assume to assess their cognitive state) and walking them to wherever they need to be: either food, a seat, or the medical tent.
I took a seat in the food area and just zoned out, looking at the ground for a while. Some athletes were piling plates with food and really chowing down. I wish I could do this. There has never been an Ironman where I finished and wanted anything else in my body. The last thing on my mind was eating. My only thought was, what is the fastest way to get back to the hotel bed and curl into a ball.
I ended up finally getting up and exiting the athlete area. I found Camille in the VIP area which overlooked the finish line. They were serving dinner to all the VIP spectators. I thought about eating, but then quickly had to excuse myself to go back to the hotel to lay in bed. I stayed in bed for a few hours while I had Camille go get my bike and gear. Eventually, I came around and had an insane appetite. Camille went out and got me take-out, which I devoured before a restless night of sleep.
Ironman continues to be a learning experience. It is a ridiculously hard event. Not only is training very challenging, but the race itself really pushes me to my limits. This is the reason I have been drawn to this event over the years. I think it teaches me a lot about myself, my limits, and my motivations. Ironman is about understanding your internal motivations. Being closer to understand what makes me tick helps in all aspects of my life and across all domains I tackle.
However, I continuously think that maybe this event is not for me. I have a crazy high sweat rate, and so I cannot overcome falling behind on hydration in an event this long. When I hit 4-ish percent dehydration, it's game over and I'm walking with my head down. Maybe I'd be better off at a 70.3 distance where there is more nutrition and hydration flexibility. I have 2 weeks of no exercise after Mont Tremblant to think about this and what adventures are next. Most likely I'll be back soon for Ironman #10.