Pre-Race
Vineman was going to be a short in-and-out style race. The plan was to drive up Saturday morning and then drive home Sunday after the race. The drive up to Windsor ended up being not super fun. Iyla ended up either carsick, or sick from a fever, almost right away when we got in the car. She pretty much was throwing up the whole car ride. Add that to a lot more than anticipated traffic, and it was a challenging day. I ended up really late to athlete check-in and was about 30 minutes late after the cutoff for dropping off my bike to T1. So I basically spent the entire day in the car stressed out.
At least we got in a nice dinner plus ice cream with friends in Healdsburg, which was enjoyable.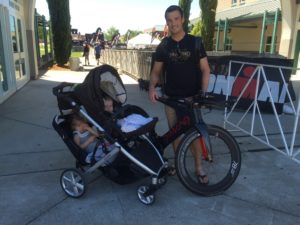 This was going to be our first night in a hotel where Camille and I would share a single bedroom with both kids. We actually had a 2-room suite, but we thought it would be better to leave the living room free for me to use race morning to eat and get ready without waking anyone else. Not sure this is a good move. The short story is, Camille and I maybe slept 2 hours that night. It was pretty rough.
Race Morning
I was out of bed at 4:30am and started making my breakfast and coffee. I already had my coffee ready to go and just had to heat it in the microwave. For breakfast I had a piece of avocado toast and another piece of toast with plenty of hazelnut spread and then a banana with more peanut butter. Seemed a bit more than I usually eat, but for some reason I was pretty hungry for how early it was.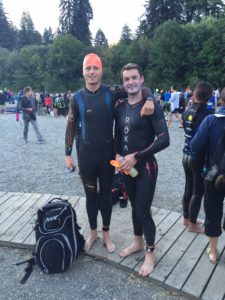 I was able to get a ride to the swim start with a friend, which was really great because I didn't have to worry about getting the kids ready and in the car. My bike and most of my stuff was already in T1, so the morning was really just standing around and watching the swim waves go off prior to my 7:16am start.
Swim
The swim waves were fairly small, with maybe only 40-50 athletes, which makes for a mild start. The water was really warm, in the low 70's, which made it comfortable while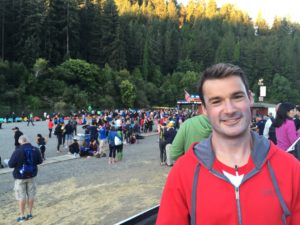 treading water for the few minutes prior to the start. After the gun (or was it a horn), went off, I put in a hard effort for the first couple hundred yards to clear most of the people and then settled into a more sustainable pace. I was actually really lucky that I found the feet of another swimmer going at about the same pace I wanted to, and just followed him from start till finish.
Vineman swim is very unique. You keep getting glimpses of the rocky bottom through the murky water during the entire swim. Every now and then my fingertips would scrape the bottom of the riverbed and I'd have to modify my stroke to not keep hitting bottom.
The turn around point, was pretty funny because it got really really shallow. I bet it was a foot or less of water. Pretty much everyone around me was walking around the corner in the knee deep water. I decided to stay "swimming" and kind of stuck my hands in the dirt and rocks and pulled myself along. I'm not sure if that was faster than walking, but I figured that walking through water actually takes a good amount of effort and wouldn't be any faster.
The second half of the swim went by much quicker. It also took some more effort because I would hit the back end of a few of the previous waves and had to weave my way through some of those swimmers. Overall, the swim was pretty mellow and very enjoyable with no ocean chop or salt water to deal with.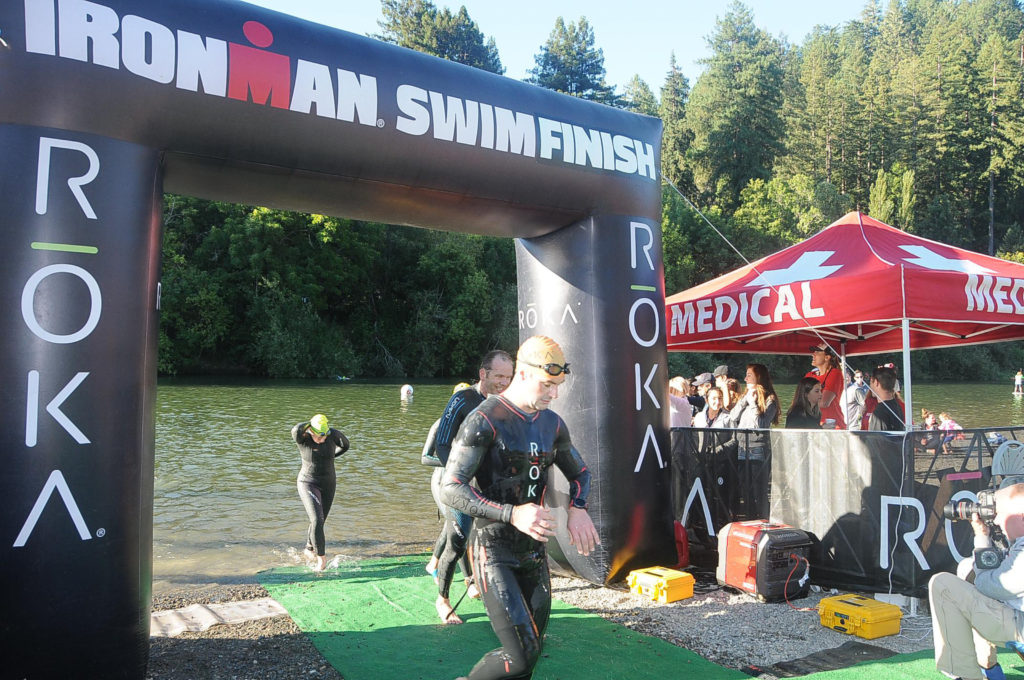 Time: 28:46, 1:29/100m
Bike
My swim to bike transition was still a bit slow.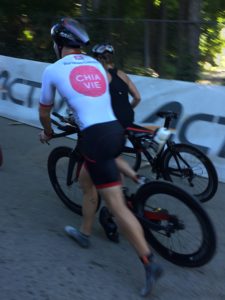 I got to my bike just before my friend Chuck. By the time I finished getting off my wetsuit, I looked up, and he was gone…. and I still needed to put on my socks and helmet. I need to figure out these transitions.
Right away on the bike, I could tell my legs were a bit stiff. I wasn't able to easily put out the power I wanted. I decided to back off a hair and see what happened with my legs. It took a good 30 minutes of riding before I got into the groove of the effort level I wanted.
I played leap frog on the bike with Chuck, for the first half of the course. That actually helped pass the time and made things a bit comical. He would pass me every uphill and I would pass him every little downhill. I usually hate doing this and it usually makes me frustrated, but it was fun to joke around with a friend on the bike to add to the experience.
The bike course is really pretty. I tried to enjoy the scenery when I could, but mostly only through the corner of my eye. I was mostly worried about the bike leg going in to the race because this is when you really find out how the day is going to play out. I was worried that with my lack of sleep, I really wasn't going to hit my numbers. I was somewhat right because I was riding about 5 watts lower than goal.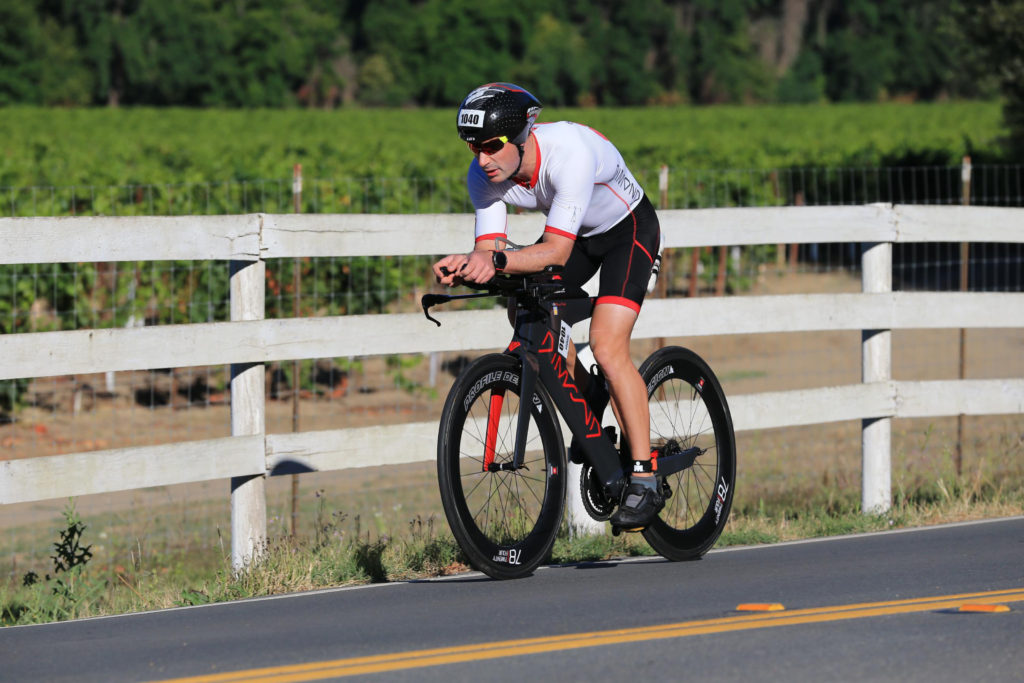 I mostly focused on power and on drinking water when I could. I was lucky that the day started off pretty cool and I wasn't sweating much. I still wanted to stay hydrated though, so I tried to drink water every 10-15 minutes. My plan was 200 calories per hour from UCAN, but I ended up not finishing my bottle, so I probably only did 170-180 calories for the 2.5 hours. My first water bottle had a packet of Skratch HyperHydration in it to load with sodium. I also took in 4 more salt pills during the course of the bike with the water I got from aid stations.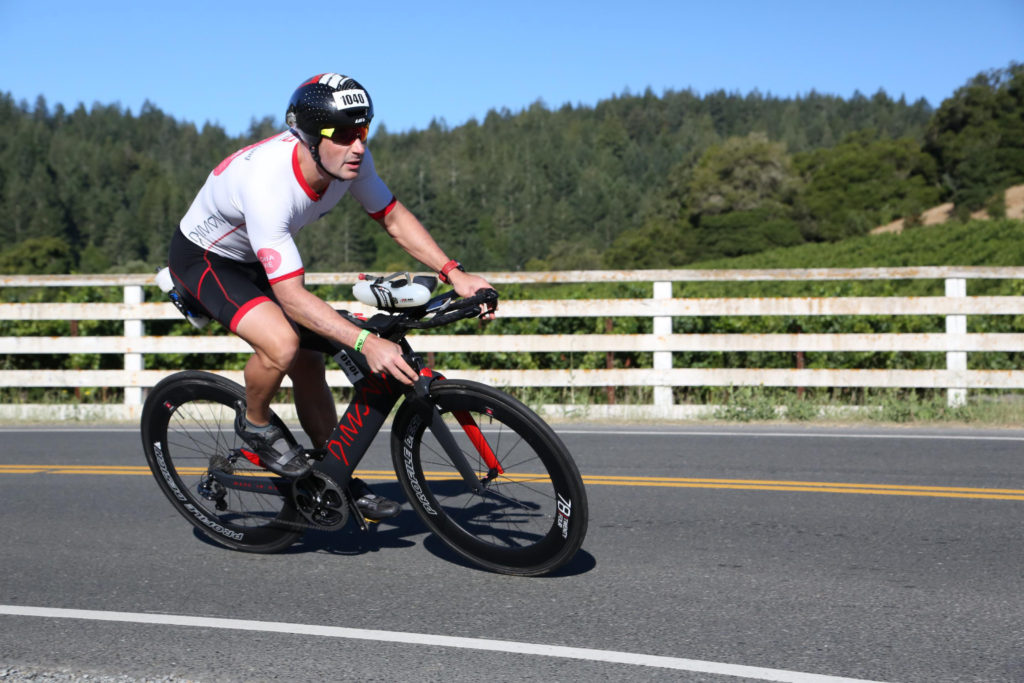 The last 20 miles of the bike course went by pretty quick. The course is somewhat rolling, with some short climbs, but pretty fast overall. I was pretty happy with the number of athletes I saw on the course. I didn't really feel like I was ever hindered, slowed down, or required to speed up because of other athletes. So between the swim and the bike, I felt like I was really able to have my own race.
Time: 2:26:01, AP 229 NP 236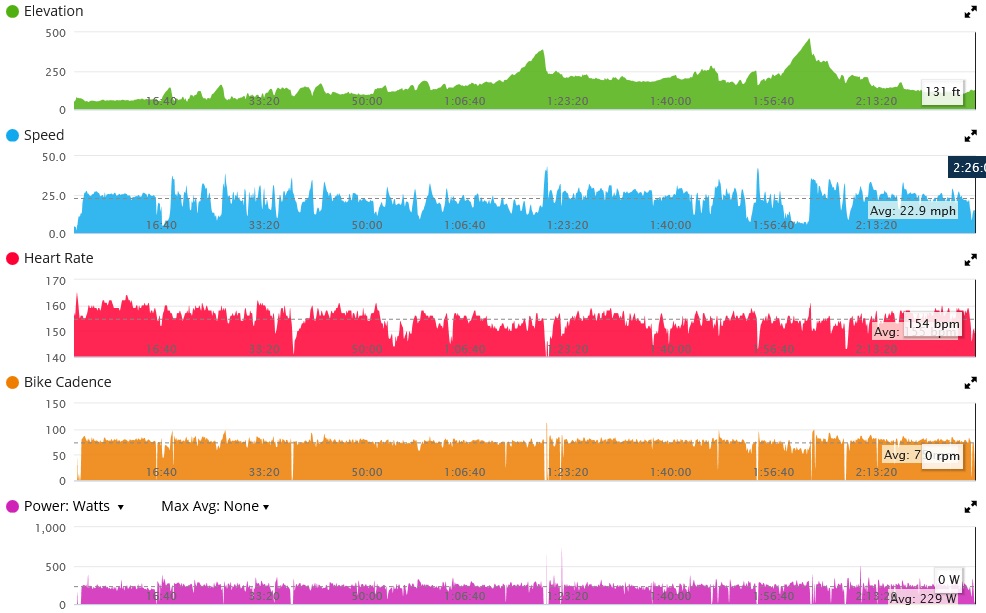 Run
T2 felt fast for me. However, the second I got on the run course, I had to go pee really bad. In about a mile, I got really uncomfortable. I debated running through it or stopping to go pee, but I figured I'd probably end up running faster with the stop than being horribly uncomfortable the rest of the run. Side note: I'm sorry for anyone who reads this who does not do triathlons but these are the real challenges of longer racing and are major factors in overall performance and time. It's usually just minutes that separates the top 5 or 10 athletes in a field, which is almost the time it takes to stop and go pee at an aid station.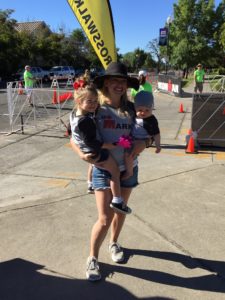 After my stop, I noticed my average pace, with the stop, had dropped to an 8:30+ pace. That was insanely discouraging. I knew there was no way I could fully make up that time to the pace I was hoping for. On top of that, I wasn't running all that fast. I tried running at what I thought would be 7 min pace, but when I looked at my watch, I was closer to 7:15 or 7:20, which wasn't a good sign.
Right away on the run, I started drinking coke at each aid station. I would dump 1-2 cups of water on my head, maybe ice down my shirt if I could grab it, and a cup of coke to drink at each aid station. The coke seemed to help a lot because as the run went on, I felt better and better. Each aid station was hit or miss on the drink temperature. One aid station would have really warm water and warm coke, and the next aid station the drinks would be ice cold. Not sure what was going on there.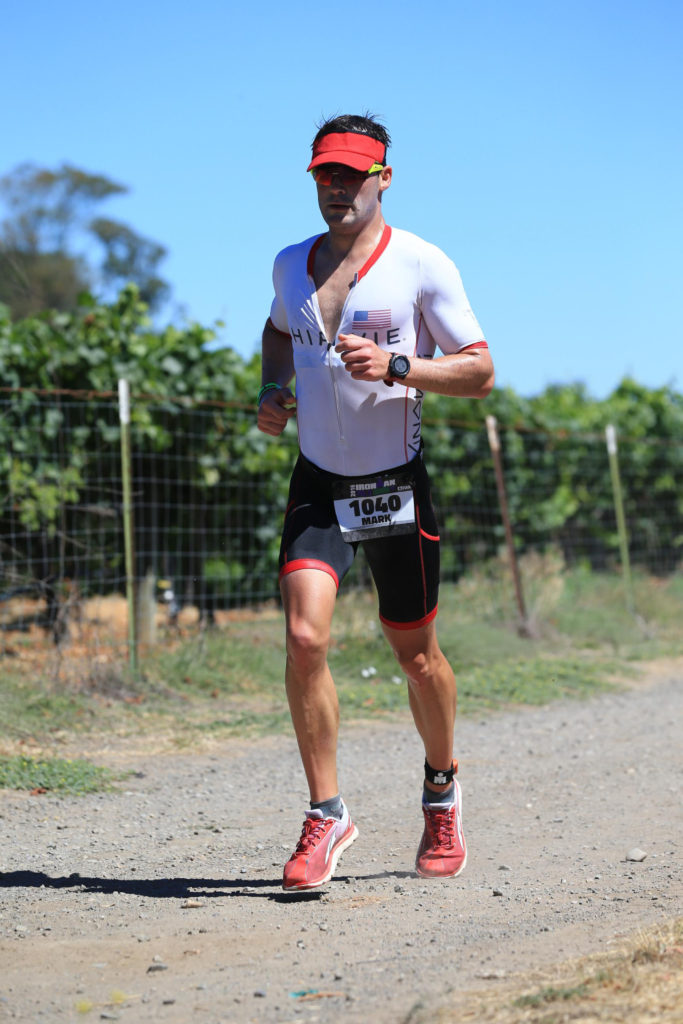 I think I ended the run feeling much better than how I felt when I started the run which was odd. One contributing factor was my feet fell asleep almost immediately as I started to run. I think this has happened at every race I have done. It feels like I'm running on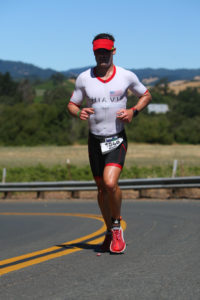 pins and needles and I think it really changes my gait as I have no feel of the ground or how my feet are landing. It's really not a lot of fun. That went away at about mile 10, so I dealt with that most of the race.
The Vineman run is pretty rolling. It felt like I was always going up or down. Around the half-way point, we enter a winery and run through the dirt trails around the vines. It's a really cool experience (minus the rocks I kept stepping on).
The run back felt pretty good. I was somewhat conservative in my pace in the first half, so in the second half, when I knew I was going to make it back to the finish in one piece, I was able to relax a bit and try to keep the speed up. The miles really ticked by from mile 8 on. Usually, this is where the miles drag on, but I was feeling good….maybe I should drink coke every day.
Aside from the couple positions I lost going to the portapotty, I didn't really pass anyone or get passed by anyone in my age group, so it was more of race against myself. The finish line came up very fast, and I was happy to be done before the heat of the day.
Time: 1:33:56, 7:10min/mile

Overall Race Time: 4:33:44, 9th male 30-34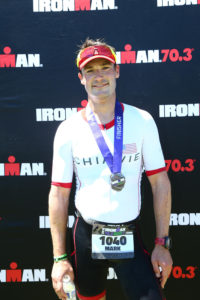 Thoughts
After the race, I felt really energized, which shows I could have pushed harder on the run. It was also nice to have some energy after a race to spend time with family and friends.
The real take-away from this race for me is the logistics of the kids. They are at the age, where not having naps and getting out of their routine affects the day and affects the overall experience of the event for the family. I think we'll need to figure out how better to integrate racing and vacation with the family given we now have 2 kids in tow.