Pre-Race
Getting to Lake Placid was a journey in itself. I was a bit worried how the kids would handle the trip, but it ended up being a lot smoother than I thought. Our journey started on the Tuesday night before the race with a drive to a hotel near SFO. Then, on Wednesday morning we had a 6am flight to JFK followed by a 2 hour car ride to Poughkeepsie, NY, where we had another hotel for the night to break up the trip. Thursday morning, we finally made the 3 hour drive the rest of the way to Lake Placid. That's a lot of travel with 2 kids, a giant stroller, and my bike (or my 3rd child as I often refer to it as). I was definitely pretty wiped by the time we arrived to our hotel in Lake Placid on Thursday afternoon. At least on Thursday all I had to do was the athlete check-in and put my bike back together.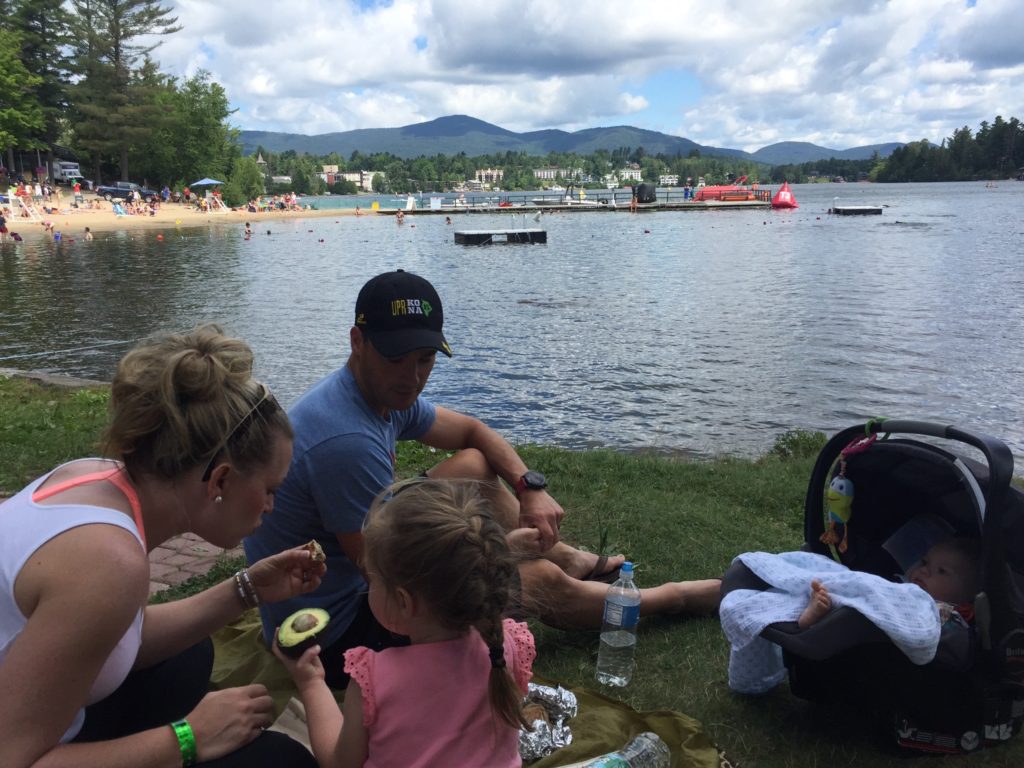 Friday before the race, I started the day with a quick, 45 minute ride to check out my bike. This is where I first got sense of how hilly the bike course was going to be. We also had Iyla do the quarter mile kid's fun run as her first ever race.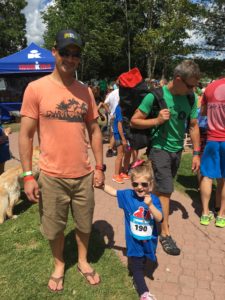 She did cry half the run though. After the race, we went on a boat tour of Lake Placid right before grabbing causal pizza to eat at the park during the Ironman opening ceremony.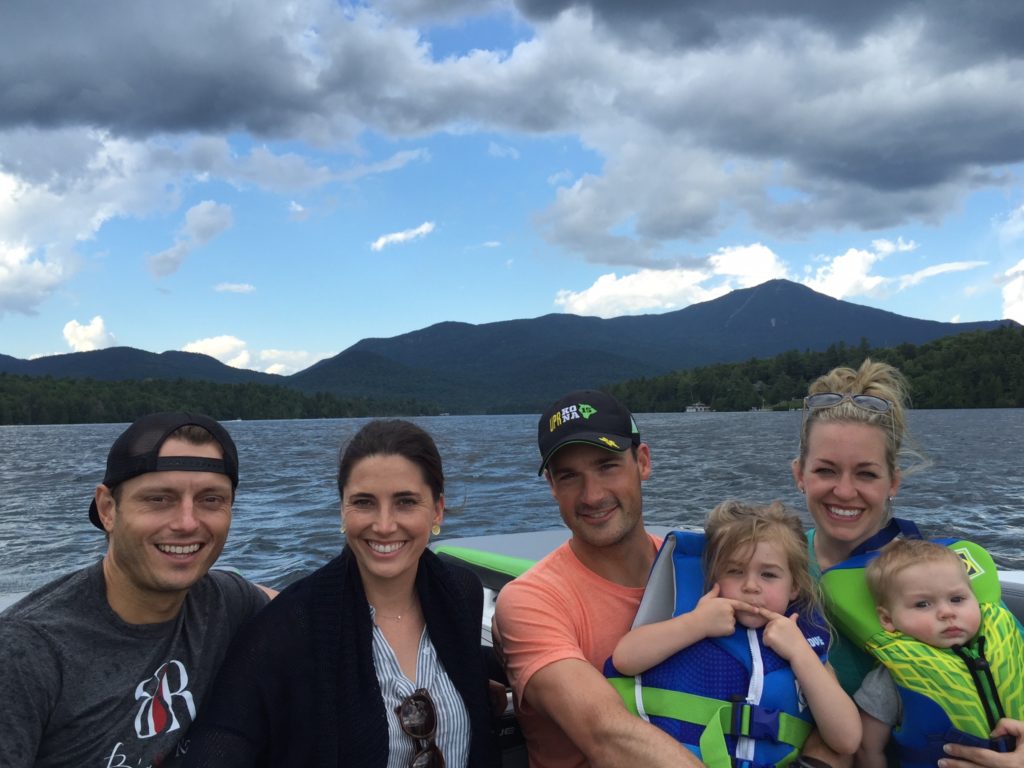 Saturday, I ended up naturally waking up early and then went down to Mirror Lake for a 30 minute, 1-lap swim around the swim course. The water was super warm and the lake was flat, which was a great way to start the morning. Camille ended up doing a stand-up-paddleboard yoga class while I played with the kids in the park. I then gathered my bike and run gear and made my way down to bike check to drop off my bike and gear bags in transition. After lunch at the beach we took a taxi to our next activity which was pedal rail cars. This is basically like a paddle boat or 4-person bicycle, but on a rail car. You have a 2 or 4 person rail car you need to pedal down a 7 mile rail track.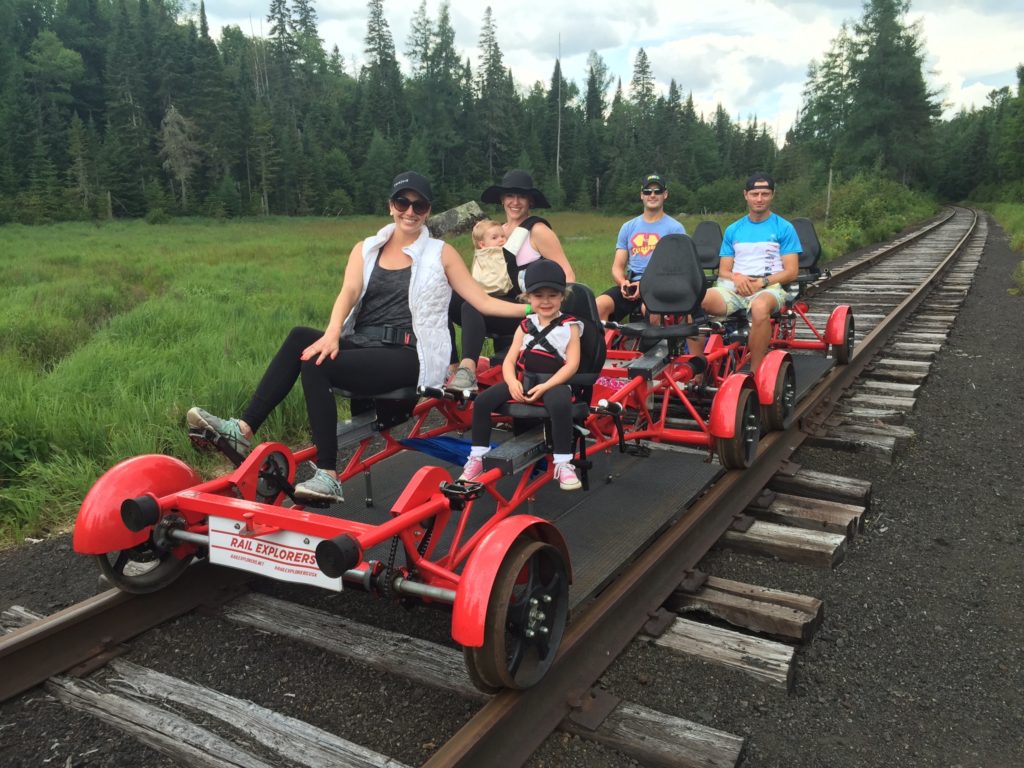 This was probably not the best thing to do the day before an Ironman. It's basically like doing a 2 hour bike ride in the heat (or in our case rain and hail). It was a really pretty way to see the lakes and forest, but it did start hailing marble sized pieces of ice, in addition to pouring rain, which made for an exciting (and painful) experience. After getting cleaned up and dried off we had our pre-race dinner at a small Italian restaurant. Camille took the kids out after dinner so I could relax a bit in the hotel room and get my stuff setup for the morning. She also put both kids in the hotel bed and gave me the pull-out sofa in the living room, so I could attempt a better night sleep on my own.
Race Morning
My alarm went off at 4:30am. Pretty painful considering I wasn't exactly used to East coast time yet. But I did get decent sleep considering race nerves, jet lag, a very uncomfortable pullout bed and 2 kids nearby. Luckily our hotel room had a fridge and microwave. So I immediately zapped my coffee in the microwave to warm it up and started making breakfast. I had a couple bowls of granola with milk and a banana with chocolate hazelnut spread. This was a pretty indulgent breakfast which I really enjoyed.
I got dressed in my race kit and gathered my bike bottles and made my way to the lobby to meet Chuck for the 8 minute walk down to transition. I got to my bike and pumped up the tires, put my nutrition and water bottle on the bike and clipped in my shoes. They make you leave your morning clothes bag in transition, so I needed to change into my wetsuit and lather up with body glide before the walk to swim start.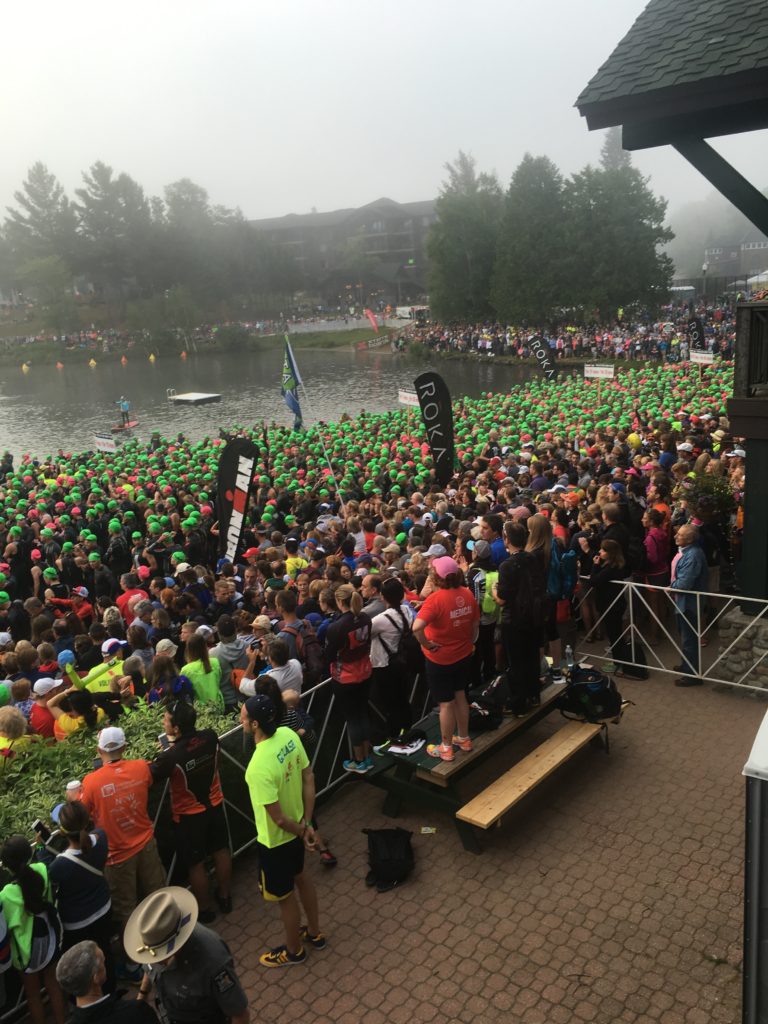 Swim start was a zoo. Lots of athletes and spectators. I tried to hang around the gate they would eventually open in order to get a good spot in line.
The swim was a rolling start and was self-seeding, so you were supposed to seed yourself in line based on your swim time. I wanted to make sure I got close to the front with the 1 hour swimmers so I could have a better opportunity for less chaos once I got on the bike course.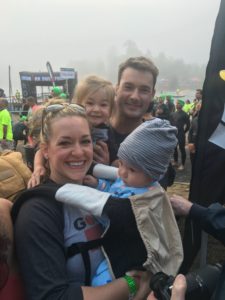 I eventually found Camille and the kids who were hanging out in the VIP swim viewing area. We took a few pictures before I took the last few minutes to mentally focus on the effort of the day.
Swim
After the horn went off, I followed the masses of people who were surging towards the swim start timing mat. I ran a few steps in the water before diving in. Right away there was a lot of contact. I really didn't want to surge my effort too much at the beginning and kept having to remind myself this is a full Ironman and a long day… no point in over-doing it right away.
The swim course is pretty much an out and back in the lake. After loop 1, you run out of the water onto the beach and then back into the water for lap 2. On lap 1, on the way out, I did think there was a lot of contact given that it was a rolling start. I definitely had to fight a bit for my position. It's really amazing how aggressive and hard everyone can swim given the length of the event. It's also amazing how at every race there are a handful of people that just randomly swim perpendicular to the course and plow through everyone. I'd be swimming along, and one of these people would just nail me from the side going the wrong way. It's nuts.
I wasn't able to get a good line on the first loop. I had to swim way to the left of the buoy line in order avoid people. During the first lap, I also was reminded of how long an Ironman swim is. Coming off Vineman 70.3 just 2 weeks prior, I kept thinking I was doing only 1.2 miles. During the entire swim I was just reminding myself to be conservative and to back off in order to keep my heart rate down.
The first half of the second loop was my favorite part of the swim. I was almost on my own this whole section. I was able to hug the buoys and follow the underwater cable which stretches along the whole swim course. After I hit the turn around on the second loop, things got a little worse as I began to hit the back end of the people on their first lap. This last section, was just dodging people and trying to stay out of everyone's way, while maintaining as much of a straight line as I could.
I finally made it to the beach after the second loop.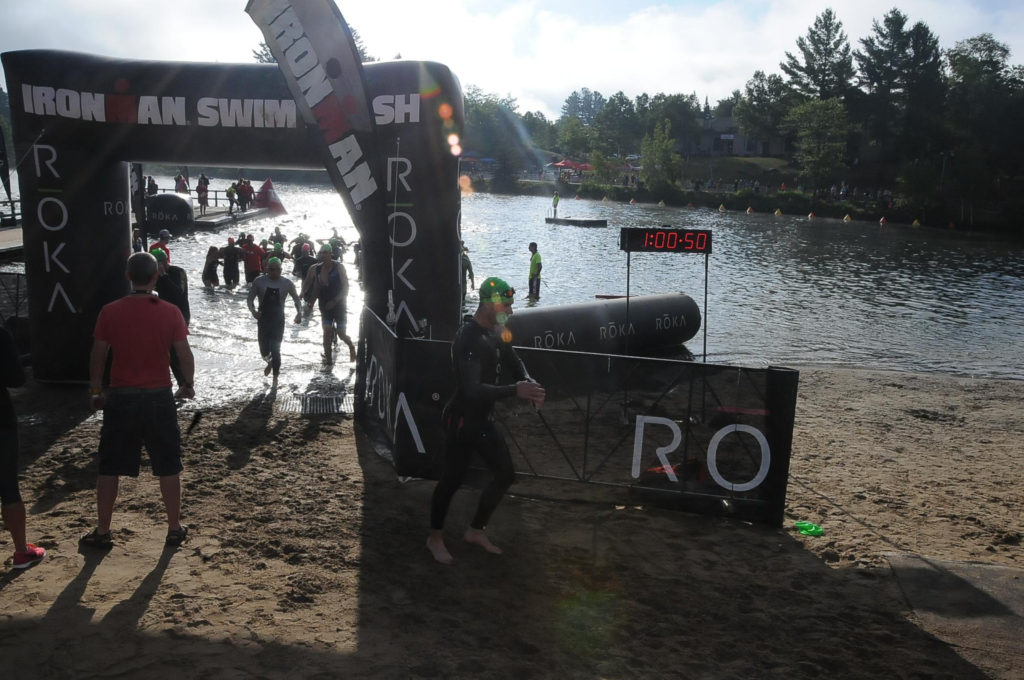 As I got out of the water, I put my goggles on my forehead and tried to reach my wetsuit strap to strip down the top half. I think I have problems doing 2 things at once, like running and taking off a wetsuit. By the time I got to the wetsuit strippers, I hadn't gotten anywhere and my wetsuit was still fully on. I had to ask the strippers to help unzip me and strip it down off my torso before jumping to the ground to have them rip it off my legs. If I ever volunteer at an Ironman, it definitely needs to be as a wetsuit stripper. I bet it's a blast throwing people on the ground and ripping off their very expensive wetsuits.
I even got a quick cramp in my hamstring as I jumped from the ground, got my wetsuit pushed into my arms, and sent on my way towards T1. I tried to run through the cramp and luckily it went away right away (close call). The run from the swim exit to T1 is insanely long. It's like a quarter mile. And everyone seems to want to run 6 min mile pace here. I got passed by like 5 people on the run in to transition.
In transition, I grabbed my bike bag and ran into the changing tents. The volunteers were really awesome. I sat down at a chair in the changing tent, dumped the contents of my bike bag on the ground and a volunteer picked up my wetsuit, goggles and swim cap and put them in the bag for me. I quickly (okay, slowly) put on my socks, helmet and glasses and then ran out of the tent to my bike.
Time: 1:00:39
Bike
Right out of transition on the bike is a nice downhill through the town. This was really nice because it gave me time to get my heart rate down from the swim and transition and offered a little break before the long ride. The downhill lasted a few moments before the climbing began. The first 8 miles is a long climb. At least the temperature was pretty cool still and my energy was high, so the climb didn't feel that bad.
After the climb there is a very long decent to the town of Keene. The downhill is really pretty at times, passing streams and lakes. It was nice that the downhill was steep enough that I didn't even have to pedal much. I tucked into a low aero position and just ripped on that downhill. I hit over 51mph, which I haven't done since high school (when I was young and stupid). There were definitely a couple of sketchy moments on that downhill though from a couple bursts of wind. Nothing like a little wind and a disc wheel going 50 miles an hour in spandex to get the heart going.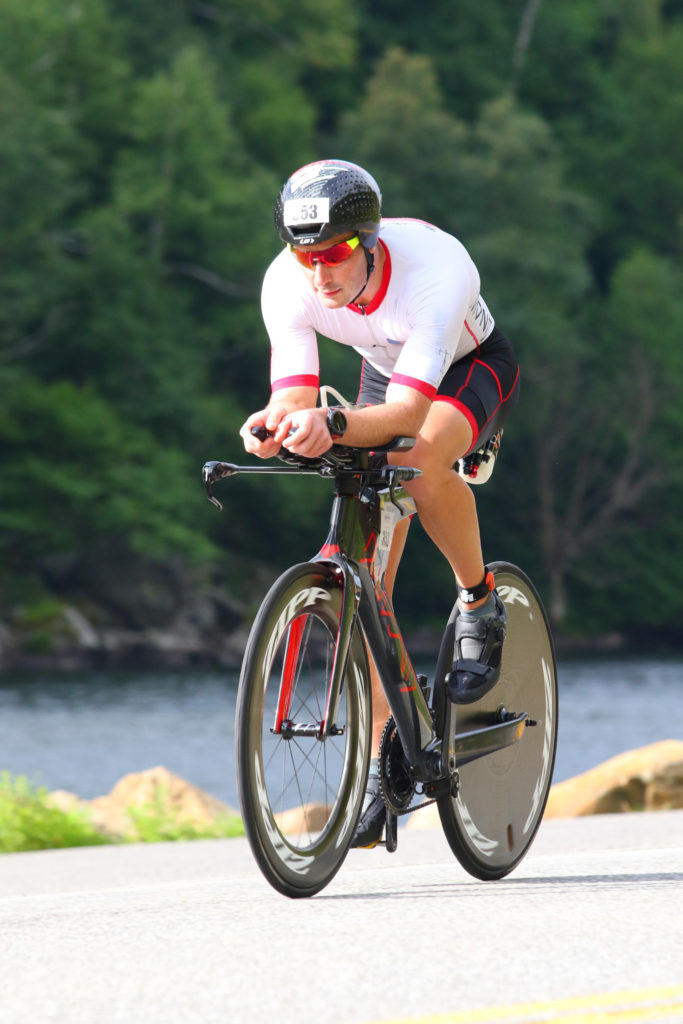 After we got into Keene, the course seemed to flatten out a lot and I was able to find my pace. I wanted to try to be more aggressive in my pacing at this race to see what happened. I wanted to make sure I had enough in me for the run, but try to push a bit harder on the bike to see if my running would still hold.
I can't say enough for how pretty the bike course is. It's really a great tour of the mountains through the forests, streams and lakes. It's really something amazing. I tried to enjoy the scenery as much as a could while focusing on my power and nutrition.
For the first loop of the bike course, I planned on 300 calories the first hour and 200 each additional hour from UCAN. I also started the bike with a bottle of Skratch Hyper Hydration to load with sodium right away. I would also do 4 SaltStick caps per hour with the water I got from aid stations. I tried to hit 1.5 bottles of water per hour at a minimum, but I lost track while riding, so just filled up every aid station and drank as much as I could comfortably. The plan for the second lap was to pick up another bottle of UCAN to continue with 200 calories per hour and also pick up another bottle of Skratch Hyper Hydration for another huge dose of sodium. In all, I drank probably 85% of my first bottle of UCAN and 80% of the second bottle, so I did under 200 calories per hour on the bike.
After a bunch of flat and rolling hills on the first loop we had the long climb back up to transition. This was a lot of time just climbing and sweating. At the top of the final climbs there was great crowd support which really helped with the motivation. After almost finishing the first loop I was already starting to feel a bit tired.
I stopped in at Special Needs to grab my extra nutrition and then was off on my second lap. The second lap seemed a bit more monotonous than the first. It was getting a little harder to keep my power numbers as high as the first loop. At the bottom of the first long decent when I was able to really focus on my pace, I started counting down the miles. Ironman really is about managing discomfort (until the end, when you're managing extreme discomfort). This is where I start setting small goals, like getting from mile 80 to mile 90. And I compare that goal to something I know from home. So, if I only have 10 miles to my next goal, then I tell myself that 10 miles is just like riding from Del Rey Oaks to home (something I do all the time).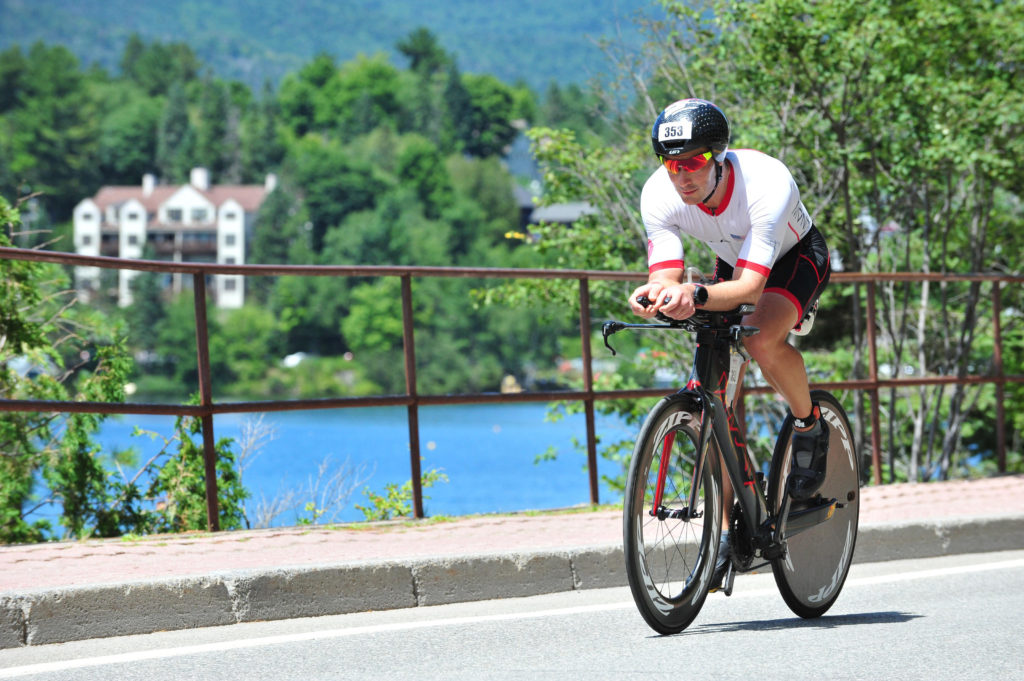 There were a couple sections on the second loop where I really wasn't around anybody. Sometimes I couldn't even see anyone in front of me. It was pretty lonely. The last 20 miles really seemed to drag on. My power was still good, but not as good as the first loop and not as good as I wanted it. Plus, it was starting to warm up into the 80's so it just felt harder to ride hard. The crowd support on the last climb of the second loop also kind of dulled out. I guess even the spectators were getting tired. I also got a big cramp in my left quad on one of the last climbs. This really worried me because you never know what's going to happen with a cramp, it can really bring things to a halt quickly. I was lucky that a quick massage with my hands made it better.
I finally made my way back to Mirror Lake and to the last couple downhill miles to transition. I was really looking forward to getting off my bike and doing something different (even running). I hopped off my bike at the dismount line, handed my bike to a volunteer and tried to run the best I could to my run bag and changing tent. My feet were super stiff and painful trying to run off the bike, which wasn't a good sign. I think I limped into transition more than ran.
Time: 5:27:40, 20.51 mph, 203W AP, 214W NP
Run
Coming out of transition, I had grabbed my last water bottle of Skratch Hyper Hydration, for another hit of sodium as I started to run. I tried to drink a few sips from the bottle as I ran, but my stomach wasn't really sitting well. Right away I was worried about running a marathon in the heat of the day when my stomach just wasn't right. I also had to pee really bad. I ended up stopping at the second aid station, at about mile 2, to pee, which made my stomach better. I guess my full bladder was what was causing the stomach discomfort.
I started drinking Coke immediately at each aid station. I started feeling a bit better slowly and finally found my Ironman running legs after a few miles. But almost immediately after that, both my feet fell asleep again and it felt like I was running on pins and needles. Since this happens at almost every triathlon, I wasn't yet worried about this.
The run course is a long 5.5 mile out and back, followed by a short 1 mile out and back section along Mirror Lake. You do this twice. The 5.5 mile out and back section starts with some very steep downhill sections, followed by a long winding and rolling road through the forest. The first 5.5 miles went by pretty quick, because there were lots of new things to see and I just tried to focus on a sustainable effort. The way back got a bit more challenging because there were some hills that really slow you down.
I was lucky that at mile 10, the numbness in my feet went away and I was able to finally feel the ground again. Just in time for the steep climb back to transition. Mile 13 came pretty quickly for me. I was happy how I was feeling half-way through the run, but still nervous about what was to come. I knew the hardest part of the day was still to come and I know how things can change very very fast.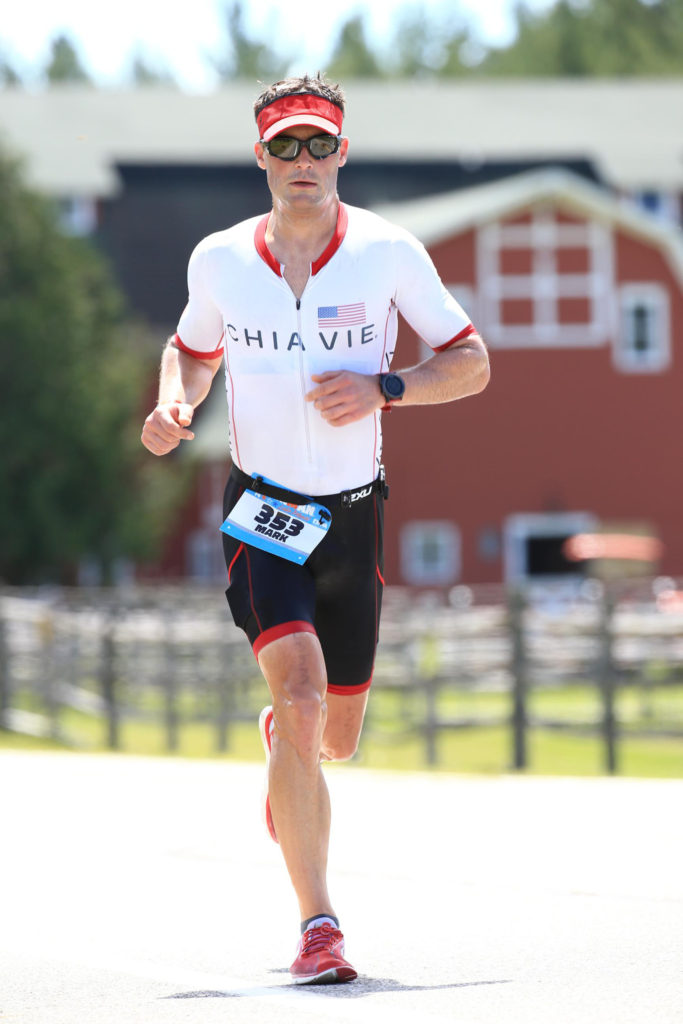 The second loop of the run really started to zap my energy. The run course was pretty exposed so the sun felt like it was just sucking up any energy I had. I went from feeling okay, to feeling pretty beat up. My eyes went from looking around to just zoning out in a blank stare at the road in front of me. Every aid station, I would still do Coke, maybe some water and then pour water on my head and ice down into my tri suit.
My pace was also slowing more and more and it took a lot more energy just to keep going at a reasonable pace. The second loop was also a lot busier with more and more athletes, a lot of whom were walking or barely running. It's hard to find the energy to run fast with so many people around you walking.
The last climbs of the second loop were painful. I was really zoned out, but still happy to be close to finishing. For me, during the last parts of an Ironman run, I almost have 2 parts of my body. I have my brain, which, although foggy at times, is always analyzing where I am in the race, what sections are next, how I feel, reminding me to drink, etc. Then I feel like I have a shell of a body, which is just there suffering and taking the brunt of the physical punishment. My brain keeps barking commands to the body and the body just does what it can to handle the effort. It's a really odd feeling.
I finally made it to the last 1 mile out and back along Mirror Lake. Right then, my left hamstring cramped up so bad I had to stop. I tried to stretch it for a moment and then started running again, but it quickly cramped so bad I had to stop again. This really worried me. I didn't want to have to walk the last 2 miles after coming so far. I took another minute or so to really stretch it out. I tried running again and it seemed to hold up pretty good. I think when my brain knows the finish is coming, my body starts shutting down.
The last mile of the course was great. It was a slight downhill to the Olympic Oval and the finish and the crowds were great. I finally made it into the Oval, around the track and to the finish. It's great to hear Mike Riley say your name and feel that sense of accomplishment.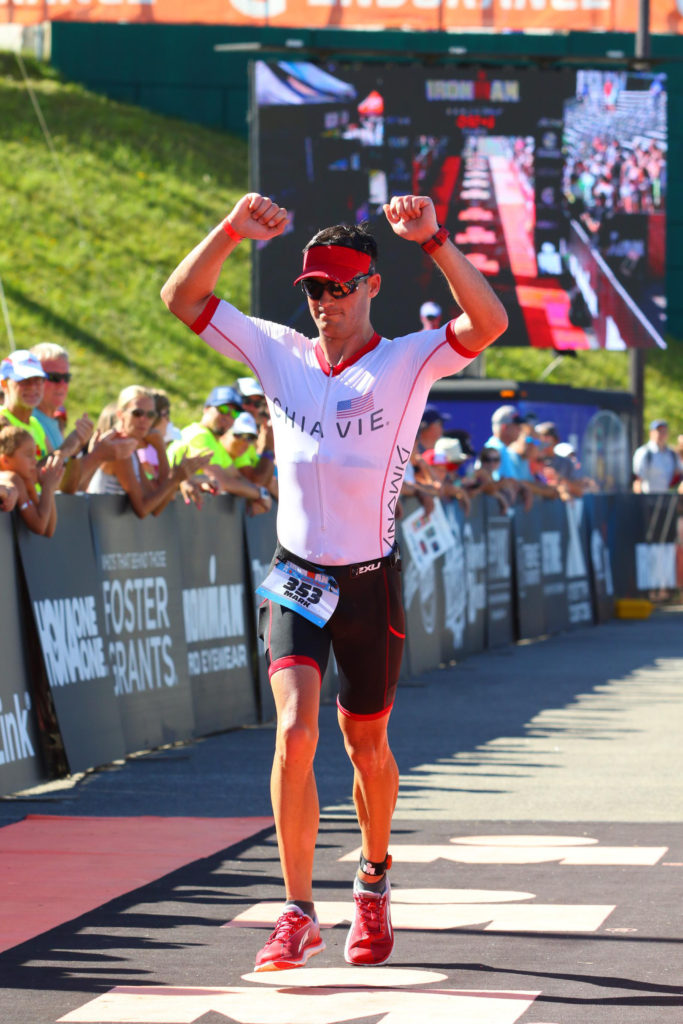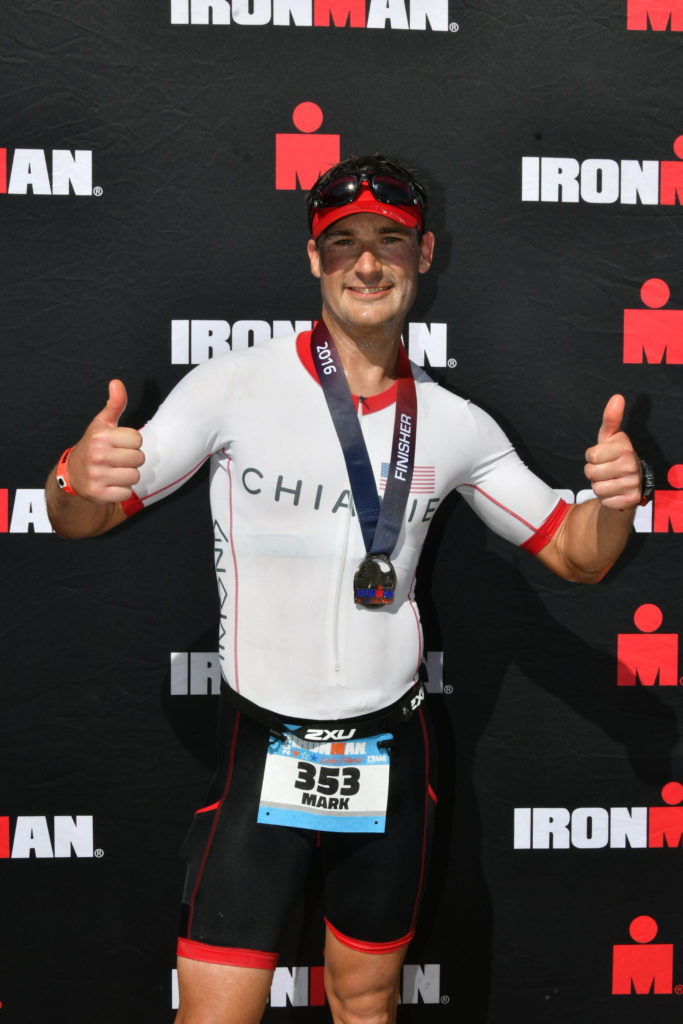 Time: 3:26:35, 7:53/mi pace

Race Time: 10:02:35, 10th Male 30-34, 35th overall
Post-Race
The volunteers at every Ironman are just amazing. Right after crossing the finish line a couple volunteers always help you make it around the finish area and keep you from falling over (which I probably would have done without them). I was able to get a family finisher picture with Camille and the kids and then was handed some pizza and fruit. A volunteer led me to a chair and I just sat there for a while just zoned out. I finally ate a few grapes and drank some water and ended up throwing out the rest of the food as my body wasn't in the mood for anything.
After every Ironman, my body really just hates me and just wants to curl into a ball on the bed. The hardest part of these races is collecting all your equipment and bike and getting it all back to the hotel room. This race was no different and I had to stop a few times on the walk back to the hotel to throw up. Just awesome.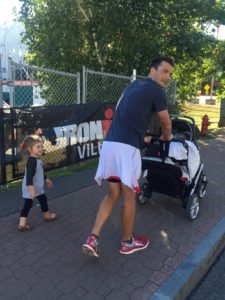 After sitting in the bathtub at the hotel for a very long time, I finally started feeling a bit better and my appetite was coming back. Sometimes after an Ironman, I don't start feeling hungry till the middle of the night or even the next day. I felt pretty lucky that I started getting hungry after just a couple hours. We ended up going out to eat and getting a burger at a great place overlooking the run course.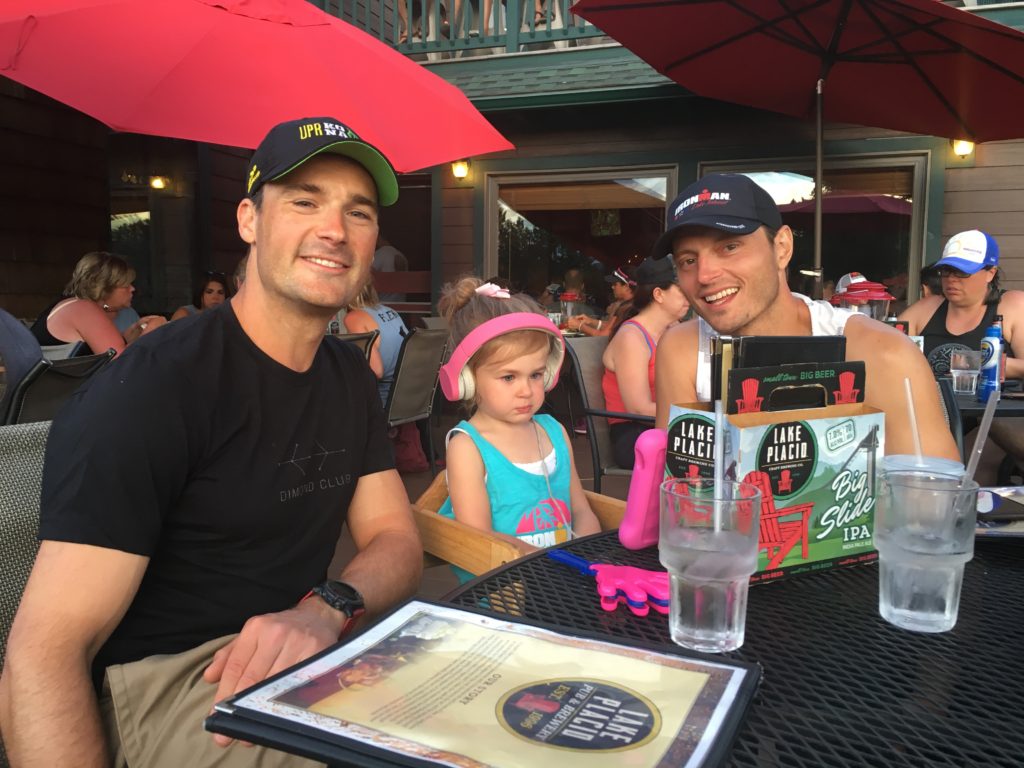 Lake Placid is definitely a hard course, but well worth it for the scenery and support. It seems the town really likes Ironman there and the energy is felt in all the spectators and volunteers. I feel like I put a good effort into the race and hit my swim and bike goals. I think I can still work on a better run, but overall, I'm happy with my performance.